A 14 Day Self Drive Tour
Distance: Darwin to Adelaide: 3,760 km | 45 hr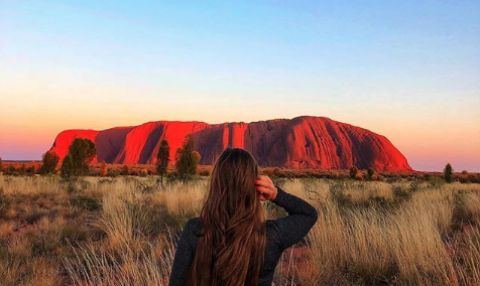 Uluru at sunset. Photo: theresalila via IG
This self drive campervan tour from Darwin to Adelaide begins and ends in a city, but what lies between is iconic Australian outback including Uluru, the Olgas, Devils Marbles, the underground town of Coober Pedy, Alice Springs, the MacDonnell Ranges, Mataranka hot springs, and the Litchfield and Nitmiluk National Parks.
If you are adding the Darwin to Adelaide road trip onto the Cairns to Darwin road trip, you will have covered some of the attractions already and will be able to make this journey in 9 days instead of 14 or 15.
All highlights, good caravan parks, free camping, rest areas and public toilets are mapped at the bottom of the article. If this itinerary is heading in the wrong direction for you, keep scrolling.
14 Day Darwin to Adelaide Drive - Itinerary
Day 1: Darwin to Litchfield National Park - 116 km | 1 hr 20 m
Day 2: Nitmiluk National Park - Edith Falls - 230 km | 2 hr 35 m
Day 3: Nitmiluk National Park - Katherine Gorge - 90 km | 1 hr 20 m
Day 4: Katherine and Cutta Cutta Caves - 28 km | 30 m
Day 5: Mataranka Hot Springs - 108 km | 1 hr 10 m
Day 6: Tennant Creek and Devils Marbles - 568 km | 6.5 hr
Day 7 - 8: Alice Springs and the MacDonnell Ranges - 508 km | 5.5 hr
Day 9 - 10: Uluru and The Olgas - 495 km | 6 hr
Day 11 - 12: Coober Pedy - 755 km | 8.5 hr
Day 13: Port Augusta - 542 km | 5 hr 45 m
Day 14: Adelaide - 310 km | 3 hr 20 m
14 Day Adelaide to Darwin Drive - Itinerary
Day 1: Adelaide to Port Augusta - 310 km | 3 hr 20 m
Day 2 & 3: Coober Pedy - 542 km | 5 hr 45 m
Day 4 & 5: Uluru and The Olgas - 495 km | 6 hr
Day 6 & 7: Alice Springs and the MacDonnell Ranges - 495 km | 6 hr
Day 8: Tennant Creek and Devils Marbles - 508 km | 5.5 hr
Day 9: Mataranka Hot Springs - 568 km | 6.5 hr
Day 10: Katherine and Cutta Cutta Caves - 108 km | 1 hr 10 m
Day 11: Nitmiluk National Park - Katherine Gorge - 28 km | 30 m
Day 12: Nitmiluk National Park - Edith Falls - 90 km | 1 hr 20 m
Day 13: Litchfield National Park - 230 km | 2 hr 35 m
Day 14: Darwin - 116 km | 1 hr 20 m
---
Adelaide to Darwin Map

Road Trips From Darwin & Adelaide