"Take the time and explore Australia's most affordable range of campervans."
Camperman Australia is a proud Australian owned family business with over 20 years' experience in the campervan rental business and a vast knowledge of Australia. This makes Camperman Australia your passport to freedom, with a choice of 8 great locations to choose from to start or finish your holiday.  Camperman Australia has a range of Toyota hiace hightop campervans to suit your needs, ranging from 1 to 5 person Campervans.
Looking to hire a Campervan with a Shower & Toilet ?

 Our Paradise Shower/Toilet Campervan is Great for Families
Our special paradise S/T model has been modified to include a shower and toilet for total convenience.  Also with 50% more room than the average hightop campervan it's no wonder this is our most sort after model.  Fantastic for Couples or families that are wanting value for their dollar.
When it comes to bedding down for the night, this camper opens up your choices to sleep under the stars or snuggle up with your loved one. With facilities to sleep up to 5 people (2 double beds and a 2 man tent with camping gear provided) and 2 optional child seats.
Today's Specials
Relocation
Sydney to Cairns incl. $250 Fuel
Monday 09 December to
Sunday 15 Dec 2013
Call Now for details!
FREE Call 1800 216 223
View Customer Reviews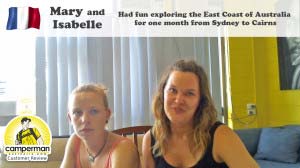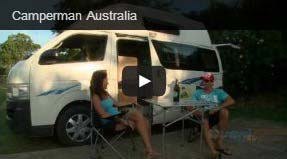 Why Choose Camperman For Your Next Aussie Getaway
Camperman offers you 8 fantastic locations to start your Australian adventure, with 8 different models of campers that come fully self contained with an all inclusive rate. Yes all inclusive, no add ons.
Camperman's all inclusive rate also includes full cover insurance leaving only a $500 excess/bond. Camperman gives you peace of mind and lets you only worry about where to stay next.
Todays Review
Nancy and Roger Cave, Townsville
Date Published: 11/14/2013
We picked up our Camperman campervan in Townsville and drove up to the Gulf of Carpentaria stopping at many lovely places on the way and on the way back. Our little van was great, very compact but had everything we needed to make our holiday perfect. Thank you Camperman.
Read more reviews