Campervan Touring Information
Mount Gambier
(463km south-east of Adelaide)
Trip duration: Two days or more.
On the road
Travel along the Eastern Freeway towards Mount Barker and on to Tailem Bend. Turn right and follow the coast road to Kingston diverting left to Mount Gambier.

Alternatively, travel to the south-east via the Princess Highway and discover the Coorong, an area famous for its flora and fauna.

Or travel via Keith on the Dukes Highway, where the surrounding rural area, once an infertile part of the desert, is now valuable farming land. Whichever route you take, the drive takes around five hours.
MOUNT GAMBIER
Lieutenant James Grant, in 1800, sighted and named Mount Gambier, an extinct volcano. Mount Gambier township is built on its slopes in the centre of the largest pine plantations in Australia. Surrounded by rich farming and dairy country, the town is 460km from Adelaide on the Princess Highway.
Must see
There is a Heritage Walk leaflet available from the Tourist Information Centre. The walk includes Town Hall, built in 1862 and Post Office built in 1865, along with many hotels.
A tour of the volcanic south-eastern region will reveal an immense diversity of rugged coastline and wide sandy beaches, wetlands, extinct volcanoes, lakes forest and vineyards. Visit the Blue Lake, which changes colour each November from winter grey to an intense metallic blue. A short drive from here is Port MacDonnell where you can experience the exhilarating climb to the rim of Mount Schank, an extinct volcano.
Kingston, a small lobster fishing village located on Lacepede Bay, is a haven for birdlife. One of the town's attractions is a 17 metre high lobster.
From Beachport, take the Bowman Scenic drive for spectacular views of the coastline, and the township of Lake George.
Penola is a town of living history with many slab and hewn cottages built in the 1850s. Nearby is theConawarra wine district with first-class wineries and a range of interesting restaurants, many housed in old winery buildings. About 82km north is the Padthaway Estate winery built in 1882, which now has accommodation in the old mansion, excellent food and estate table wines.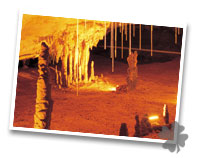 At Naracoorte, visit The Sheep's Back Wool Museum, and the Naracoorte Museum. Go underground at world heritage listed Naracoorte Caves Conservation Park, or walk along the boardwalk network at Bool Lagoon Game Reserve, an extensive wetland with abundant wildlife.
For further information, contact:
The Lady Nelson Park Tourist and Interpretive Centre Jubilee Highway East MOUNT GAMBIER SA 5290 Phone: (087) 24 1730
Acknowledgement
Images courtesy of South Australia Tourism Commission
The South Australian Tourism Commission releases materials solely for the purpose of positive promotion of South Australia as a tourism and travel destination. Any breach of this copyright condition could result in legal action.