Campervan Hire & Rentals Australia
At Camperman Australia, we have a full range of Toyota Hi Top Campervans fully fitted out and equipped to meet your needs. We are family and backpacker friendly, allow multiple drivers at no extra charge. With Unlimited Kilometres, 24 hr roadside assistance, drivers aged from 19 years old accepted and an all inclusive pricing including insurance with a $500 excess we can help make your self-drive holiday a trip to remember.
Check out our range of campers below. If you have any questions we are here to help. Give us a call or tryout the chatbox located down the lower right of any of the pages. Of course you could also contact us via the enquiry form as well.
Why hire a Campervan from Camperman Australia
Family and backpacker friendly
Unlimited Kilometres
24 hr roadside assistance
Drivers from 19 years upwards
Extra Drivers at No Charge
All inclusive pricing
Comprehensive Insurance - with $500 excess (drivers 22+ y)
Road Tolls Fees Included
Australian owned Company
Our top of the line Paradise Shower and Toilet Hitop Campervan
---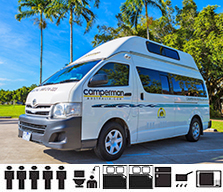 Paradise Shower/Toilet
2007-2011 Models
$$$$$
Seats with seatbelt: 5
Sleeps inside: 4
Compare Campervans for travel up to 5 people
---
Compare Campervans for travel up to 3 people
---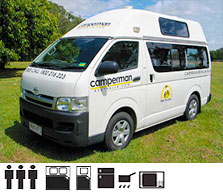 Juliette 3 HighTop
2008-2011 Models
$$$$$
Seats with seatbelt: 3
Sleeps inside: 3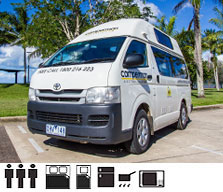 Jade HighTop
2006-2007 Models
$$$$$
Seats with seatbelt: 3
Sleeps inside: 3
ScrollUp