Campervan Hire & Rentals Australia
At Camperman Australia, we have a full range of reliable and spacious Toyota HiTop campervans and motorhomes fully equipped for life on the road. Our prices are all-inclusive. Insurance excess is a low $500 (compare this to other rental companies), and road tolls are paid automatically as you drive.
If you have any questions call us or try the chat box located at the lower right of every page.
Why hire a Campervan from Camperman Australia
Unlimited Kilometres
24 hr roadside assistance
Drivers from 18 years with open licence

Extra Drivers at No Charge
All inclusive pricing
Comprehensive Insurance - with $500 excess (drivers 18+ y)
Road Tolls Included
Australian owned Company
Our top of the line Paradise Shower and Toilet Hitop Campervan
---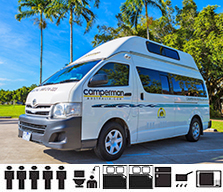 Paradise Shower/Toilet
2008-2012 Models
$$$$$
Seats with seatbelt: 5
Sleeps inside: 4
Compare Campervans for travel up to 5 people
---
Compare Campervans for travel up to 3 people
---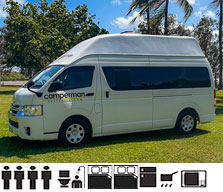 Maxie 4 Deluxe HighTop
2010-2018 Models
$$$$$
Seats with seatbelt: 4
Sleeps inside: 3-4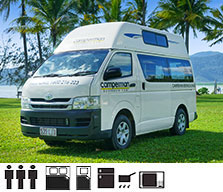 Maxie 3 HighTop
2010-2018 Models
$$$$$
Seats with seatbelt: 3
Sleeps inside: 2-3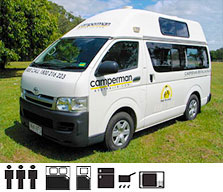 Juliette 3 HighTop
2009-2013 Models
$$$$$
Seats with seatbelt: 3
Sleeps inside: 3
ScrollUp