Alice Springs and East Touring Information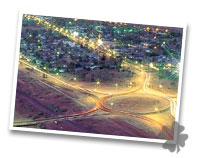 (107km east)
Trip duration: Overnight or longer
On the road Take the Stuart Highway
Must see
Alice Springs
Bordered by The MacDonnell Ranges and National Parks, the Alice is in the heart of the red centre, almost 1500km from the nearest city capital, and makes an ideal base for your outback adventures.
It is the gateway to the NT's biggest single tourist attraction, Uluru (Ayers Rock). Alice Springs is a modern and well-maintained town, that attracts some 350 000 visitors a year, passing through between May and September. In this period, cloudless skies and warm days usher in refreshingly cool nights.
Anzac Hill, is at the northern end of Todd St and from the top you have a fine view over modern Alice Springs and down to the MacDonnell Range that forms a southern boundary to the town. There are a number of other hills in and around Alice Springs that you can climb, but Anzac Hill is certainly the best known.
Along the street you can see Adelaide House, built in the early 1920s, that has been preserved as the John Flynn Memorial Museum.
The Aviation Museum, has an interesting collection of memorabilia, housed in the former Connellan hanger on Memorial Avenue. The museum includes a couple of exhibits, which highlight the dangers of outback aviation.
Upstairs in Ford Plaza, the Spencer & Gillen Museum of Central Australia has a fascinating collection, including some superb natural history displays. There's an interesting exhibition on meteors and meteorites, and exhibits on Aboriginal culture, some fine Papunya Tula sand paintings and displays of art of the Centre, including works by Albert Namatjira.
Strehlow Research Centre is a new centre on Larapinta Drive, that commemorates the work of Professor Streholw among the Aranda people of the district.
The main function of the building is to house the most comprehensive collection of Aboriginal spirit items in the country. These were entrusted to Streholw for safekeeping by the Aborigines years ago when they realised their traditional life was under threat.
The Date Garden & Camel Farm on the Old South Road, just beyond Heavitree Gap, is Austrlia's only date garden. The camel farm, on Emily Gap Rd, is open daily and you have a chance to ride a camel. There's a museum with displays about camels and early radio communications. Gow's Reptile World is here and the Weethalle Angora Goat Farm is adjacent.
East Of Alice Springs:

As you travel East, you'll discover Emily Gap and Jessie Gap with their extraordinary towering rock formations, Aboriginal rock paintings and carvings symbolising 'Caterpillar Dreaming'.
Then on to dramatic Trephina Gorge where thousands of years of erosion has carved huge channels through ancient quartzite.
Splendid 300 year old Ghost gums and River Red Gums standing 33 metres tall, grow by the usually dry creek bed. Native figs grow out of cracked rock walls which have worn into a block effect, and have become a favourite nesting place for fairy martins.
At Ross River Homestead, now a famous tourist attraction, you can see the cattle station with it's original homestead buildings and remains of the adobe hut that formed the first dwelling. You can ride horses and camels, explore the ranges and climb the ridge which commands the most spectacular view of the Eastern MacDonnells.
Further east, at Arltunga, with its faithfully restored buildings, preserved equipment and open mines- you can retrace the steps of early gold miners.
For further information, contact:
Central Australian Tourism Industry Association
Ford Plaza Building, Todd Mall ALICE SPRINGS NT 0870 Phone: (089) 52 5199 Fax:(089) 530 295
Darwin Regional Tourism Association 33 The Mall DARWIN NT 0801 Phone: (089) 814 300 Fax:(089) 817 346
Acknowledgement
Images courtesy of Northern Territory Tourist Commission
Northern Territory Tourist Commission releases materials solely for the purpose of positive promotion of Northern Territory as a tourism and travel destination. Any breach of this copyright condition could result in legal action.