Kakadu National Park Touring Information
(250 km west of Darwin via the Stuart and Arnhem Highways.)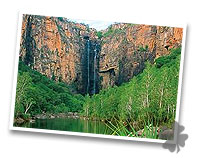 Trip duration: A minimum of three days.
On the road
Travel down the Stuart Highway for 33km. Turn left at the Arnhem Highway for Kakadu National Park entry. The park entry is km from the Arnhem Highway turn-off.
Must see
Kakadu National Park, recently placed on the World Heritage List. The park's Aboriginal history dates back at least 25,000 years. Kakadu has one of the largest wetlands in the world, providing a living environment for all types of wildlife.
KAKADU NATIONAL PARK
Kakadu National Park is one of the natural marvels not just of the Northern Territory, but of Australia. Kakadu stretches for more than 200km south from the coast and 100km from east to west. It encompasses a great variety of superb landscapes, swarms with wildlife and has some of Australia's best Aboriginal rock art.
Camping grounds are provided throughout the Park. Permits are required for camping outside designated camping grounds and can be obtained at Park Headquarters.
Kakadu contains a wealth of archaeological and rock sites, which provide insights into Aboriginal culture and the environmental changes, witnessed through generations. The various styles of rock art that can be seen include the stick like mini figures (believed to be the oldest), x-ray style paintings which show the internal structure of animals and contact art which began with the arrival of non-Aboriginal people. The principle sites are at Ubirr and Nourlangie Rock.
Fogg Dam, 70km from Darwin via the Arnhem Highway. At sunrise or sunset a tour of this area offers an excellent opportunity to view animals and birds on the move between their feeding-grounds and where they sleep. The Fogg Dam is a likely spot to see crocodiles, wallabies, pelicans and the jabiru. Other birds in abundance are the pelican, egret, galah, cockatoo and kitehawk. The tour route then goes on to the Marakai Plains where many species of birds can be seen.
Stop at Reptile World at Humpty Doo, which has the largest range of snakes in Australia (250 species). Humpty Doo Hotel is a colourful pub that is a must to visit before leaving town.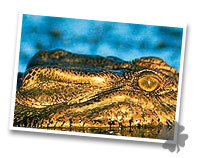 Yellow Waters, one of the largest and most popular billabongs in Kakadu, is renowned for its abundant wildlife including the blue kingfisher and the jabiru. The wetlands are one of the most accessible places to see waterbirds and crocodiles-from the safety of a boat.
Ubirr, a gallery of Aboriginal rock paintings dating back at least 60,000 years, depicts mythical and spiritual figures and an ancient way of life.
Manngarre monsoon forest walk is open May to December. The track is north of the East Alligator River Road and is an easy 1.5km circuit through rainforest and along the river.
Nourlangie Rock, 31km south of Bowali Visitors Centre, is an Aboriginal rock art site and bushwalking lookout. The road is sealed and accessible all year round.
At Jim Jim and Twin Falls majestic sandstone walls stand hundreds of metres above a placid rock pool. Jim Jim is a sparkling spectacle as the torrent drops 200 metres. The falls may be cut off in the wet season, November to March. Twin Falls lies deep within a gorge and you must swim or paddle over the crystal clear waters to view the permanent cascade.
For further information, contact:
Kakadu National Park
PO Box 71
JABIRU NT 0886
Phone: (089) 38 1100
Fax:(089) 38 1115
Acknowledgement
Images courtesy of Northern Territory Tourist Commission
Northern Territory Tourist Commission releases materials solely for the purpose of positive promotion of Northern Territory as a tourism and travel destination. Any breach of this copyright condition could result in legal action.