Nitmiluk National Park Touring Information
(337km south of Darwin on the Stuart Highway)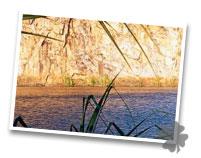 Trip duration: A minimum of three days.
On the road Travel south along the straight line of the Stuart Highway to Katherine.
KATHERINE
One of the major towns in the Top End, is Katherine, just 337km south of Darwin. The town is situated on the southern side of the Katherine River. It is a thriving town on the edge of spectacular wilderness regions, and part of the Top End not to be missed. Now days Katherine's economic mainstays are, the Mt Todd gold mine, Tourism and the Tindal RAAF airbase, 27km south east, but still the township is the centre of scientific agricultural experiments, designed to improve the efficiency of the traditional beef cattle industry, on which Katherine was founded.
Katherine Museum, Gorge Road was originally built in 1944-45 as an air terminal for the Department of Civil Aviation, the Museum houses a collection of artefacts, photographs, maps and historical items relating to the Katherine region.
Low Level Nature Reserve, Victoria Highway 3km from Katherine. Popular with locals as a swimming and picnic spot, the Low Level Weir was built during WWII by American troops. This area features many species of birds.
Pioneer Pathway, walk from the Old Railway Station to the High Level Bridge and read extracts from Katherine's pioneering past.
Rowlands Dairy, Florina Road is the largest dairy in the southern hemisphere complete with it own processing plant. 1200 cows are milked daily. Guide tours are available.
Must see
Katherine Gorge (Nitmiluk), which lies just 30 km from the town centre, is actually a system of 13 separate gorges, each separated by rapids. Viewed from above, the gorges are a deep, winding fissure carved into the ochre sandstone. Standing guard on either side of the Katherine River are sheer red cliffs that change colour throughout the course of the day. At dawn and dusk, they glow intense shimmering shades of orange and red. Once the Katherine River winds its way slowly out of the gorge, it is transformed into a gentle, tree-lined watercourse. Knotts Crossing, the Low Level Bridge and Weir are popular places to take a dip.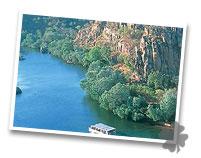 There a lots of way to explore the Gorge system. On a boat tour you can reach as far as the fifth gorge, but if you are one of the more adventurous, hire a canoe and explore all the gorges. For a breathtaking view, scenic flights are available in fixed wing aircraft or by helicopter. For bush walking enthusiasts, the National Park features over 100 kilometres of marked walking trails, the perfect way to quietly discover the surrounding countryside and its eucalyptus, bush flowers and wildlife.
Springvale Homestead, 8km from Katherine, was built in 1879 and is the oldest remaining homestead inn the Northern Territory. Swim, fish, canoe, enjoy a horse or trail bike ride, view an Aboriginal corroboree and take scenic tours of the homestead.
Edith Falls, 61km north-east of Katherine, is a perfect spot for a picnic, a swim or to camp.
Mataranka, once part of a huge sheep station, is now a nature park with camping grounds. It is known for its thermal pool, set in a tropical forest of tall palms and eucalypts.
Cutta Cutta Caves, 27km south of Katherine, are a series of labyrinthine limestone caverns connected by narrow passages which meander for about 700m beneath the surface.
At Pine Creek, 92km north of Katherine, you can pan for gold at this old gold-mining township which dates back to the 1870s.
For further information, contact:
Katherine Region Tourist Association
PO Box 555 Cnr Stuart Highway & Lindsay Avenue KATHERINE NT 0850 Phone: (089) 72 2650 Fax: (089) 72 2969
Acknowledgement
Images courtesy of Northern Territory Tourist Commission
Northern Territory Tourist Commission releases materials solely for the purpose of positive promotion of Northern Territory as a tourism and travel destination. Any breach of this copyright condition could result in legal action.