Darwin
Distances

From Litchfield National Park: 144 km | 2 hr
From Katherine Gorge: 345 km | 3 hr 45 m
From Alice Springs: 1,497 km | 16 hr 10 m
From Cairns: 2,849 km | 32 hr
From Broome: 1,871 km | 21 hr
Darwin is Australia's northern most capital city and it feels a bit removed from the rest of the country, but that's one of its charms. It has two seasons - wet and dry. Wet season from October to April is monsoonal, hot and humid. Dry season from May to September has a more pleasant temperature and is less humid.
There's more to Darwin than first meets the eye. We've listed the top 5 attractions for those who are short on time. If you're staying more than a day, and we suggest you do, read on for the full list. We've also included a list of the best Darwin Caravan Parks - those that score 4 stars or more from reviewers - along with their rates and facilities. Enjoy!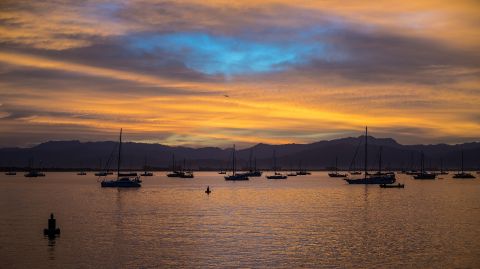 Top 5 things to do in Darwin
Mindil Beach Sunset Market – the place to come for global cuisine from food trucks. Some of the cuisines you'll find include French, Indonesian, Greek, Vegan, Indian, Bangladesh Curries, Borneo, Italian, Thai, Hong Kong, Vietnamese, Spanish Pella, Sri Lankan, Mexican, Chinese and so much more. They have all kinds of stalls here, not just food.
FREE


Museum and Art Gallery of the Northern Territory (MAGNT) – a large centre that houses renowned Indigenous artists and cultural exhibits. They have one of the largest photographic collection of indigenous rock art. You'll find something that interests you here. Give yourself a couple of hours.
FREE


Crocosaurus Cove – Come swim with enormous crocodiles from the safety of a clear cage – if you're game.
ADULT: $35 CHILD $23
CAGE OF DEATH: $130 per person if there are two of you in the cage.


Royal Flying Doctors Service on the Stokes Hill Wharf – relive in vivid detail the 1942 Japanese bombing raid on Darwin Harbor thanks to the excellent hologram cinema and virtual-reality glasses. There's also decommissioned aircraft from the Flying Doctors Service, a live map showing you the current locations of the RFDS planes and stories of WWII.
ADULTS: $28. CHILDREN: $16


Turtle Tracks tour is an 8 hour tour from 4 pm to midnight (May – Sept) which includes dinner. You're taken out to watch the ritual egg laying of Olive Ridley and Flatback turtles. Late in the season you might even see hatchlings make their way to the sea.
ADULTS: $285, CHILDREN: $190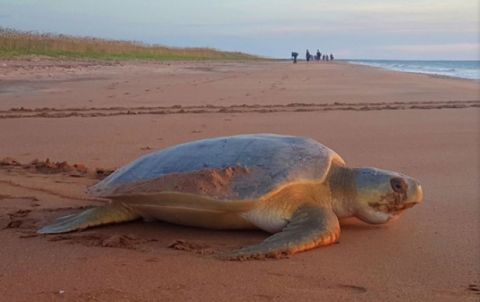 Turtles laying eggs. Sea Darwin Tours.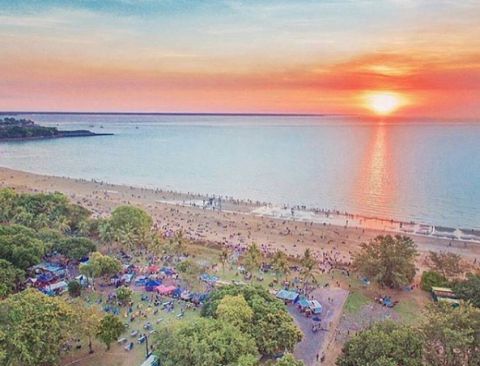 Mindil Beach Sunset Markets. Photo: chriznobs via IG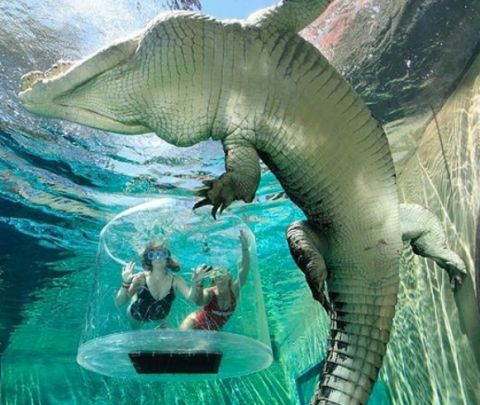 Crocosaurus Cove, swimming with crocodiles.Photo: bouch_potato via IG

17 Things to do in Darwin
Darwin Waterfront – this is a fun place to hang out. There's a swimming lagoon, a wave lagoon, restaurants, bars, and big umbrellas to sit beneath. Bear in mind it is an alcohol-free zone except in licensed premises.
FREE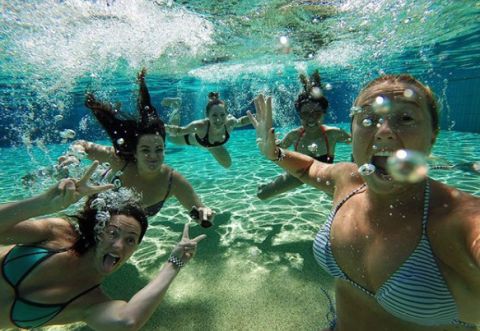 Wave Lagoon at the Darwin Waterfront. Photo: sophiepetula via IG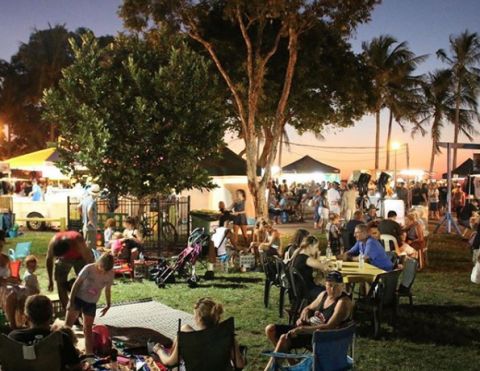 Mindil Market, Darwin

George Brown Botanic Gardens - cover 42 hectares and are very close to the Mindil Beach Sunset markets. The Botanic Gardens are known for their northern Australia plant collection.
FREE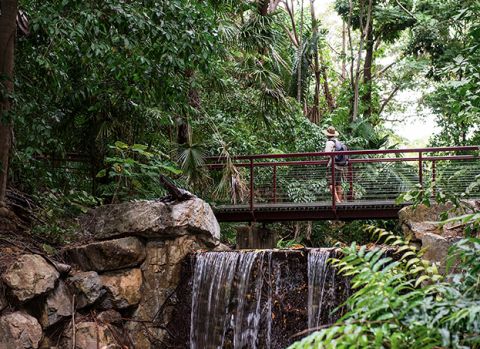 George Brown Botanic Gardens


Bicentennial Park – a popular green space in the middle of Darwin, which look onto the harbor. A great place for sunset strolls.
FREE


East Point Reserve and Lake Alexander – is a large parkland that includes a beach and wonderful ocean sunsets, a lake that is suitable for swimming in dry season (April – Sept), beautiful gardens and lawns, and WWII buildings and gun placements. Facilities include BBQs, picnic tables, toilets, showers and walking paths.
FREE


Jingili Waters Gardens – a great place to have a picnic or BBQ by the lily ponds. There are walking paths, picnic tables, BBQs, a children's playground and lots of mature shady trees.
FREE


Aquascene – come and hand feed the wild fish at high tide, just as people have been doing here for over sixty years. The fish are not afraid and it's a great experience. or over sixty years .
ADULTS: $15 CHILDREN $10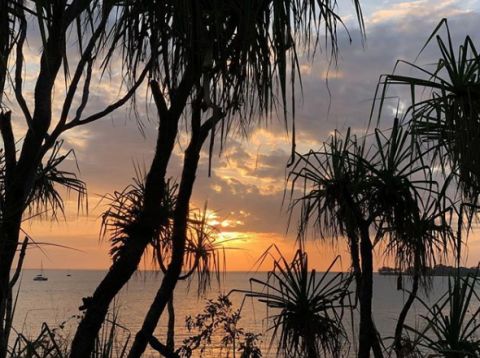 The beach at East Point Reserve. Photo: simppstagram via IG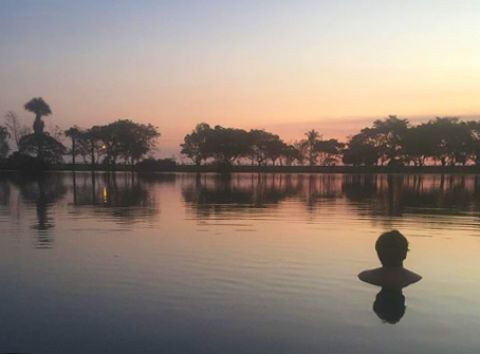 Sunset swim at Lake Alexander. Photo: nomad_gold via IG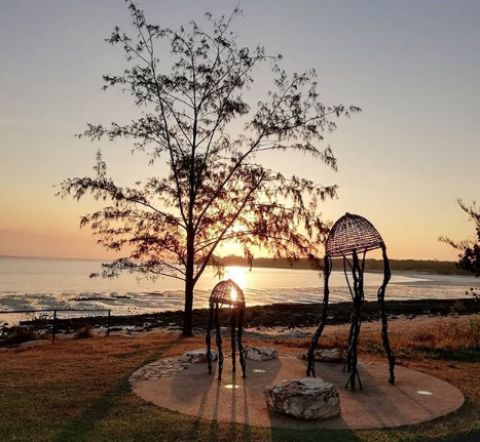 Jelly fish sculptures at East Point Reserve. Photo: kunczeanna via IG


Feeding the fish at Aquascene. Photo: a_travel_to_b via IG
ART AND CULTURE
Museum and Art Gallery of the Northern Territory (MAGNT) - a large gallery and museum that houses well known Indigenous artists and cultural exhibits.
FREE


Darwin Military Museum - tells the story of Darwin during WWII, including what it was like during the bombing raid on the city by the Japanese. It includes artillery pieces; vehicles, uniforms, firearms, models, paintings and original landmarks.
ADULTS: $18 CHILDREN $8.


Deck Chair Cinema – in Bicentennial Park is Darwin's free outdoor cinema run by non-profit group Darwin Film Society. Bring a picnic blanket or a deck chair, stake out your patch of grass and settle back to enjoy the film.
FREE


Royal Flying Doctors Service – a must see (see our top five list above).
ADULTS: $28. CHILDREN: $16


Australian Aviation Heritage Centre – 19 civilian and military aircraft housed in a large hangar including the legendary B-52 bomber and aircraft that assisted in the clean-up missions after the devastation of Cyclone Tracy
ADULTS: $15


Burnett House - (built 1938) is the only surviving example of architect B.C.G Burnett's Type 'K' design – an Anglo-Asian inspired bungalow perfectly designed for the tropical climate of Darwin. A unique feature is the coloured compass inlay in the ground floor. It uses well-developed principles of cross-ventilation. Guided tours are provided of the house and gardens.
ADULTS: $2


Aboriginal Fine Arts – A commercial gallery (free entry) with a great collection of Aboriginal paintings, works on bark, hand-woven baskets, didgeridoos, carvings from Arnhem Land and the Central and Western desert regions, a range of CDs and informative books.
FREE


Mason Gallery – another commercial gallery with a wonderful collection of Aboriginal arts.
FREE


Survivors Lookout – located in town, climb the steps for great views of the city.
FREE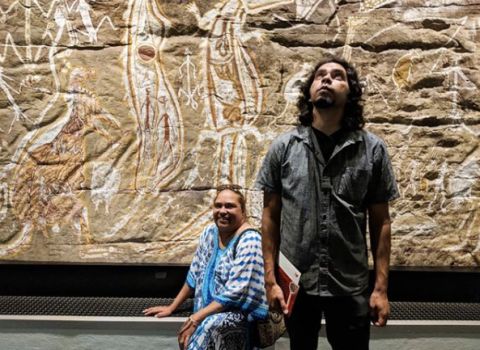 Museum and Art Gallery of NT (MAGNT) Photo: mfalcinella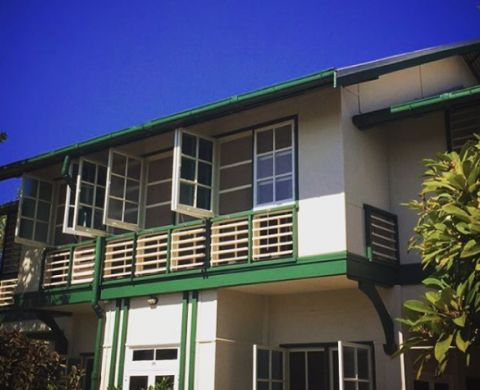 Burnett House, Darwin. Photo: jakemarcuwarren via IG
Darwin Caravan Parks
There are no caravan parks in the centre of Darwin. These aren't too far away. We've listed the top five below.
Darwin Freespirit resort and Caravan Park – Set amongst lush tropical gardens with resort style swimming pools. Facilities include three resort style swimming pools, camp kitchens with TVs, BBQ areas, kids activities (seasonal), bar and bistro, jumping pillow, a large outdoor terrace and bar, live music, shop, laundry, tour bookings and multiple toilet and shower blocks.
RATES: Unpowered sites $35 - $40 for two adults. $5 additional adults. Minimum 2 night stay.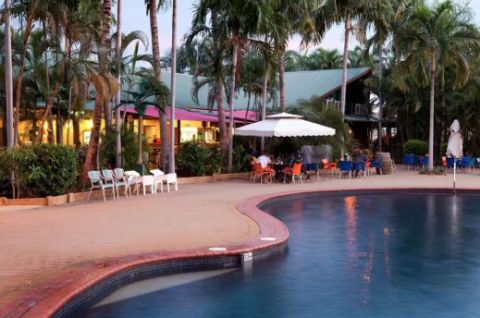 Darwin Free Spirit Caravan Park


Oasis Tourist Park – a small caravan park with grassy sites and shady tress. Facilities include a camp kitchen, swimming pool, shower and toilet blocks, Internet access ($3 for 30 minutes), 4 free gas BBQs, laundry, book exchange, shop, and tour bookings.
RATES: powered sites $38 for two. Additional adults $10


Darwin Boomerang Caravan Park – large shady trees, grassy sites, and not too far from the centre of town. Facilities include sheltered BBQ area with gas BBQs, camp kitchen, swimming pool with tropical gardens, laundry, and two shower and toilet blocks. There is a small shop and a licensed tavern and restaurant on site.
RATES: powered site $45 - $35 for two. Additional adults $10. Children $5.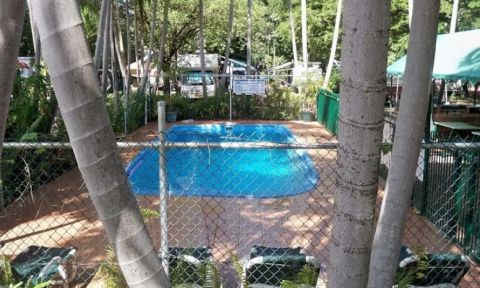 Darwin Boomerang Caravan Park


Hidden Valley Holiday Park – is set among shady gardens. Facilities include free WiFi, a swimming pool, café, camp kitchen, picnic areas, dump point, laundry, shower and toilet blocks, tour desk.
RATES: Powered grass sites $50 for two adults. Additional adult rates unknown.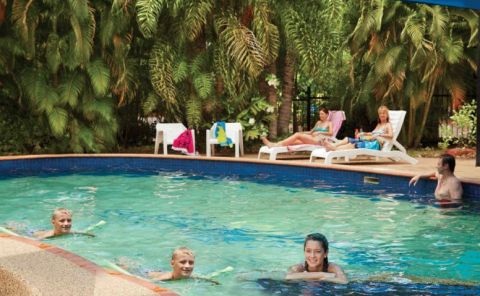 Hidden Valley Holiday Park


Noonamah Tourist Park – a small park in rural surrounds with grassy shaded sites south of Darwin. Facilities include a Swimming Pool, Coin Op Laundry, BBQ, shower and toilet block. It's by the Noonamah Tavern which has a bottleshop and restaurant.
RATES: unpowered $27 for 2 adults. Additional adults $10.
Savannah Way Map
Road Trips From Darwin
Campervan Hire
Camperman offers the lowest all-inclusive rates in Australia for compact RV, motorhome and campervan rentals with an internal kitchen.