Bungy jumping, skydiving, white water rafting- these are activities that get any adrenaline junkies' attention. But did you know, you no longer have to jump on a 3-hour flight across the Tasmin to partake in a wide array of activities that get the adrenaline pumping- you can actually do all these and more in tropical paradise! These are some of the activities that make Cairns the adventure capital of Australia.
Bungy Jumping
Have you ever considered launching yourself off a 50m platform, in a rainforest, with the sprawling coral sea ahead of you as far as the eye can see? At Skypark Cairns by AJ Hacket, located in Smithfield (approx 16 km from Cairns CBD), you can make this dream a reality! Skypark is home to Australia's ONLY Bungy Jump platform, but there is also the option of enjoying the Giant Swing, and Walking the Plank, if throwing yourself off a platform isn't really your thing. If you're coming to support a loved one, feel free to climb the tower to experience the highest viewing platform in Cairns- although your journey back down is going to be a lot longer than the person you've come to support!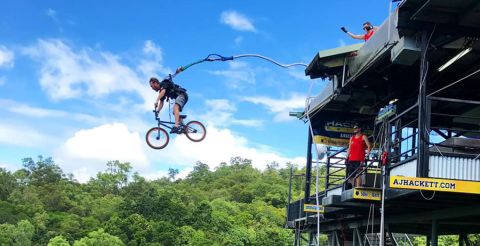 Source: Skypark Cairns
Skydiving
Skydiving is an activity on most people's bucket lists, and if you can muster the courage to throw yourself out of a plane at 15,000ft, Cairns is the perfect location to do it! Skydive Australia is standing by with highly qualified instructors, ready to take you to an elevation of 15,000ft, which includes a freefall of around one minute as you take in views of the Great Barrier Reef, Daintree Rainforest and the stunning cane fields of South Cairns. Make sure you invest in one of their media packages to prove to all your friends and family that you were brave enough to make the jump!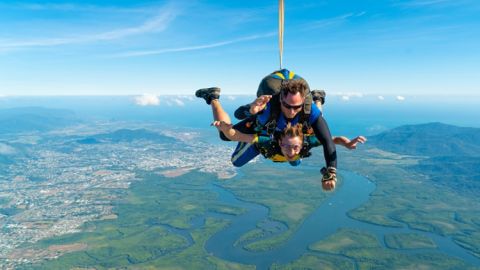 Source: Skydive Australia
White Water Rafting

If you like your adrenaline wet and wild, white water rafting is the activity for you! Raging Thunder has two rainforest river options for you out of Cairns, The Tully River, and The Barron River. The Barron River is a little more relaxed and is classed as grade 2-3 rapids, allowing you time to relax and take in the view between bouncing between granite boulder rock formations. The Tully River, on the other hand, is classed as a grade 4-5 river, hosted the 2019 International Rafting Federation's World Championships, and is one hell of a wild ride- this option is definitely not for the faint of heart! The World Heritage Listed, Rainforest backdrop is the perfect location to appreciate nature and get the pulse racing at the same time!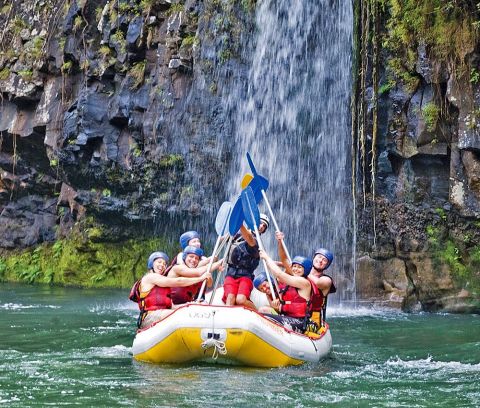 Source: Raging Thunder


Scuba Diving
Have you ever wanted to descend beneath the ocean's surface and explore what lies below? Scuba diving is the activity for you! There are numerous boat operators that depart Cairns, but the best scuba diving occurs right on the edge of the Reef before the continental shelf drops off to the deep, dark ocean. Luckily, you don't need to hold a diver's licence to undertake a scuba dive- basic swimming skills are recommended, but your first dive will usually see you linked to your instructor. All you have to do is focus on your breathing! Some vessels offer a three-stop day program, allowing you to undertake up to three dives on your Reef day! Whether you've done 100 dives or absolutely zero, there's no better place in the world to scuba dive than the Great Barrier Reef.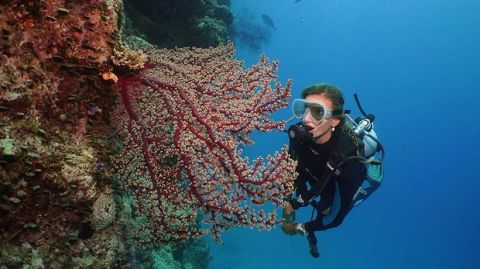 Source: Quicksilver Cruises
Wakeboarding
If you have fantastic upper body strength and a need for speed, Cairns is the proud owner of Tropical North Queensland's only Cable Wake Park! Located in Smithfield (approx 16km from Cairns CBD), You have the ability to book this experience by the hour, no experience is required and this activity is kid-friendly (Kids Club sessions run from 8:30-10 am every Saturday and are aimed at 7-12-year-olds). They even conduct a ladies-only session on Sundays if you're a lady who's a little intimidated by the whole thing but would love to give it a go! Additionally, they have a fantastic Aqua Park which has a wide range of obstacles to navigate, and Barra Park if you'd like the opportunity to catch yourself a Barra (seasonal). A proficient swimming ability is required, and helmets and life jackets are provided and must be worn.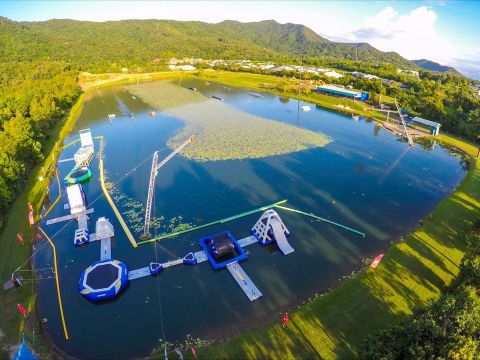 Source: Tropical North Queensland
Mountain bike

If speeding downhill while navigating trees and jumps gets your blood pumping, Cairns has some world-class downhill mountain bike tracks that will excite riders of any level! Over the last 20 years, these tracks have seen their fair share of competitive riding, including the 2017 World Mountain Bike and Trials Championship and the 2022 Crankworx World Tour, the world's largest mountain bike festival! There are three track options - Green Trails (easy), Blue Trails (intermediate), and Black Trails (advanced). Explore some of the best mountain biking trails in the world, and one of the only ones set amongst world heritage listed rainforest habitats - What could be better?!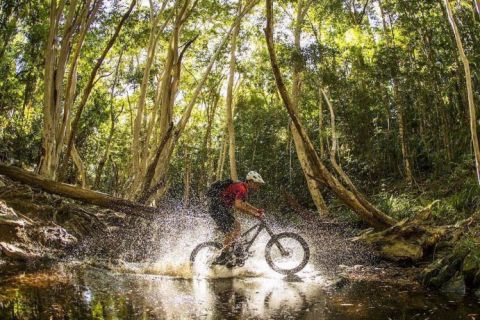 Source: Queensland
Hot air ballooning
Not quite on the same level as some of the other options, but if you're looking for a less 'adrenaline pumping' adventure option, join Hot Air Ballooning Cairns for the opportunity to take in the stunning Tablelands from the sky. Departing from Mareeba, be prepared for the pre-dawn start (it makes it a super early wake-up if you're coming from Cairns), your experience in the basket will last approximately an hour, with take-offs happening at dawn (6:30 am) and landing and pack down starting around 7:50 am (with a complimentary glass of bubbly or orange juice!) Hot Air Ballooning Cairns is happy to transfer you to and from Cairns and can package your Hot Air Ballooning activity with other experiences, allowing you to utilise your time in Cairns. Ensure you bring your camera and a jacket- it can get cold up there!


Source: Cairns Tours