Coober Pedy
Distances North
Coober Pedy to Alice Springs – 687 km | 7.5 hrs
Coober Pedy to Uluru – 734 | 8 hrs
Coober Pedy to NT/SA border rest area - 400 km | 4.5 hrs
Coober Pedy to Agnes Creek Rest Area - 320 km | 3.5 hrs
Coober Pedy to Marla Traveller's Rest - 235 km | 2.5 hrs
Distances South
Coober Pedy to Adelaide - 845 km | 9 hrs
Coober Pedy to Port Augusta – 542 km | 5.5 hrs
** We strongly advise against driving at night due to the volume of kangaroos that will jump in front of your campervan. Not only will you damage your vehicle, but you'll injure or kill a kangaroo. When you see a dead kangaroo on the road, check its pouch for a joey when safe to do so. Kangaroo rescue centers can be located at Coober Pedy, Alice Springs, Darwin and Katherine. You can find wildlife rescue phone numbers here. You might save a life!
With dusty desert landscapes, rusty car wrecks and cave-dwellers, Coober Pedy is like the post apocalyptic wasteland of Mad Max. The name Coober Pedy comes from local Aboriginal words kupa (white man) and piti (hole).
But there's a good reason why Coober Pedy's inhabitants live underground. The flies alone will drive you insane but temperatures here reach an unbearable 50 C in summer, while underground it's a pleasant 23 – 25 C all year. There are underground churches, book shops, art galleries, cafes and museums to explore.
Opals are what drew the white folks to this part of the world in the first place, and Coober Pedy is still the most important opal producing region in the world. Australia produces 95% of the world's opals.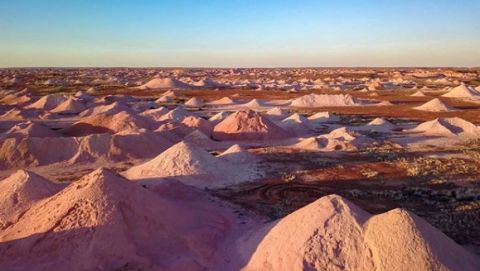 Coober Pedy opal mines. Photo: adelaide_aerial via IG
The Coober Pedy to Alice Springs Drive
Stops and Photo Opportunities
NT/SA border rest area -

Almost half way between Alice Springs and Coober Pedy the border rest stop has showers, toilets and BBQs, and it is FREE.

Agnes Creek Rest Area -

is free but there are no facilities. Public toilets and showers are located in Marla to the south.

Marla Traveller's Rest

- for $10 per person you can spend the night in comfort with a swimming pool, hot showers, laundry, bar, restaurant, bottle shop, tourist information, BBQs, ice, fuel and an ATM cashpoint.

Breakaways Conservation Park

- 23 km (15 minutes drive) north of Coober Pedy you'll see a turn off for Breakaways Conservation Park. It's only a 9 km (10 min) drive to get there and worth it!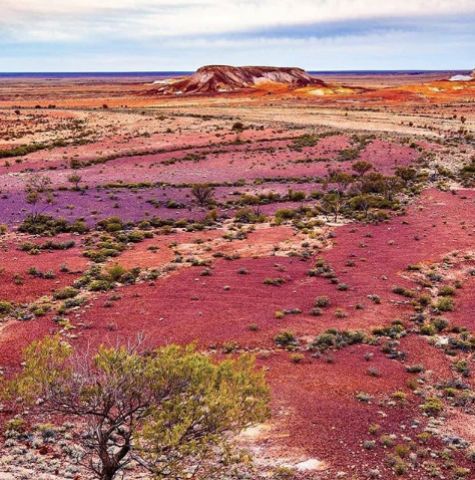 Breakaways Conservation Park. Photo: shav_bird_photography via IG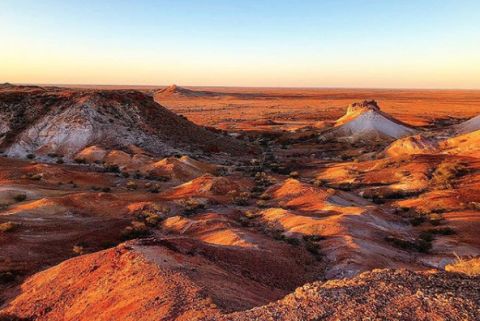 Breakaways
The Adelaide to Coober Pedy Drive
Break this long drive up with an overnight stop in Port Augusta. Port August is 310 km (3.5 hours drive) from Adelaide and 550 km (5.5 hours drive) from Coober Pedy. The old town centre of Port Augusta has some elegant old buildings and a revitalised waterfront with a jetty where locals cast fishing lines and Indigenous kids do back flips. There are plenty of attractions to amuse you for half a day or more.


Stop, revive, survive! Take regular breaks for silly photo ops. ch.thab via IG
---
10 things to do in Coober Pedy
Josephine's Gallery and Kangaroo Sanctuary
This should be on the top of your list. Learn what to do when you see a dead kangaroo on the road and cuddle one of the recovering babies. This is a voluntary service driven by a compassion for the orphaned kangaroos left in their mother's pouch after she has been hit by a car.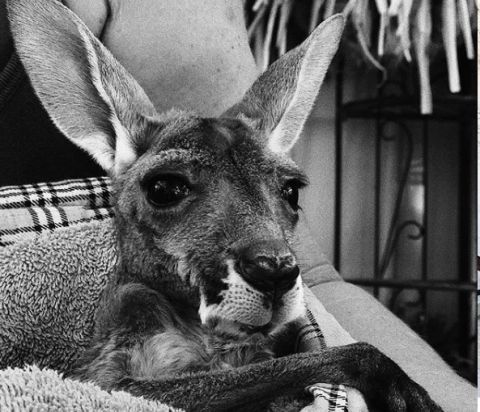 One of the patients at Jospehine's. Photo: jessaooo via IG


Faye's Underground Home
Faye's was hand dug by three women in the 1960s and hasn't been redecorated since. Take a guided tour and enjoy the retro décor and the living room swimming pool.
ENTRY: $10 adults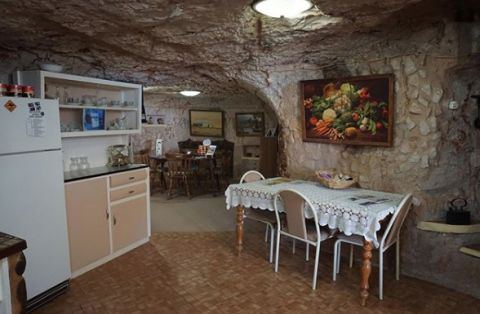 Faye's underground home
Opal Mining
Enquire at the Visitor Centre how to 'noodle' through permitted mine areas to find your own gemstone.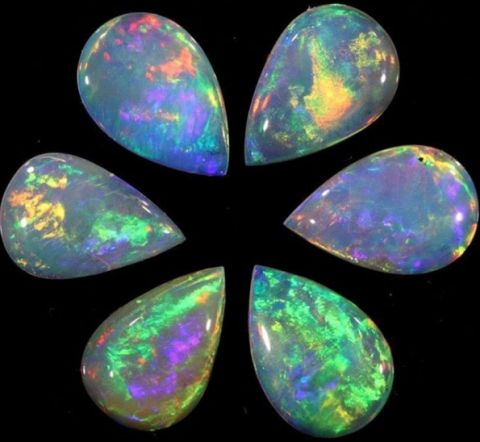 Opals. Photo: sedaopals via IG
Old Timers Mine
The historic Old Timers Mine was hand-dug in 1916 and includes display galleries, two underground homes from the 1920s and 1970s and precious seams of opal. It will give you a good insight into the town, its world famous opal mining, and the characters who have called Coober Pedy home.
ENTRY: Adults $15, kids $5, Family $40.
Umoona Opal Mine and Museum
The Umoona Mine and Museum includes an underground house, Aboriginal interpretive centre, a panoramic theatre, historic displays, opal retail shop and Aboriginal arts and drafts.
ENTRY: Adults $12, kids $6.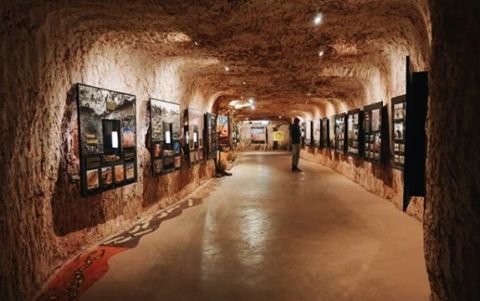 Umoona Opal Mine and Museum. Photo: kimbrpodde via IG
Serbian Orthodox Church
Church of Saint Elijah the Prophet is the name of the Serbian Orthodox Church in Coober Pedy. Elijah is important to Muslims, Catholics, Orthodox Christians and Jews. The church complex includes a church, a community hall, a parish house and a religious school, and all of it is carved in the sandstone between 3 and 17 meters under ground. Highlights include the stained glass ceiling window, a glass iconostasis and the bas reliefs of saints carved into the walls.
ENTRY: $5 adults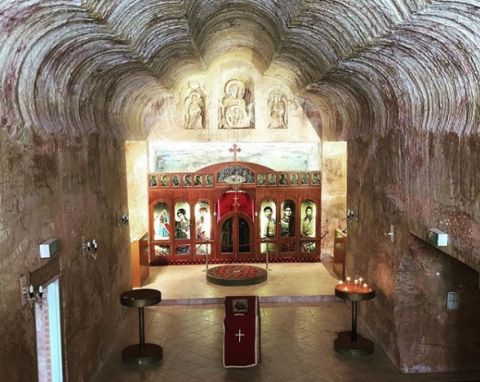 Church of Saint Elijah the Prophet. Photo: factualcynic via IG
Catacomb Church
Let yourself in and look around. It is a simply decorated serene place with soft music.
FREE
Tom's Working Opal Mine
Tom's is a maze of tunnels, interesting demonstrations and the chance to find your own opal.The guided tour offers use of the tools and demonstrations of the machinery, which you will miss on the self guided tour.
ENTRY: Adults $15, children $8, family $40. There are also tours.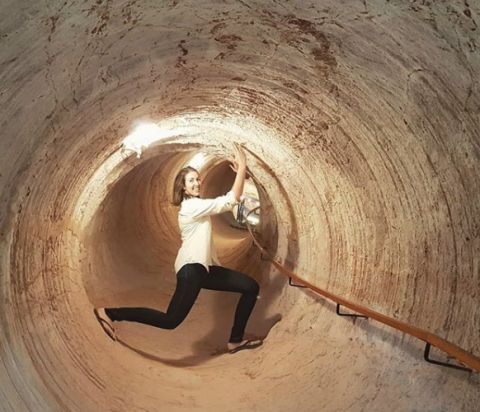 Tom's Working Opal Mine. Photo: rhiannontooker via IG
Saint Peter and Paul Catholic church
Various levels to explore and some lovely stained glass. This is the smallest and oldest of the Coober Pedy underground churches and is conveniently located in the middle of town.
FREE
Spaceship
This prop from a 2000 science fiction movie Pitch Black starring Vin Diesel sits in the town of Coober Pedy by a parking lot as though it was left there after a crash landing.
FREE

The spaceship of Coober Pedy. Photo: leorsner via IG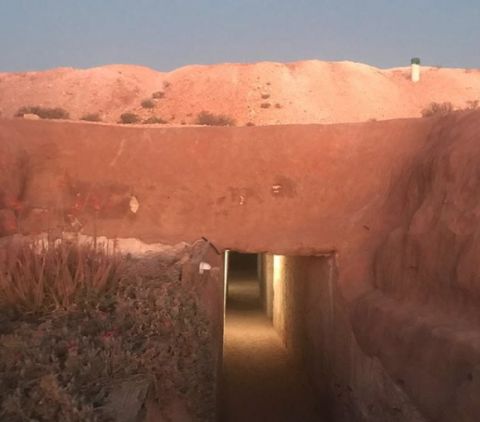 The underground town of Coober Pedy. Photo: amy rosew via IG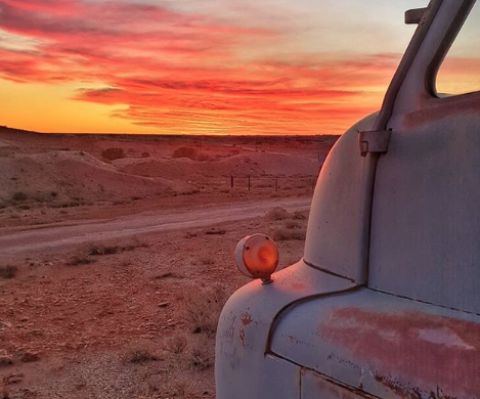 The rusty vehicles of Coober Pedy. Phot: beachbushandbackroads via IG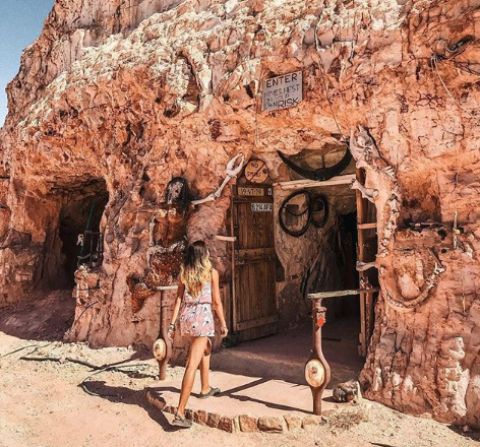 Coober Pedy. Photo: saweekender via IG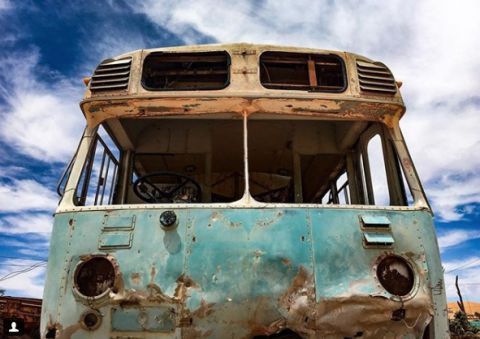 Coober Pedy rusty vehicles. Photo: viajandoconladani via IG


Underground dwellings, Coober Pedy. Photo: oliverclose via IG
---
Coober Pedy Caravan Park List
Opal Inn Caravan Park
Free WiFi, 2 bars, a bistro, bottle shop (liquor store), laundry, grassed camping area,
RATES: Powered site $35. Unpowered $25. Additional adults $10.
BIG4 Stuart Range
BBQs, camp kitchen, TV room, laundry, dump point, tourist information, bottle shop, children's playground.
RATES: Powered $37. Unpowered $32. Additional adults $12 children $6.
Oasis Tourist Park
Indoor pool, games room and clean shower and toilet amenities.
RATES unavailable
---
Coober Pedy is part of the Adelaide to Darwin Drive through Central Australia which is mapped below. For more road trips, see our list of Campervan Road Trips in Australia.
Adelaide to Darwin Map

Campervan Hire
Camperman offers the lowest all inclusive rates on campervan hire in Australia. Comprehensive insurance, additional drivers, foreign licenses, kitchen equipment, bedding - EVERYTHING is included.