Ahh, the Eyre Peninsula, one of the most underrated gems in the South Australian crown. Sure, it can take a little bit to get there, but that's half the fun! Known for its world-class seafood (fresh Coffin Bay Oysters straight out the ocean, anybody?), stunning landscapes and incredible underwater experiences, the Eyre Peninsula should be on everybody's South Australian bucket list.

Image: Coffin Bay National Parks and Wildlife Services
Whyalla ( 4 hr 23 min /384km from Adelaide)
Whyalla, an industrial hub (and fourth biggest city in South Australia) offers the incredibly unique experience of cuttlefish diving to tourists. Cuttlefish can be found in water only a few metres deep and can be accessible from the beach, so it is not vital to book a tour, however, a tour company will be able to guide you to the best spots and provide you with warm dive gear. Cuttlefish tend to be most active in the winter months, so travel from May-August to increase your likelihood of an encounter (thick wetsuits are highly recommended!) Townships worth a look within the Whyalla vicinity include Iron Knob (even just for a photo with the sign), Kimba (for the Big Galah and the silo murals) and Tumby Bay (for street art and silo murals).
*Be sure to check out the Fitzgerald Campground, Point Lowly- $8 per vehicle per night for a maximum of 14 nights and Fitzgerald Bay - Free of charge.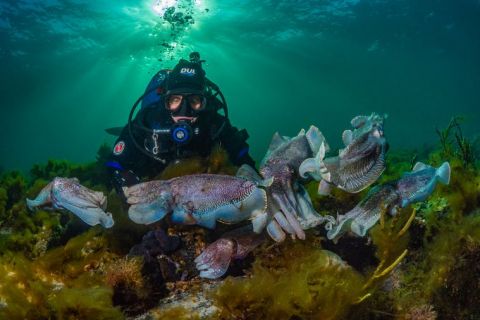 Image: South Australia
Port Lincoln (6 hr 57m/ 636km from Adelaide)
Port Lincoln sits in Boston Bay (the largest natural harbour in Australia) and is home to approximately 16,500 residents. This tourist town is well known for its seafood, its accessibility to the ocean for incredible underwater experiences (including cage shark diving, game fishing and seal diving) and the stunning Lincoln National Park.
For adventure seekers, there are many options, but Port Lincoln is most famous for its Great White Shark cage dives. There are several different companies offering experiences and amazingly, you do not need to be able to swim to partake- you just descend into the cage using a ladder and hang onto a handrail. The opportunity to share the ocean with these incredible creatures is a lifetime bucket list experience- but only if you're brave enough! For nature lovers, the Lincoln National Park is an absolute must-do, with lots of stunning, relatively untouched options for you to explore. Please be aware that there is a daily National Park entry fee of $12. Highlights include:
Fishery Bay: *Swimming not recommended*

Memory Cove
If you're planning ahead, you can also organise access to Whaler's Way, which is a privately owned slice of paradise located 32km from Port Lincoln. Permits will set you back about $40 for the day, however, that allows camping access too (additional nights, $10). This location has unsealed roads, so it's best to travel when conditions are great, but we always recommend taking it slow to avoid potholes etc. The road access to 'Red Banks' is 4WD ONLY. Be sure to check out The Swimming Hole for an Instagram worthy shot, however, we wouldn't recommend getting into the ocean, as people have been swept from the rocks at this location.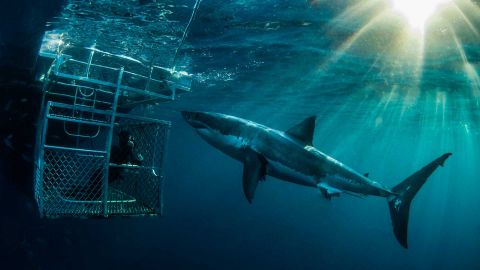 Image: Dive Adventures
Coffin Bay (7 hr 33 mins/ 687km from Adelaide)
From Port Lincoln, make the journey north-west to the small (pop. approx 700) seaside town of Coffin Bay. Don't let the town's small stature put you off, this location is well worth the visit! Be sure to check out the Oyster Farms (Coffin Bay Oysters are globally world-renowned) where you can visit and enjoy learning about how the Oysters are grown and farmed and there are even package options to enjoy a fresh oyster and a glass of wine. One of the most unique tour experiences in Australia and well worth the stop. Coffin Bay is also home to Coffin Bay National Park, encouraging thousands of visitors each year. Point Avoid should not be avoided by experienced surfers who will enjoy the reef options (no beginners) and Yangie Bay is a fantastic spot to set up camp for a night or two. Please be aware that there is a daily National Park entry fee of $12.
Image: Australian Coastal Safaris
Other key stops along the Eyre Peninsula include:

Cummings Monument
Located north of Coffin Bay, Cummins Monument offers stunning views of dramatic cliff faces. This memorial to a drowned swimmer, is beautiful and worth the visit but be aware of your surroundings and do not venture close to the edge as there are no guard rails or fences.
Talia Caves
The Talia Caves offer lots of beautiful rock fishing options, but The Woolshed is the jewel in the crown here. A walkway and wooden steps have been installed to give tourists direct access to the rocks, with honeycombed ceilings and access to blowholes. This instaworthy spot is a must-visit.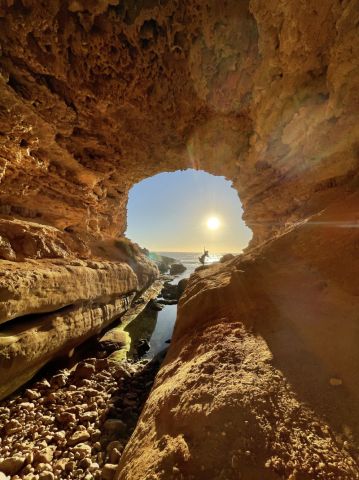 Image: Australian Adventure Travel
Lake Macdonnell
Tourists travelling the Peninsula have the opportunity to visit the stunning Lake Macdonnell, located 15km south of Penong. This saltwater lake gives off a salmon colour on clear days due to the algae and bacteria found in the water, while the other side of the lake gives a blue or green appearance. Make sure to visit during clear weather to see this stunning location in all its glory!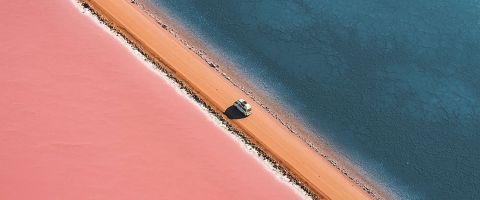 Image: South Australia
Perlubie Beach
Located 15km north of Streaky Bay, Perlubie Beach is often regarded by tourists as a favourite camping destination, due to the fact that you can camp on the sand. A $10 honesty box is provided at the campground.
Greenly Beach

Located north of Coffin Bay, Greenly Beach is a popular swimming and surfing location. On clear days and at low tide, the turquoise rock pools located on the right side of the beach are one of the most instagramable locations on the entire Peninsula! Greenly Beach also offers free camping, making it an absolute must-visit for any traveller!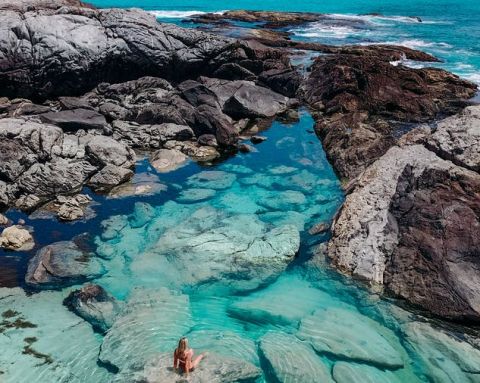 Baird Bay
Located 50km south of Streaky Bay, the small township of Baird Bay is home to an incredible colony of Australian Sea Lions. Additionally, Baird Bay is considered to be one of the best diving and snorkelling destinations in South Australia and the protected bay means that fishermen usually never leave disappointed!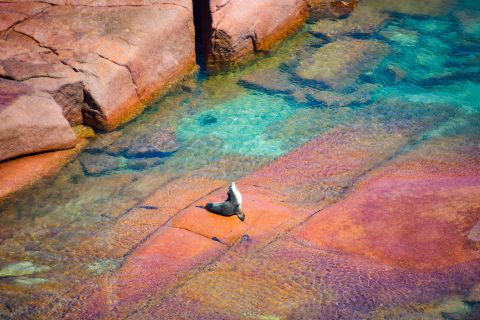 Image: Explore Shaw
Murphy's Haystacks
Located at Mortana, these pink, 8m high granite formations are listed on the South Australian Heritage Register and are considered to be some of the oldest rocks in Australia. If only for the photo opportunity, these incredible formations should absolutely be part of your Eyre Peninsula itinerary.