MacDonnell Ranges
Distances
Tennant Creek (North): 508 km | 6 h
Uluru: 468 km | 6 h
Coober Pedy (South): 687 km | 7.5 h
The MacDonnell Ranges stretch to the east and west of Alice Springs, making Alice Springs a good base from which to explore them. But there is camping for campervans at Ormiston Gorge with full facilities where you can enjoy the amazing night skies and the vibrant colors of the ochre cliffs and desert landscape when they are at their best - dusk and dawn.
Ormiston Gorge
Ormiston Gorge, in the West MacDonnell Ranges, is 135 km west of Alice Springs via sealed roads. It has a year round swimming hole, three walks from a short 5 minute walk up to a 4 hour loop, a great camping site, and towering cliffs.
Waterhole Walk

is 10 mins there and back

Ghost Gum Lookout

20 minutes to the lookout, or continue on to do the 1.5 hr loop

Ormiston Pound Loop

is 3 – 4 hrs follows the rocky slope into the flat expanse of the pound and back along the gorge by the main waterhole.
Camping
Facilities include showers, toilets, picnic tables and gas BBQs.
RATES: $6.60/adult $3.30/child

Ormiston Gorge. Photo: chant.1992 via IG
Simpsons Gap
10 km west of Alice Springs on sealed roads, Simpsons Gap is one of the most prominent gaps in the West MacDonnell Ranges. Visit the Simpsons Gap Visitor Centre to pick up a map of walking trails. There are quite a few short walks to enjoy. Rock wallabies are more easily spotted during dawn and dusk. This is an important spiritual site for local Indigenous People and you can learn about the dreaming trails and stories.
Facilities include toilets, picnic areas and gas BBQs.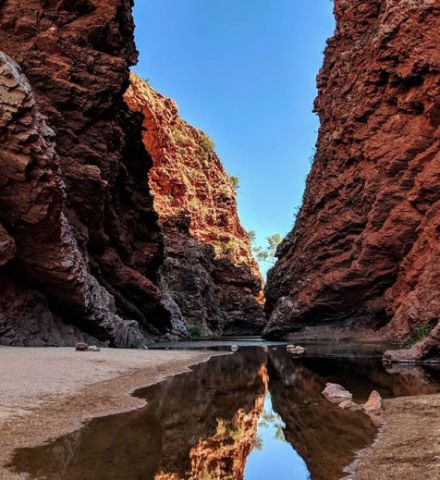 Simpsons Gap, MacDonnell Ranges. Photo: jaymountford via IG
Yeperenye (Emily and Jessie Gaps) Nature Park
Emily and Jessie gaps are located in the East MacDonnell Ranges 10 km east of Alice Springs. This is an easy 15 minute drive on sealed roads. The Gaps should be your first stop on a journey to the East MacDonnell Ranges.
Yeperenye means caterpillar. The ranges are part of the caterpillar dreaming story, which tells the tale of how Alice Springs was formed. You can see rock art of this dreaming at Emily Gap.
Facilities at Jessie Gap include toilets, picnic tables and fire pits.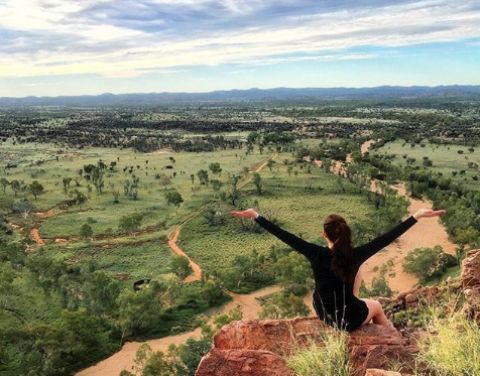 Emily Gap after the rain. Photo: elleschembri via IG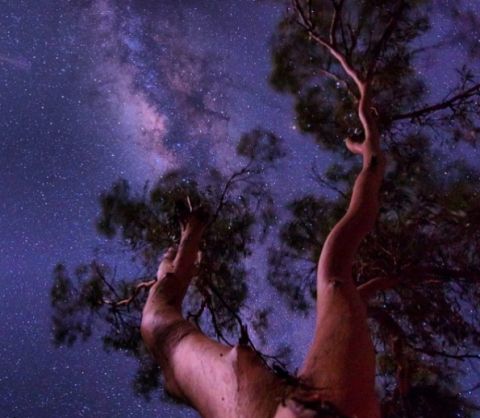 Night sky at Emily Gap, MacDonnell Ranges. Photo: besamehermosa
The MacDonnell Ranges and Alice Springs are part of the Adelaide to Darwin Drive through Central Australia. See the map below. For more road trips, see our list of Campervan Road Trips in Australia.

Adelaide to Darwin Map
Campervan Hire
Camperman offers the lowest all inclusive rates on campervan hire in Australia. Comprehensive insurance, additional drivers, foreign licenses, kitchen equipment, bedding - EVERYTHING is included.