Port Augusta
Distances
Coober Pedy to Port Augusta – 542 km | 5.5 hrs
Port Augusta to Adelaide – 300 km | 3.5 hrs
** We strongly advise against driving at night due to the volume of kangaroos that will jump in front of your campervan. Not only will you damage your vehicle, but you'll injure or kill a kangaroo. When you see a dead kangaroo on the road, check its pouch for a joey when safe to do so. Kangaroo rescue centers can be located at Coober Pedy, Alice Springs, Darwin and Katherine. You can find wildlife rescue phone numbers here. Who knows, you might save a life!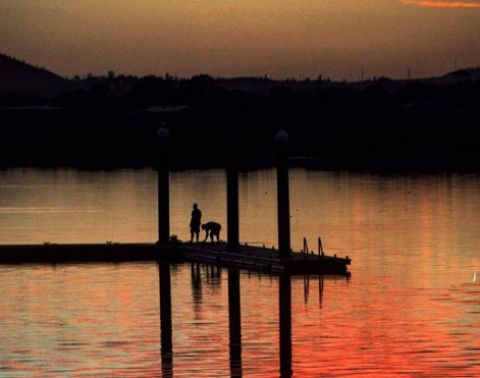 The jetty at Port Augusta. Photo: lola.pleasant via IG
Port Augusta is the 'Crossroads of Australia'. From here you can cross the Nunllabor to Perth, head north through central Australia to Darwin, south through the Clare Valley to Adelaide or east through Broken Hill or Mildura to Sydney. The old town centre has some elegant old buildings and a revitalised waterfront with a jetty where locals cast a fishing line and kids backflip into the water.
8 things to do in Port Augusta
Australian Arid Lands Botanic Gardens
Just north of town, the Australian Arid Lands botanic garden has 250 hectares of sand hills, clay flats and desert fauna and flora. There are a number of walks from short strolls around the gardens close to the visitors centre to the 2.5 hr walk around the outer rim.
FREE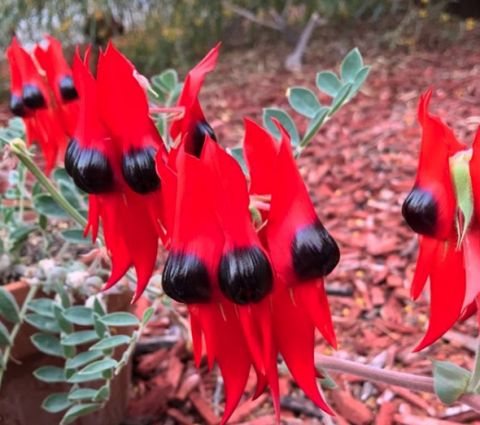 Sturts Desert Pea. Photo: sarah_watto via IG
Water Tower Lookout
Climb this multi-tiered tower by the river for great views across the gulf and over Port Augusta.
FREE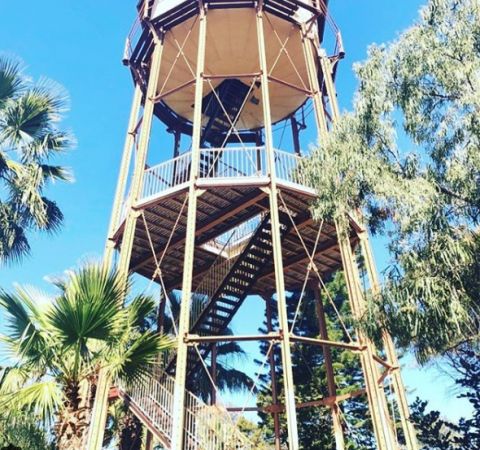 The Water Tower. Photo: thededicatedtraveller via IG
Wadlata Outback Centre
If you tour through the award-winning "Tunnel of Time" you will find out where the dinosaurs first roamed this land and be introduced to the people who first owned, explored and settled the region along with those who live here today.
FREE ENTRY. Tunnel of Time: $22 Adults. $35 Family
Matthew Flinders Red Cliff Lookout
A great little walk with views up the Gulf and the sandy beaches, mangrove swamps, and red cliffs and across the river to the Flinders Ranges. Interpretive boards give insights into the history of the area.
FREE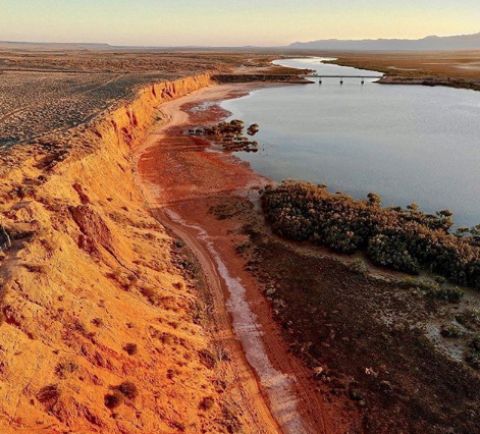 Matthew Flinders Red Cliff Lookout. Photo: georgiesphotoart via IG
Yarta Purtli
Constantly changing exhibitions of local artists.
FREE
RSL Military Museum
A good collection of decorations and medals but the main highlight is the tank out the front.
FREE
Curdnatta Artists' Platform Gallery
An impressive range of artistic work showing the diversity of talent in the region.
FREE
Port Augusta Train Park
The Port Augusta Model Engineers offer steam engine rides to the public on the first and third Sunday of every month ($3.00 per person). Closed in shoes must be worn.
FREE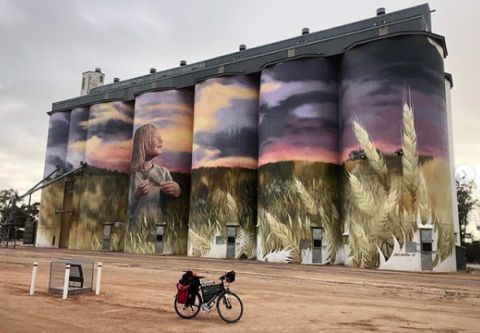 Painted silos Port Augusta. Photo: paul_kilroy_fitness via IG
---
Port Augusta Caravan Park List
Discovery Parks Port Augusta
This caravan park receives slightly better reviews. Camp kitchen, BBQs, swimming pool, laundry, activity room, playground, dump point, hot showers.
RATES: From $32 for two adults. Additional adults $15.
Shoreline Caravan Park
Swimming pool, camp kitchen, coin operated laundry, coin operated BBQs, TV and recreation room, dump point, playground, gas, ice.
RATES: From $34 for two adults. Additional adults $10, additional kids $7
---
Port Augusta is part of the Adelaide to Darwin Drive through Central Australia which is mapped below. For more road trips, see our list of Campervan Road Trips in Australia.
Adelaide to Darwin Map
Campervan Hire
Camperman offers the lowest all inclusive rates on campervan hire in Australia. Comprehensive insurance, additional drivers, foreign licenses, kitchen equipment, bedding - EVERYTHING is included.