Uluru and Kata Tjuta (The Olgas)
Distances
Alice Springs: 447 km | 5.5 h
Coober Pedy: 734 km | 8 h
Uluru (formerly known as Ayers Rock) and Kata Tjuta (formerly known as The Olgas) are only 50 km from one another and both are worth visiting. These sites have been returned to their original owners and visitors will require a pass, which is valid for 3 days. The park pass helps to maintain the visitor facilities and preserve the World Heritage, environment and cultural sites. Part of the fee goes back to Aṉangu traditional owners to support the community.
RATES: $25 per adult, $65 per family, $12.50 for kids, 4-year-olds and younger are free.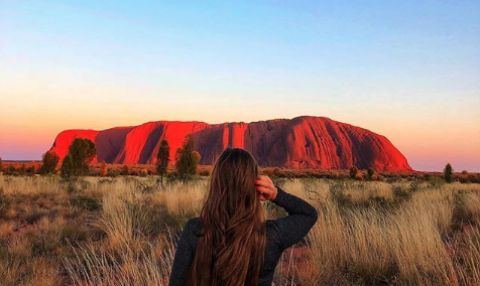 Uluru at Sunset. Photo: theresalila via IG
---
7 Things to do at Uluru
Field of Light
Due to popular demand, The Field of Light has been extended to December 2020. The stars out here so inspired artist Bruce Munro that he created a field of glowing lights to mirror on earth what he loved in the heavens. As far as the eye can see gentle rhythms of colour light up the desert.

The fantasy garden of 50,000 spindles of light covers an area larger than seven football fields. As you wander through the desert spectrum of ochre, deep violet and blue, stems of light sway and breath.
RATES: $42 for adults. (Due to popularity, pre-booking is recommended)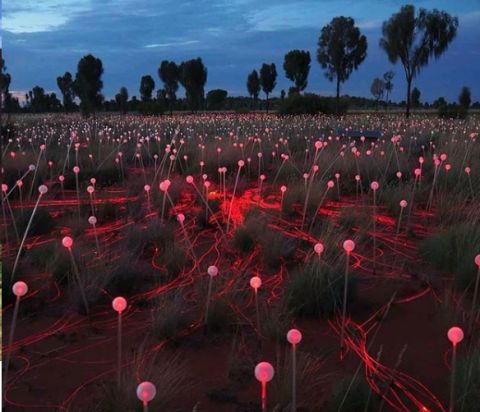 Field of Lights. Photo: seitoutbackaustralia via IG
Walks
The best way to experience Uluru and Kata Tjuta (The Olgas) is to take a walk at each site.
At Uluru, the shortest walk is the Kuniya Walk. It's a flat, whell-chair-accessible walk from the car park to the Mutitjulu Waterhole and on the way you'll see a cave with colourful Aboriginal artwork on the walls.
1 km return | 30 mins
The Mala Walk

to Kantju Gorge gives you a great vantage point (away from the crowds at the viewing platform) from which to view Uluru. It goes right to the base to a gorge which has running water in the wet season. You can join a free ranger guided Mala walk along the base of the rock and hear the story of the Mala people. Meet at the Mala carpark at 8am daily.
2km return | 1.5 hrs
Uluru Base Walk

| 10.6 km circuit | 3.5 hours

Lungkata Walk |

4km return | 1.5 hours, dry-weather wheelchair access

Liru Walk |

4km return | 1.5 hours, dry-weather wheelchair access
FREE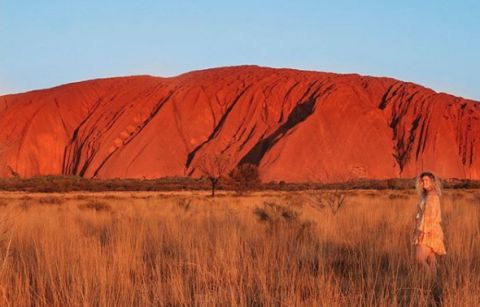 Uluru at Sunset. Photo: thetravellingmonkeys via Ig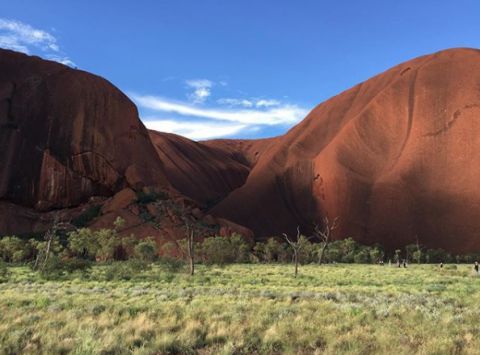 The many moods of Uluru. Photo: thegirlfrommartinique via Ig
Sunrise and Sunset
In the magic light of dusk and dawn Uluru and The Olgas come alive. The colors almost glow with an inner light and keep changing as the sun moves and the light quality changes. Bring your camera.
There are lots of viewing platforms from which to view Uluru. At The Olgas you can walk right amongst the rock formations.
FREE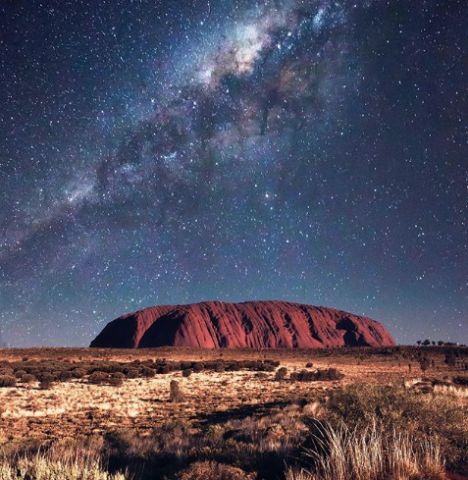 Uluru at dusk. Photo: beaumicheli via IG
Watch the Stars
You've probably been watching the stars every night on this road trip, but of course, you're far from any light pollution out here. After you've watched the sun set over Uluru of The Olgas, have an picnic dinner and marvel at the stars. You can even have a guided tour of the galaxy with Uluru Astro Tours.
FREE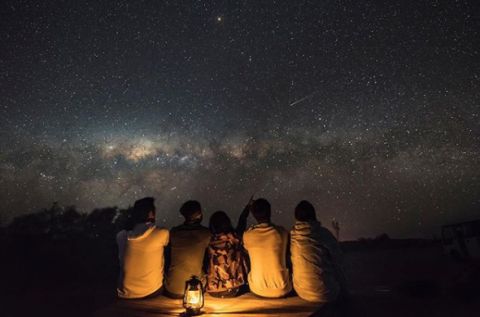 Star Gazing with Uluru Astrotours
Learn About Anangu Culture
The Cultural Centre in the Uluru-Kata Tjuta National Park provides a good introduction to the local indigenous Anangu culture and traditions.
FREE (included in admission to park)
Camel Ride Tours
Ride a camel on an unforgettable journey through red dune country with Uluru as your backdrop, just as the early pioneers did. Visit the camel farm and say hello to our friendly Outback friends.
RATES: $58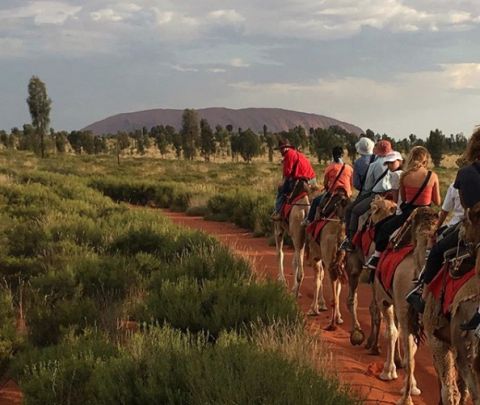 Camel Rides at Uluru. Photo: travellingwithnostrings via IG
Other FunTours
There are dozens of ways to experience Uluru including segway tours, helicopter tours, sunset and dinner tours, sunrise and breakfast tours, walking tours, sky diving, rent a bike and cycle around it, go on a camping safari and more. The Yulara Visitor Centre and Ayers Rock Resort will be able to help you find and book whatever it is that interests you.
RATES: Vary.
Free Activities at Ayers Rock Resort
If you are camping at the Ayers Rock Resort Campground, you will have access to their free activities. Ask at reception for the schedule of cultural talks by local Indigenous People. You can also take a guided and self-guided garden walk through the native gardens of Desert Gardens Hotel. Join a bush yarn at the Circle of Sand with a local Aboriginal storyteller and learn about weapons or bush tucker. Pay a visit to Wintjiri Arts + Museum showcasing local A
n
angu products, watch artists at work and learn more about the region's history, geology, flora and fauna in the museum's display.
FREE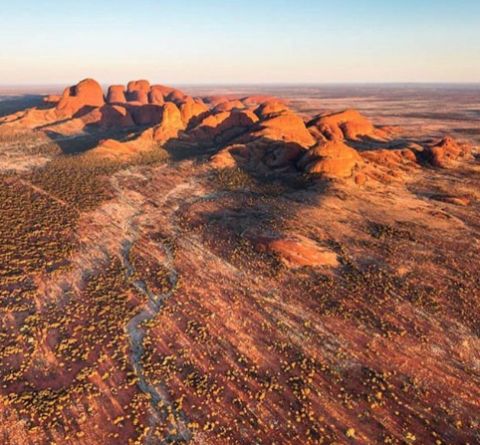 Kata Tjuta from the air. Photo: andrewwatsonphoto via Ig
Kata Tjuta (The Olgas)
Surprisingly few people take the time to drive out to Kata Tjuta but the 36 rock domes stand taller than Uluru. Walk amongst them on a beautiful trail known as the Valley of the Winds. It is a truly immersive and magical experience.
Valley of the Winds
There are three options when embarking on the Valley of the Winds walks. They are steep, rocky and difficult in places.
Kata Tjuta Dune Viewing | Easy | 600m return | 30 mins
Located along the road between Uluru and Kata Tjuta, this easy walk has panoramic views and is a relaxing place to sit and enjoy the desert landscape.
Walpa Gorge Walk | Moderate | 2.6km return | 1 hour
A desert refuge for plants and animals this rocky track gently rises to a stream and a grove of spearwood. Walk within the sheer cliff walls of the gorge and experience the vast desert landscape.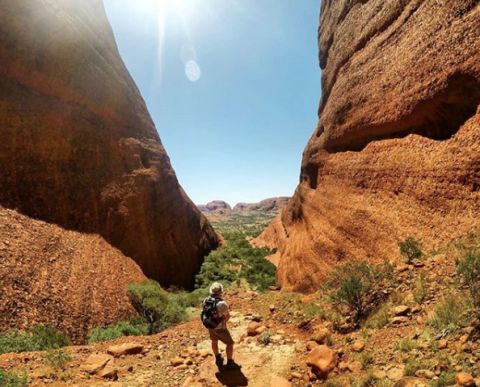 Kata Tjuta walks. Photo: ausparkshiker via IG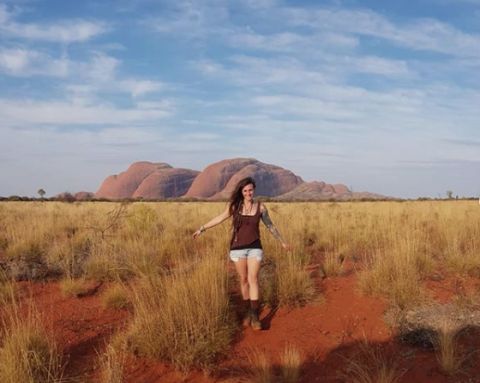 It almost looks like a theatre backdrop. Photo: maria.magdalena_ via IG
---
Camping Uluru
The only camping anywhere near Uluru is the Ayers Rock Resort Campground, 15 km north of Uluru. Ayers Rock Resort has desert gardens to explore, indigenous art galleries, free cultural activities, a range of restaurants and bars, shops, a well-stocked IGA supermarket, petrol station, Tour & Information Centre, art galleries and a complimentary shuttle service to get you around. Facilities include a swimming pool, playground, WiFi, gas BBQs, outdoor kitchen, self-service laundry, hot showers and toilets.
RATES: From $42 for two people. $19.50 per additional person. $52 for a family.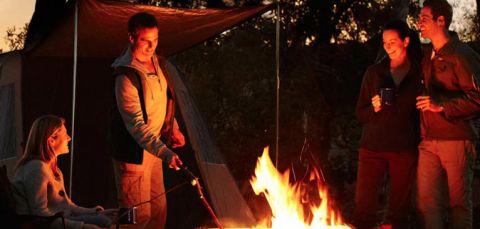 Ayers Rock Campground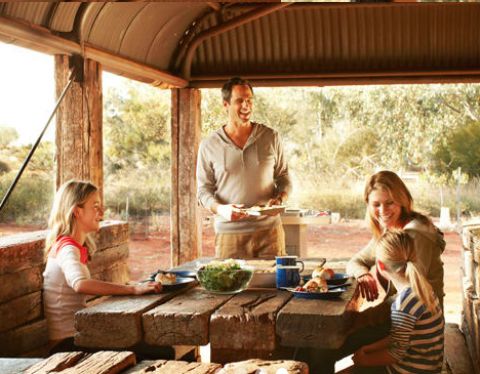 Ayers Rock Campground picnic and BBQ area
---
Uluru and The Olgas are part of the Adelaide to Darwin Drive through Central Australia which is mapped below. For more road trips, see our list of Campervan Road Trips in Australia.
Adelaide to Darwin Map
Campervan Hire
Camperman offers the lowest all inclusive rates on campervan hire in Australia. Comprehensive insurance, additional drivers, foreign licenses, kitchen equipment, bedding - EVERYTHING is included.