Innot Hot Springs and Undara Lava Tubes
Distances
Ravenshoe to Undara: 144 km | 1 h 45 min
Cairns to Undara: 260 km | 3 h 40 min
Croydon to Undara: 300 km | 3 hr 45 min
Undara to Normanton: 530 km | 7 hr
Innot Hot Springs
Break up the drive from Atherton Tablelands to Undara Lava Tubes with a soak in some natural hot springs. The hot mineral waters flow up into Nettle Creek, which flows through the town of Innot Hot Springs. The water can reach near boiling point in places so be careful and test the water first before rushing in. The best place to bathe is in the village near the highway. We've marked it on our Savannah Way Map below.
If you'd rather a more controlled environment, right next door to the bathing area of Nettle Creek is the Innot Hot Springs Leisure and Health Park. Here, the hot mineral waters flow through six temperature-controlled thermal pools. It's a caravan park so you can also spend a night here.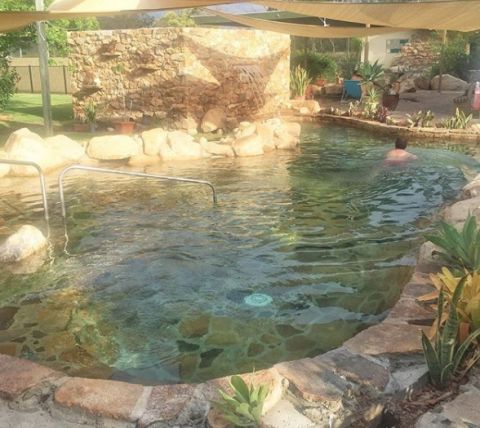 Innot Hot Springs Leisure and Health Park. Photo: lateral_movements via IG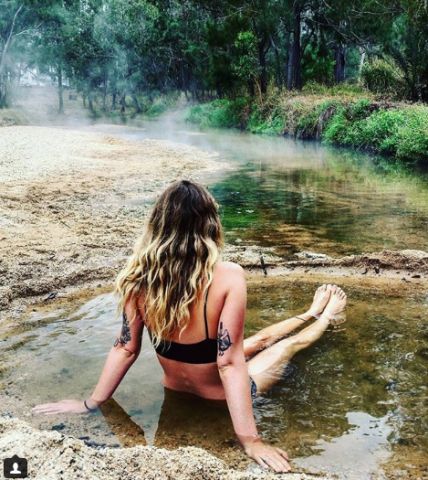 Innot Hot Springs. Photo: Lifeohlife via IG
Undara Lava Tubes
Explore what remains of one of the longest flows of lava in the Undara Volcanic National Park. Caves within this lava tube are fertile pockets where plants and animals thrive. Call in to reception at Undara Experience to see what's on offer and reserve a tour. You can also camp here the night. We recommend staying two nights so you can spend the whole of the next day exploring the region.
Lava Tubes Tour - 2 hours
Departs from Undara Experience reception at 8 am, 10.30 am, 1 pm and 3.30 pm. Walk through the lava tube on walkways.
RATES: $58 adults. $30 kids.
Sunset Wildlife Tour – 2 hours
Departs from reception between 5 pm and 6 pm (check when booking) to watch wildlife at sunset while enjoying champagne and cheese. Afterwards, watch thousands of micro-bats emerge from their cave in search of tiny insects. As the bats track down their prey, Brown Tree Snakes prey on them in this rare display of nature at its most dramatic.
RATES: $60 adults. $30 kids.

Undara Susnet Tour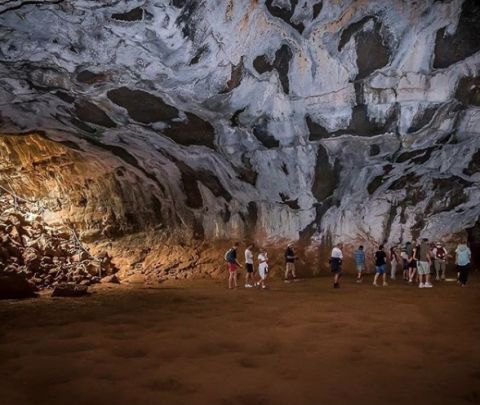 Undara Lava Tubes Tour. Photo: hkphotographica via IG

Undara Lava Tubes. Photo: phlipvids via IG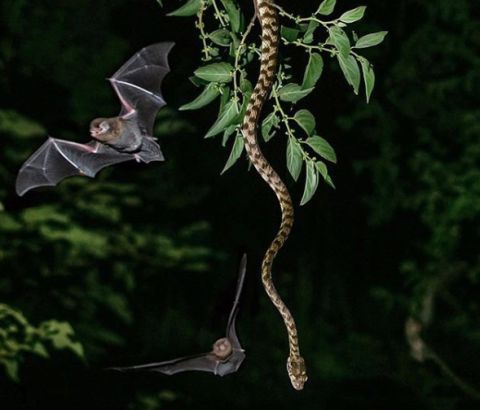 Night tour. Photo: DrewHopper via IG
Bush walking at Undara Lava Tubes
There are a number of hiking trails in the area so pick up a bush walking map from reception and decide which ones you'd like to explore.
Bluff Lookout: Walking to the Bluff for amazing views of the lava plains and volcanoes at sunset.
1.5 km | 25 minutes return | Easy.
Bluff Circuit: Keep following the Bluff trail and you'll pass through forest and skirt a swamp, meeting wildlife as you go.
2.3 km | 40 mins return | Easy
Flat Rock Circle View: Skirts the 100 mile Swamp to Flat Rock – a flat granite rock that has small water holes on top. Along the swamp are many small pools of water that attract lots of birds. Circle View is a granite knoll that gives you 360 degree views across the lava plains to distant volcanic cones.
8.6 km | 2.5 hrs return | Easy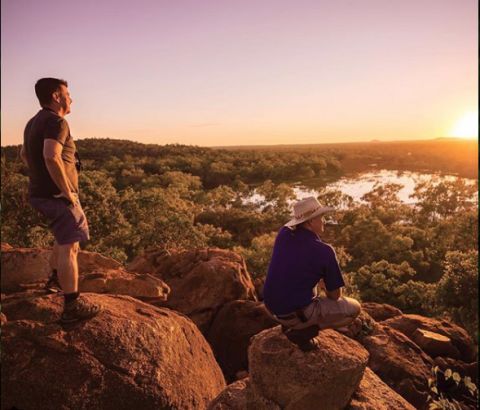 Undara bush walks. Photo: Brad.newton.photography via IG
Kalkani Crater Rim Walk
This walk starts 13 km from the campsite so you'll need to drive to the trail head. The walk climbs to the top of a volcano and circles its rim giving you uninterrupted views of the surrounding lava plains and volcano cones.
2.5 km | 1.5 hrs | moderate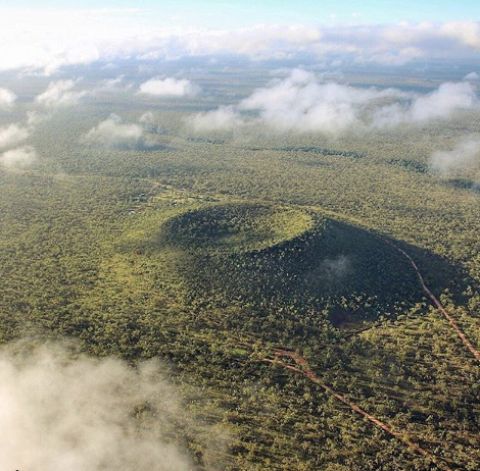 Kalkani Crater. Photo: jilarapearl via IG
Camping at Undara Lava Tubes
Undara Experience has unpowered campervan sites are scattered beneath shady trees. Each space has its own campfire. There are also free gas BBQs. The amenities block is clean and includes hot showers and toilets. There is a large open restaurant, café, and a saloon car bar set in the old railway carriages. They also offer Bush Breakfasts. It's a great area to hang out for a while.
RATES: $16 per adult. $8.50 per child. $49 family.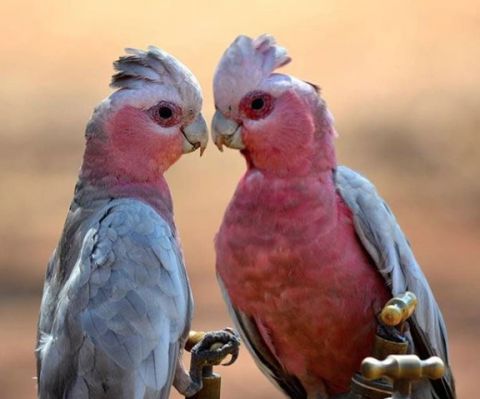 Undara Campground. Photo: dragonflyingimage via IG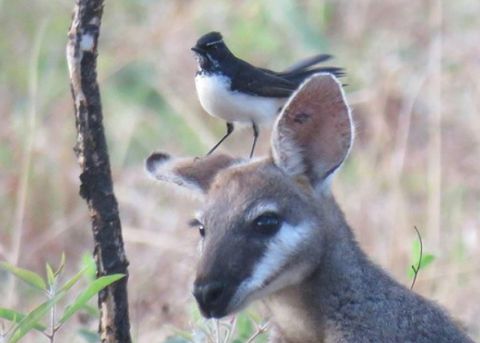 Undara Experience campground. Photo: pepelp.yt via IG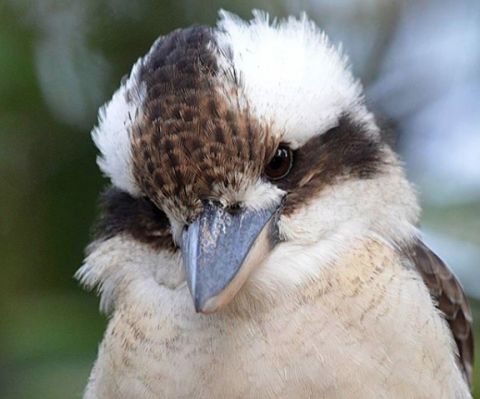 Kookaburra at Undara. Photo: thedancegoeson via IG
This is part of the Savannah Way road trip across the top end of Australia. See the map below.
For more road trips, see our list of Campervan Road Trips in Australia.
Savannah Way Map