Campervan Touring Information
Mornington Peninsula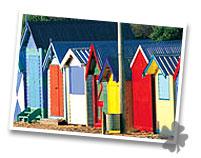 (97 km south of Melbourne)
Trip duration: One day or longer
On the road Depart Melbourne via Nepean Highway
Must see
The Mornington Peninsula is a seaside playground with safe, bayside swimming and excellent surf beaches. The area contains many excellent wineries, some of Victoria's finest historic homes and properties, as well as a variety of galleries, craft shops and restaurants.
The Point Nepean National Park includes the key beaches in this area- Portsea, Sorrento, Diamond Bay, Koonya and Gunnamatta. A number of walking tracks have been established in this area. The western Port side of the Peninsula is less developed, much of its foreshore having remained relatively unspoiled and being still devoted to farming and grazing land.
Port Phillip Bay is linked for vehicle access by the Peninsula Searoad Transport ferry which operates between Sorrento and Queenscliff.
The Port Phillip Bay foreshore from Dromana to Blairgowrie, is almost entirely devoted to campers and caravans.
French Island, which is set in the centre of this bay, was a Victorian penal settlement for forty years and is now administered by the Victorian government as a state park. The island is notable for its fauna.
For further information, contact:
Dromana Tourist Information Centre Nepean Highway DROMANA VIC 3936 Phone: (059) 87 3078 Fax:(059) 81 0462
Phillip Island
(137 km south of Melbourne)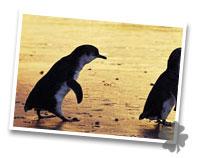 Trip duration: One day and evening.
On the road Depart Melbourne via South Gippsland Highway then Bass Highway to Phillip Island.
Must see
Phillip Island, joined by bridge to the mainland, is a popular seaside resort with some of the best surf beaches in the State. Phillip Island Wildlife Park is the place to hand feed wallabies.
The greatest attraction for visitors is the fascinating fairy penguins on Summerland Beach. Penguins spend the day out at sea, catching whitebait for their young. Each evening at sunset, they return in small groups and waddle up the beach to their sand dune burrows. Visitors watch the parade under subdued floodlight, from elevated stands and walkways.
Seal Rocks, the south-west tip of the island is the home of colonies of fur seals. A ferry service from Cowes allows close up views of the seals sunbathing on the rocks. Coin-operated telescopes give you a view of the seals from The Nobbies kiosk.
Take the road down to the surf beach at Cape Woolamai, a rugged granite headland. A 2 hour walk leads to the highest point on the island, where there are breathtaking views of the coastline. The sand dunes all along the Cape are home to many short-tailed shearwaters. Koalas also make their home on this island, and can be viewed from the Koala Conservation Centre.
For further information, contact:
Phillip Island Information Centre Phillip Island Road NEWHAVEN VIC 3925 Phone: (059) 56 7447 Fax:(059) 56 7065
Acknowledgement
Images courtesy of Tourism Victoria
Tourism Victoria releases materials solely for the purpose of positive promotion of Victoria as a tourism and travel destination. Any breach of this copyright condition could result in legal action.