Alice Springs
Distances
Tennant Creek: 508 km | 6 h
Uluru: 468 km | 6 h
Coober Pedy: 687 km | 7.5 h
With excellent museums and desert gardens, plenty of quality places to camp and eat, and the nearest town to the MacDonnell Ranges and Uluru, Alice Springs is a handy and comfortable base from which to explore Central Australia.
There are free 24 hour rest stops with water, toilets, picnic tables and BBQs along the way if you get tired. These are mapped at the bottom of the article. So rest up, make tea and stretch your muscles every two hours to prevent fatigue.
We've listed 15 things to do in Alice Springs and the best camping and caravan parks in the region. It's all mapped at the bottom of the page.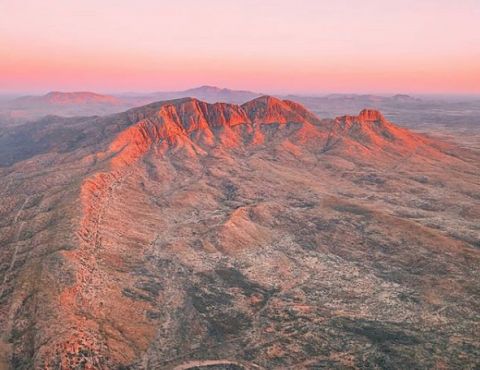 First rays of sun on the MacDonnell Ranges. Photo: Lauren_McBriarty
Devils Marbles to Alice Springs: Stops and Photo Opportunities
Ryan Well Historical Reserve

(129 km north of Alice Springs) has the stone ruins of the Glen Maggie Homestead. There is also a hand-dug well from 1889 which supplied water to travellers and stock along the Overland Telegraph Line.

Native Gap Conservation Area

(100 km north of Alice Springs)is an Aboriginal sacred site. You can take a walk here, take photos of the sweeping outback landscape, stop for lunch at the picnic area, and use the toilet facilities.

Tropic of Capricorn –

(30 km north of Alice Springs) A rest area that has a sculpture to mark the Tropic of Capricorn. There are sheltered picnic tables and toilet facilities here as well as information plaques.
---
15 things to do in Alice Springs
Alice Springs Desert Park
The desert is not a lifeless wasteland, it is full of life, and the Alice Springs Desert Park will prove it. Follow the board alk through different desert landscapes including sand country, woodland, and desert rivers. You'll see dingoes, emu, birds of prey, bilbies, thorny devil lizards and many other desert creatures. Facilities here include cafes, toilets, drinking water, picnic areas, and free WiFi.
COST: $32 adults | $16 kids.
Eagle encounter and photo sessions $30 for up to 2 adults | $40 for a family pass (2 kids 2 adults).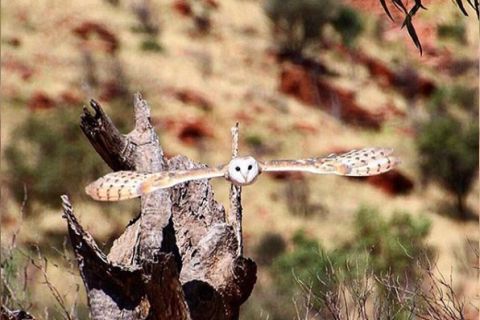 Alice Springs Desert Park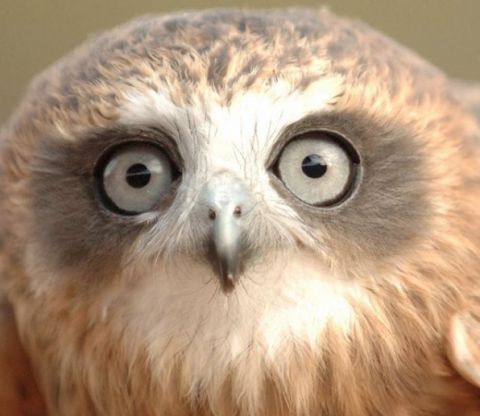 Alice Springs Desert Park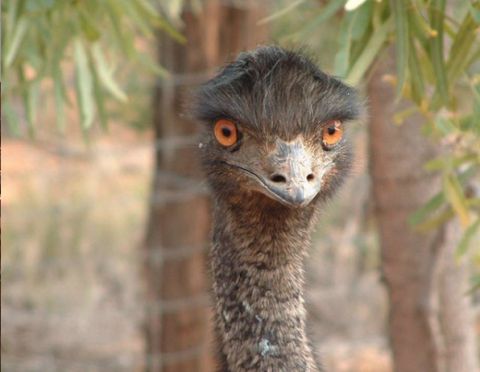 Alice Springs Desert Park


Olive Pink Botanic Gardens
This is an arid zone botanic gardens specializing in Australia's intriguing desert species including red mulga trees, spinifex grass, and the yellow-flowering wattle. There is a display of botanical art and a café.
FREE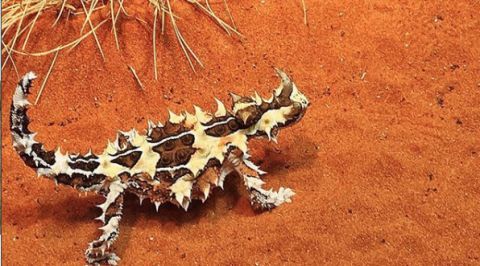 Thorny Devil. Photo: alisonfromashes via IG
Alice Springs Telegraph Station
The Alice Springs Telegraph Station marks the site of the first European settlement in Alice Springs in 1871. The stone buildings are still in tact and contain interesting displays that will take you back in time. It was established to relay messages between Darwin and Adelaide, and was linked with an underwater cable network to London, making it the first real communication post between Australia and England. Guided tours are included in the entry price.
COST: $15 adults | $6 - $10 kids | $35 Family (2 adults, 2 kids)
ANZAC Hill
The view straight down the middle of Alice Springs is great, especially at dawn or dusk. A war memorial is on top of the hill and the walk up is easy.
FREE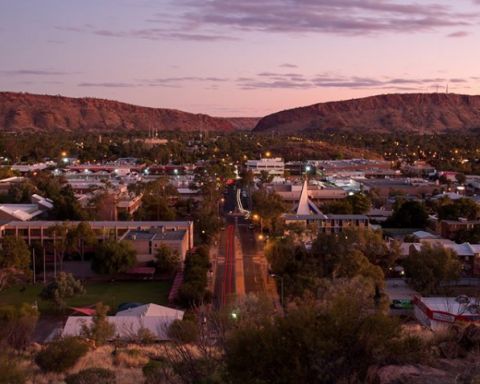 View from ANZAC hill. Photo: aatkings via IG
Kangaroo Sanctuary
Take a guided sunset tour through the 188 acre kangaroo sanctuary, just when the kangaroos are starting to wake up. This is a combined hospital and sanctuary for sick, injured and rehabilitating kangaroos.
COST: Adult $85 | kids $45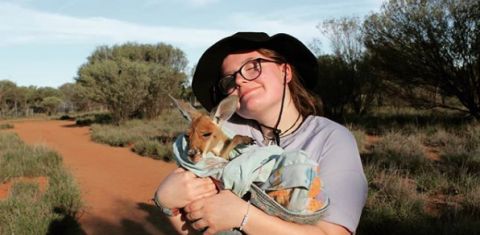 Kangaroo Sanctuary, Alice Springs. Photo: sophiahxlr via IG
Hot Air Ballooning
Float silently over the rugged West MacDonnell Ranges as the sun rises and get a birds eye view of the landscapes and wildlife. Cruise like this for 30 minutes or an hour and celebrate with champagne upon landing.
COST: $295 - $390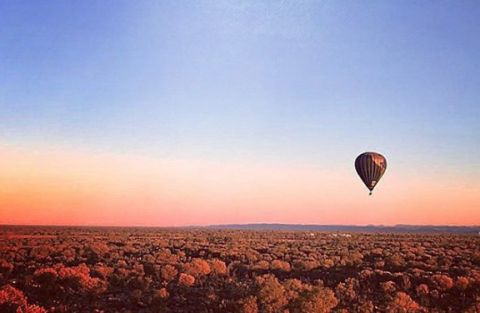 Outback Hot Air Ballooning. Photo: ostone via IG
Pyndan Camel Tracks
Take an hour long camel ride through the beautiful White Gums Valley among the MacDonnell Ranges at sunset. Our camels are well behaved and each has its own personality. You will see kangaroos and other wildlife during your camel ride. Afterwards learn all about camels in our Camel Lounge.
COST: $89 adults | $49 kids as Sunset. Less if you go in the middle of the day.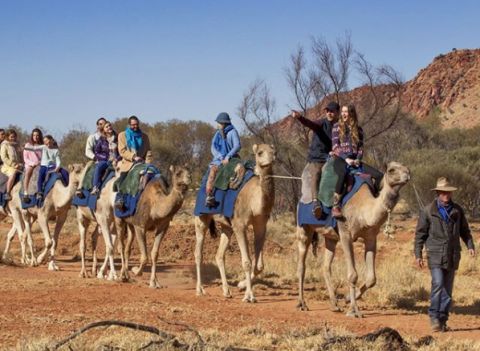 Pyndan Camel Tracks
Alice Springs Reptile Centre
You'll see an impressive range of reptiles that includes Terry the Saltwater Crocodile, enormous Perentie Goannas, Thorny Devils, Frill-neck Lizards and all kinds of geckos in the Gecko Cave. They have a daily show at 11am, 1pm and 3.30pm that includes a fun talk on selected lizards and pythons followed by a supervised handling session.
COST: $18 adults | $10 kids
Tangentyere Artists
Tangentyere Artists is a cooperative of 400 central Australian artists. The space provides art training and a place to exhibit their work. It has a huge diversity of styles and mediums and includes traditional motifs as well as contemporary work. There are other studios and galleries scattered around Alice Springs but this is a good place to start.
FREE
National Pioneer Womens Hall of Fame
Celebrating the contributions and achievements of Australian Women, the collection includes women's objects donated from across the countryfrom women who have been first in their field.
COST: $15 adults | $5 kids.
Araluen Arts Centre
Araluen Arts Centre is the centre for visual and performing arts in Central Australia. Exhibitions change and at the time of writing there was an Albert Namatjira exhibition which explored the significance of country to Aboriginal People, as well as an exhibition of contemporary desert art and woodcarving.
The Araluen Arts Centre is part of the cultural precinct located in the middle of town and includes the Central Craft Gallery (free admission) Aviation Museum, Strehlow Research Centre and the Museum of Central Australia ($8 adults) You can buy a pass that includes most of the museums.
COST: $8 adults | $6 kids | $20 family (includes admission to Araluen Arts Centre, Aviation Museum, Craft Gallery, Strehlow Research Centre)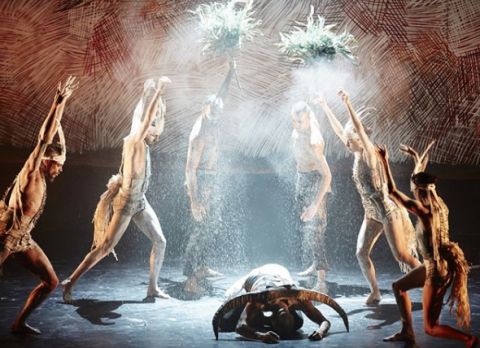 Araluen Arts Centre
Central Australian Aviation Museum
The Aviation Museum is housed in the original Connellan Airways Hangar. Connellan was the aviation company that serviced the Royal Flying Doctors. After a suicide flight ran into the hangar killing five employees it was established as a museum and now houses Royal Flying Doctor Service planes and other historic aircraft and memorabilia.
COST: Included in the Araluen Pass $8 adults | $6 kids
Strehlow Research Centre
An important collection of Film and Sound archives related to Aboriginal ceremonial life.
COST: Included in the Araluen Pass $8 adults | $6 kids
Museum of Central Australia
This Museum is part of the Araluen Cultural Precinct along with the Art Gallery and Aviation Museum. Beautiful displays of everything relating to Central Australia fossils, desert life forms, minerals, and the region's natural wonders.
COST: Adults $8 | kids $5
Mt Gillen Climb
The trailhead for this hike is located on the outskirts of town at John Flynn's Grave. The best time to make the climb is around dawn and dusk due to the heat and flies that make it less pleasant through the middle of the day. Take a torch and some water. The trail has loose rocks and some rock scrambling is involved.If you are fit, the climb will take 90 minutes. Allow an extra 20 minutes if going to the cairn. On reaching the summit, the views over Alice Springs and the McDonnell's are stunning.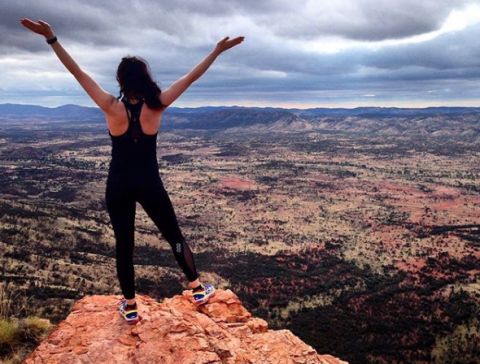 Mount Gillen climb, Alice Springs. Photo: elleschembri via IG
---
Camping Alice Springs
If you would like to spend a night or two in town, rather than spending your entire time in the MacDonnell Ranges, you are spoiled for choice. The following are all rated highly (4 stars or more on Trip Advisor and Google) and have security gates.
BIG 4 MacDonnell Range Holiday Park
Located 5km south of Alice Springs away from highway noise in beautiful surrounds, this has all the facilities you would expect from a BIG 4 Holiday Park: A gym and reading room, lots of fun fo the kids (go karts, games room, bike hire, basketball, TV room, playground, 2 jumping pillows, BMX track), 3 heated swimming pools, 2 camp kitchens with electric cooktops, gas BBQs, microwaves, ovens, fridges, toasters, kettles etc. There are fire places, hot showers, toilets, laundry, family bathroom, babies amenities, gas swaps, sewage dump point, tourist information and they have a free pancake breakfast every Sunday morning.
RATES: from $38 for 2 adults. Additional adults $16 kids $9 (with membership)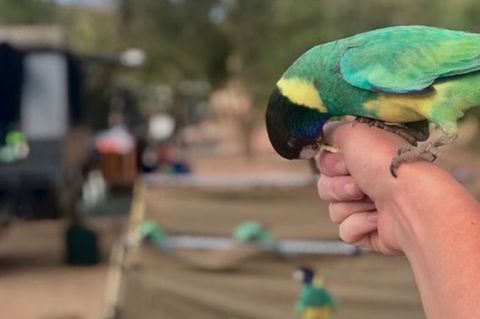 BIG 4 MacDonnell Range Caravan Park. Photo: troopy.shedders
G'Day Mate Tourist Park
Near the BIG 4, this is a quiet and spacious caravan park beneath shady mature gum trees with beautifully appointed facilities including a large swimming pool, BBQ facilities, camp kitchen with fridge, hot showers, toilets, laundry, gas refills. Tourist information and booking, internet access. It is a short walk to the supermarket. The staff are friendly and provide great tourist advice.
RATES: $36 for two adults. Additional adults $10, kids $6
Gemtree Cabins and Caravan Park
If you want to feel like you are in the middle of nowhere (which you will be) and you would like to go gemstone fossicking (take home a garnet or zircon) then you might like the rustic outback Gemtree which lies to the north of Alice Springs. Facilities include a swimming pool, camp kitchen, hot showers, laundry, free WiFi, grocery store, ice, fuel, sewage dump and their Billabong Bar where you can watch sport or just have a drink.
RATES: $35 for two adults. Additional adults $14.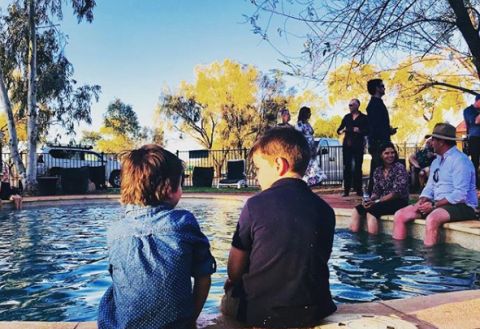 Gemtree Cabins and Caravan Park
Alice Springs Tourist Park
Conveniently located opposite the Aruluen Cultural Precinct in Alice Springs with mature gum trees and all the usual amenities - camp kitchen with fridge, hot showers, laundry, BBQ areas, TV room, swimming pool, tourist booking, LP gas, mini grocery store, free WiFi, dishwashing areas, playground.
RATES: $35 for 2 adults, $15 additional adults.
Winter Sun Cabins and Caravan Park
A clean, tidy and shady caravan park with grassy sites that is centrally located with the usual amenities.
RATES: $41 for two adults. Additional adults $18
---
Alice Springs is part of the Adelaide to Darwin Drive through Central Australia which is mapped below. For more road trips, see our list of Campervan Road Trips in Australia.
Adelaide to Darwin Map
Campervan Hire
Camperman offers the lowest all inclusive rates on campervan hire in Australia. Comprehensive insurance, additional drivers, foreign licenses, kitchen equipment, bedding - EVERYTHING is included.