Great Ocean Road
262 km | 2 - 5 days
The Great Ocean Road takes in Australia's spectacular coastline, surf culture, wine regions, glow worm caves, and the Otway forest of moss, ferns and towering trees. The Great Ocean Road is the first leg of the magnificent Melbourne to Adelaide drive, or one half of a loop that begins and ends in Melbourne taking in the Grampians, Ballarat and several more wine regions on the way back.
We've put together a list of the highlights and the best campervan-friendly campgrounds and caravan parks. To make this list, campgrounds and caravan parks must be free, or right on the beach and very highly reviewed (4 stars or more). Everything mentioned in this article is mapped at the end.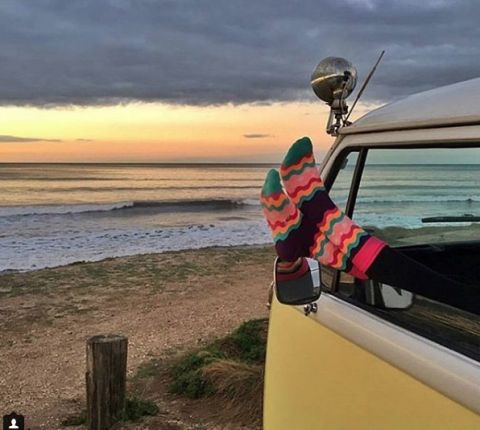 The Great Ocean Road. Photo: fitbackpacker via IG
Geelong
Geelong has the sophisticated restaurants and thriving art scene of a city with the laid-back vibe of a beach town. Drop into Little Creatures Brewing for a free tour (closed public holidays). On a hot day, the kids will love the water slides at Geelong Adventure Park. You can also cool off and go for a swim in the Eastern Beach Swimming Enclosure. Along the waterfront is a beautifully restored carousel. Jump on for a touch of nostalgia and magic. Bellarine is a must for food and wine lovers. You can tootle along tasting wine, oysters, mussels, cheese, olive oil, and beer. They've even put together a Bellarine Taste Trail for you.
CAMPING
BIG4 Discovery Parks Geelong: Kid friendly
BIG4 Bellarine Holiday Park: Kid friendly
Bellarine Bayside Holiday Park: On the water.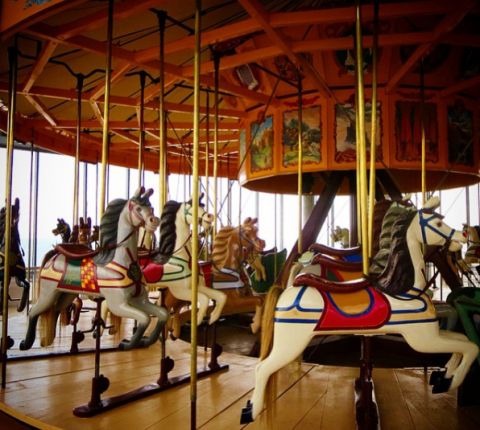 Geelong carousel. Photo: livingthrdream08 via IG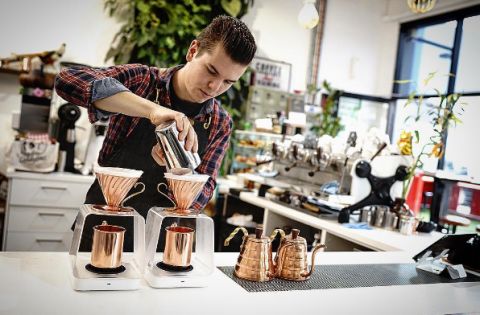 Geelong. Photo: Cartelroasters via IG

Lorne
From Geelong, the road winds along the cliff tops with stunning views of the sapphire ocean. Torquay is home to Australian National Surfing Museum, which celebrates Australia's surf culture. Stop at world famous surf beach Bells Beach to watch the surfers or catch a wave yourself. Lorne has a vibrant art scene, boutiques, wine cellars, restaurants and some of the oldest cafes in the state. Cast a fishing line off Lorne pier and take the pretty walk to Sheoak Falls and Swallow Cave.
On the map below, we've highlighted a few photo opportunities along the way.
CAMPING between Torquay and Apollo Bay
Anglesea Beachfront Family Caravan Park
BIG4 Anglesea Holiday Park
Big Hill Track Campground in the Great Otway National Park FREE
Cumberland River Holiday Park
Jamieson Creek Campground: FREE and on the beach
Wye River Road camping area: FREE
Kennet River Holiday Park
Sharps Camping area. FREE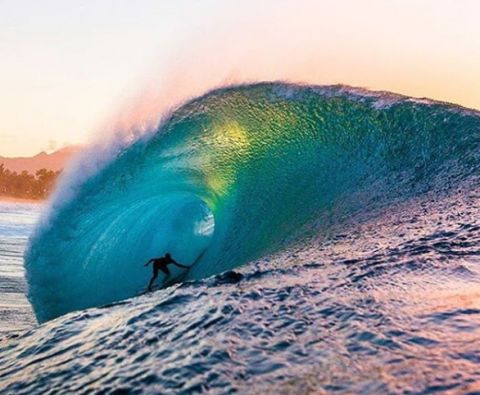 Surf's up! Photo: photokeoki via IG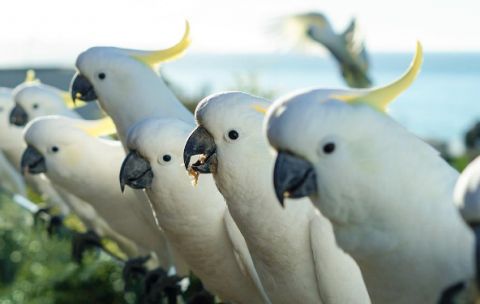 Resident cockatoos of Lorne. Photo: jeriah91 via IG

Apollo Bay
Apollo Bay has good restaurants, fresh seafood, and beaches.
Drive to Marriners Lookout at the northern end of town, for great views. Barham River Road is a scenic drive along the Barham River through lush rainforest to Marriners Falls.
CAMPING
Apollo Bay Holiday Park
BIG4 Apollo Bay Pisces Holiday Park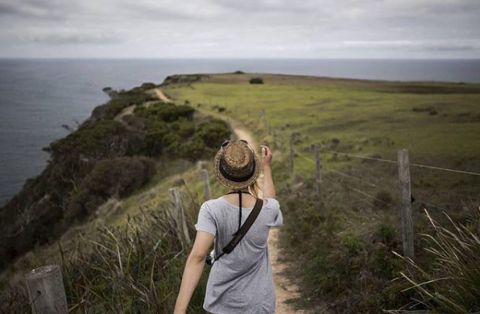 Great Ocean Walk, Victoria, Australia Photo: timestandingfrozen via IG
Cape Otway and the Great Otway National Park
The Great Otway National Park protects ancient rainforests, fern gullies, heathlands, glow worm caves, waterfalls, lakes and beaches. It stretches along a good part of the Great Ocean Road from Anglesea to the Princetown.
HIGHLIGHTS
The Great Ocean Walk

takes in 100 km of stunning coastline between Apollo Bay and the Twelve Apostles. Pick up a map and information on this at the Apollo Bay Visitor Centre or the Twelve Apostles Visitor Centre.

Melba Gully,

the Jewel of the Otways, is a dense rainforest of Myrtle Beech, Blackwood and towering tree-ferns. At night it twinkles with glow worms.

Madsen's Track Nature Walk

is an adventure into a magical world of ancient, mossy trees and cool fern gullies. It is 35 minutes round trip.

At the

Otway Fly

you can take a tree top walk among the towering Blackwood Gums.

Maits Rest is an easy 800 metre circuit on a boardwalk through ancient, cool-climate rainforest and a magical tree fern gully of moss covered roots and prehistoric ferns.
Triplet Falls

cascade through shady rainforests and glades of mossy tree ferns. There are toilets and picnic tables as well as several walks from this stop.

Hopetoun Falls near the town of Beech Forest and on the way to the Redwood Forest.
Beauchamp Falls, a magical veil of water in the rainforest.
The Gables

is an easy 800 metre return walk from the car park

through a grove of Sheoak trees to one of the highest seacliffs in Australia. Seabirds skim the water far below and in Spring and Autumn you might spot migrating whales.

There are 60km of

mountain bike trails

in the Forrest region of the Otways.

For a table with unbeatable views,

picnic

in the Otways. In the east Otways - Blanket Leaf, Sheoak, Distillery Creek, Grey River and Moggs Creek are great picnic spots. In the west Otways try Lake Elizabeth, Melba Gully, Shelly Beach and Blanket Bay. Picnic areas normally have toilets, sheltered tables, BBQs, and walking trails.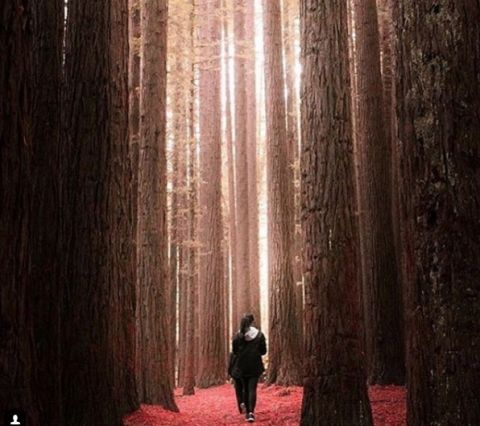 Redwood forest in the Great Otway National Park. Photo: Azmal Malik

There is a Redwood Forest in the Otway National Park, and though not native, it is a magical place to visit. John Steinbeck can best sum it up. "The redwoods, once seen, leave a mark or create a vision that stays with you always. No one has ever successfully painted or photographed a redwood tree. The feeling they produce is not transferable. From them comes silence and awe. It's not only their unbelievable stature, nor the color which seems to shift and vary under your eyes, no, they are not like any trees we know, they are ambassadors from another time."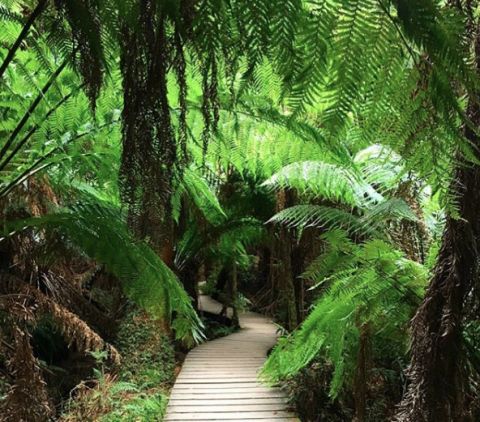 Maits Rest, Great Otway National Park. Photo: where.brooklyn.at via IG

CAMPING on Cape Otway (between Apollo bay and Princetown)
There are excellent camping opportunities throughout the Park, 8 are suitable for campervans. All require advance booking and fees.
Blanket Bay on the beach
Sharps Campground
Bimbini Park caravan Park and Camping
Aire River West has fireplaces

Aire River East
Johanna Beach

campsite is nestled in the sand dunes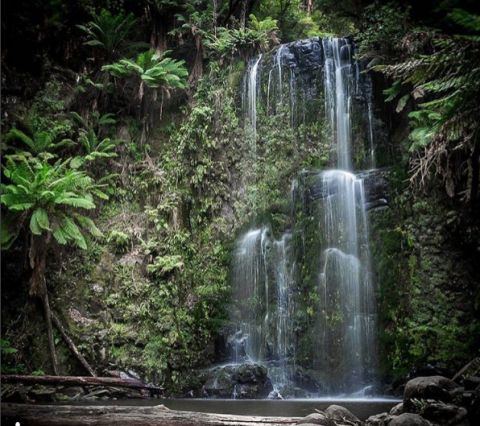 Beauchamp Falls, Great Otway NP. Photo: ChristopherMaxwell via IG

The Twelve Apostles
As you follow the twisting road along the coast, you will turn a corner and see the craggy towers of the Twelve Apostles rise out of the ocean. Stop at Gibsons Steps for access to the beach down the cliff face via 86 steps. (This is not suitable for strollers, wheelchairs or visitors with limited mobility.) A little further along you can take photos from the boardwalk at the Twelve Apostles Lookout.
Just beyond the Twelve Apostles, you can explore the paths at Razorback and Loch Ard Gorge, the Arch, London Bridge, The Grotto, and Bay of Islands. If you camp in the area you can get up early to get the Apostles when they are at their best.

CAMPING
Princetown Recreation Reserve and Camping (Princetown)
Apostles Camping Park and Cabins (Princetown)
Great ocean Road Tourist Park (Peterborough)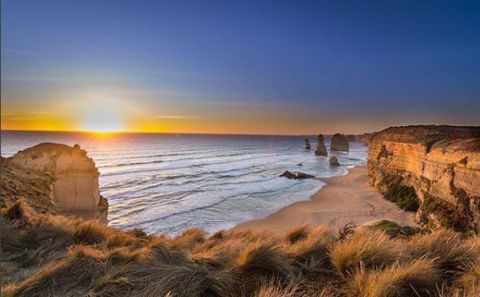 Twelve Apostles, Victoria, Australia. Photo: idratherbeincolorado via IG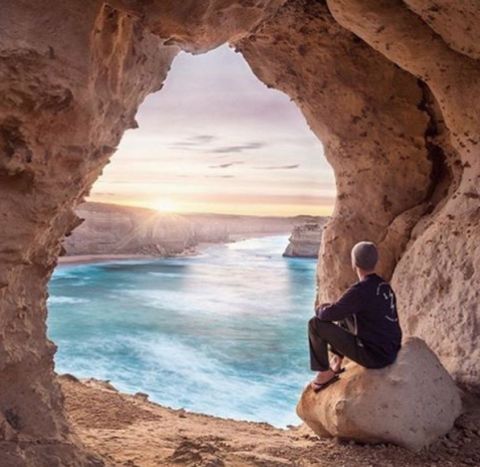 Twelve Apostles, Victoria, Australia. Photo: We_are_explorers via IG
Warnambool
Warrnambool is perched on a stunning stretch of coastline with riverways, beaches, cliffs, islands, heathlands and forests. It is beautiful, but it also has a very interesting story to tell. Just off the coast are two islands that Fairy Penguins made home. Foxes made their way to the islands and pretty soon the population of thousands dwindled to just twenty-five. The local free-range egg farmer, Swampy, had pet Maremma dogs that guarded his chickens against foxes. Swampy had an idea. Penguins are really just chickens in dinner suits, so surely his Maremma's would guard them too. He put it to the test and it worked. Two maremma dogs now guard the island penguins and the population is making a swift recovery.
In town, wander into art galleries and antique stores.You can meet the penguin guardian Maremma's at the Flagstaff Hill Maritime Village, which is also worth visiting for its state of the art displays on shipwrecks and the history of the region. Stroll to the Logan Beach whale watching platform to see migrating whales in Spring and Autumn.
Nearby, taste cheese at Allansford Cheeseworld and wine at the local wineries. Tower Hill Wildlife Reserve is a sanctuary for birdlife, koalas, kangaroos and emus. You can book night tours, when the animals are at their most active. Learn about bush tucker and Aboriginal culture. Tower Hill Wildlife Reserve has self-guided walks, picnic tables and BBQs so you can make a day of it.
CAMPING
BIG4 Hopkins River Holiday Park
Warrnambool Holiday Park and Motel
Figtree Holiday Village
Surfside Holiday Park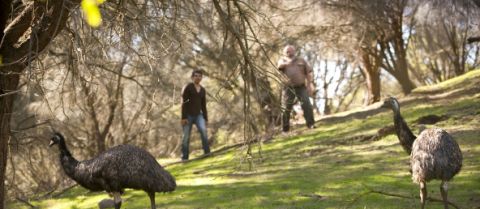 Tower Hill Wildlife Refuge, Warrnambool, Victoria, Australia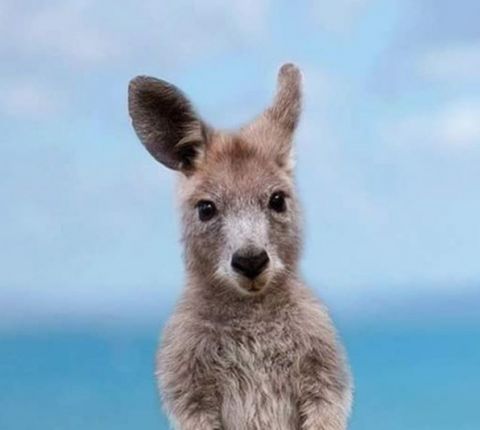 Photo: lisa_wide_interests via IG

Port Fairy
Port Fairy is a charming little coastal town of whitewashed cottages that were built by whalers and fishermen in the 19th century, wide streets, stone churches and grand Norfolk pines. Here you can pass a morning or afternoon browsing through boutiques, antique shops, and art and craft shops. There's also a surf school, a glass blowing studio, a day spa and fishing charters. Enjoy a long lunch at one of the pubs, cafes or restaurants. The Port Fairy Folk Festival, one of Australia's largest music festivals, is held each year in March.
You can get active on the water, or go on local walks and see native animals in the wild including southern right whales, seals, dolphins, wallabies, kangaroos and emus. Wander down to the fishing port to watch the fisherman unlaid their catch of crayfish and abalone. From the wharf you can take a cruise to the seal colony on Lady Julia Percy Island. Learn about the local maritime history on the Port Fairy Maritime and Shipwreck Heritage Walk. Port Fairy has over 50 National Trust classified buildings. It's a living museum and a very pretty one at that.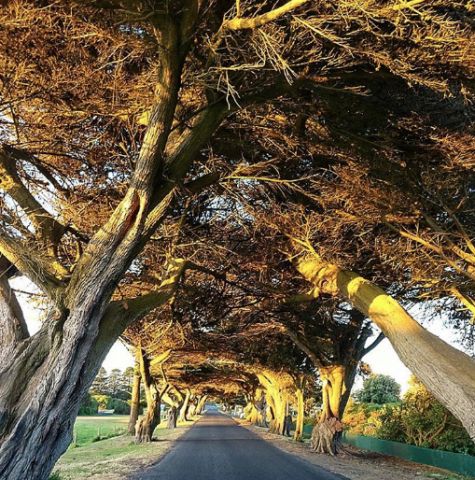 Cypress pines at sunset, Port Fairy. Portfairypics via IG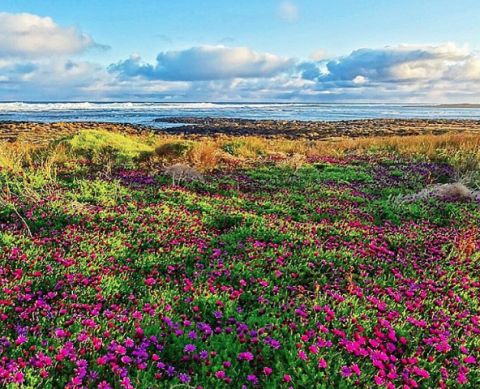 Spring flowers, Port Fairy. Photo: PortFairyPics via IG
CAMPING
If your trip coincides with the Port Fairy Folk Festival in March, you'll need to book way in advance.

Gumtree Caravan Park
BIG4 Port Fairy Holiday Park
Gardens by Easts Beach Caravan Park
Belfast Cove Caravan Park provides privacy with neatly trimmed 7 foot hedges around each campervan site.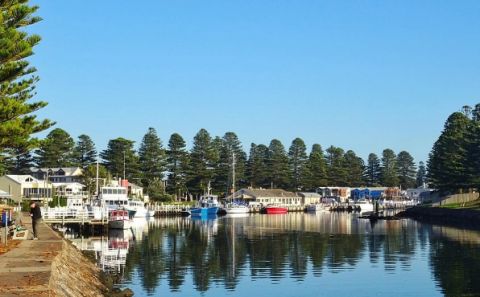 Port Fairy, Victoria, Australia. Photo: PortFairyPics via IG
From here you can head inland to the Grampians or continue along the coast on the Melbourne to Adelaide drive.
CAMPERVAN HIRE
At Camperman, if you hire a campervan from Melbourne, you can drop it off at Adelaide and many other cities around Australia.
More Information