Adelaide to Melbourne Drive: 10 Incredible Days!
1,500 km | 24 hr drive time
We've listed so many beautiful places to camp along this drive that doing it in a campervan will give you experiences you might otherwise miss.
This journey is the stuff of fantasy novels. You might be forgiven for thinking you are in Tolkien's Middle Earth. Coastal walks by the turquoise sea, beach camps beneath a glittering sky, ancient rainforests, glow worms, strange mountains and rock formations, the Great Ocean Road, limestone caves, wine tasting, cheese tasting, steam trains and paddle steamers are all part of the adventure. You'll meet emus, kangaroos, cockatoos, koalas, wombats, echidna's, dolphins and seals along the way.
Let the journey begin!
Day 1: Adelaide | McLaren Vale | Onkaparinga River National Park
Drive time 2 hrs | 117 km
Hike the river banks and peaks of Onkaparinga River in the morning, and taste wine and swim at beaches in the afternoon before camping at Deep Creek Conservation Park.
Day 2: Deep Creek Conservation Park
Drive time 2 hr 20 min (includes ferry) | 100 km
After a day of wonderful hiking head for Kangaroo Island. Book your ferry ride ahead of time.
Day 3 & 4: Kangaroo Island
Drive time 2 hr 20 min (includes ferry) | 100 km
Enjoy the wildlife (kangaroos, penguins, sea lions, dolphins, wallabies, wombats, koalas, birds of prey) and stunning landscapes and rock formations on scenic drives and coastal hikes. Sample the local food and wine.
Day 5: Fleurieu Peninsula | Coorong National Park
Drive time 4 hrs | 194 km
The Fleurieu Way takes you through pretty coastal towns connected by a steam train, while the roads winding inland will lead you over rivers and into farmlands with roadside stalls. Coorong National Park is a tapestry of lagoons, sand dunes, and wetlands. Walk through towering white sand dunes, stroll along a jetty, and enjoy the prolific birdlife.

Day 6: Naracoorte Caves | Coonawarra Wines
Drive time 4 hrs | 319 km
Explore caves with limestone formations and fossils in the morning and taste fabulous wines in the afternoon.
Day 7 & 8: Grampians National Park
Drive time 2 hr 40 min | 210 km
The Grampians National Park is a place of endless views, misty mornings, waterfalls, romantic sunsets and rugged rock formations best enjoyed on some of the many walks there.

Day 9 & 10: The Great Ocean Road
Drive time 8 hr | 570 km
One of Australia's most spectacular scenic drives - visit Port Fairy, the lush Great Otway National Park, Twelve Apostles rock formation, Erskine Falls, famously pretty coastal towns and surfing mecca Bells Beach before heading to Melbourne.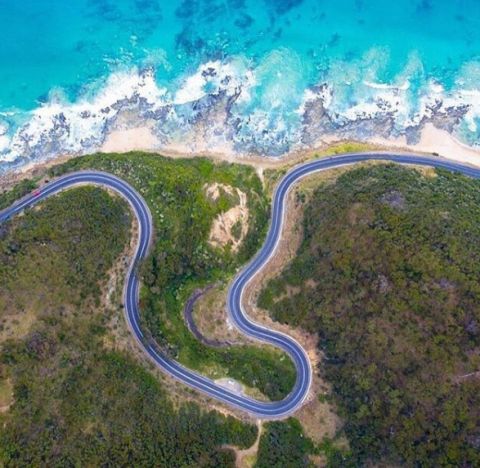 The Great Ocean Road. Photo: barekiwi via IG
Next Step