The Snowy Mountains Tour
459 km south of Sydney | 2 - 5 days
For most Australians, the Snowy Mountains (aka 'The Snowies') is eponymous with winter sports, but visiting during the warmer months opens up new possibilities. From alpine forests, rugged mountain tops, winding roads, wide open plains, and lush river valleys, the landscape is constantly changing and the list of things to do in the Snowy Mountains that does not involve skis or snowboards is staggering - hiking, mountain biking, kayaking, fishing, horse riding and cool climate wine tasting. You can kick up your heels at the Apple Blossom festival in Batlow or the wine and music festival in Tumbarumba, take scenic drives that are normally closed in winter, and stay at campervan friendly campgrounds, some of them FREE!
A major part of this road trip is the Kosciuszko National Park. It's New South Wales' largest national park and includes caves, glacial lakes, forests and ski resorts as well as the highest mountain in Australia. Although the park is most famous for its snow, it is also popular in summer for its outdoor activities, stunning landscapes, alpine wild flowers, and scenic drives.

The Snowy Mountain region sits midway between Melbourne and Sydney so you could make it part of a Sydney to Melbourne road trip, and include the nation's capital city Canberra. All the attractions and campgrounds mentioned in the article are mapped at the end.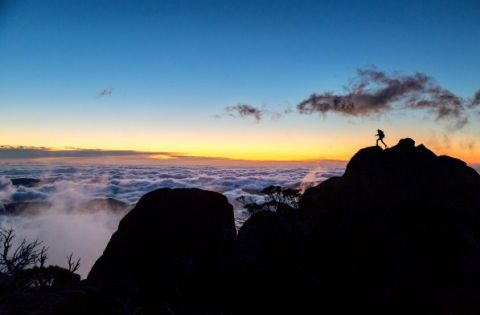 Porcupine Rocks, Kosciuszko NP. Photo: Snowymountainsnsw via IG

COOMA
Cooma is the largest town in the Snowy Mountains and it has a lot of history. You'll see some lovely historic buildings as you drive through. Pick up a map of these at the Visitor Information Centre. If you need to pick up some healthy food, head to Moontree. Rose's Lebanese Restaurant offers lebanese cuisine that customers rave about. Get your dose of culture at the Raglan Gallery and Monaro Art Gallery. The Snowy Hydro Discovery Centre briefs you on the history of the regions hydro scheme, an enormous undertaking which changed the region forever.
Camping
The Cooma Tourist Park has free gas BBQs, picnic tables, tennis, mini golf, trampoline, games room and playground.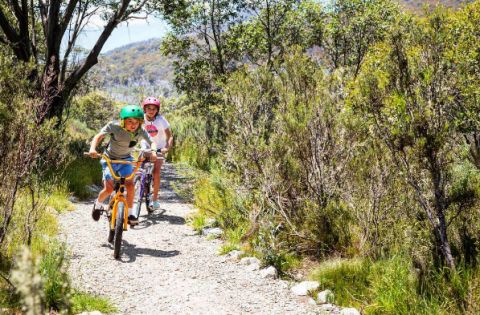 Mountain biking. Photo: snowymountainsnsw via IG

JINDABYNE and AROUND
Upon leaving Cooma you will travel through the Monaro Plains, an expanse of gold grasslands dotted here and there with granite boulders. At times, storm clouds can roll in, adding drama. The slanting afternoon sun can illuminate the grasses. Stop and get your camera out if you catch such a moment.

Monaro Plains near Cooma. Photo: bakeandcut via IG

Jindabyne sits on the shores of Lake Jindabyne at the foothills of the Snowy Mountains. During the ski season, it is a hub for nightlife. At other times, Jindabyne is all about the great outdoors - horse riding, watersports, fishing, mountain biking and hiking. Stop in at the Visitor Centre (mapped below) for maps and brochures of the activities that interest you.
Enjoy a cool beer at the Kosciuszko Brewing Company, or a glass of cool climate wine at Snowy Vineyard and Microbrewery. Wildbrumby Schnapps takes advantage of the local berries and apples to make their schnapps. Thredbo horse riding can take you on a horse back adventure through some of Australia's most beautiful scenery. You can rent kayaks, standup paddleboards, and other watersports equipment at monster sports.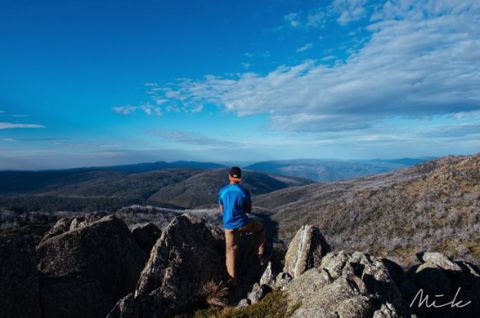 Dead Horse Gap, Kosciusko NP. Photo: wehavetouchdown via IG

From Jindabyne you can tootle along Kosciuszko Drive to the ski resort towns of Guthega and Charlottes Pass. Visitors to Guthega are treated to panoramic views of the main range and Guthega Dam. The Illawong Track starts here.
Further on, Charlottes Pass has a few challenging trailheads; Main Range Track, Kosciuszko Summit and Jaunama Creek track start here. It's 9 km to the summit from Charlottes Pass, or 6.5 km from Thredbo. Charlottes Pass is named after Charlotte Adams who, in 1881, was the first European woman to climb Mount Kosciuszko.
Camping
There are two well-reviewed caravan parks in Jindabyne (mapped below) - Discovery Parks and Jindabyne Caravan Park.

THREDBO
Thredbo is a pretty alpine resort village in the Kosciuszko National Park and the beginning of the 6.5 km walk to the summit of Mount Kosciuszko. If you don't want to tackle the whole mountain, take a quad chair to Eagles Nest and walk the 2 km boardwalk to the Mount Kosciuszko Lookout for stunning views.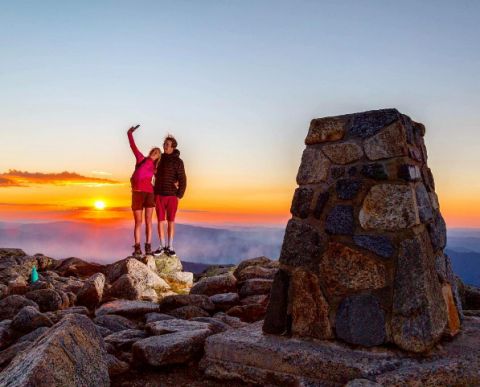 The Summit of Mt Kosciuszko. Photo: Snowymountainsnsw via IG
THREDBO TO KHANCOBAN
The 74 km scenic drive from Thredbo to Khancoba passes through the Kosciuszko National Park on a winding road. Stop at lookouts along the way to take in the stunning views. There are a few options for free overnight camping along the way. Khancoban is a picturesque lakeside town nestled in the lush Snowy Mountain foothills. It has been landscaped with parks and trees, and has a rose garden. The town is great for trout fishing, boating, rafting, kayaking, or playing golf among the grazing kangaroos.
Enjoy a picnic at the Khancoban Pondage and go fishing. The pondage is fully stocked with Atlantic Salmon, Brown Trout and Rainbow Trout.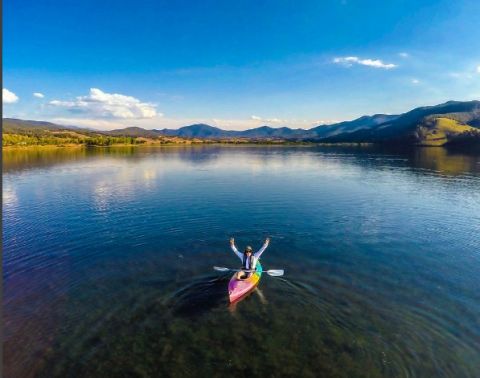 khancoban Lake. Photo: snowymountainsnsw via IG

Camping
Leatherbarrel Creek picnic area and free overnight camping. It is just west of Thredbo amongst bushland by a river. Facilities include picnic tables and toilets. FREE.
Dogman Hut Camping Area is over

the border in Victoria

. Booking is not required. FREE.



Geehi Flats Campground is in a bushland setting by a river with toilets, BBQs and picnic tables. Kangaroos and wallabies graze here and the region is great for hiking, mountain biking, and fishing. FREE.
Khancoban Lakeside Caravan Park is by the lake among trees.
TUMBARAMBA and TUMUT
The drive from Khancoban passes through fertile river-fed valleys with gentle rolling hills and fruit farms. Stop for lunch at the pretty and fun-to-say Tumbarumba. The Nest Cinema Cafe and Books has all my favorite things; wholesome food, books, cinema, a cosy fireplace, wine, apple cider and tea. Tumbarumba is a pretty town surrounded by crystal clear rivers, waterfalls, and walking tracks through nature.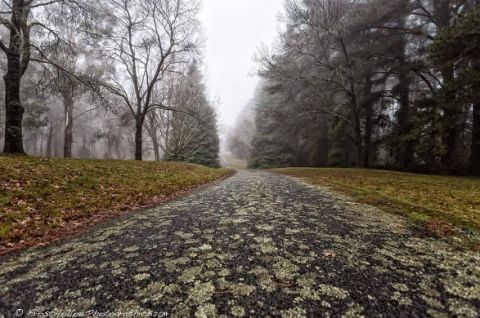 Lichen covered road, Laurel Hill. Photo: fi2011 via IG

Between Tumbarumba and Batlow, just after Laurel Hill, look for a turn off to Sugar Pine Forest. Though it isn't a natural forest, this tunnel of towering pines is photogenic and eerie to walk through if you have the place to yourself. It can be tricky to find so ask at the Visitor Centre in Tumbarumba before heading out.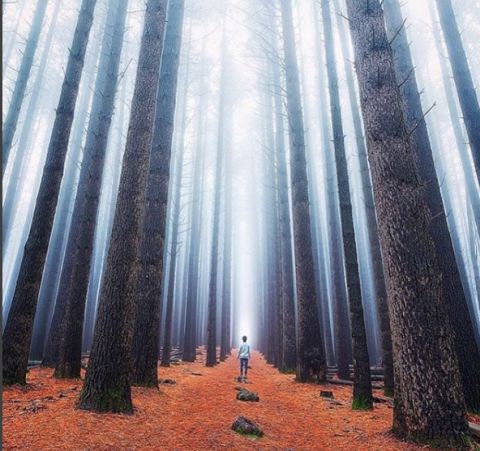 Sugar Pine Walk. Photo: worldtoppix via IG

The next town is Batlow, and Batlow equals apples! Stop at Wilgrow Orchard roadside stall to pick some up, or detour into Batlow to pick your own fruit. At different times of the year you can harvest blueberries, grapes (and wine, of course!), apples and chestnuts.
The name Tumut is derived from an Aboriginal word meaning 'quiet resting place by the river'. It has some grand old buildings to admire, including the courthouse and churches and a wildlife sanctuary by the river. If you are here in April, you can join the fun at the Falling Leaf Festival.

Camping
Tumbarumba Creek Caravan Park is a landscaped caravan park by the creek with plenty of trees.
Paddys River Flats offers free overnight camping amongst the trees by Paddys River and has toilets and BBQs. FREE.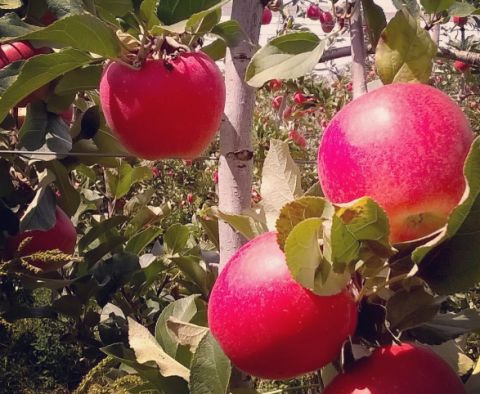 Wilgrow Orchard

YARRANGABILLY CAVES and THERMAL POOLS
The 180 km (2 hour) drive from Tumut to Jindabyne follows the Snowy Mountains Highway taking in caves, campgrounds, and trails for hiking, biking and horse riding in the northern part of the Kosciuszko National Park. Fill your tank at Cooma, Adaminaby or Tumut because there are no petrol stations between these towns.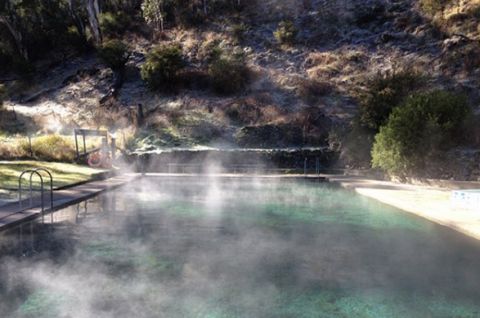 Yarrangobilly thermal pool. Photo: goodweekendmag via IG

Blowering Cliffs walking tail (2 - 3 hrs) has ever changing views of the mountains, Blowering Lake, the cliffs and a waterfall. You can camp for free at the trailhead which has picnic tables, BBQs and toilets.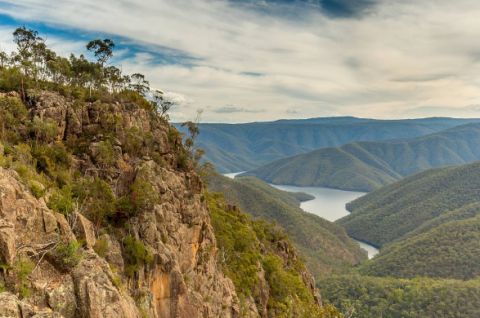 Landers Falls Lookout. Photo: joshmitterfellner via IG

Yarrangobilly Caves are a magical six-cave network of stalagmites, stalactites and cave corals created 440 million years ago. Tickets can be purchased from Yarrangobilly Caves Visitor Centre. Afterwards, take the Yarrangobilly Caves - River walk to the take a swim in the 27 degree thermal pools.
Camping
The Pines Campground by Blowering Reservoir has picnic tables, BBQs and toilets. After catching fish for dinner, sit around the campfire and marvel at the starry night sky. Face the rear of your campervan to the reservoir and wake up in the morning to a beautiful view. FREE.
Jounama Creek Camping

by Jounama Creek near Talbingo has picnic tables, BBQs and toilets. It is fringed with tall shade trees with open grassy areas for kids to play

. Hike Old Mountain road track, go fishing in the nearby

Blowering and Talbingo reservoirs, or mountain bike the Cumberland Trail

.

FREE.

Talbingo Tourist Park is a privately owned caravan park with full facilities.
Yarrangabilly Village Campground has picnic tables, BBQs, and toilets by the riverside. You might see some Eastern Grey Kangaroos. FREE.
Rainbow Pines Tourist Park is a very positively reviewed caravan park on the banks of Lake Eucumbene in Adaminaby.
More Information