15 days | 1,620 km | 21 hr 30 min drive time
This Sydney to Melbourne (or Melbourne to Sydney) drive combines the mountains and the coast, art and culture, food and wine, sweeping plains, wildlife and stunning coastlines.
Highlights: Sydney | Royal National Park | Sea Cliff Bridge | Nan Tien Buddhist Temple | Southern Highlands | Canberra | Kosciuszko National Park | Albury & Wadonga | The Alpine Way | Gipsland Lakes | Wilsons Prom | Phillip Island | Mornington Peninsula | Melbourne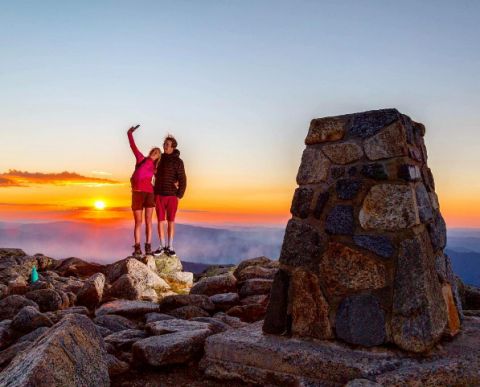 Kosciuszko National Park
Day 1: Royal National Park
12 km | 17 min from the Camperman depot
The Royal National Park is a nature lovers playground full of coastal hikes, secluded beaches, rental boats for exploring the river, rock pools and a pretty and affordable campground on the water.
Day 2: OPTION A - Sea Cliff Bridge, Nan Tien Buddhist Temple and Killalea Beach Camping
349 km | 5 hr | Sydney - Sea Cliff Bridge - Nan Tien Temple - Killalea Beach - Canberra
Drive along the famous Sea Cliff Bridge that veers out over the ocean, explore the largest Buddhist temple in the southern hemisphere and sample their vegetarian food, then camp at gorgeous Killalea Beach.
Day 2: OPTION B - Southern Highlands
317 km | 4 hr | Sydney - Southern Highlands - Canberra
Grand mansions and gardens, tea shops and antiques, waterfalls and forest walks, tulips in spring, a blaze of color in autumn, and historic pubs and villages.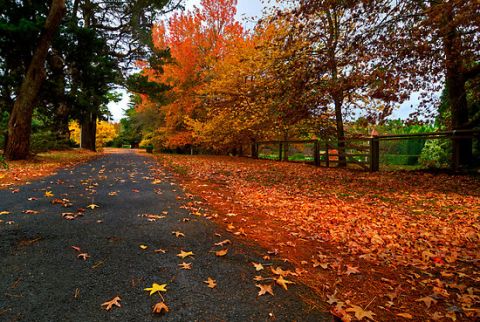 Southern Highlands
Australia's capital city is a cultural hotspot where you can dine on whatever food your heart desires, sample local wines and handcrafted beers and ciders, visit the best museums in the country, learn about our history and political system, hot air balloon, enjoy live music, watch plays, experience a festival or rent a bike and cycle the excellent bike paths.
Day 5 & 6: Kosciuszko National Park (Snowy Mountains)
400 km | 6 hr | Canberra to Yarrangobilly via Thredbo
Summit climbs, spring alpine flowers, twisted ghost gums, horse riding, mountain biking, kayaking, alpine villages and breathtaking views. This route will pass through Cooma and follow the Alpine Way from Jindabyne to the state's largest national park Kosciuszko National Park stopping off in the cute Alpine village of Thredbo, outdoorsy Khancoban, the Yarrangabilly Caves and Thermal Pools, Batlow, Tumut and Tumbarumba before following the Murray River to the riverside towns of Albury and Wadonga. We've listed some great free camping spots.
Day 7: Albury & Wodonga
270 km | 3 hr 20 min | Yarrangobilly to Albury via Batlow
From Yarrangobilly, drive through Tumut, Laurel Hill and Batlow to reach Albury and Wadonga. These two historic river towns sit side-by-side on the Murray River surrounded by picturesque farmland at the beginning of the Alpine Way.
Day 8 & 9: The Alpine Way
400 km | 6 hr 30 min | Albury to Lakes Entrance via Mount Buffalo
Taste cheese and wine, stroll through pretty historic villages ablaze with color in autumn, enjoy nature at her most dramatic, and cast your eyes across the mountains for as far as you can see.
Day 10: Gipsland Lakes
280 km | 3 hr 35 min | Lakes Entrance to Wilsons Prom
Go fishing or enjoy the a local catch at a restaurant, feed the pelicans, explore the towns, and enjoy the serenity and beauty of being on the water.
Stunning landscapes, unforgettable hikes, empty beaches and a thriving population of wildlife including emus, kangaroos, wombats, echidnas and parrots.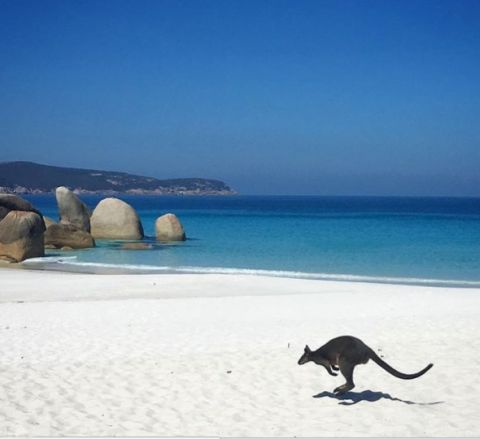 Waterloo Bay, Wilsons Prom. Photo: kraftyxx via IG

Day 13 & 14: Phillip Island
135 km | 2 hr | Wilsons Prom to Phillip Island
Another hotspot for wildlife, especially birdlife and marine life coastal walks, pristine landscapes and the local stars - penguins!
Day 5 & 16: Mornington Peninsula
140 km | 1 hr 50 mins | Wilsons Prom to Blairgowrie
This is Melbourne's weekender, with white sand beaches and calm turquoise waters, art, cafes, local food, historic mansions, hot springs, golf courses, and wineries.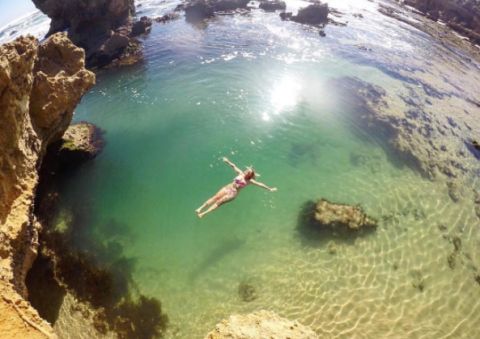 Blairgowrie, Mornington Peninsula. Photo: rachelgrixti via IG
Day 17: Melbourne
105 km | 1 hr 25 min | Blairgowrie to Melbourne
Melbourne has a lot to offer so plan to spend a few days here exploring her cultural attractions, live music scene, funky laneways with hole-in-the-wall restaurants and dumpling dens, shopping and art.
Next step
Sydney to Melbourne Alpine Coastal Combo Drive