Southern Highlands Touring Information
124 km south west of Sydney | 1 - 2 days
Known for its beautiful garden estates which are sometimes open to the public, its autumn colours, its historic buildings and country mansions, its national parks and bushwalks, its antiques, galleries, wineries and seasonal produce, and its picturesque landscapes, the Southern Highlands is worth at least a day of your time, preferably more. We've put together a list of highlights, a winery trail, an art trail, and mapped it all at the end of this article.
The Southern Highlands can be added to the Sydney to Melbourne coastal drive the Sydney to Melbourne Alpine drive or the Sydney to Adelaide outback drive.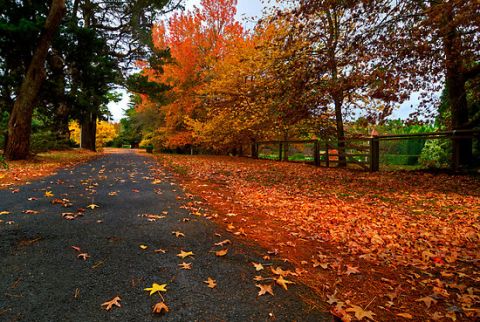 Southern Highlands in autumn. Photo: Green Homes Australia
STOP 1: MITTAGONG
From Sydney, Mittagong with its gracious old buildings and galleries, is the gateway to the Southern Highlands. Stop in at the tourist information centre known as Destination Southern Highlands to grab brochures on the region and maps of the various scenic drives. In spring, visit the Winifred West Park for a tulip display. Box Vale walking track (4.4 km, 3 hrs) follows an historic railway line and passes through cuttings, along embankments and through an 84 metre tunnel. A 1.8 km add-on track leads to a waterfall. Enjoy a picnic lunch at the tables and barbecues by the car park. Artemis Wines, Marist Brother Wines, Centennial Vineyards and Tertini Wines have cellar doors where you can try their wine selection and maybe buy a bottle for your picnic. Mt Gibraltar, once volcanic, has picnic facilities, walking tracks and spectacular views.
Mittagong Caravan Park is suitable for campervans and has full facilities.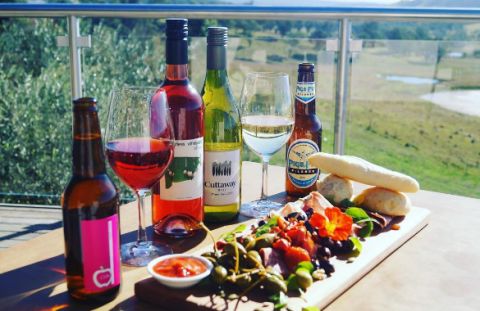 McVitty Grove Vineyard, Mittagong, NSW, Australia.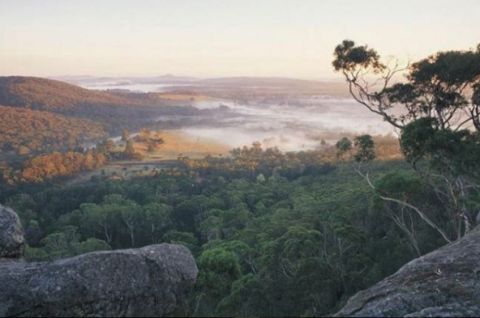 Mittagong. Photo: Fitzroy Inn via IG
STOP 2: BOWRAL
In September, stroll through Corbett Gardens and Milton Park Country Estate that are the showpiece of the annual Tulip Time Festival. Visit the Bradman Museum and International Cricket Hall of Fame to learn about cricketing history. Art lovers can take a gallery walk through town and wine lovers can taste wine at the Diamond Creek Estate cellar door.


Milton House Country Estate, Bowral.
STOP 3: BERRIMA
Berrima is the best remaining example of a small 1830s Australian village. Visit the convict built goal, courthouse and museum or some of the many galleries, antique and craft shops. For wine tasting, visit Bendooley Estate wines. Photogenic Harpers Mansion is a Georgian house with a hedge maze. It's open to the public on weekends.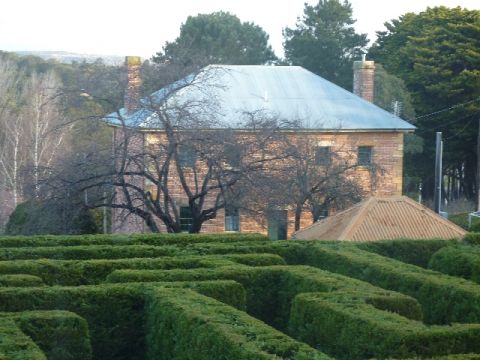 Harper's Mansion, Berrima, NSW, Australia
STOP 4: MOSSVALE
Throsby Park House, built in 1834, is a fine old home built by the area's first settlers and can be visited during open house days. You can taste wine at Southern Highlands Wine and Mount Ashby Estate. The Cecil Hoskin Nature Reserve is a great place for a picnic, birdwatching and enjoying the peace of the wetlands. Easy walks follow the river and weir, across floodplains and forest. Leighton Gardens has BBQ and picnic facilities, public restrooms, and well-maintained gardens. Trainspotters will enjoy the historic railway station adjacent. Its a handy place to stop for a picnic lunch.
Mossvale Village Caravan Park is suitable for campervans and is highly reviewed on Trip Advisor.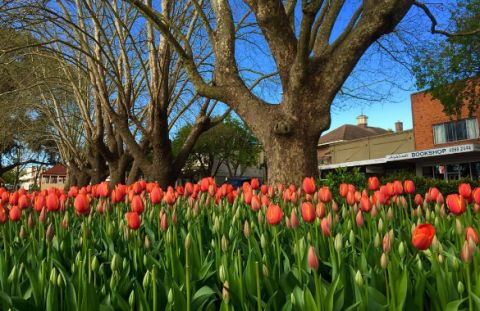 Leighton Gardens, Mossvale, (Southern Highlands) NSW, Australia
STOP 4: EXETER & BUNDANOON
Stop in at Montrose House and Berry Farm to enjoy the historic homestead and pick your own berries. In Exeter, art lovers can drop into Gallery Ecosse. Hire a bike in Bundanoon and visit Glow Worm Glen. Explore Morton National Park, one of the largest national parks in NSW, with many bushwalks to spectacular lookouts and waterfalls. Campervan travellers can camp at the National Park owned Gambells Rest Campground. Tootle through Penrose and Wingello to pick up seasonal fruit from the roadside farm stalls. Sunnataram Forest Monastery is a buddhist monastery set in beautiful gardens offering Dhamma teachings and meditation retreats.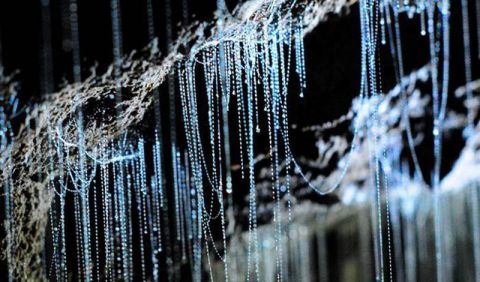 Glow Worm Glen, Bundanoon. Photo: AustraliaForEveryone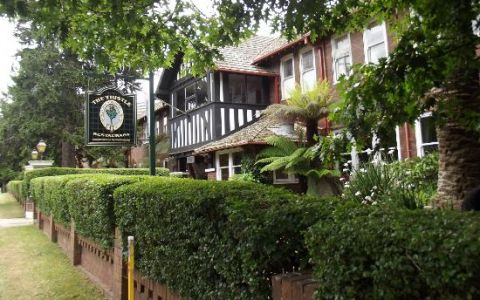 Bundanoon Hotel and Thistle Restaurant. Bundanoon, NSW.


Sunnataram Forest Monastery, Montrose, NSW (Southern Highlands)

STOP 5: FITZROY FALLS
Fitzroy Falls are not far from the carpark and cascade over the escarpment to the valley below. Two walking tracks follow the escarpment in either direction and will give you stunning views from a series of lookouts. Further south in Kangaroo Valley is a campground, Kangaroo Valley Glenmack Park, suitable for campervans.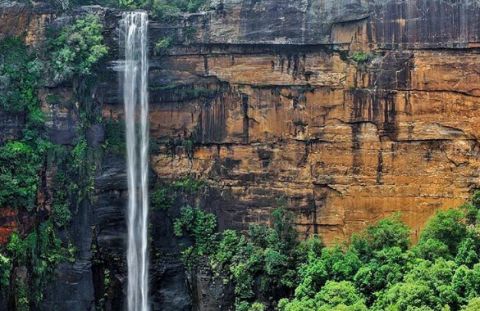 Fitzroy Falls, NSW, Australia Photo: Aussie_mate3 via IG
SCENIC COUNTRY DRIVE
For a scenic country drive from Bowral to Fitzroy Falls leave the main road At Glenquarry (after Bowral) and tootle through the charming villages of Kangaloon, Robertson and Wildes Meadow. The Fountaindale Grand Manor at Robertson is open to the public. Enjoy the gardens, peacocks, and if you fancy, take high tea. If pubs are more your speed, the Robertson Inn is a popular historic pub. In Wildes Meadow, detour out to Belmore Falls.
WINERY TRAIL
Wineries are dotted throughout the Southern Highlands from Mittagong to Mossvale producing cool climate wines, particularly Pinot Noir and Pinot Gris. All wineries are marked by gold stars on the map below.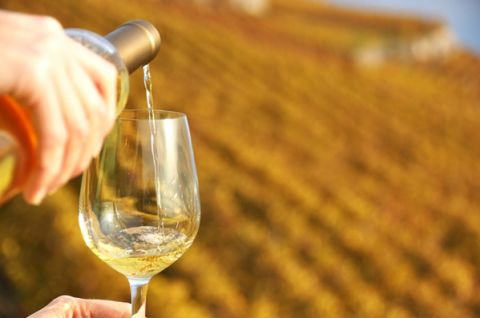 GALLERY TRAIL
The beauty of the Southern Highlands has attracted artists and there are plenty of galleries for art lovers to explore the art of the region. We've marked the key galleries on the map below. Just look for the purple diamonds.
Campervan Hire
With Camperman you can hire a campervan from Sydney and drop it off in Brisbane, Melbourne and many other cities with no additional fee.
WHERE TO FROM HERE?
From the Southern Highlands you can;