486 km | 5 or more days
The South Coast stretches from Sydney right down to Ben Boyd National Park near the border of Victoria. The drive passes along pristine beaches and waterways, forests and heathlands, through delicious oyster regions, dairy country, and fishing mecca's, and much of it is protected within National Parks.
We've also selected the best campervan-friendly beach camps for the journey. Our criteria is simple; it must score 4 stars or more on trip advisor and, if it is unreviewed, it must be free. Free is good, right?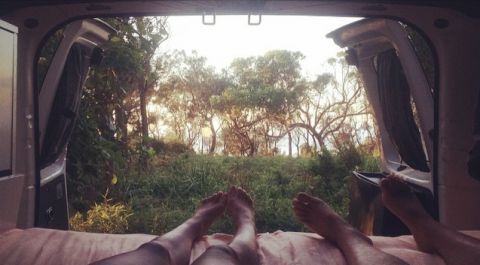 Meroo National Park. Photo: Dyl_robo via IG
So, put on your thongs (that's what we call flip flops here), pack your swimming costumes, and prepare to unwind to the South Coast lifestyle. It will involve daily swims in the ocean, fishing, eating fresh produce and seafood, relaxing on white sand beaches, surfing, friendly wildlife encounters, bush walks, breathtaking views, star gazing and falling asleep to the sound of the ocean. This is 'travel as therapy'.
From Sydney, head past the Royal National Park (if you haven't been there yet, add it to your list!) to Stanwell Park, and let the adventure begin. Every campsite and point of interest mentioned in this article is mapped below, so you can find it.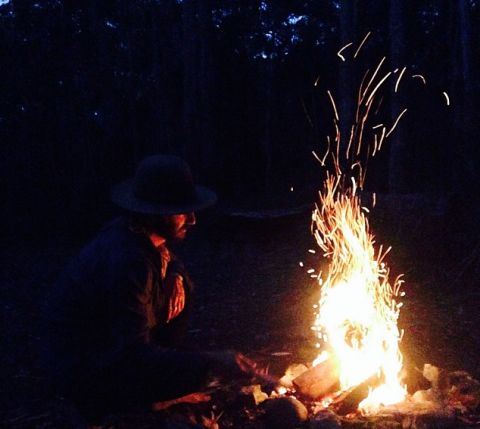 Meroo National Park. Photo: lferg via IG

Sea Cliff Bridge
The south coast could not have asked for a more spectacular gateway. Sea Cliff Bridge sweeps right out over the Pacific Ocean, curving with the coastline for 665 metres. It replaced the old Lawrence Hargrave Drive that was built into the cliff. Rockfall was a problem resulting in 18 deaths and subsequent closure of the road during wet weather.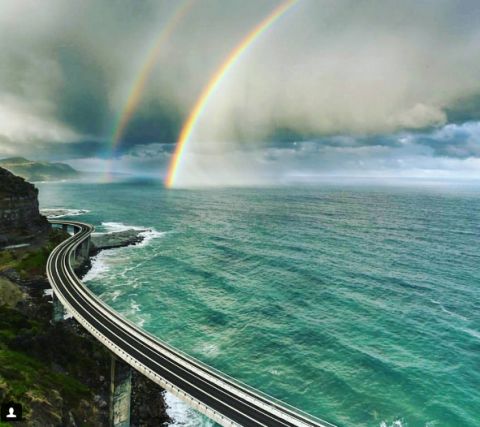 Sea Cliff Bridge. Photo: david_wimble via IG

52 million dollars later, we have beautiful Sea Cliff Bridge. It has a cycle path and walkway and is best photographed from Bald Hill lookout to the north of Sea Cliff Bridge, or an unofficial overlook to the south which intrepid photographers have staked out. If you'd like to walk along Sea Cliff Bridge, there is parking to the south of the bridge. It's a 30 minute round trip walk, and worth it.
South of Sea Cliff Bridge, the first town is Coalcliff where you can enjoy the view with a drink in hand at Coalclif Surf Club's Bombie Bar. The road twists and turns through Wombarra, Austinmer and Thirroul. If you're hungry, Arawan Thai, Coastal Thai, Samuels, and Honest Dons are favourite eating spots.
Wollongong
The 'Gong (as locals call it), is a coastal city with great surf beaches, coastal parks, fresh seafood, art galleries, restaurants, cookery schools, and a Science Centre and Planetarium for the kids. If you love the idea of swimming in the ocean but don't like waves or getting sand in your pants, Wollongong has a lot of tidal rock pools. Vegans, head to Au Lac Royal Vegetarian for some yummy and healthy Vietnamese food.
Nourish your spirit with a visit to Nan Tien Buddhist Temple, the largest in the southern hemisphere. They have a vegetarian lunch, vegetarian cooking courses, meditation sessions and other things to learn. Or you can just absorb the relaxed vibe of the temple, its gardens and the lily pond. You are allowed to wander around.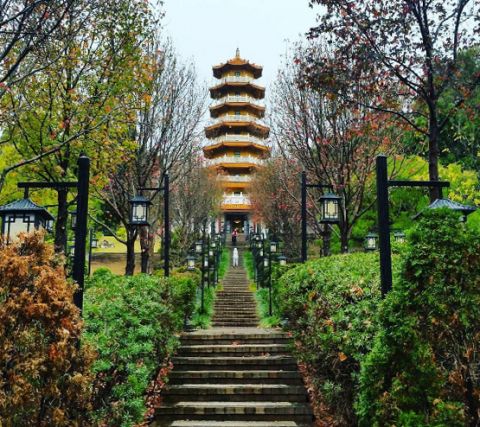 Nan Tien Temple. Photo: jelloberries via IG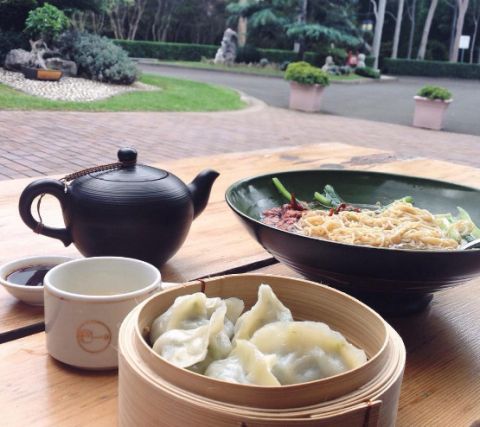 Nan Tien Temple. Photo: travel_eats_treats_and_cheats via IG

Shellharbour
There are many beaches between Wollongong and Kiama, but my personal favourite is Killalea Beach, previously known as the 'Farm Beach' because it was once accessed through a farm. Some locals still call it that. The sand slopes gently into the ocean so the waves roll in evenly and there are no undertows. It is sheltered on each end by rocky headlands that are full of fun-to-explore rock pools. The beach backs onto a pond that attracts wetland birds.
If you follow the Killalea Access Road right to the end you'll see a walking track to the longer and more open Mystics beach. It's not as safe for swimming but it's fun to walk through the forest tracks that separate Mystics from beautiful Minnumurra River.
Inland is the Minnamurra Visitor Centre and Minummurra Rainforest Centre, where you can walk through the rainforest on elevated boardwalks to a waterfall and a breathtaking view of the region. In summer, the kids will enjoy the waterslides at Jamberoo Action Park. For superb panormaic views, head to Saddleback Mountain Lookout.
BEACH CAMPING
You can camp here at Killalea State Park. Facilities include toilets, showers, camp kitchen, outdoor yoga, wood BBQs, electric BBQs, communal fire pit, picnic areas and a gazebo for undercover picnics. RATES from $15.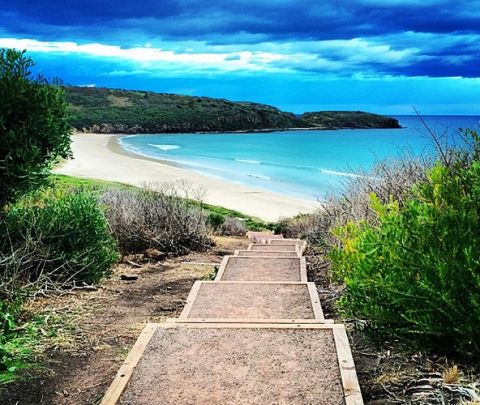 Killalea State Park (The 'Farm Beach'). Photo via IG
Kiama
Just 15 minutes further down the road is the charming surf town of Kiama with its beaches, cafes, restaurants and boutiques. For an otherworldly landscape, walk to the basalt columns of Bombo Headland. Kiama has a 25km coastal walk which is great for an early morning job or dusk stroll. If seas are rough, its a perfect time to see the ocean spurt from the Kiama blow hole. The little blowhole is not as well known as her big sister, but she can shoot that ocean a lot higher. Be prepared to get wet!
BEACH CAMPING
There are two good privately-run beachfront campsites, both with a full range of facilities.

Kendalls on the Beach

Rates (from $23) and

BIG4 Easts Holiday Park

Rates (from $29).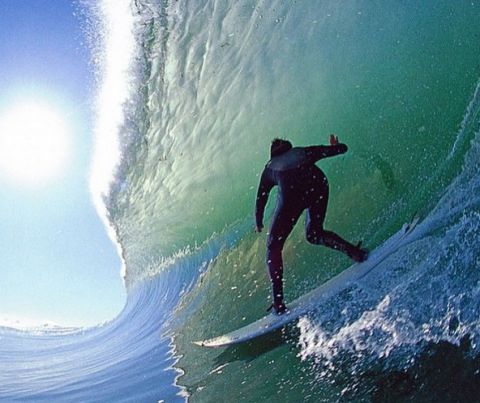 Kiama surf. Photo via IG
Seven Mile Beach National Park
Stretch your legs along the seemingly eternal Seven Mile Beach National Park (140 km south of Sydney). Sand tracks meander through ancient untouched forests, sand dunes and picnic areas.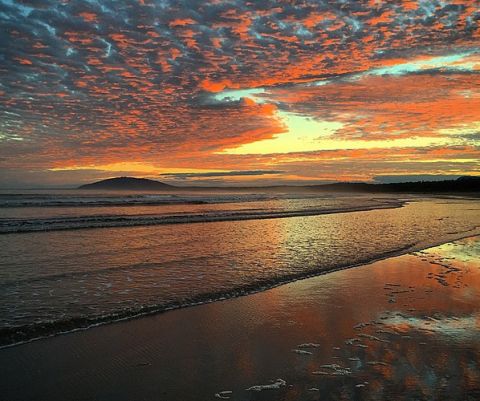 Gerroa and Seven Mile Beach. Photo via IG
Berry
Charming little Berry with its heritage buildings, antique stores, crafts and galleries, bakeries and restaurants, sweet little cottages and old English trees is worth a stroll through. Honestly, due to weekend traffic, it is faster to stroll through Berry than to drive sometimes.
Jervis Bay and Booderee National Parks
Blinding white sand so fine it squeaks when you walk, crystal clear water, untouched coastal forest, kangaroos, coloured parrots, possums, dolphins and whales – Booderee is paradise. It's Australia before it was colonised. Its natural beauty is unspoiled and unsurpassed. Local Aboriginal people maintain strong connections with this land.
You can explore it on the network of tracks. Try White Sands walk and Scribbly Gum track. Explore all the coves and beach. Laze beneath a shady tree on the sand and read. Snorkel. Fish. You can get supplies at Huskisson and Vincentia or stop in here for a meal or a drink.
BEACH CAMPING
Greenpatch

campground is a stones throw from the beach and has flush toilets, hot showers and gas BBQs.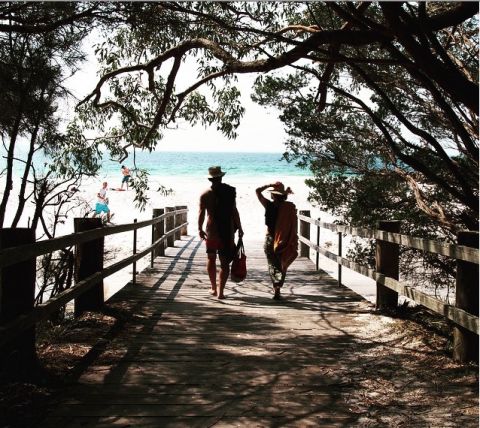 Green Patch Campground in Booderoo. Photo: Travelastherapy via IG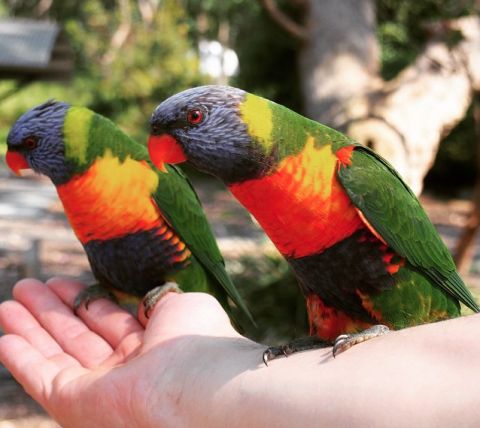 Green patch, rainbow lorrikeets, Photo: travelastherapy via IG

Lake Conjola
From Lake Conjola to Narooma further south you have 140 km of secluded beaches, sweeping inlets, lakes, forests and wildlife to enjoy. We suggest finding yourself a beautiful place to camp so you can relax into the lifestyle here. Go fishing, bbq what you caught, float in the clear water of a secluded cove, surf, sit around the campfire, enjoy conversations while a million stars blaze overhead, and drift to sleep to the gentle rhythm of the ocean. You might never want to leave.
BEACH CAMPING
Lake Conjola Entrance Caravan Park

is on the lake nestled in forest. It has a jetty, full facilities, and wild kangaroos.

Rates

: $40 for a powered site.

BIG4 Conjola Lakeside Van Park

is also on the lake with a jetty and boat ramp with full facilities.

Rates

: From $35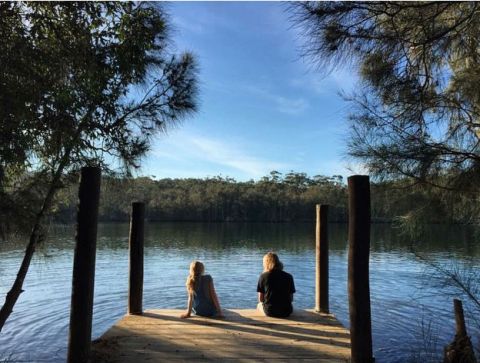 Lake Conjola. Photo: salecamargo via IG
Meroo National Park
Meroo National Park protects a beautiful stretch of sweeping beaches, rock pools, lakes, forests and wildlife. Termeil Point campsite is small and surrounded by bush on a headland close to the lake, beaches and walking tracks.
BEACH CAMPING
Termeil Point campground in coastal Meroo National Park is basic (pit toilets are the only facilities) but the location is perfect – within ear shot of the beach. So is the price. It's free!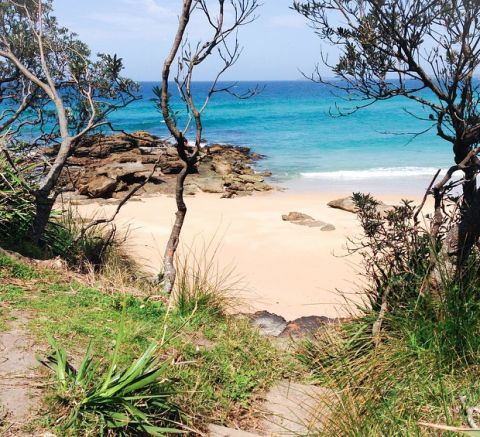 Meroo National Park. Photo: emilychansard via IG
Murramarang National Park
From South Durras to Kioloa, Murramarang is 13 kilometres of pristine coastline and forests. Coastal and forest walks take in historic Aboriginal sites, empty beaches, the 'singing stones', towering stands of spotted gums, rock formations, rock pools and stunning view points.
Nearby is the famously well-reviewed Mogo Zoo where you can book ahead for close encounters with your favourite critters.
BEACH CAMPING
Within the Murramarang National Park

Pretty Beach, Pebbly Beach

and

Depot Point

are all right by the beach or a short walk. Facilities include flush toilets, showers, gas BBQs, and camp rings. Two have laundries.

Depot Point

has pizza ovens. RATES: From $20.

Bordering the National Park,

Durras Lake North Caravan Park

sits between the lake and the beach and is pet-friendly.

Rates

: From $25.

NRMA Murramarang Beachfront Holiday Resor

t has everything you need and more, including a pool and poolside cocktail bar.

Rates

: From $26.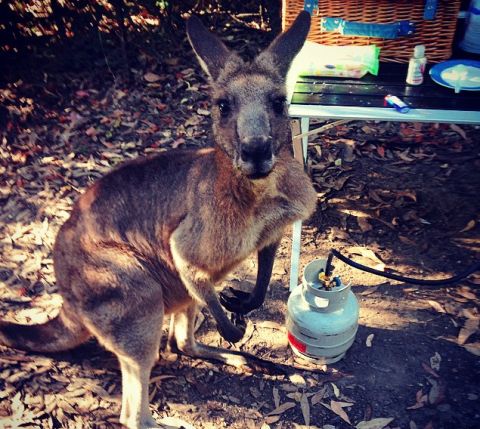 Murramarrang National Park. Photo: polocaaa via IG



Depot Beach campground. Photo: NSW NPWS

Pigeon House Mountain
On your journey you might notice a mountain with a bulbous summit to the west, shaped like a pigeon house you might say. This is Pigeon House Mountain and climbing it will put you on top of the world. You'll see the entire region all around you. You'll see the curve of the planet. You'll know you are standing on a great orb hurtling through the universe. Do it! The walking trail is one of the best on the south coast, through forest, heathland and ancient sandstone before the challenging and fun part – climbing a series of ladders to the tippy top.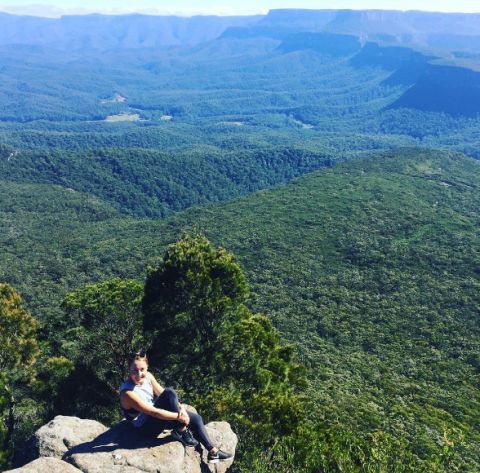 Pigeon House Mountain. Photo: krissygriffin via IG

Narooma
Narooma has the cafes, restaurants, and supermarkets of a good sized town but is so surrounded by nature, beautiful beaches and wildlife (including seals!) that it feels relaxed and small. Oyster lovers should try the local oysters. Walk the Mill Bay Boardwalk over the water and spot schools of fish and stingrays. Meander along the Wagonga Scenic Drive. If you're a golfer, a game on the challenging cliff-top golf course is a must. It's one of Australia's best with stunning views out to Montague Island.
Which reminds me, Narooma is the access point for beautiful Montague Island home to seabirds, fur seals and penguins (September to February). Three-hour guided tours are conducted by the park rangers and need advance bookings.
You can snorkel or scuba dive with the playful seals through Island Charters Narooma, Lighthouse Charters Narooma and Narooma Charters. These companies also do fishing charters, whale watching tours (winter and spring), seal viewing tours, and Grey Nurse Shark dives (don't worry, they're not the man-eating kind).
BEACH CAMPING
The

BIG4 Narooma Easts Caravan Park

was voted the best place to stay on Trip Advisor and is a short stroll to the beach.

RATES

: From $35.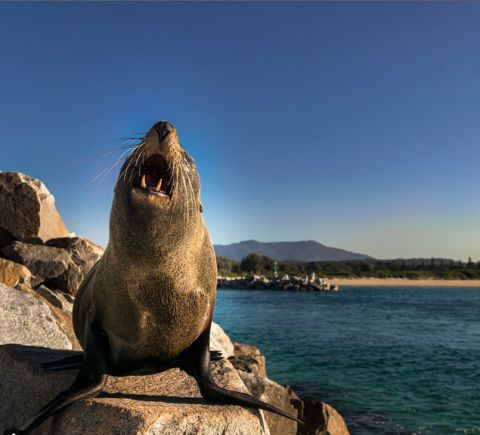 Narooma seal. Photo: dutchadventurer via IG

Mystery Bay
A place to come when you don't wish to be found, surrounded by Eurobodalla National Park, Mystery Bay is a place where you can slip into the relaxed lifestyle of a castaway.
BEACH CAMPING
Facilities are basic (pit toilets and cold showers) but location is five star - on a secluded beach surrounded by gums, acacias and banksia trees, and glorious views to Montague Island.

Rates

: From $10.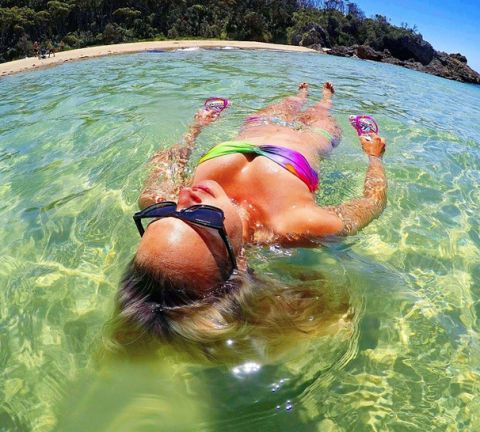 Mystery Bay. Feel like a castaway. Photo: karstanandmaxine via IG

Tilba
Between Narooma and Cobargo, detour west through the sweet 19th century towns of Tilba Tilba and Central Tilba. Taste local cheese, fudge and old-fashioned sweets. Browse the galleries and antiques. It's like stepping back in time. Take tea at one of the tea shops or sip a cold beer at Dromedary Pub. Walk up the water tower for the best views of the green rolling hills, and lush patchwork of fields.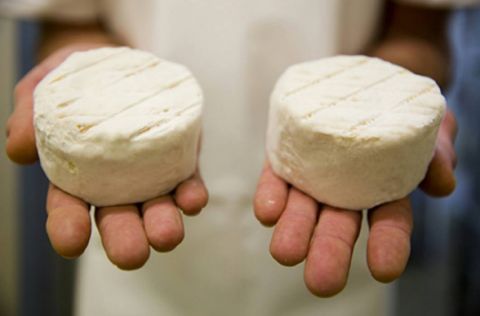 Tilba Brie. Photo: quicksandfood via IG

Mimosa Rocks National Park
The rocks of Mimosa look like sand castles and are the result of intricate faults occurring in the rock that have made them erode unevenly. For gob-smacking views, head to Bunga Head for sunrise or sunset. The rocks look magical in the changing light. The park takes its name from Paddle Steamer Mimosa that wrecked here in 1863, not the drink. That's not to say you can't enjoy a mimosa at Mimosa Rocks.

BEACH CAMPING
Campervan beach camps in Mimosa Rocks National Park include Aragunna, Picnic Point and Gillards campsite. All are set in shady bush, have toilets, BBQs, picnic tables and campfire rings, but no showers.

Rates

: $10 per adult.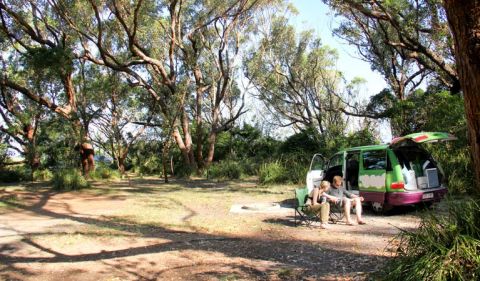 Aragunna campsite. Mimosa National Park, NSW.
Tathra and Merimbula
Tathra and Merimbula have pristine beaches, waterways, boardwalks and bush walks. Merimbula is the larger of the two, so restock the camper van pantry here. The town's natural beauty can be explored via the Nature Boardwalk at the north end of the bridge. It weaves through mangroves, oyster farms and melaleuca trees. Oyster lovers will enjoy a visit to Wheelers Oyster Farm where oysters are prepared in many different ways.
Nearby Bega is the cheese-making centre. Sample some and take a tour at the Bega Cheese Factory. Bega also has the Candelo Bulk Wholefoods Cooperative if you'd like to stock up on healthy supplies.

BEACH CAMPING
Tathra Beachside

has wood-fired pizza nights, a long list of facilities, and is near 50 km of bicycle paths between two stunning national parks.

Rates: From $35.
Merimbula Beach NRMA Holiday Park is perched on a headland overlooking the Pacific Ocean. It has full facilities plus a pool and cafe. Rates: From $30.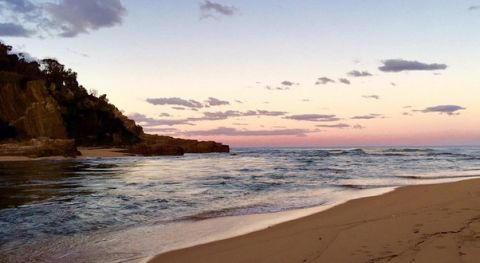 Tathra beach, NSW, Australia.
Eden
The southern most town in NSW is the fishing village of Eden. It is perched on Twofold Bay and was once a whaling town. Now it is a whale-watching town and the Eden Killer Whale Museum sounds a siren when whales are sighted. For those who like to fish, rock cod, bream and jew-fish can be caught from the beach. Prawning is good in the scattered inlets. Trout and perch can be caught in the many rivers draining the mountains.
BEACH CAMPING
The Sapphire Sun Eco Holiday Village sits high on a headland overlooking the cove. The BBQs have panoramic views so you can watch dolphins and whales play while you dine. Rates

: From $20.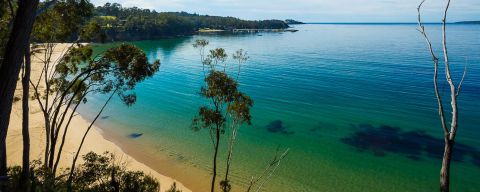 Sapphire Sun caravan park. Eden, NSW, Australia.
Ben Boyd National Park
Bordering Victoria is the Ben Boyd National Park known for its striking rock formations in white, cream and ochres against the sapphire blue ocean. There are swimming coves, an inlet perfect for kayaking, seals and other wildlife, a great variety of birds, and a stunning coastal walk.
BEACH CAMPING
Bittangabee Campground

is on the beach and has toilets, free gas BBQs and picnic tables.

Rates

: $23 per night for two people.

Saltwater Creek campground is just

a stroll from the beach tucked in the forest with toilets, free undercover gas BBQs and picnic tables.

Rates

: $20 per night for two people.

Ben Boyd National Park campground. Photo: suneengel via IG
Where to next?
The South Coast drive can be incorporated into the Sydney to Melbourne coastal drive, the Sydney to Melbourne alpine drive, the Snowy Mountain drive, or the Broken Hill drive. With Camperman depots in Adelaide, Melbourne and Sydney, you don't need to return the campervan to the place you picked it up.

More Information