Sydney to Adelaide Outback Road Trip
2,200 km Sydney to Adelaide
8 days or more | 35 hrs drive time
Broken Hill – an outback mining town of art, historic buildings and unique landscapes – lies just over 1,100 km west of Sydney and 500 km north east of Adelaide. There are three main routes to take to include this outback region in your road trip and we've listed them all here. The basic differences are:
Route 1 includes the Blue Mountains and Hill End
Route 2 includes Canberra and the Hay Plain
Route 3 includes Canberra and the Alpine region

All highlights mentioned, as well as good places to stay in your campervan, have been mapped below. We've mentioned where there are options to stay longer or explore off the beaten track. If you take us up on all of them (and they're worth it) you can turn this into an easy and fun 14 day road trip. But if time is limited, stick to the schedule laid out here.
Road Etiquette
If a truck approaches while travelling the outback roads, it is polite (and sensible) to pull over onto the side of the road and wait for it to pass. The trucker will thank you for it and you'll protect your windscreen from flying rocks.
With Camperman, you can hire your campervan from Sydney and drop it off in Adelaide, or the other way around.
---
ROUTE 1
Sydney | Blue Mountains | Janolan Caves | Bathurst | Orange | Hill End | Parkes | Broken Hill | Menindee Lakes | Mungo National Park | Mildura | Barossa Valley | Adelaide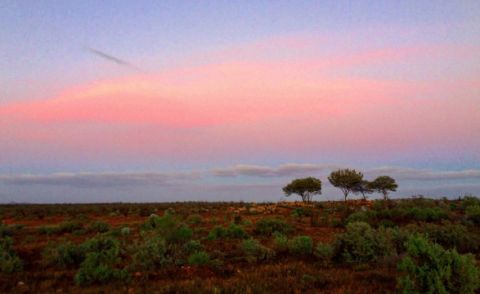 Broken Hill outback at Sunset. Photo: Lorelei__ via IG
Day 1: Blue Mountains
113 km | 1.5 hr drive
A bushwalkers paradise with endless valleys and mountains, stunning views, wildlife, sandstone cliffs, waterfalls, quaint mountain villages, gardens, the Jenolan Caves and plenty of campervan friendly places to stay. More details on the Blue Mountains.
OPTION: Stay for two nights. There's enough here to keep you exploring for days.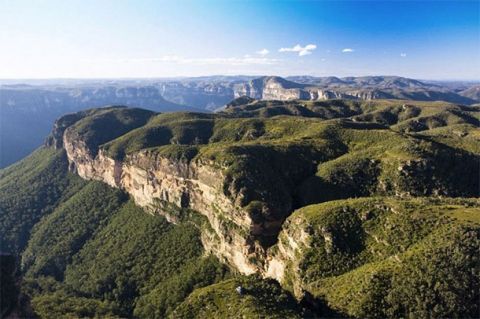 Govetts Leap, Blue Mountains. Photo: Sky Rider Motor Inn

---
Day 2: Bathurst | Hill End | Orange
294 km | 4 hr drive
154 km | 2 hr drive without Hill End
Bathurst and Orange are sophisticated country towns bursting with charm, local produce, wine, culture, creativity, grand architecture and autumn colours. Enjoy the food, wine, art, unique boutiques, country lanes and friendly locals. The turn off for Hill End is at Bathurst.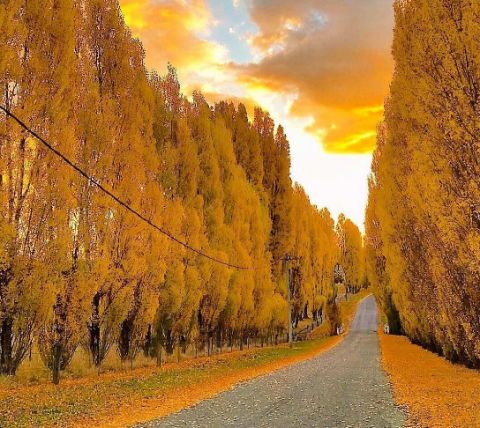 Meadows Flat near Bathurst. Photo: Photos by Brenden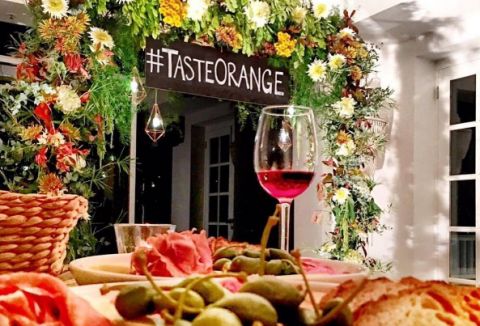 Orange. Photo: TasteOrange via IG
Hill End
Hill End is a photographer's dream. It's a place of tree-lined lanes, lichen-covered picket fences, country cottages, and lots of rural charm. It has attracted a community of artists and creative folk who have opted out of the rat race. The village is great for a stroll. There are antiques, galleries, and places to eat or stop for a coffee. Take a drive, or walk up Bald Hill for views over the village.
Mt Condobolas Nature Reserve
Mt Condobolas is southwest of Orange and has walking trails, mountain bike trails, waterfalls and some great views.
Taronga Western Plains Zoo
Taronga Western Plains Zoo near Dubbo is more of a zoofari due to the massive, open-style enclosures in natural bushland . You can drive, cycle or take a tour around the 6 km circuit, getting out at each enclosure. Book ahead for animal encounters. There are free BBQs and picnic tables for visitors.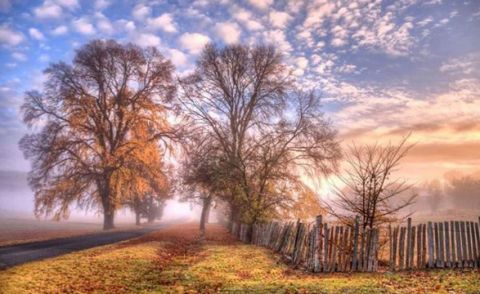 Hill End. Photo: Philip Johnson Photography.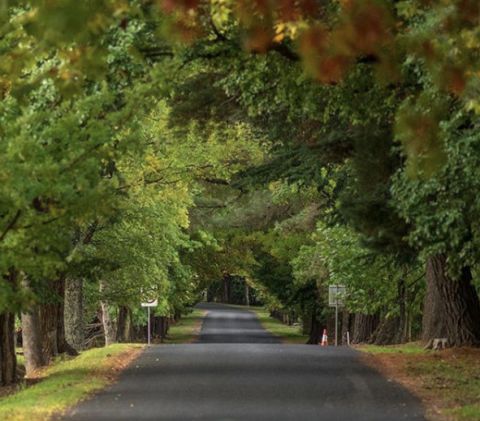 Hill End. Alex Taylor photography via IG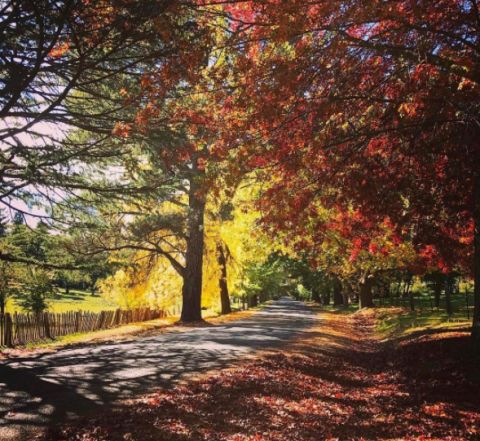 Hill End. MissWorldTravellerOz via IG
---
Day 3: Parkes | Broken Hill
919 km | 9 hr 40 min drive
Parkes is famous for its Elvis Festival and 'The Dish' - a massive radio telescope in the countryside just north of Parkes. It's open to visitors seven days a week. Learn your regional history at the Henry Parkes Centre or if you want to stretch your legs, there are three conserved landscapes to choose from. Drop into the Visitor Information Centre (It's on the map above) to pick up some bushwalking maps of Goobang National Park, Back Yamma State Forest or the Black Range in Trundle.
Then start the largest drive of the journey to Broken Hill. If you arrive just before sunset, head straight to the Sculpture Symposium in the Living Desert State park north of town for the perfect photo opportunity.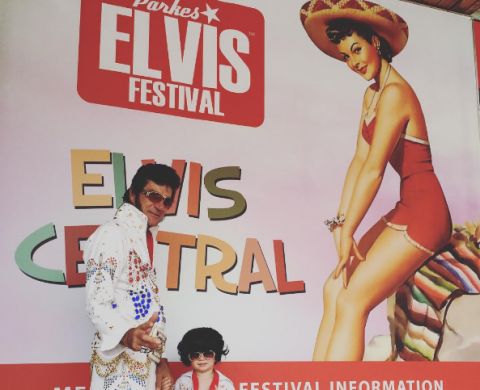 Parkes Elvis Festival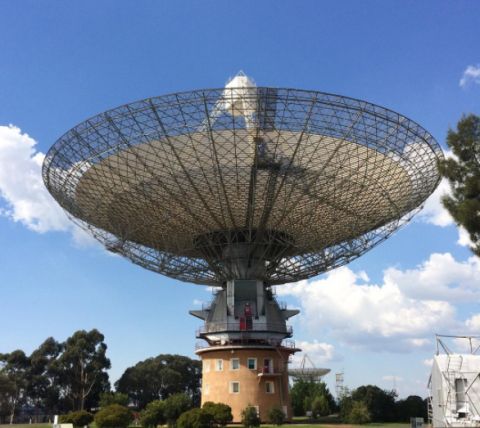 The Dish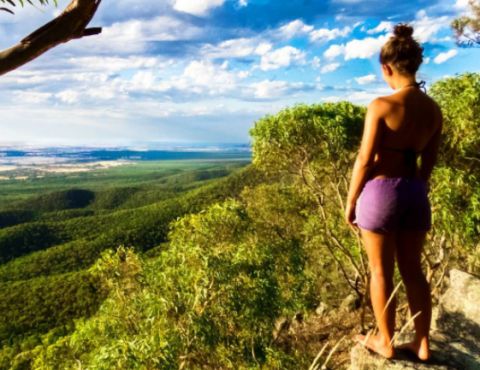 Gooban National Park. El_Pie_De_Samantha via IG
Day 4: Broken Hill
Take a day off from the driving and enjoy Broken Hill and the surrounding landscapes. Spectacular outback sunsets, art, a desert sculpture park, star-studded night skies and Victorian architecture are all here in Broken Hill.
The Palace Hotel is a Victorian three story pub with an elaborate iron lace veranda. Inside, its walls are covered by kitsch landscape murals painted by Indigenous artist Gordon Wayne in the 1970s.
Line of Lode Miners Memorial is a moving tribute to the 500 miners who have lost their lives at Broken Hill.
The Royal Flying Doctors have a visitor centre with some stirring displays and stories.
Broken Hill Regional Art Gallery, in a restored Victorian building, holds 1800 works in its permanent collection, with an emphasis on Australian masters such as John Olsen, Sidney Nolan and Arthur Streeton as well as a broad Indigenous representation.
Kevin 'Pro' Hart is one of outback Australia's most beloved painters. His work and studio fills three stories of the Pro Hart Gallery.
The Sculpture Symposium in the Living Desert State Park is a collection of monolithic sandstone sculptures made by international artists on a hilltop northwest of Broken Hill. Their colours change with the changing light and are best viewed at sunset or sunrise. The sculptures are signposted off Nine Mile Rd. Pick up the keys for the gates from the visitor centre.
Mutawintji National Park
OPTIONAL: If you have the freedom to add a day or two to your journey, consider detouring north to Mutawintji National Park. The drive is 3.5 hours each way and you'll be rewarded with ancient outback landscapes that are uniquely Australian and rich in Aboriginal heritage. Drop into the Mutawintji Visitor Centre when you arrive to get the low down on the highlights.
Camp under the stars
Explore the walking trails through ruggedly beautiful desert and the vibrant red Bynguano Ranges
Visit the Mutawintji Historic Site for one of the best Aboriginal art collections in New South wales.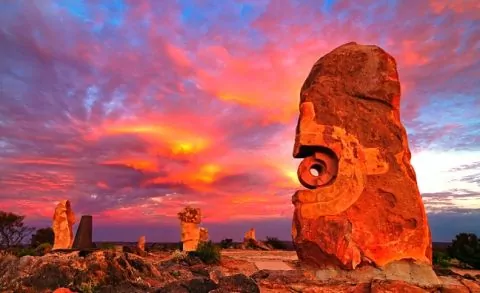 Sculpture Symposium, Broken Hill. Photo via a1onsite.com
Day 5: Menindee Lakes and Kinchega National Park
142 km | 2 hr drive
Menindee Lake provides an important breeding ground for a variety of waterbirds, including herons, ibises, spoonbills and black swan. Walking tracks take you through forests of river red gums. Scenic drives follow the course of the Darling River and the lake shores.
The water-soaked landscape is particularly photogenic at the 'magic hour' of dawn and dusk. Make the place home for a night in your campervan. You can camp by the Darling River beneath a canopy of stars and the majestic river red gums at the
Darling River Campground.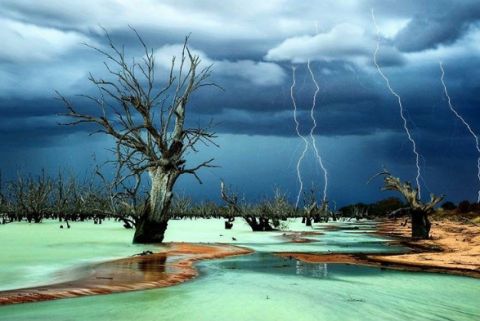 Menindee Lakes, Kinchega National Park. Photo: phenomena_of_the_world via IG
Day 6: Mungo National Park
237 km | 5 hr 20 min drive
After rising at dawn to take those magnificent photos of Menindee Lakes, follow the Darling River south to Mungo National park. Scientists have discovered Aboriginal artifacts here dating back over 50,000 years going back as far as the last ice age. It's a surreal moonscape of a place with unusual rock formations that change color with the shifting light. Monet would have loved it! Drop into the Visitor Centre for a map of the self-guided drive and the various walks. There are two campgrounds. Both are campervan friendly and are a first-come first-served basis. The night sky will blow you away! Try your hand at some night photography.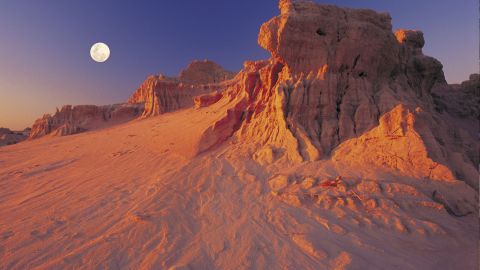 Mungo National Park
Day 7: Mildura and the Murray River
113 km | 4 hr
It's time to feast your eyes on some green! Mildura is an oasis in the outback and a cornucopia of local produce and vineyards. Stop here for the paddle steamer tours of the Murray River, the art deco buildings, the wine tasting at local vineyards, the quality dining and the picturesque hinterland. Highlights include:
The Mildura Arts Centre, which is housed in a Queen Anne mansion
The Etiwanda Wetlands, home to 91 species of birds
Chateau Mildura Vineyard
Sand Bar pub for its Art Deco architecture and beer garden
Kings Billabong Nature Reserve for kayaking
Apex Beach for some sun, swimming, and people watching
Arts Centre for some culture
The Brewery or the Cider Tree for some local brews
OPTIONAL: If you want to explore this region properly, stay two nights.
The Buronga Riverside Tourist Park receives excellent reviews and is the closest caravan park to Mildura city. It has river frontage, wildlife, an animal farm, a tennis court, 2 swimming pools, a BMX track, 2 playgrounds, and a jumping pillow.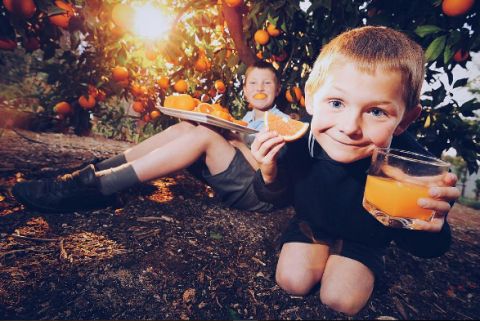 Mildura citrus season. Photo: DavidSickerdick via IG
Day 8: Barossa Valley to Adelaide
395 km | 4 hr 40 min
Barossa Valley is famous for its wines. Call into Mildura Visitor Information Centre before you leave and grab some brochures on the Barossa Valley region. It is easy enough once you have a map of the wineries in the region, to explore on your own. If you'd like some guidance, here are our favorites, including the world famous wineries such as Yalumba and Penfolds.
St Hallets
Seppeltsfield
Peter Lehman
Henschke
Penfolds
Yalumba
Wolf Blass
Hentley Farm
Saltrams
Two Hands
Rockford
Bethany
Pindarie
Hutton Vale Farm
More Information