Blue Mountains
114 km west of Sydney | 1 - 3 days
The beauty of the Blue Mountains has been acknowledged by its UNESCO World Heritage Status. And yes, the mountains really are blue. Their colour is the result of the oil vapour that rises from the majestic eucalpyts that cover the mountains. For this reason the Blue Mountains are affectionately called the Blueys by locals. The landscapes up here are expansive and diverse: endless valleys, wide skies, waterfalls and lush valleys. Many visitors come for the bushwalking (hiking) alone, but there is so much more to the Blue Mountains. Historic art deco architecture, charming mountain villages, art and craft, local produce, public gardens, limestone caves, high tea, Aboriginal cave paintings, and scenic drives await you and it's all mapped below.
And if you plan to stay a while, we've compiled a list of the best campervan-friendly camping in the Blue Mountains, and mapped each campsite.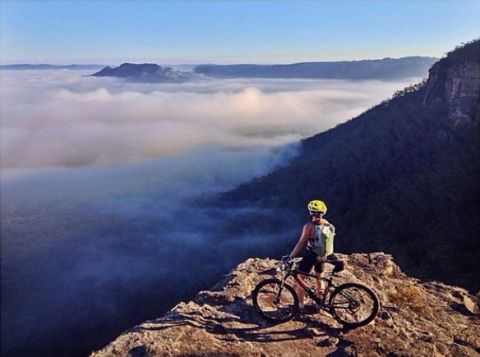 Blue Mountains, NSW, Australia. Photo: FootlooseFotography via IG

Blue Mountains: Things to do
STOP 1: GLENBROOK
The first points of interest as you approach the Blue Mountains from Sydney will be at Glenbrook (see the map below). Highlights include the Knapsack Viaduct, a tall stone bridge built for the railway in 1867, the funicular railway if you love steep ascents and descents, the Tunnel View Lookout, Mount Portal Lookout, Ross Lookout or Chalmers Lookout for your first glimpse of the Blueys, the tourist centre if you want to grab a handful of brochures or ask some questions, the Red Hands Cave Aboriginal cave art, and the Jellybean Track and Glenbrook Gorge if you'd like to swim in the beauty of nature.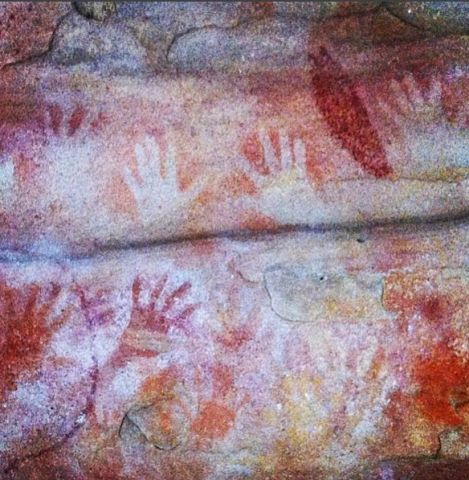 Red hands cave, Glenbrook. Photo: Cosborne1972 via IG
STOP 2: SPRINGWOOD
The Norman Lindsay Gallery at Lindsay's home at Faulconbridge, just up the road a bit, gives a fascinating look at this prominent Australian's life and work as artist, writer and sculptor. The studio remains as he left it and the museum includes many fine examples of his work.
A great place to stop for lunch, coffee or a sneaky sunset tipple is the Bunker Cafe Bar. It's a rustic, funky and suave place that supports local producers. Stop off at the side of the highway for views of the picturesque remains of crumbling Eurama Castle. It was once the grand old home of several famous Australian, and had two swimming pools hand-cut into the sandstone.
STOP 3: WENTWORTH FALLS
Wentworth Falls is the starting point for some stunning bushwalks including Empress Falls, the Wentworth Falls Track and the National Pass. Stop off at the Falls Gallery (John Olsen, Anne Smith, Charles Blackman, Arthur Boyd) and the Kedumba Gallery for Australian drawings.
For food, stop at the Blue Mist Cafe - a cottage full of books, art and home-made food - or Mountain High Pies, for ward-winning pies that will knock your socks off. They use free-range (cage-free) eggs and have 9 vegetarian pies to choose from and 14 sweet pies. And that's in addition to all the meaty ones.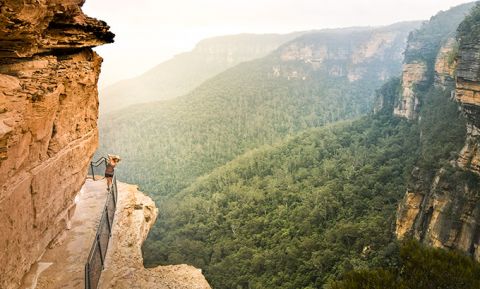 National Pass, Blue Mountains National Park, NSW, Australia
STOP 4: LEURA
Leura is a beautiful village well-known for its pretty gardens, arts and crafts shops, and cafes and tearooms. It hosts the Leura Garden Festival in early October. There's a teapot museum and a tourist centre. From Sublime Point lookout, a scenic cliff drive follows the escarpment. Leura Cascades is a beautiful place for a picnic (or to eat those pies you bought at Mountain High Pies). Walks here include Gordon Falls, Pool of Siloam, and Bridal Veil Falls.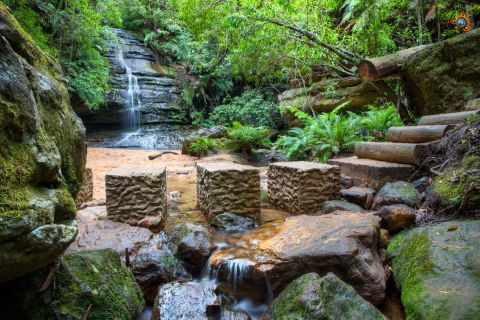 Pool of Siloam. Photo: Rob Potter via PhotographyHotpots.com.au
STOP 5: KATOOMBA
Katoomba is famous for the Three Sisters rock formations that can be viewed from Echo Point. There is a network of bushwalks from here including the Giant Stairway and Dardenelles Pass Loop. On the Scenic Railway, take a ride into the Jamison Valley, or take the Scenic Skyway cable car for a heart-stopping view of the Three Sisters.
There are plenty of eating options in Katoomba such as The Elephant Bean, as well as an old-fashioned art deco cafe (if you appreciate architecture). Lilianfel's is a heritage building with ornate fireplaces, leadlight windows, chandeliers, and decadent high teas ($55). The Blue Mountains Cultural Centre is a beautiful space with changing art exhibitions, artists talks, film screenings, and other cultural events.
Campervan-friendly camping is available at Katoomba Falls Caravan Park.

Giant Stairway, Blue Mountains. Photo: David Noble
STOP 6: HYDRO MAJESTIC
Lovers of grand old architecture, interior design, rooms with a view, high tea, and a little fortune telling, should drop in here at least for a quick look. Indulge in some high tea with stunning views over the Megalong Valley ($65). Have your tea leaves read ($40) or the tarot cards. If the weather is not cooperating and you don't mind splashing out a little, this is a lovely place in which to seek some respite.


Hydro Majestic wintergarden.
STOP 7: BLACKHEATH
Blackheath is a village of pretty timber buildings. St David's Anglican Church is also made of wood. It is the starting point fro great bushwalks, including the Pulpit Rock walk to Barrow Lookout, Evans Lookout, The Grand Canyon Walk and Valley View Lookout. To the east, Blackheath overlooks Govett's Leap - a particularly expansive view across the Blue Mountains National Park. There is a lovely walking track to Mermaid's Cave to the south west of town and to Fort Rock on the west which is breathtaking at sunset.
Campervan travellers can stay at Blackheath Glen Tourist Park for full facilities, or head down to Megalong Valley for some free camping.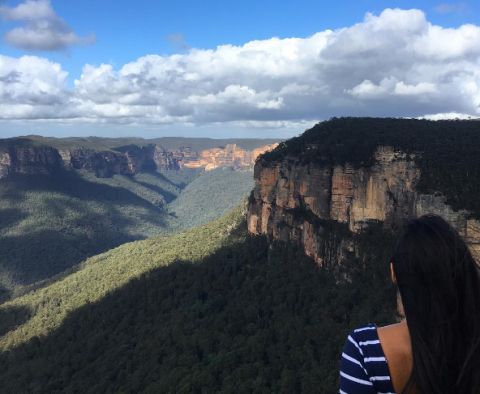 Govetts Leap, Blackheath. Photo: ayesha.ak via IG
STOP 8: MEGALONG VALLEY
Detour along the scenic Megalong Valley Road to Megalong Valley Farm for horse riding or the Megalong Valley Tearooms for a veg-friendly and GF-friendly menu at tables beneath the eucalypts. Taste wine with a cheese platter at Dryridge Estate.
There's FREE CAMPING at Old Ford Reserve, which is also close to the Six Foot Track and the hair-raising Bowtell's Swing Bridge (also known as Coxs River Suspension Bridge). Continue on Megalong Valley Road and you'll come to Dunphys Camping Area which offers more FREE CAMPING.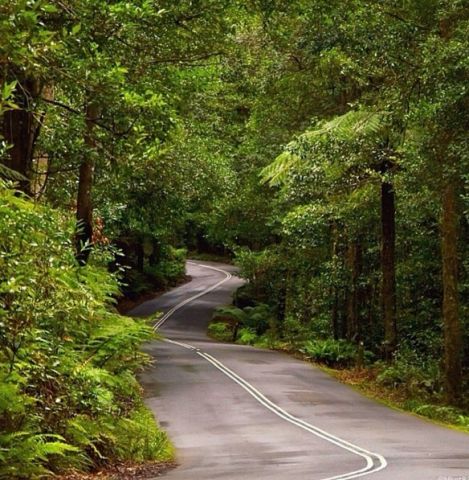 Megalong Valley Road, Blue Mountains. Photo: mket82 via IG

STOP 9: MOUNT VICTORIA
Mount Victoria is a charming National Trust classified village of historic houses, antique shops and a museum. It sits at the summit of Victoria Pass, which winds 3km off the range. A tollkeeper's stone cottage is still to be seen by the highway and St Peter's Anglican Church dates back to the 1870's.
Hartley is a quaint historic village on the banks of the Lett River. The 1846 post office is the oldest in Australia, and the sandstone courthouse was built in 1837.
STOP 10: JENOLAN CAVES
The turn-off for Jenolan caves is in Hartley. Jenolan Caves contains the most interesting and labyrinthine complex of limestone caves in New South Wales, with nine systems containing a diversity of beautiful formations and underground ponds. Features carry such colourful names as Pillar of Hercules, The Woolshed, Fairies Bower, The Cathedral and The Angel's Wing.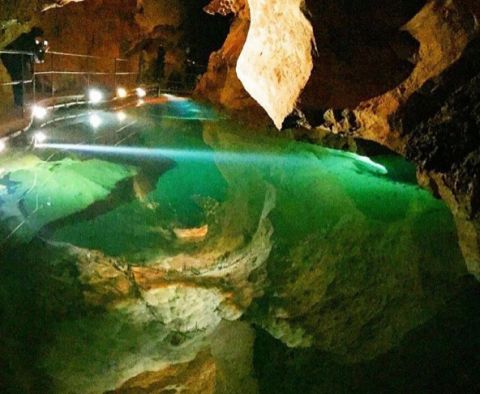 Jenolan Caves. Photo: Annie Nguyen via IG
STOP 11: MOUNT TOMAH
Mount Tomah is famous for its gardens which are a riot of colour in autumn and spring. The Blue Mountains Botanic Gardens in Mount Tomah is a good place to start and has a restaurant, bookshop and barbecue area. It perches on the edge of the escarpment with stunning views over the Blue Mountains National Park.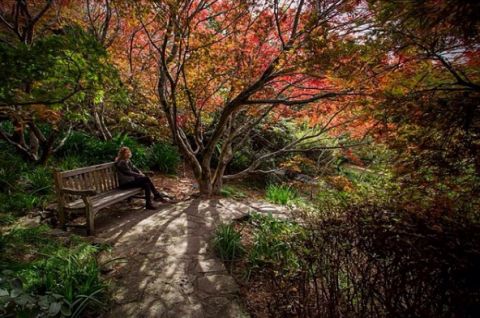 Mount Tomah, Blue Mountains. Photo: Rick McCann via IG
STOP 12: MOUNT WILSON
Nearby is the pretty historic village of Mount Wilson. Drive through leafy country lanes during their autumn splendour or stroll through gardens dripping with wysteria blooms. Mount Wilson has stunning canyon and rainforest walks. Campervan-friendly camping is free at the Cathedral Reserve Camping Area.
LONGER DRIVES
The Blue Mountains can be tied into the Southern Highlands drive, the Sydney to Adelaide Outback drive, the Sydney to Gold Coast Drive, the Sydney to Melbourne Coastal Drive or the Sydney to Melbourne Alpine Drive.
CAMPERVAN HIRE SYDNEY
At Camperman, you can hire a campervan in Sydney and drop it off at Melbourne, Adelaide, Brisbane, Gold Coast and many other cities around Australia, .
More Information