14 days | 1,300 km | 18 hr drive time
This drive hugs the coast passing along sweeping beaches and over estuaries and lakes. At every turn the view will take your breath away.
We list some stunning places to camp for campervan travellers and it's all mapped!
An alternate route is the Alpine and Coastal route which passes through Australia's capital city Canberra, and along the Alpine Scenic Drive through quaint mountain towns such as Bright which are particularly pretty in autumn (April/May).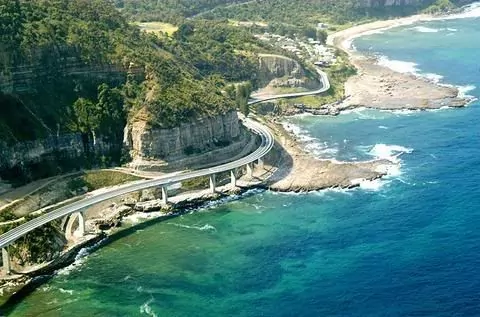 Sea Cliff Bridge
DAY 1: Royal National Park
12 km | 17 min from the Camperman depot
The Royal National Park is a haven for beach walks, forest walks, sandstone cliffs, whale watching, the famous figure eight rock pool. Camp by the water at Bonnie Vale Campground.
Day 2: Sea Cliff Bridge and Nan Tien Temple
93 km | 1 h 25 min
Drive the breathtaking Sea Cliff Drive through little beach villages to Nan Tien Temple, the biggest Buddhist temple in the southern hemisphere. Continue on to Killalea State Park where you can enjoy afternoon swims (or surfs) and beach walks before settling in for a night by the ocean.
Day 3 & 4: Booderee National Park
88 km | 1 hr 25 min
Stops can include the Minnumurra Rainforest Centre for elevated rainforest walkways and a waterfall, the Bombo Quarry for a surreal coastal walk by basalt columns, the Little Blowhole in Kiama, and Seven Mile Beach National Park, before arriving in Booderee National Park. Camp at Greenpatch with the friendliest of wildlife and the whitest of sand.
Day 5: Pigeon House Mountain climb and 4 National Parks
210 km | 3.5 hrs
Climb to the summit of Pigeon House Mountain before exploring Meroo, Murramarang and Eurobodalla National Parks, Mogo Zoo and Narooma where you can swim with wild seals. Meroo National Park has free camping, but camping is available at every stop. You could easily stretch this to two days if you have time.
Day 6 & 7: Merimbula to Mallacoota and Croajingolong National Park
260 km | 3.5 hrs
Tea and scones in Tilba, oysters in Merimbula, a walk in Ben Boyd National Park, whale watching in Eden, massive sand dunes in Croajingolong National Park, and the waterways, beaches and forests of Mallacoota.
Day 8: Gippsland Lakes
350 km | 4 hr 40 min
Explore the waterways of Lakes Entrance and the seaside villages of Metung, Bairnsdale, Sale and Foster.
Day 9 & 10: Wilsons Prom
227 km | 3 hrs
Beautiful landscapes and coastlines with lots of wildlife and walks. Take two days to explore this region. Book well in advance at the Tidal River campground. If you don't get in we've listed some other great spots nearby.
Day 11 & 12: Phillip Island
135 km | 2 hrs
See the little penguins come in to nest at dusk. There are also seals, koalas, ride the Grand Prix, and take some walks.
Day 13 & 14: Mornington Peninsula
144 km | 2 hr
Wineries, spectacular beaches, rock pools, hedge mazes, hot springs, local cheese, fruit and seafood, snorkeling, swims with seals and dolphins, kayaking, walks, café culture and art - it's all here in beautiful Mornington Peninsula.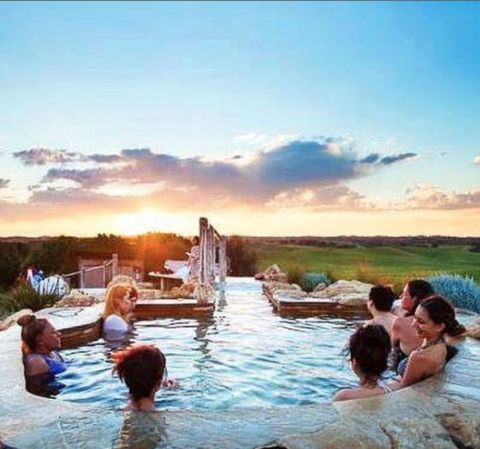 Mornington Peninsula Hot Springs
With Camperman, you can hire a campervan from Sydney and drop it off in Melbourne (or the other way around) and you won't be charged a one-way fee.

Destination Melbourne

106 km | 1 hr 20 min


There's no need to ditch the campervan in Melbourne if you plan to spend a few days. There are some great campervan-friendly caravan parks that are well-connected to public transport. Read more about Melbourne attractions, Melbourne campervan hire, and places to stay.
Next step
Sydney to Melbourne Alpine Coastal Drive