1,300 km | 18 hr drive time | 13 days
This drive hugs the coast passing along sweeping beaches and over estuaries and lakes. At every turn the view will take your breath away.
An alternate route is the Alpine and Coastal route which passes through Australia's capital city Canberra, and along the Alpine Scenic Drive through quaint mountain towns such as Bright which are particularly pretty in autumn (April/May).
Royal National Park | Nan Tien Temple | Killalea Beach | Booderee National Park | Pigeon House Mountain | Croajingolong sand dunes | Gippsland Lakes | Wilsons Promontory | Phillip Island | Mornington Peninsula | Melbourne
Day 1: Royal National Park
12 km | 17 min (from the Camperman depot)
Spend your first day and night in the nearby Royal National Park, a haven for beach walks, forest walks, sandstone cliffs, whale watching, the famous figure eight rock pool, kayaking and beachside camping at Bonnie Vale Campground. Grab a map at the Royal National park Visitor Centre just after you cross the river.
Day 2: Sea Cliff Drive and Killalea Beach
93 km | 1 h 25 min
A video on the Grand Pacific Drive might wet your appetite for what's in store.
Helensburgh
At Helensburgh is the Symbio Wildlife Park where you can cuddle a koala and have your photo taken with a snake or alligator. They have birds and animals from all over the world.
Sea Cliff Bridge
The Lawrence Hargrave Drive hugs the ocean between Stanwell Park in the north, where hang gliders circle above the cliffs like eagles, then swings right out over the ocean on Sea Cliff Bridge, and curves back into the little coastal town of Coalcliff where you can stop for a drink with a view at the Bombie Bar in the Coalcliff Surf Club. The road then meanders through Wombarra, Austinmer and Thirroul, which all have little restaurants and cafes should you be hungry. Arwan Thai, Coastal Thai, Samuels, and Honest Dons are favourites.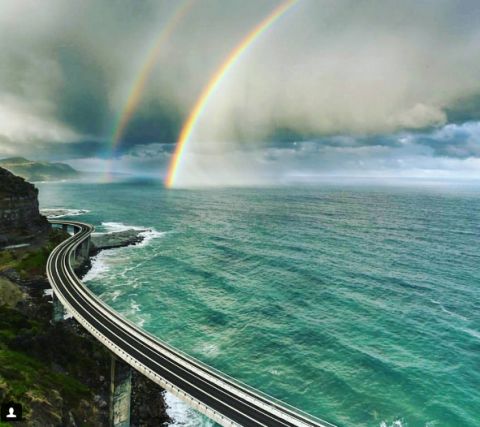 Wollongong and Nan Tien Buddhist Temple
Wollongong, known locally as the 'Gong, is a coastal city with a lot to offer; great surf beaches, coastal roads and parks, fresh caught seafood at Belmore Basin, restaurants, art, cookery schools, and a Science Centre and Planetarium for the kids.
For some introspection, visit Nan Tien Buddhist Temple, the largest in the southern hemisphere. They have a vegetarian lunch, vegetarian cooking courses, meditation sessions and other activities for you to join, or just enjoy the serenity of the temple, gardens and lily pond.
If you love the idea of swimming in the ocean but don't like the waves or getting sand in your pants, Wollongong has a lot of ocean rock pools. Vegans will want to head to Au Lac Royal Vegetarian for some Vietnamese veg food.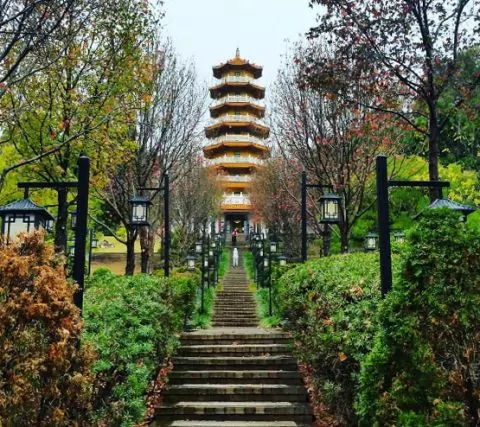 Killalea Beach
For a campervan camping site on a gorgeous beach, make your way to Killalea State Park. It was once known as 'The Farm Beach' because it was accessed through a farm and the farmer would charge vistors 40c for the privilege. Most locals still call it that. It's an excellent beach for swimming and surfing. The sand gently slopes into the ocean so the waves roll evenly in, and it is sheltered on each end by rocky headlands dotted with rock pools, which are fun to explore.
The beach backs onto bird-rich wetlands. Follow the Killalea Access Road to the end and a walking track will take you to Mystics beach. It's not as sheltered as Killalea Beach but it's worth exploring because it backs onto a forest and ends at the mouth of the Minnamurra River.
20 minutes drive away is the award-winning Minnamurra Visitor Centre and Minummurra Rainforest Centre, with elevated walkways through rainforest, to a waterfall and a breathtaking lookout of the region.
8 minutes from this is the Jamberoo Recreation Park, the largest action and theme park in NSW, which is open in summer for some water fun.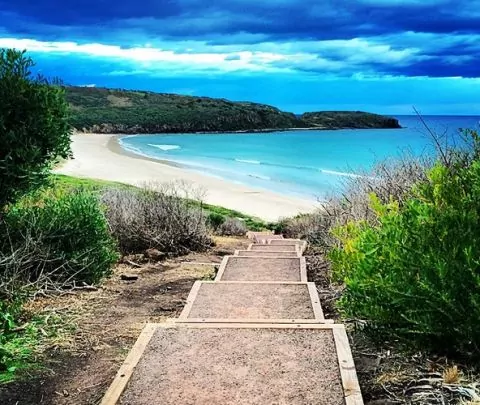 Day 3 & 4: Booderee National Park
88 km | 1 hr 25 min


Kiama
On the coast 15 minutes south of Killalea, is the tourist and surf town of Kiama. There's plenty of beaches, restaurants, shops and cafes here, as well as campervan parks if you are in the mood for staying somewhere more lively. There's a supermarket on Terralong Street for you to replenish supplies.
Walk along the Bombo Headland basalt columns for an otherworldly experience. If seas are rough, visit the Kiama blow hole, which shoots water. Lesser known but more spectacular is the little blowhole, which shoots water even higher than its big sister.
Seven Mile Beach National Park
Nothing beats a peaceful walk along the seemingly eternal stretch of Seven Mile Beach National Park (140 km south of Sydney) where you can feel the sand between your toes and the sea breeze on your face. There are sand track walks through ancient untouched forests and sand dunes, and picnic areas.
At the north end of Seven Mile Beach, in Geroa, there are campervan parks if you wish to stay for a while.
Jervis Bay and Booderee National Parks
This place is so good it's worth a two night stay. With powder-white sand so fine it squeaks beneath your feet, crystal clear waters, wooded coasts, kangaroos, coloured parrots, dolphins, and wetlands, Jervis Bay gives you a sense of what the world was like before people changed it. The untouched beauty of this coastal region will have you feeling at one with nature. Local Aboriginal people maintain strong connections with this land.
Try the White Sands walk and Scribbly Gum track, go swimming, snorkelling, or fishing. There's plenty to explore here. Huskisson and Vincentia are the main towns where you can buy supplies and fuel, or have a drink and a meal.
Campervan camping is available at Hidden Creek Real Camping, Jervis Bay Caravan Park, Palm Beach Caravan Park, and Green Patch campsite in Booderee National Park. There is also campervan camping in nearby and beautiful Sanctuary Point, St George's Basin and Sussex Inlet.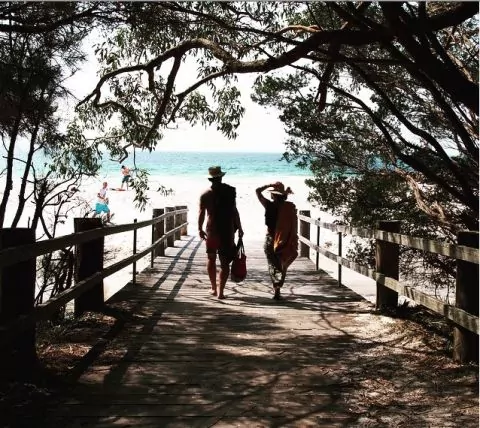 Day 5: Pigeon House Mountain and Narooma
212 km | 3.5 hrs


This entire 140 km stretch of coast is one of sweeping inlets, secluded beaches, white sand, clear water, forests and wildlife. Understandably, the lifestyle here is focused around the water and people wile away the days swimming, snorkelling, walking, boating, fishing, barbequing what they just caught, walking, and enjoying a night sky unaffected by light pollution. It's a place to 'be' rather than 'do'.
We suggest finding yourself a beautiful place to camp and slip into the gentle rhythm of the lifestyle.
Campervan camping can be found at all the prettiest towns, inlets and beaches. We've mapped them for you from north to south.
The largest towns along this stretch of coast are Ulludulla, Bateman's Bay, and Narooma where you can find everything you need - a supermarket, restaurants, cafes, fishing gear and surfboard and kayak hire. Mollymook, though smaller, will have most of these services too.
Pigeon House Mountain
While travelling along the Princes Highway you may have noticed a mountain with a bulbous summit to the west. This is Pigeon House Mountain in Morton National Park, and climbing it will give you glorious uninterrupted views of the entire region. The walking trail begins 25 km west of Milton or Burrill Lake. Pigeon House Mountain Didthul walking track is one of the best walks on the south coast, through forest, heathland and ancient sandstone before the challenging and fun part – climbing a series of ladders that lead you to the summit and the view.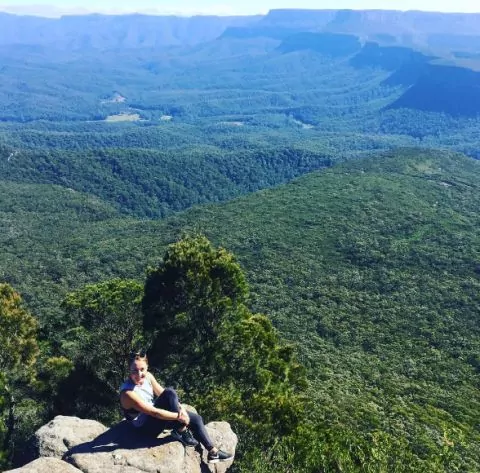 Narooma
Narooma is a pretty seaside town on a blue tree-lined inlet flanked by great surfing beaches. Though it's a beauty in its own right, it is also the jumping off point for another beauty - Montague Island. The national park island is home to seabirds, fur seals and penguins (September to February). If you volunteer to help with penguin research you might be able to stay on the island overnight in the lighthouse keeper's quarters at a discount. Three-hour guided tours are conducted by the park rangers and need advance bookings.
You can also snorkel or scuba dive with the playful seals! Depending on the season, 400 to 2,000 inquisitive fur seals inhabit the granite rocks of the island. You can book this unforgettable experience through Island Charters Narooma, Lighthouse Charters Narooma and Narooma Charters. These companies also do fishing charters, whale watching tours (winter and spring), seal viewing tours, and Grey Nurse Shark dives.
While in Narooma, stroll along the Mill Bay Boardwalk, which takes you over the water where you'll see large schools of fish and stingrays. Back in your campervan you can meander along the Wagonga Scenic Drive. If you're a keen golfer, the challenging cliff-top golf course is one of Australia's best with stunning views out to Montague Island.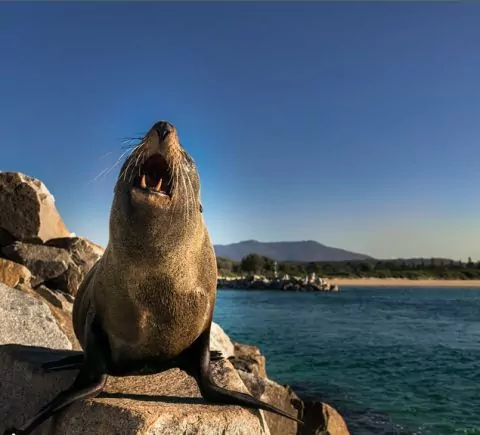 Day 6: Croajingolong National Park
256 km | 3.5 hrs


Tilba Tilba
Between Narooma and Cobargo, detour west, off the Princes Highway, on a loop road through the cute 19th century towns of Tilba Tilba and Central Tilba. The Bates Emporium has maps. Stroll through craft shops, antiques, and art galleries. Sample the local cheese, fudge, old-fashioned sweets and bakery. Enjoy tea at the Tea Shop or a beer at Dromedary Pub. Walk up the water tower for stunning views.
Merimbula
Merimbula is a pretty town of tourists and retirees on a blue inlet. The Nature Boardwalk starts at the north end of the bridge and weaves through mangroves, oyster farms and melaleuca trees. Oyster lovers should try Wheelers Oyster Farm where oysters are prepared in many ways. There are beaches to suit children and surfers.
Eden
The fishing town of Eden is perched on Twofold Bay. Once a whaling town, it is now a whale-watching town and there are several good whale lookouts from where you can spot them. The Eden Killer Whale Museum sounds a siren when whales are sighted.
Malacoota and Croajingolong
Malacoota sits at the head of Mallacoota Inlet, amongst the wilderness of Croajingolong National Park. The region is famous for its serenity and the beauty of its diverse environments - forests, rivers, lakes and coastline. Wildlife in the area includes sea eagles, lyrebirds, azure kingfishers, blue wrens, goanas and water dragons. There are a number of campervan sites in which to stay.
Day 7: Gippsland Lakes
349 km | 4 hr 40 min


The Gippsland Lakes are Australia's largest inland network of waterways. Lakes Entrance sits on the edge of Ninety Mile Beach. Here you can take a boat cruise, learn to surf, or hire a boat of your own to explore the vast and beautiful waterways. Lakes Entrance is known as a 'seafood capital' so be sure to sample some while you're here. On the drive here you'll pass through some pretty towns.
Metung
Metung is a relaxed picturesque village of artists, fishermen, kangaroos, pelicans, and harbourside restaurants that sits on a sandy peninsula amid the Gippsland Lakes. Here you can take a cruise or hire a little boat to explore.
Bairnsdale
At the relaxed country town of Bairnsdale you can drive along the Twin Rivers Food and Wine Trail to enjoy wineries, restaurants, berry farms and fruit orchards. Later, wander around town on a self-guided heritage walk stopping at St. Mary's Church, some local art galleries, museums, and antique shops.
Sale
Sale is another good base from which to explore the Gippsland Lakes by boat. You can also explore the walking trails and waterfalls of the Sale Wetlands and enjoy wildlife in its natural habitat.
Foster
In Foster, the Foster North lookout on the South Gippsland Highway, and the Mt Nicholl Lookout provide inspiring views over Corner Inlet and the peaks of Wilson's Prom.
Day 8 & 9: Wilson's Promontory
227 km | 3 hrs


How does one put the beauty of the Wilson's Promontory, or just 'The Prom' to locals, into words? Perhaps a video will help to convey it.
Wilson's Prom is Victoria's largest coastal wilderness area and most popular national park. It is crammed with magical landscapes and wildlife such as emus, seals, wombats, echidnas, rosellas and kangaroos.
The drive from the entrance at Yanakie to Tidal River settlement cqmping area is scenic with beaches and bushland easily reached by side roads. But the best way to enjoy the spectacular scenery is to walk amidst it on over 80 km of walking trails.
Wilson's prom is also known for its wineries and food producers. If you'd like to treat your taste buds, follow the food and wine trail on the Food Map.
Camping at Wilson's Prom can be difficult, especially in summer, due to its popularity. If you miss out there are plenty of pretty camp sites and campervan parks nearby at Waratah Bay, Long Jetty, Toora and Cape Liptrap Coastal Park.
Day 10: Phillip Island
134 km | 2 hr


Phillip Island is just 140 km and less than 2 hours from Melbourne, so it could be visited as a day trip. Staying in the area is also possible at any number of Phillip Island campervan sites. The star attraction here is the little penguins, but the island is rich in wildlife of all kinds including fur seals, wallabies and koalas.
Day 11 & 12: Mornington Peninsula
144 km | 2 hr


Mornington Peninsula has so much to offer it is impossible to include it all. If you're into arts and museums, food and wine, swimming with dolphins, hand-feeding wallabies, walking the trails, perusing antiques, getting lost in a hedge maze, horse riding or tube sliding, all this and so much more awaits you. The Mornington Peninsula is a place rich with culture, food, natural beauty and wildlife. To pick up tour maps and brochures, visit the Mornington Peninsula Information Centre.
Cranbourne
Garden lovers and botanists will appreciate The Royal Botanic Gardens at Cranbourne (40 minutes from Melbourne). It is one of Victoria's most precious areas of native bushlands rich with animal life and a stunning showcase of the beauty and diversity of Australian flora.
Destination Melbourne
106 km | 1 hr 20 min


There's no need to ditch the campervan in Melbourne if you plan to spend a few days. There are some great campervan-friendly caravan parks that are well-connected to public transport. Read more about Melbourne attractions, campervan hire, and places to stay.
Next step
Sydney to Melbourne Alpine Coastal Drive