Campervan Touring Information
High Country/ Victorian Alps
(312km north-east of Melbourne)
Trip duration: One day trip to Mansfield/ Mt Buller. Two to three days to explore more fully.
On the road Leave Melbourne via Maroondah Highway to Mansfield or Hume Highway through to Wangaratta.
Must see
To the east and north-east of Melbourne, the gently rounded peaks of the Victorian Alps stretch seemingly endlessly under clear skies.
They are much lower than alpine ranges in other parts of the world, lacking sheer escarpments and jagged peaks, but they still stand majestic, especially when covered in snow.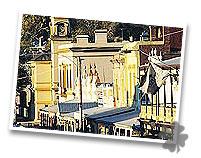 The High Country offers many options and is especially popular for outdoor sports including mountain bike riding, white water rafting, paragliding, absailing and skiing.
The Glenrowan/Beechworth district is strong in Australian history. It is the famous site of the defeat of Ned Kelly and his gang by the police in 1880. You can visit the Ned Kelly Centre in Glenrowan.
The pretty town of Beechworth itself is of great historic interest and is classified by the National Trust. Once the centre of the great Ovens gold-mining region, Beechworth lies, 24km off the Ovens Highway, between Wangaratta and Wodonga on "The Kelly Way" (Old Sydney Rd).
This is one of Victoria's best-preserved and most beautiful gold towns, magnificently sited in the foothills of the Alps. Its public buildings are of architectural merit and the whole town has been classified as historically important by the national trust. The former bushranger country is now a major winegrowing region, producing not only high quality table wines but world famous fortfied wines such as Muscat and Tokay. Many wineries open their doors to visitors seeking tastings and sales. Of particular note is the Brown Brothers winery in Milawa.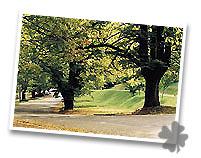 There is bountiful trout fishing in the lakes and streams. Tennis, rock-climbing, sailing, swimming, canoeing and water-skiing are popular sports in the summer. Many riding schools in the valley provide a leisurely pastime for those who want to explore the countryside on horseback. For the more energetic, bushwalking in this beautiful rugged country is a must.
Other places of interest include Bright, in the heart of the beautiful Oven Valley and at the foothills of the Victorian Alps. Bright is an attractive tourist centre and base for winter spots enthusiasts.
Bright gives access to the resort towns of:
Mount Buller, 221km from Melbourne, via Mansfield. The slopes are suited for beginners to advanced skiers. Ski hire and instruction are also available.
Mount Stirling, 250km from Melbourne, near Mt Buller. Cross-country skiing. Most trails start at Telephone Box Junction, which has a visitors centre with a public shelter, with ski hire and trail maps are available.
Mount Donna Buang, 95km from Melbourne, via Warburton. Ideal for sightseeing and novice skiers.
Mount Hotham, 367km from Melbourne, via Wangaratta. The 'powder snow capital' of Australia. For experienced downhill skiers, there is unlimited cross country skiing.
Dinner Plain, is a ten minute ski-shuttle ride from Mount Hotham and offers cross-country skiiing and horseriding.
For further information, contact:
Mansfield Tourist Information Centre Old Mansfield Railway Station High Street MANSFIELD VIC 3722 Phone: (057) 75 1464 Fax: (057) 75 2518
Acknowledgement
Images courtesy of Tourism Victoria
Tourism Victoria releases materials solely for the purpose of positive promotion of Victoria as a tourism and travel destination. Any breach of this copyright condition could result in legal action.