Tamborine Mountain
Tamborine Mountain is located on a scenic inland route connecting Brisbane to the Gold Coast. It also makes a great day trip from either city. The Tamborine communities – North Tamborine, Eagles Heights and Tamborine Mountain – are scattered around a volcanic peak with jaw dropping 360 degree views of the Gold Coast, Pacific Ocean, mountains and countryside.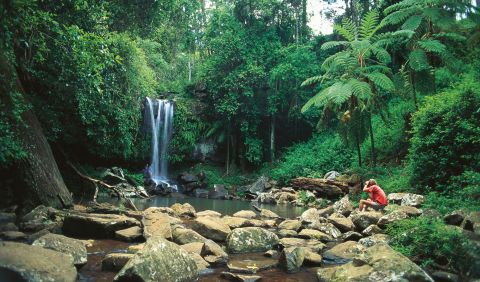 Tamborine National Park. Photo: Tourism and Events Queensland
At Eagles Heights the Gallery Walk takes in a lot more than art. Here you'll find a string of restaurants, boutiques and homewares, cafes, wineries, a Belgian chocolate shop, and a cheese factory.
At Joalah is the historic St Bernard's Hotel set on 10 acres of beautiful gardens with panoramic views, where smorgasbord lunches are served and visitors can enjoy the afternoon bird feeding.

At the high point of Tamborine Mountain historic Bungunyah Manor is surrounded by national parks and rainforest. The Manor offers restaurant and recreation facilities. The parks are awash with wildflowers from September to November.
The Tamborine Mountains National Park is a lush profusion of palms, staghorns, ferns and orchids in the clear mountain air. Here you have jaw-dropping views of the Gold Coast. Enjoy the waterfalls and swimming holes of Cedar Creek, the extensive forest walking trails among the piccabeen palms of Palm Grove, or the ancient cycads of Zamia Grove. Witches Falls is the oldest park in the state and is known for its flower growing and avocado farms.

Longer Drives
From Tamborine Mountain you can do the Queensland Outback Drive or the Gold Coast to Brisbane Drive.