Cunnamulla to Townsville
Distance: 1,500 km | 16 hrs over 4+ days
The Brisbane to Cunnamulla drive adds another 788 km and 2 days to this road trip. The tour meanders through the unique landscapes of Australia's outback before returning east to the tropical coastal city of Townsville and the Great Barrier Reef.
Queensland Outback Itinerary (from Brisbane)
Brisbane to Cunnamulla
Day 1: Brisbane | Toowoomba | Goondiwindi – 350 km | 4 h 15 min
Day 2: Goondiwindi | St George | Cunnamulla – 495 km | 5 hr 45 min

Cunnamulla to Townsville
Day 3: Cunnamulla | Charleville | Tambo: –400 km | 4 hr
Day 4: Tambo | Blackall | Bacaldine | Longreach – 315 km | 3 hr 20 min
Optional: Day in longreach
Optional: Idalia, Welford and Lochern National Parks – 8 hr 40 min
Day 5: Longreach | Winton | Hughenden – 390 km | 4 hr
Day 6: Hughenden | Charters Towers | Townsville – 385km | 4 hr
---
Queensland Outback Itinerary (from Townsville)
Townsville to Cunnamulla
Day 1: Townsville | Charters Towers | Hughenden – 385km | 4 hr
Day 2: Hughenden | Winton | Longreach – 390 km | 4 hr
Optional: Day in Longreach
Optional: Idalia, Welford and Lochern National Parks – 8 hr 40 min
Day 3: Longreach | Bacaldine | Blackall | Tambo – 315 km | 3 hr 20 min
Day 4: Tambo | Charleville | Cunnamulla – 400 km | 4 hr
Cunnamulla to Brisbane
Day 5: Cunnamulla | St George | Goondiwindi – 495 km | 5 hr 45 min min
Day 6: Goondiwindi | Toowoomba | Brisbane – 350 km | 4 h 15
---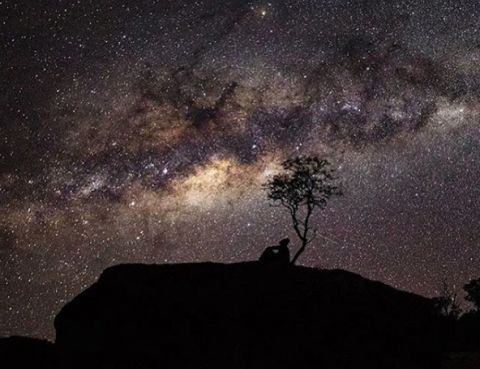 The night skies will blow you away. Photo: OutbackQueensland via IG

Outback Road Etiquette
If a truck approaches while travelling the outback roads, it is polite (and sensible) to pull over onto the side of the road and wait for it to pass. The trucker will thank you for it and you'll protect your windscreen from flying rocks.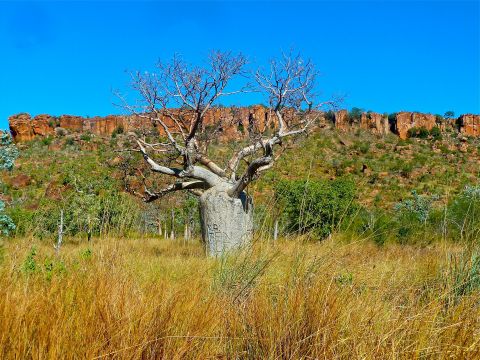 Queensland Bottle Tree
---
Cunnamulla
Here begins the Matilda Way. Cunnamulla is an outback town where the handshake is stronger and the smile lasts longer – according to the locals. Slim Dusty put the town on the map with his song Cunnamulla Fella. The town honored him by erecting a bronze Slim Dusty statue in their main street. They also celebrate country music and outback culture with a Cunnamulla Fella Festival each November.
Things to do in Cunnamulla
Start your exploration at the Cunnamulla Fella Centre and grab some maps.
Check out the art gallery.
Take a walk on the Heritage Trail to learn about the towns opal mining, pastoral, and wool production history.
Spot wildlife on the riverside walk.

Camping and Caravan Parks in Cunnamulla
Warrego Riverside Tourist Park has earned rave reviews. It is by the river with grassy sites and shady trees. Facilities include hot showers, camp kitchen, BBQ area.
RATES: Not available
Cunnamulla Tourist Park is in a grassy bush setting. Facilities include camp kitchen, BBQs, free WiFi, camp fire, showers, laundry and a kiosk.
RATES: From $27 per night unpowered. $34 powered.
Charlotte Plains - Between Cunnamulla and St George is a station where you can bathe in artesian waters. You can spend the night here in your campervan. Facilities are basic but you get to soak in the warm spring waters outdoors!
RATES: $28 per night.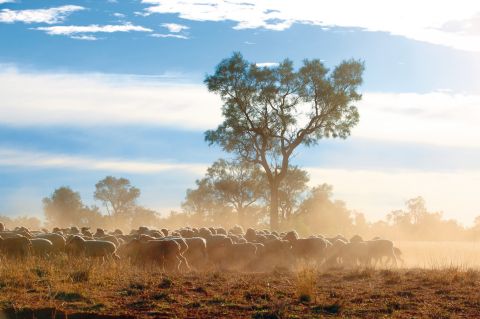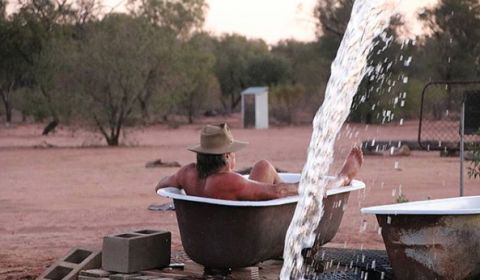 Charlotte Plains
Charleville
Charleville has strong links with aviation history through Qantas and the pioneering Smith brothers.
Things to do in Charleville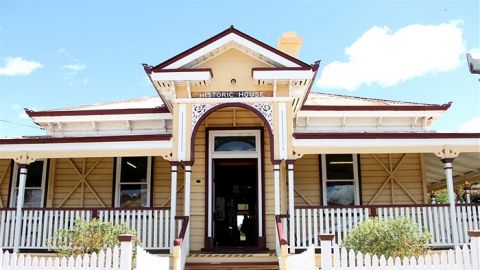 Charleville Historic House. Photo: ABC
Tambo
Tambo Library is housed in a charming yellow and white historic house which doubles as the Tourist Information Centre. Here you can pick up maps for the Heritage Walk and Coolibah Walk. Tambo is also home to the Grassland Art Gallery.
Tambo Caravan Parks
There are two caravan parks in Tambo, both are highly reviewed and one has a saltwater swimming pool.

Tambo Mill Caravan Park has an outdoor pool, free WiFi, laundry, BBQ (but no camp kitchen), dump point, grassy sites and gardens.
RATES: $25 - $35 per night.


Tambo Caravan Park has a camp kitchen, laundry, camp fire, tuck shop, grassy sites and shady trees.
RATES: Not available
Blackall
Blackall on the Barcoo River, has the pretty Five Mile Water Hole which is good for fishing.
Things to do in Blackall
While here you can learn the history of the region's wool trade at Woolscour

Visit the site of the original

Black Stump

. Anything west of here was considered, by Australians, to be 'beyond the black stump' also known as the 'back of beyond' or 'out woop woop'

If you've worked up a sweat, chill out at Blackall's outdoor

Aquatic Centre

Stroll through town admiring the

sculptures

and the buggy display

Make a wish at the wishing well

Visit

Idalia National Park

See a fossilised stump that is believed to be somewhere between 1 million and 225 million years old!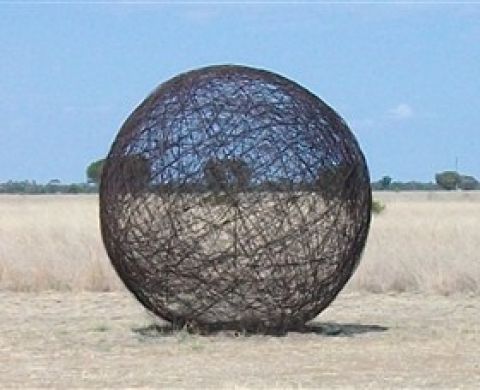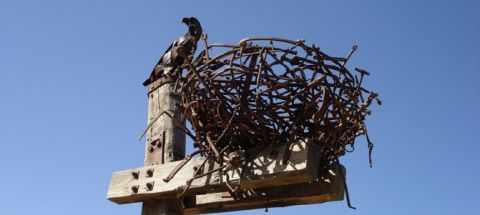 Barcaldine
Barcaldine is the site of the revolutionary 1891 Shearers' Strike.
There's a folk museum, heritage centre and many historic buildings.
Not far from here is Black's Palace, an Aboriginal site with burial caves and impressive rock paintings.

Detours
Detour the 100 km round trip to Starlight's Lookout for sweeping views across the outback and plains. Then head back down to Longreach.
A 522 km (8 hr 40 min) detour between Blackall and Longreach will take in three national parks.
Idalia National Park protects dense molga woodlands, craggy escarpments, great views, and several macropod (kangaroo and wallaby) species.
Welford National Park is a little further on, has campervan-friendly campsites, red sand dunes, spinifex, ghost gums and river red gums.
Lochern National Park, 150 km South West of Longreach, also has campervan friendly campsites. After the rain the parched channels will have transformed into wetlands teeming with life.
Camping
Welford National Park has campervan-friendly camping at Little Boomerang Waterhole Camping Area. There are pit toilets but no showers.
RATES: $7 per adult.


Lochern National Park has camping for campervans, too, at Broadwater Waterhole Camping Area. There are pit toilets but no showers.
RATES: $7 per adult.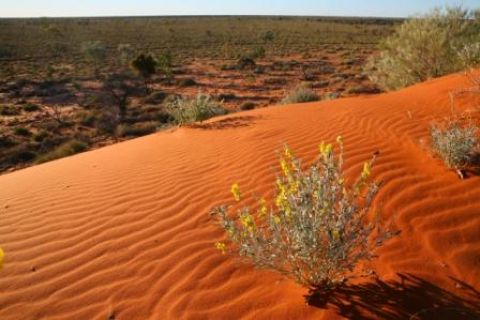 Welford National Park. Photo: John Augusteyn
Longreach
Longreach is an outback town brimming with things to see and do so you may wish to spend a whole day here.
Things to do in Longreach
Visit the Qantas Founders Museum

and tour their first passenger Boeing jet.

Jump on a

Cobb and Co stage coach

for an award-winning and highly acclaimed tour of town

cruise the Thompson River

aboard a paddle steamer.

The lush

Lily Lagoon

gives your eyes some respite from the dry outback landscapes.

The

Stockman Hall of Fame

, and the Powerhouse Museum will provide you with history and local culture.

The Inginai Nature Reserve, named after the Traditional Owners, has some pretty walks so you can enjoy the local flora and fauna.



Free Camping
If you made it to Longreach, pull up at the free campground beside Thompson River for the night. It's a little out of town heading north. You may wish to spend two nights at Longreach so that you can give the town a full day (or more). But no matter where you spend the night, spread a picnic rug so you can lie back and star gaze miles from the city lights.
The Matilda Way ends here.
Winton
Winton is the town closest to Lark Quarry (110km, a two-hour drive) where hundreds of dinosaur footprints can be seen. You can fossick for opals, visit Arno's Wall – a peculiar construction of rock, opal, and tractor parts - and take in the views of Cawnpare Lookout. Winton is also very near Bladensburg National Park, a place of raw beauty, red rocks, stunning views from flat-topped mesas, grassy plains and river flats.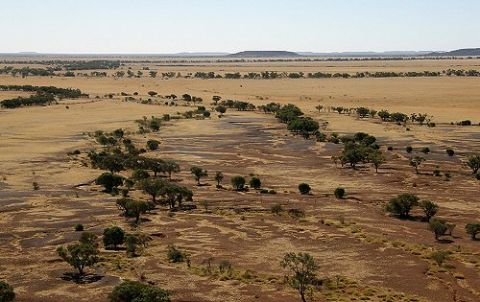 The views from Bladensburg National Park. Photo: TravellingAustralia.info

Hughenden
Hughenden is part of Australia's Dinosaur Trail. Its volcanic mountains and sweeping black-soil plains are rich in fossils and dinosaur areas.
Start your visit at the Flinders Discovery Centre where you can meet "Hughie" the seven meter tall Muttahurrasaurus and view the fossil collection. If you follow the windmill blades through town they will lead you to the historical and cultural features of Hughenden. Enjoy a picnic at one of the four parks in town – all have toilets and picnic facilities.

For great views, drive to Mount Walker or visit the Porcupine National Park – Queensland's little Grand Canyon. With its clear creek, vibrant sandstone cliffs, and dense vegetation it provides a striking contrast to the dry flat plains that surround it.
Hughenden Caravan Parks
Hughenden Allen Terry Caravan Park has a camp kitchen, laundry, dump point, grassy sites and shady trees.
RATES: $20 for two.
Camping
Pyramid Lookout has campervan-friendly camping. There are compost toilets but no showers. Bring your own drinking water. Permits at the Flinders Discovery Centre.
RATES: $7 per adult.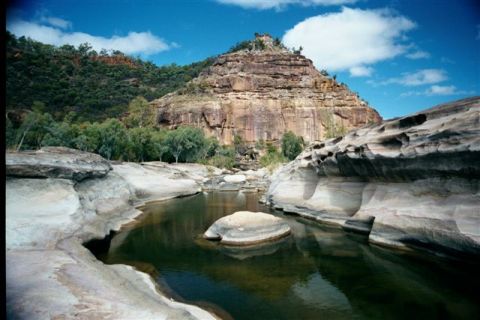 Porcupine Gorge. Photo: Australias Dinosaur Trail

White Mountain National Park
On your way through Prairie, stop for a cold drink or a cuppa at the haunted Prairie Hotel. The owners have created a unique atmosphere with their collection of stockman's hats and other memorabilia.
White Mountains National Park has diverse landscapes of white sandstone bluffs and gorges, brilliant wildflowers, lancewood forests and sand dunes. Camping is available for campervans during the dry season, but during wet season (Nov – April) roads might be inaccessible.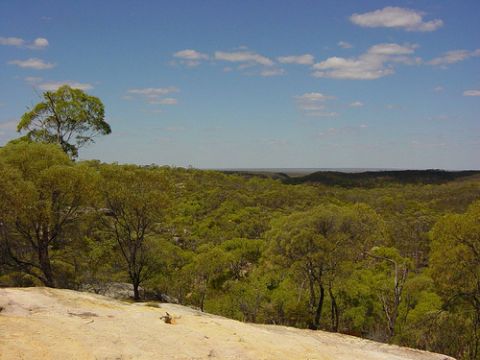 Views from White Mountains National Park. Photo: Cairns Unlimited

Charters Towers
Charters Towers enjoyed a rich and heady hey day during the gold rush. Victorian mansions with iron-lacework verandas and imposing public buildings still stand as a reminder. The handsome Stock Exchange Arcade building was built in 1887 and restored in 1972. Today it houses the National Trust office, a tourist office, a couple of galleries and shops, and a mining museum. The Zara Clark Museum, has an interesting collection on transport and lifestyle in the early Charter Towers. Explore gold mining at the Venus Battery and take a Texas Longhorn wagon tour of town.
Your next stop is the coastal city of Townsville. There are so many day trips and things to do in Townsville that we've dedicated separate articles to them. From Townsville there are a number of other road trips you can do.
Map of the Queensland Outback Drive
Add on Road Trips
If you feel like the adventure has just begun, there are plenty of road trips that you can add on to this one. All those listed below have Camperman drop off points.
From Brisbane
From Townsville
Map of Australia Road Trips