Cairns to Townsville Drive
348 km | 4.5 hours over 2 or 3 days
We've listed some beautiful places to camp along the way, some of them free, so this is a great journey to do in a campervan. We've listed the highlights from north to south so if you're traveling from Townsville to Cairns, start from the bottom and work up.
Walsh's Pyramid
You can see it rising from the sugar can fields, a rock pyramid, and it beckons you to climb it and once at the top you have uninterrupted 360 degree views. Allow yourself 3 to 4 hours up and back. Parking is on a private sugar cane farm so don't block the road. Take Moss Road (off the Bruce Highway) for about 100 metres until you see a narrow gravel track on the right marked with a red rectangle. This will take you to a small parking area and the path begins here.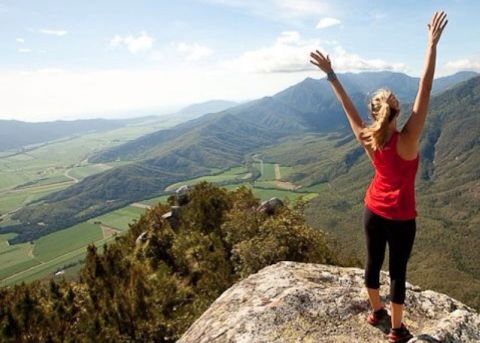 W
alsh's Pyramid. Photo: jadeeeeee via Instagram
Babinda Boulders
At Babinda Boulders (1 hour south of Cairns) the water is refreshing year round. It's a perfect spot to park the campervan and cool off in crystal clear water amid granite boulders. The swimming hole is waist-deep and sandy. Shady rainforest hikes take you to some magical places such as Devil's Pool. Learn the Aboriginal legend of the Babinda lovers.
Free Camping
There are two free campervan-friendly campsites nearby, which are mapped at the end of the article.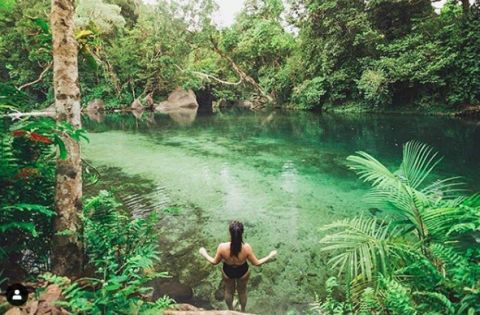 Babinda Boulders. Photo: Julianchiarotto via Instagram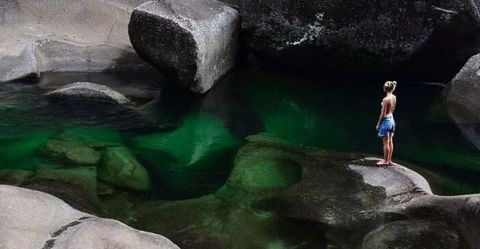 Babinda Boulders. Photo: Elsa's Wholesome Life of Instagram

Wooroonooran National Park
Babinda Boulders is located in the Wooroonooran National Park. Other less-frequented highlights of the park include:
Behana Gorge - is a secluded water hole in the rainforest with a waterfall that pours into a clear deep pool. It involves a 45 minute uphill walk on a paved path through rainforest to get here but the swimming is a worthy reward. It isn't sign-posted. Follow Behana Gorge Road (off the Bruce Highway) to the end. Walk up the four-wheel-drive dirt track that follows a pipeline. It becomes a paved path that will take you all the way to Behana Gorge.


Jospehine Falls - is 75 km (1 hr) south of Cairns amid rainforest at the base of Mt. Bartle Frere. It is reached by a paved rainforest path and the clear water flows over a smooth granite slope that forms a natural water slide into the pool. Take Bartle Frere Road (of the Bruce Highway) and follow the signs to Josephine Falls.


Waterfalls - To the south end of Wooroonooran National Park are Nandroya Falls, Wallicher Falls and Tchupala Falls. All three waterfalls are within walking distance of one another and each one is quite different from the next.

Mount Bartle Frere Trail - climbs 15km to the summit of Queensland's tallest mountain. The trail leaves from the Josephine Falls car park (above). If you start at the crack of dawn, you can complete this in one day.


Mamu Skywalk - is a metal elevated walkway through the rainforest. There is an entry charge.
RATES: Adults: $25. Children: $14.


Johnson River Lookout Walk - is a strenuous 4 km walk off the Palmerston Highway which takes you to a lookout with stunning views. The track starts from Crawford's Lookout which is sign-posted on the Palmerston Highway.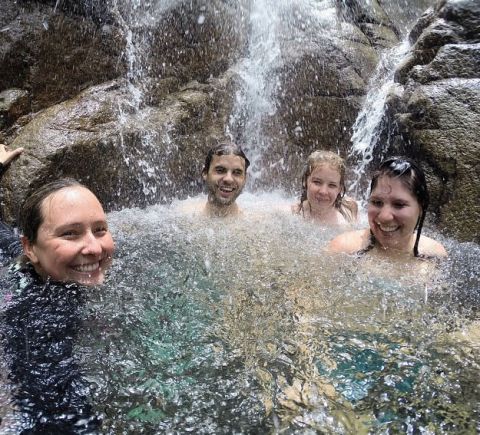 Behana Gorge. Photo: katechristensen via Instagram


Camping near Wooroonooran
Free Camping at Japoonvale Rest Area - is on the banks of Liverpool Creek. Facilities include flushing toilets and picnic tables. There is a maximum stay of 2 nights.
RATES: FREE
Henrietta Creek Campground - in Wooroonooran National Park near the waterfalls is the cheapest camping ground. Facilities are basic - compost toilets and BBQs, but no showers. It is surrounded by rainforest by the banks of Henrietta Creek on a grassy clearing. The ten sites are spread generously across the campground, some tucked away into forest nooks, giving you privacy. An 800 metre track across Henrietta Creek leads to Gooligans Picnic Area.
RATES: $6 per adult.
August Moon - Located in Innisfail, August Moon gets five stars on Trip Advisor and has large sites and full facilities including a beautiful swimming pool. Sites are shady and separated from one another by foliage. Faiclities include flushing toilets, hot showers, free WiFi, pool, library, mini golf, camp kitchen, indoor and outdoor dining, rec room with TV, laundry.
RATES: $30 for two people. Additional adults $15.
Flying Fish Point Tourist Park - is right on the beach in Cassowary habitat so you are likely to see one of these enormous flightless birds.
RATES: $36 powered for two people, $28 unpowered. Additional adults $15. Children $10.
Etty Bay Caravan Park - gets well-reviewed for its location on peaceful Etty Bay. Every site has a view of the water. But the facilities are in need of an upgrade. Facilities include beachside BBQs, flush toilets, hot showers, free WiFi.
RATES: $28 - $32 for two. Additional adults $6.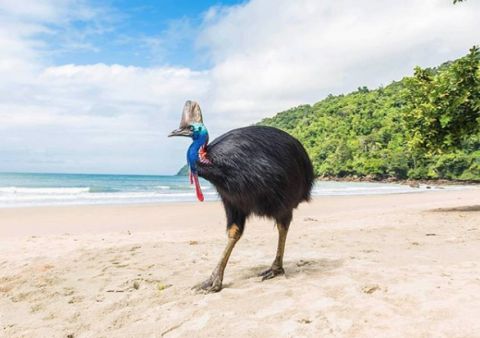 A Cassowary at Etty Bay. Photo: ecologist.sHayes via Instagram
Eubenangee Swamp National Park
Drive through the wetlands of Eubenangee Swamp National Park, a bird lover's paradise. An easy loop walk through forest, mangroves and wetlands brings you to a grassy knoll with panoramic views of the paperbark swamp and water birds below. To get here, take Bramston Beach Road (off Bruce Highway) and follow the signs to Eubnangee Swamp National Park.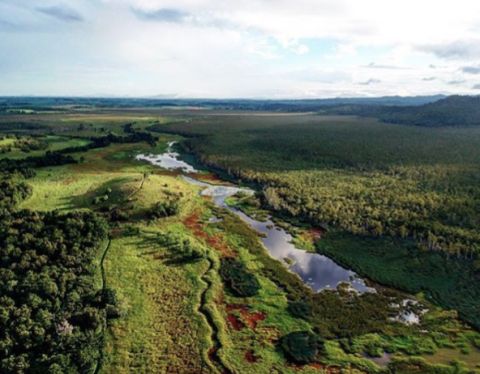 Drone shot of Eubenangee Swamp and grassy knoll. Photo: tgriffo18 via IG
Paronella Park
Self-made Spanish immigrant José Paronella built Paronella Park as a gift to his wife Margarita. This magical moss covered pleasure garden has enough nooks, crannies and sources of fascination to keep you delighted for hours. Bring your camera!
Free Camping
If you pay for entry into Paronella Park (around $46 per adult) you can stay in their caravan park for free. The sites, though small, are separated by walls of tropical foliage for privacy. Facilities include flush toilets, hot showers and undercover BBQs and eating areas.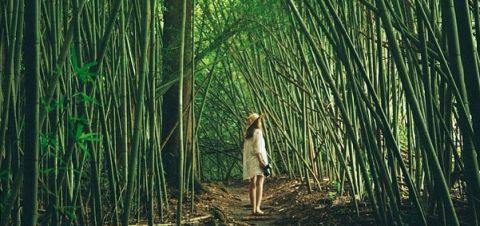 Bamboo grove at Paronella Park. Photo: Nodotel_ of Instagram.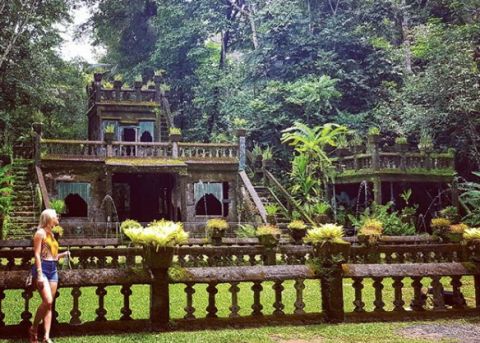 Paronella Park. Photo: Bella.Lee.x via Instagram
Mission Beach
Call in at the relaxed beachfront hamlets that make up Mission Beach. Nestled between World Heritage rainforest and palm-fringed beaches, Mission Beach is a beautiful half way point for campervan explorers to spend the night. You have dozens of rainforest and coastal walking trails, secluded inlets, and wide empty beaches to explore, and if you're lucky you'll see an endangered Cassowary, but keep a safe distance.
Mission Beach offers a range of dining options, cafes, art galleries, supermarkets, some good fishing, sky diving, white-water rafting and reef and mangrove tours. Water taxis shuttle day-trippers to Dunk Island.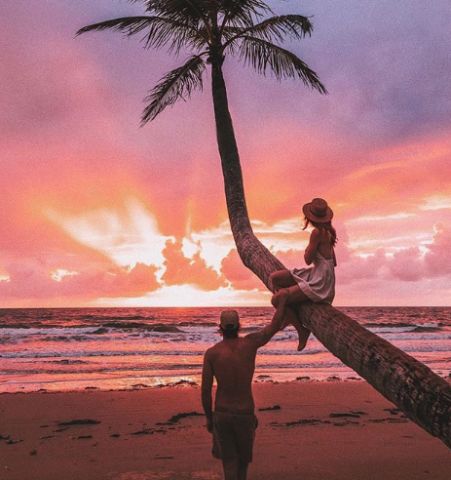 Mission Beach. Photo: Evokedotie via Instagram
Mission Beach Camping
Bingil Bay Camp Ground - is right on the beach. Facilities include showers and laundry.
RATES: Not available.


Mission Beach Hideaway Holiday Village - Facilities include showers, laundry, camp kitchen, pool. playground, games room with TV, free WiFi, BBQ area.
RATES: Unpowered $29 for two. Additional adults $15. Children $8.


Tropical Hibiscus Caravan Park - is not on the beach but it is only a 10 minute walk away. Facilities include a pizza oven, pool, gym, camp kitchen, BBQ area, showers and laundry.
RATES: Unpowered site $30 for two. Additional adults $5.


Dunk Island View Caravan Park - is 50 metres from a white sandy beach with views to Dunk Island. Facilities include free WiFi, showers, camp kitchen, BBQs, laundry, pool.
RATES: $44 for two. Additional adults $20.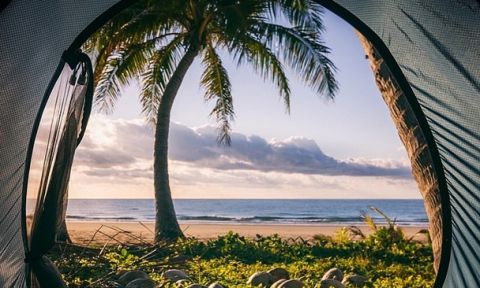 Beach camping at Mission Beach
Edmund Kennedy National Park
Edmund Kennedy National Park makes a rewarding detour to mangrove forest boardwalks, empty beaches, and enormous lace monitor lizards.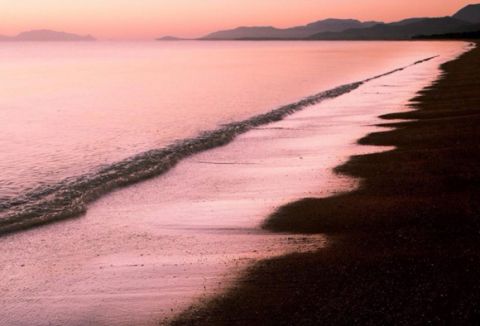 Edmund Kennedy National Park. Photo: MyDetoxTravel of Instagram
Hinchinbrook Island
Discover the unspoilt beauty and wilderness of Hinchinbrook Island. With its pristine beaches, rainforests, mangroves and inlets, Australia's largest island National Park is worth planning for. After parking the campervan at Port Hinchinbrook or Cardwell, you can ferry across to Hinchinbrook Island. Book ahead. Adult round trip fares are around $150
The world renown Thorsborne Trail takes in the full diversity of the island in four days, but as only 40 people are permitted on the trail at a time, you need to book ahead. There are spectacular day trips, too. By limiting the number of hikers, you have a chance to connect with and appreciate the raw beauty of Hinchinbrook.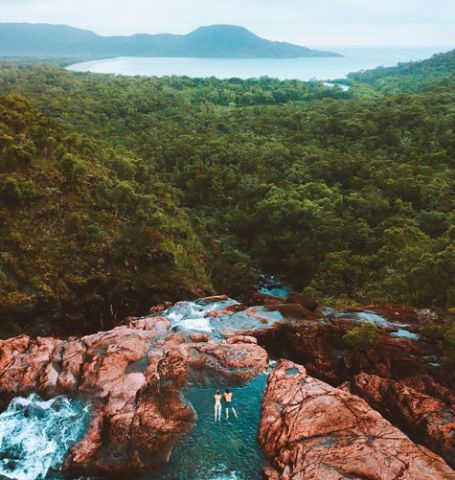 Zoe Falls on Hinchinbrook Island. Photo: Reubennutt via Instagram


Hinchinbrook Island.
Cardwell Spa Pool
Between Cardwell and Townsville, the Bruce Highway meanders through verdant sugar cane fields. 7 km south of Cardwell, and just off the highway, is Five Mile Creek Swimming Hole where you can take a quick dip and enjoy a picnic.
Heading west from Cardwell, the Cardwell Forest Scenic Drive is a 26 km loop that explores swimming holes, a natural 'spa' pool called the Cardwell Spa Pool (pictured) and waterfalls with picnic spots.
Give yourself half a day to enjoy everything this scenic drive has to offer. 35 kms south of Port Hinchinbrook on the Bruce Highway, the Hinchinbrook Lookout gives you unforgettable views of the Hinchinbrook Channel. Take your camera!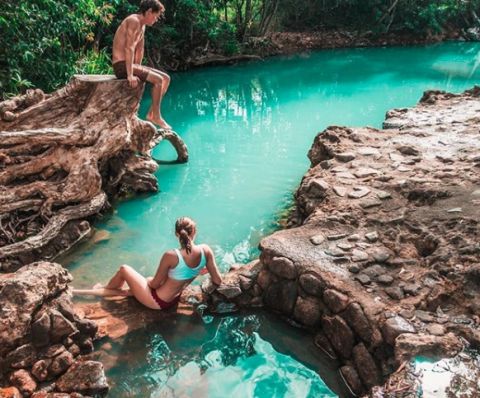 Mineral rich waters of Cardwell Spa Pools. Photo: Caravaningqueensland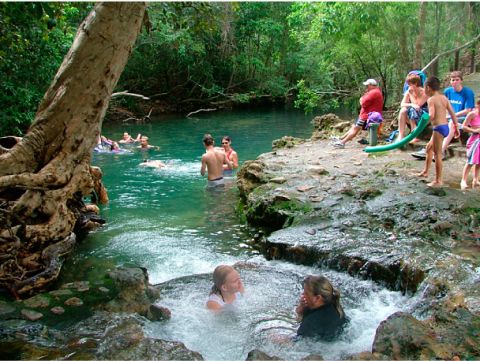 Spa Pool near Cardwell. Photo: Cardwell Tourism

Paluma Range National Park
If you have time, detour through the small village of Paluma, Paluma Range National Park, and Crystal Creek for picturesque waterfalls and mist shrouded rainforests before heading back to the Bruce Highway.
Camping
There is creekside camping at Jourama Falls suitable for campervans. Facilities include shower cubicle without water (bring your own shower bag), compost toilets, picnic tables and gas BBQs. It is a popular swimming and picnic spot.
RATES: $7 per person.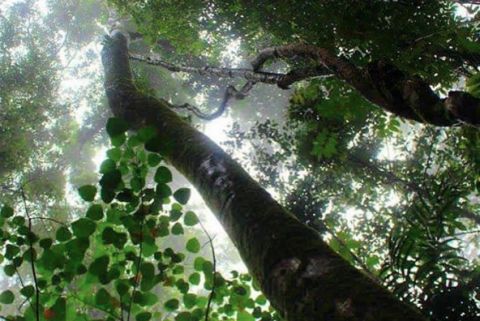 Paluma Range National Park. Photo: Simona_198735 of Instagram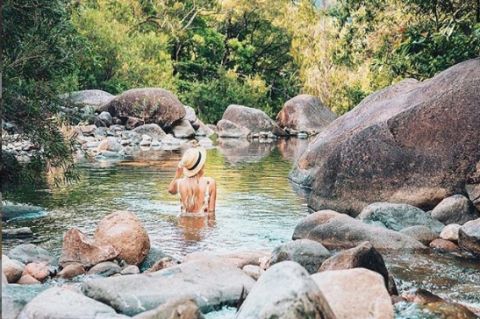 Paluma Range National Park. Photo: overlandersway via Instagram
MAP Townsville - Cairns Drive
Orange dots mark camping sites, red stars mark highlights.
Road Trips from Townsville
Road trips from Cairns
Hire A Campervan