Kuranda and Barron Falls
26 km | 1 day
Kuranda
Kuranda is a pretty rainforest village packed with wildlife attractions, markets, Aboriginal culture, cafes and art galleries. It's a wonderful way to while away a day. You can reach Kuranda by driving up the windy road through the rainforest, catching the Scenic Railway from Freshwater which has charming old carriages, or experiencing World Heritage Rainforest with Skyrail Rainforest Cableway.


The Scenic Railway stops at Barron Falls on the way to Kuranda.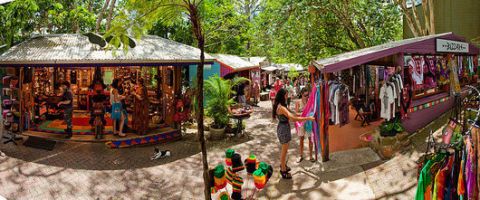 Kuranda markets. Photo: Kuranda Sky Rail
If you feel like stretching your legs, a rainforest walk starts in town near the Australian Venom Zoo, passes a bat sanctuary and crosses Barang Street. From here the path meanders through rainforest and over a river, crossing Barron Falls Road, passing behind the Kuranda Amphitheatre, and down to Barron River. Here you can take a river cruise or head back into town.
Wildlife attractions include the Butterfly Sanctuary, Bird World, and the Australian Venom Zoo. Bird World and the Butterfly Sanctuary are set in mini forests amongst fern-fringed pools.


Butterfly Sanctuary. Photo: Kuranda.org
If you take the Skyrail, you'll be right there at the Tjapukai Aboriginal Dance Theatre. Here you can see traditional skills, dance and Dreamtime legends.

Barron Falls
Park you campervan at the Barron Falls car park and begin the beautiful walk to the Barron Falls Look Out. The easy twenty minute walk (1.2 km round trip) takes you on a boardwalk high up in the lush rainforest. The Barron Falls are most spectacular in the wet season when the cascade is thunderous and the water vapour swirls around it creating an atmosphere of mystique. During the dry season (in the winter months) the waterfall is more aptly named the Barren Falls but they are still worth a look.
Henry Ross Lookout
On your way back down the mountain be sure to stop at Henry Ross Lookout for breathtaking views of Cairns, the Coral Sea, and the lush green sugar cane fields.


View from Henry Ross Lookout.
Road trips from Cairns