Atherton Tablelands and Wooroonooran National Park
67km | 1 - 3 days
On the road: Depart Cairns via Kennedy, Gillies or Palmerston Highways.
The Atherton Tablelands behind Cairns is verdant green and fertile, rich with food and natural beauty. You can hike through rainforest, encounter the charismatic wildlife, cool off beneath waterfalls of eye-popping beauty, feast on the local produce (Mungali Creek has the best cheese, yoghurt and scones on planet Earth), float on the calm waters of Lake Eachem, and camp for free or very cheaply.

Danbulla Campground. Photo: Two Dutchies

Atherton is an agricultural country town with cafes, local produce, and a supermarket where you can replenish supplies. The Crystal Caves is an underground fantasy cave, where natural giant crystal formations and real fossils are displayed.
Halloran's Hill Lookout, (also known as Millaa Millaa lookout and mapped below) has stunning views of the town and rolling green hills.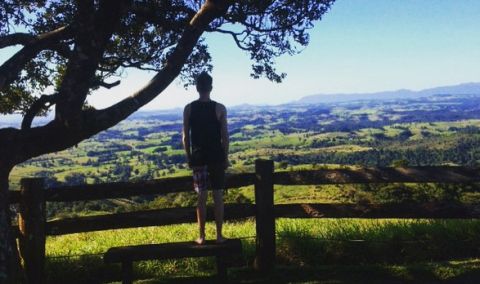 Halloran's Hill Lookout. Photo: McFeett
Yungaburra is a charming rainforest town shaded by ancient trees by a river populated with platypus. Stroll along Patterson's Creek or peer through the viewing platform at dusk and dawn for the best chances of seeing them. Yungaburra's original timber buildings and cottages are still in use and the town is listed by the National Trust of Queensland. Yungaburra's famous markets are on the last Sunday of every month and the town has a high density of good restaurants and cafes for its size.
Lake Barrine is a volcanic crater lake with wildlife cruises, towering one hundred year old Kauri trees and a 6km path around the edge of the lake. The Tea House serves up award winning scones and lunches.
Lake Eacham is another crater lake perfect for swimming and paddle boarding. It has a paved rainforest walk around it, a picnic area, a grassy bank for relaxing on, and a pontoon from which you can dive into the crystal clear water.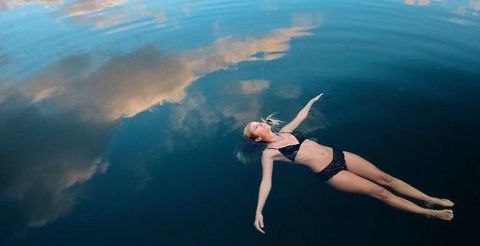 Lake Eachem. Photo: KhyOrchard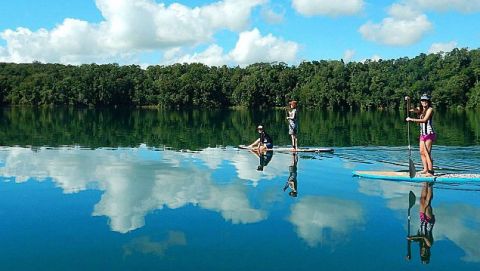 Paddleboarding on Lake Eachem. Photo: SUP Cairns
Malanda Falls is a large open swimming hole with wide falls and rainforest walks and a riverside caravan park.
Millaa Millaa is the waterfall capital of the Tablelands. The 30 km Waterfall Circuit takes you to photogenic Millaa Millaa Falls, Zillie Falls and Elinjaa Falls shrouded in lush rainforest.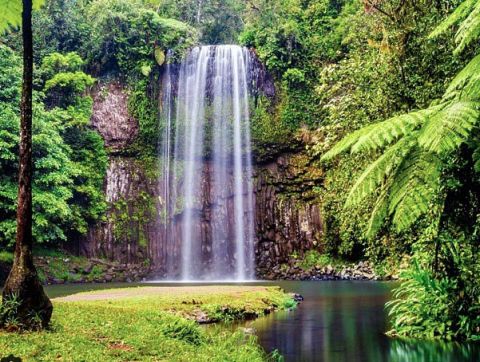 Millaa Millaa Falls. Photo: MycolourfulWorld
We have mapped a loop tour that takes in the above attractions and many of the attractions below. Attractions are marked in red stars. The map also includes a selection of campervan-friendly camping marked in orange dots. Only the most highly-rated or free campgrounds are included.
Road trips from Cairns