Cairns - Mission Beach - Hinchinbrook Island
138km | 1 - 4 days
From Cairns head south on the Bruce Highway. The first attraction is Walsh's Pyramid, which is a half day climb to the summit and back. It's best tackled early or late in the day rather than in the midday sun. The parking area is mapped below. The trail scales the worlds largest natural pyramid and rewards you with breathtaking views.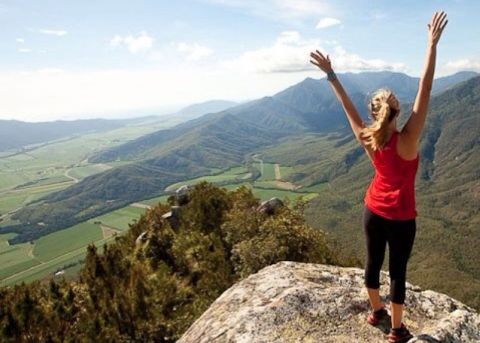 Walsh's Pyramid. Photo: Jadeeeeee on Instagram

Wooroonooran National Park
Further on we skirt Wooroonooran National Park with its magical swimming holes, waterfalls, and 1-2 day hikes. First are the natural granite pools of Behana Gorge, the emerald waters of Babinda Boulders (with free camping, picnic area, and the nearby Babinda Tourist Information Centre). The Goldfield Trail starts here. Tucked away in the rainforest is Josephine Falls and the beginning of the challenging Mt Bartle Frere Trail which scales Queensland's tallest mountain.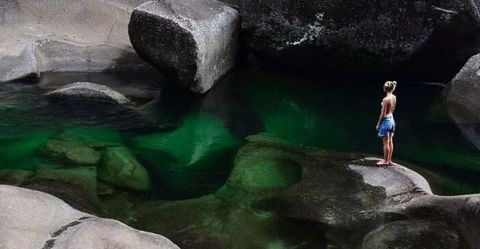 Babinda Boulders. Photo: Elsa's Wholesome Life

Paronella Park
At last we come to the picturesque remains of a Spanish castle in the rainforest known as Paronella Park. All this and we haven't even reached mission beach yet. But don't worry, there is plenty of campervan camping to be had in the region.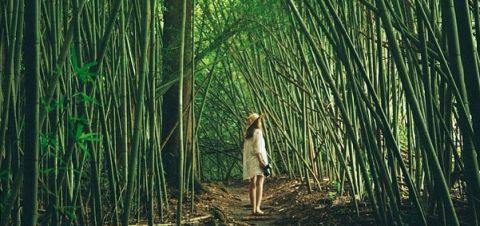 Bamboo grove at Paronella Park. Photo: Nodotel_ of Instagram.

The road meanders through a green patchwork of sugar cane fields and rainforest and over rivers. This is the 'Green Heart' of north Queensland.
Mission Beach
In the Mission Beach region, tropical rainforest grows right to the edge of deserted beaches and islands dot the Coral Sea. Here you can enjoy a castaway's lifestyle but without the hardship. The town of Mission Beach has a low-key and eclectic mix of beach bars, cafes, restaurants, art galleries and boutiques. The region is also famous for its cassowary population. The flightless cassowary is a bird almost six foot tall and not to be trifled with.
Climb to the top of Bicton Hill in Clump Mountain National Park (3.9 km circuit) for great views of the Coral Sea and islands.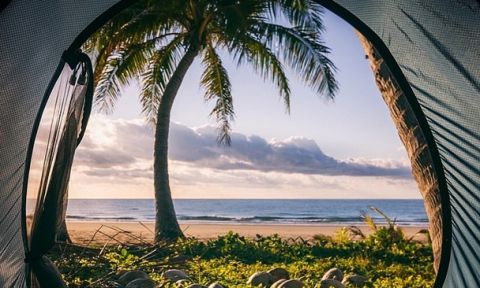 Beach camping at Mission Beach.

Hinchinbrook Island
Further south is Hinchinbrook Island. Words struggle to convey the sublime beauty of Hinchinbrook, the world's largest island national park. If you'd like to hike the Throsborne trail, organise it in advance because only 40 visitors are permitted to hike the trail at any one time. This is to preserve the island's current pristine state. A great way to experience its diversity - the sweeping deserted beaches, mangroves, rainforests, craggy mountain ranges and granite boulders, the rich birdlife, butterfly population and wildlife, and its waterways - is on a half day cruise and hike.


Hinchinbrook Island by photographer Steven Nowakowski

At Tully River, North of South Johnstone River, experience the thrill of rafting down the wild rapids.
At Camperman, you can hire your campervan in Cairns and drop it off at Townsville or keep going to Airlie Beach, Brisbane, Gold Coast, Sydney, Melbourne or Adelaide.
For more detail on this road trip, see our Cairns to Townsville road trip highlights.
Road trips from Cairns