Townsville to Airlie Beach
277 km | 2 days
Ayr
The road between Townsville and the rural town of Ayr winds through the verdant patchwork of sugar cane fields and snaking rivers of the Burdekin region to the rural town of Ayr (90 km south of Townsville). The Burdekin is well-known for its barramundi, mudcrabs, estuary species and off-coast reef fishing while Ayr is devoted to sugar cane, melon, and mango farming. Pick up tourist brochures at the visitor center on the south end of town for things to do in Ayr.
Bowen
Bowen is Australia's mango capital so naturally it has a big mango that you can pose in front of. Bowen is a coastal rural town with wide streets, wooden Queenslander homes, a slow pace, and friendly locals. There are plenty of things to do in Bowen. Grab a tray of mangoes, view the town's 24 murals depicting historical events (grab a walking map from the visitor centre), swim at picturesque Horseshoe Bay, which has a walking trail through enormous granite rocks as well as a campervan park if you fancy staying the night. Drive the campervan to the top of Bowen Hill Lookout and take in the 360 degree views. Grab a homemade pie from Jochheim's, enjoy a long lunch with sea views from Cove restaurant, or knock back a beer at the Grandview Hotel. The Bowen Foreshore is a great place for a picnic.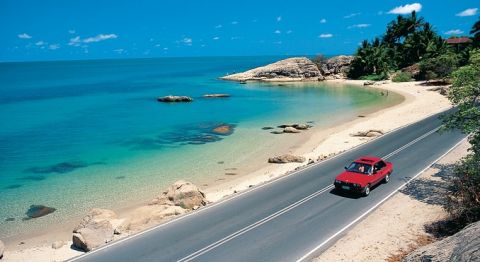 Bowen, Queensland.
Dingo Beach and Cape Gloucester
If you'd like to discover one of Queensland's best-kept secrets, venture off the highway just north of Airlie Beach to Dingo Beach and Cape Gloucester, a surprisingly beautiful and undeveloped part of the coast. Cape Gloucester has two beachside resorts, one lively the other quiet and private, where you can enjoy the coastal scenery with a spot of lunch, then sleep it off in a poolside deck chair. Dingo Beach and Cape Gloucester are worth visiting before the developers discover it.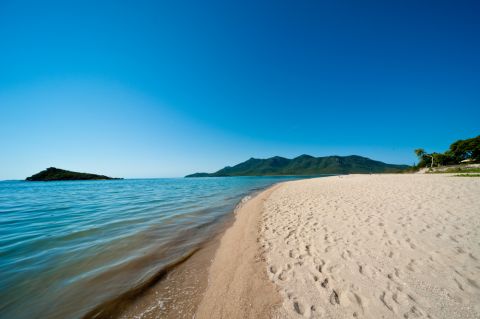 Cape Gloucester Beach Resort
Longer Drives
From Airlie Beach you can enjoy the Airlie Beach to Brisbane drive. Camperman has depots in Brisbane and the Gold Coast where you can drop off your camper van if you are not continuing on from the Gold Coast to Sydney or tackling the Queensland Outback drive.
Next Step
Hire a campervan in Townsville
Hire a campervan in Airlie Beach
Airlie Beach and Beyond
Airlie Beach to Brisbane Tour Itinerary
Brisbane to the Gold Coast Road Trip Itinerary