Airlie Beach to Brisbane Drive
1,117 kms | 7 Magical Days
The coastal route between Airlie Beach and Brisbane is best explored behind the wheel of a campervan. Accommodation options on this stretch are limited and a campervan gives you the extra flexibility to stay in some fantastic locations and national parks.
Day 1: Airlie | Eungella | Cape Hillsborough
276 km | 3 hr 45 min drive time
Eungella National Park
Eungella National Park (173 km and 2 hr and 20 mins from Airlie Beach) is a misty forest-clad mountain refuge. Eungella is an Aboriginal word that means "Land of the Clouds". More than 20 kms of walking trails take in stunning views, the Finch Hatton Gorge, rivers, pine groves, and diverse flora and fauna. Highlights include Araluen Cascade Falls which has a beautiful swimming hole at its base, and the Sky Window Lookout with views right down the valley across fields and forests between two mountain ranges. Broken River bush camp is a rustic campsite suitable for campervans, but bring your own drinking water. You can book ahead online.

Eungella National Park. Photo: TheTravelAlbum via IG
Cape Hillsborough National Park
Cape Hillsborough National Park (128 km south of Airlie Beach) is one of the most ruggedly beautiful parks on the Central Queensland coast, famous for its turquoise waters, tide rippled sand with barely a footprint to be seen and friendly kangaroos who seem to enjoy the beaches as much as the human visitors. There is a well-serviced campervan tourist park as well as the National Park campsite at Smalley's Beach with flushing toilets and drinking water. Through a network of walking trails you can explore creeks, waterfalls, valleys and hills, headlands and heaths, mangroves, a diverse range of forests, and rugged coastline.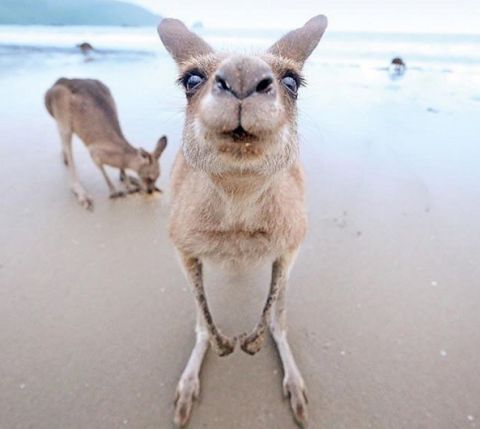 Cape Hillsborough National Park. Photo: HashtagTravelers via IG
Mackay
Mackay is a coastal town of attractive tropical streets and art deco buildings. As it caters to agriculture and the mining industry rather than tourism, there's not a lot do to, but it is a convenient place to stop in for a rest or an overnight stay. Dine alfresco at the marina, stroll through the Mackay Botanic Gardens stopping for coffee at the lagoon café, grab a map at the nearby Visitor Centre and cruise the town enjoying the historical buildings.
Day 2: Capricorn Caves
360 km | 4 hrs
Capricorn Caves
The Capricorn Caves near Rockhampton are a system of above ground caves in a limestone ridge. Tours range from the easy but beautiful to the more adventurous (including abseiling, wall climbing and caving) and run from 9 am until 4 pm. Book ahead. You can stop the night at a powered campervan site with full services amidst natural bushland and enjoy the company of kangaroos, or find campervan parks in nearby Rockhampton and Yeppoon.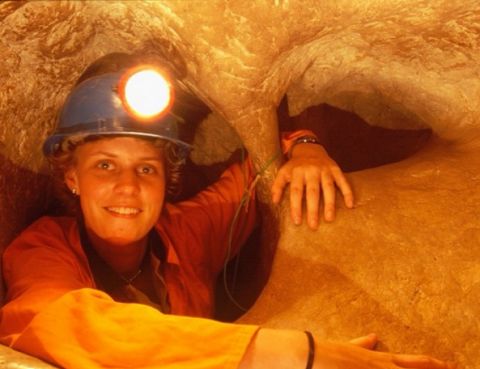 Capricorn Caves near Rockhampton.
Day 3: Agnes Water | Lady Musgrave Is.
250 km | 3 hr
Agnes Waters and 1770
Agnes Water and the neighbouring town of Seventeen Seventy (so named because that's the year Captain Cook mapped it) are picturesque coastal towns every bit as beautiful as Airlie Beach to the north and Noosa to the south, but without the crowds. Getting off the beaten track is one of the many perks of touring Australia in a campervan. Agnes Water is the most northerly surf beach before the Great Barrier Reef begins.
There are plenty of places to stay in 1770 and Agnes Water that have full facilities as well as the Wreck Rock campground in Deepwater National Park. Campervans and other non-4WD vehicles should access Deepwater National Park via the southern entrance.
Enjoy some organic sustenance at Sol Foods or good fish and chips at Off The Hook. Grab a delicious pie at Agnes Water Bakery. Go fishing in a dinghy hired from the marina, kayak with dolphins, learn to surf, dive the reef or shipwrecks, or grab a book and enjoy afternoon tea at the Getaway Garden Café, which is a short walk from several deserted beaches.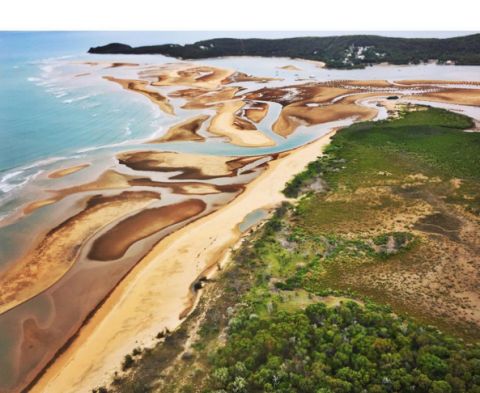 Agnes Waters. Photo: TLDish via IG
Lady Musgrave Island
It's possible to park your campervan here and day trip to Lady Musgrave Island for some spectacular reef snorkelling and diving. The waters are crystal clear and the temperatures sublime. Dolphins, turtles, nesting birds, manta rays and humpback whales are common sights here.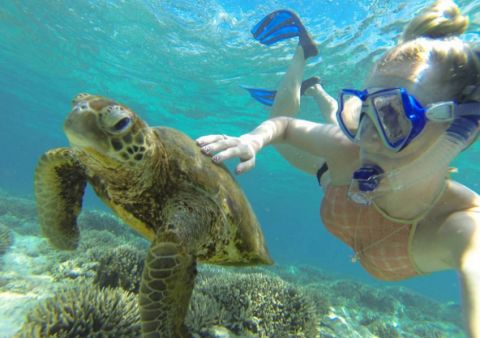 Lady Musgrave Island. Photo: Brooooke_r via IG
Day 4: Bundaberg | Hervey Bay
232 km | 2 hr 45 min
Bundaberg
At Bundaberg, on Mon Repos Beach you can watch turtles laying their eggs from November to late March. This is the largest turtle population on the east coast of Australia. Bargara Beach has a beachside campervan park if you wish to stay the night. Bundaberg is famous for its rum and you can tour the distillery. You can also see a ginger beer factory in operation, visit a zoo, stroll through the botanic gardens and Baldwin Swamp which lies in the middle of town, learn about Bert Hinkler who made the first solo flight from Australia to England at the Hinkler Hall of Aviation, or enjoy the art works at the Bundaberg Regional Art Gallery.

Mon Repos Beach, turtle nesting. Photo: Lauren Bath.
Hervey Bay
Hervey Bay charms every visitor with its sweeping sandy beaches, calm blue sea (perfect for kiddies), and relaxed community. The kids will love Wetside Water Education Park. Swim with sharks (the non-predatory variety) at Reef World Aquarium. But Hervey Bay is most famous for its whale-watching cruises, which take you up close to the frolicking humpbacks. You can stay the night at any number of campervan parks. Take a day trip or overnight tour to Fraser Island.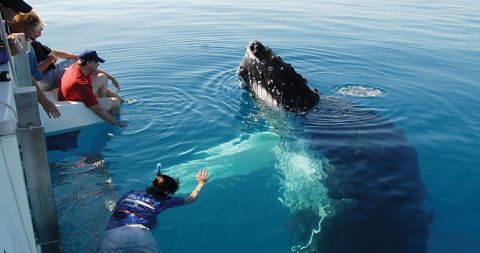 Whale watching at Hervey Bay. Photo: Blue Dolphin Tours
Day 5: Fraser Island
The unspoiled beauty of World Heritage listed Fraser Island off the coast of Hervey Bay will take your breath away. Known as K'Gari, or 'Paradise', by the local Aboriginal people, Fraser Island is the largest sand island in the world. It has fresh crystal clear creeks and lakes perfect for swimming, fishing, kayaking, and snorkelling, majestic sand dunes and ancient forests with thousand year old trees, swampy wetlands, walking trails, turtles, dugongs, birds a plenty, whales, dolphins, sharks, wallabies, and of course Fraser Islands iconic dingo. 1 and 2 day tours are available through a range of tour companies based in Hervey Bay and Rainbow Beach.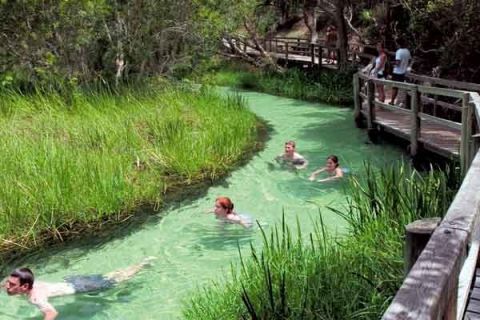 Fraser Island. Photo: Fraser Explorer Tours
Day 6: Rainbow Beach and the Great Sandy National Park
123 km | 1.5 hrs
Rainbow Beach
Rainbow Beach is a tiny town surrounded by the Great Sandy National Park with multi-coloured sand cliffs overlooking the beach and ocean. It's a convenient stepping off point for Fraser Island, or a base from which to explore the national park.
Great Sandy National Park
Great Sandy National Park and Cooloola Recreation Area is a large swathe of preserved coastline. The landscapes are varied from high sand dunes, sand blows, coloured cliffs, beaches, freshwater lakes, paperbark swamps, tall forests and wildflower heaths. Cooloola is a refuge for plants and animals, many threatened with extinction due to coastal development in Queensland. It is also home to the flightless emu. There are some campervan friendly campsites in the national park but you need to book ahead. Some of the roads into the national park are 4WD only, but you can access Elanda Point, just north of Boreen Point, and Bymien picnic area from Rainbow Beach Road in your campervan.
There is great camping here at The Oaks camping ground and SS Dorrigo camping ground.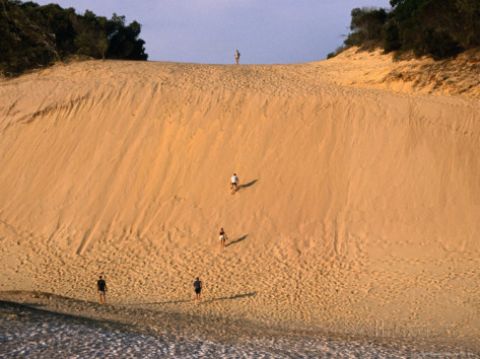 Great Sandy National Park.
Day 7: Noosa | Sunshine Coast | Hinterland | Glasshouse Mountains
230 km | 3 hr 20 min
Noosa Heads
Noosa Heads is a ritzy beach-side town on a gorgeous sweep of beach. Most of the peninsula is national park with some short but rewarding walking trails. With a glut of world class restaurants on Hastings Street, there is no shortage of places to eat, unless you're on a budget. Head to Noosaville for more affordable pickings. There is a campervan park on the Noosa River and booking ahead is advised. If you're spending some time in Noosa, you can rent a bike or kayak to explore the town and river system, tour the everglades, and walk the trails of Noosa National Park, or just stroll from boutique to café to wine bar to beach and enjoy the Noosa vibe.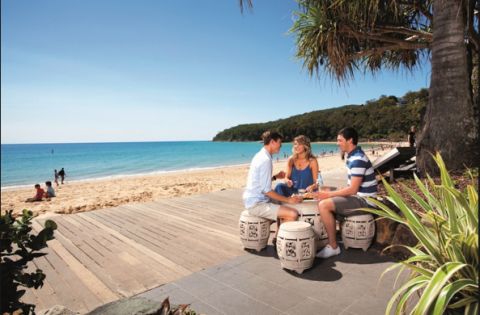 Noosa Heads. Photo: VisitSunshineCoast.com.au
Sunshine Coast
The Sunshine Coast is a seemingly endless string of sandy beaches. Unlike Noosa Heads, it's swanky neighbour to the north, the Sunshine Coast is residential, laid-back, and more affordable. Mooloolaba, Alexandria Headland, and Maroochydore are all great places to stay with plenty of campervan parks, places to eat, and things to do.
Glasshouse Mountains and Hinterland
The
Hinterland
is just 30 minutes from the sunshine coast and an hour north of Brisbane but it offers a different beauty. Tootle along the meandering Tourist Drive 23 through rolling green hills, misty valleys, lush forests, and charming historic villages such as Maleny and Montville. There you can pop into art galleries, health spas, tea shops, enjoy locally produced food and partake in festivals such as the famous Woodford Folk Festival. Nature lovers can download a
walking map
to explore the waterfalls, forests and stunning views of the region. The
Glasshouse Mountains
are a striking backdrop to the south, and also have
walking trails
.
Longer Drives
From Brisbane you can enjoy the Brisbane to Gold Coast Hinterland drive and the Gold Coast to Sydney drive. Camperman has depots in Brisbane and the Gold Coast where you can drop off your camper van if you are not continuing on to our depot in Sydney or tackling the Queensland Outback drive.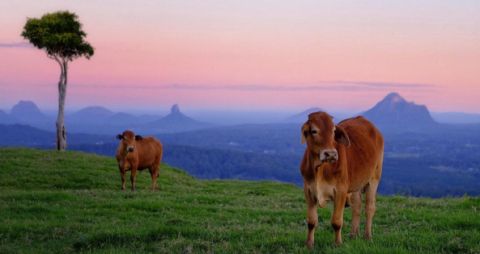 Glasshouse Mountains. Photo: DCWarehouse via IG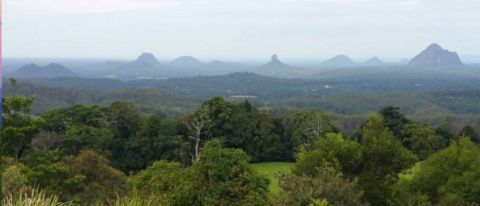 Glasshouse Mountains. Photo: Andre_Henrion via IG
Next Step
Hire a campervan in Airlie Beach
Brisbane and Beyond
Brisbane to the Gold Coast Road Trip Itinerary
Gold Coast to Sydney Tour Itinerary