Brisbane to the Gold Coast
Distance: 209 km | 4 hrs drive time
The Scenic Rim is an inland route from Brisbane to the Gold Coast taking in spectacular rural scenery and diverse communities. The eastern scenic rim tour visits Tamborine Mountain, Canungra, Beechmont and Springbrook National Park, adding on Lamington National Park if you have time, and makes a pleasant day trip.
Tamborine Mountain
The Tamborine communities of North Tamborine, Eagles Heights and Tamborine Mountain are scattered around a volcanic peak with 360 degree views of the Gold Coast, Pacific Ocean, mountains and countryside.
Narrow country lanes meander by grand old houses with lush gardens, local markets selling organic produce, boutique wineries, a distillery, a brewery, historic pubs, and the Gallery Walk which is a string of restaurants, shops, cafes, wineries, a Belgian chocolate shop, a cheese factory, and of course, art galleries, in Eagle Heights.
The Tamborine Mountain National Park has rainforest walking trails that take in waterfalls and amazing views. To the south are the glow worm caves.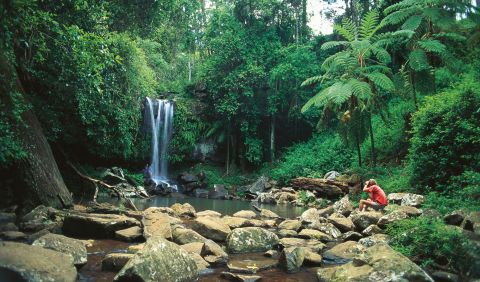 Tamborine National Park. Photo: Tourism and Events Queensland.
Canungra
The meandering Tamborine Mountain Road connects Tamborine Mountain to Canungra, home to wineries and an historic Tudor-style pub if you fancy a break. There are some cute cafes in which to take a break with organic home baked food, chai, teas and healthy snacks.

O'Reilly's Canungra Valley Vineyard
Springbrook National Park
This really is worth stopping at for its waterfalls, lookouts, and walking tracks. Walks not to miss include;
Best of all lookout (600 m and paved) which gives you views right to the coast and of Mt Warning
Twin Falls Circuit (4 km) which takes you through mossy rock gorges, under rocky overhangs, behind two waterfalls, through a valley of magnificent trees, rising to the edge of a plateau where you can look down on where you have just walked.
Natural Bridge Circuit (1 km and paved) which takes you into a cave through which a waterfall flows.
Camping
The Settlement Camping Area is the only camping area in Springbrook National Park and is a handy place to stop for the night. Facilities include toilets, picnic tables, cooking shelter, drinking water and BBQs. There are no showers.
RATES: $7 per person.
Lamington National Park
A UNESCO World Heritage site of rainforest, giant trees, streams, deep valleys, and breathtaking views, Lamington National Park has 160 km of walking trails. There are two ways into the Lamington National Park; via Canungra, and via Beechmont and Binnu Burra. Both have campervan friendly campsites if you wish to spend the night.
From Canungra, continue twisting carefully along Lamington National Park Road on to O'Reilly's where you can spend the day walking the trails, touring glow worm caves, and enjoying the heights from the tree tops suspension bridge. There is a rooftop bar with wrap around veranda from which you can sip a cold beer and enjoy views to Mount Warning.
The parrots here are used to interacting with humans and are quite friendly. You can buy bird seed from the cafe. They provide you with a bowl. The birds will climb on your head, shoulders and arms, so have your cameras ready!
Camping
You can camp near O'Reilley's at the Green Mountain campsite. Facilities include hot showers, toilets, picnic tables, and campsites terraced into the hillside surrounded by rainforest and with some wonderful views.
RATES: $7 per person.


Lamington National Park. Photo: O'Reilly's.
Binna Burra
Beechmont Road loops its way over rivers through the tiny village of Beechmont where you turn off to Binnu Burra, an alternative entry point to the Lamington National Park. The Binna Burra information Centre can supply you with walking maps.
Gold Coast
There are a lot of things to do on the Gold Coast and some great Gold Coast Caravan Parks in which to stay.
Gold Coast to Sydney Drive
Gold Coast to Sydney: an overview
Part 1: Brisbane - Gold Coast
Part 2: Gold Coast - Byron Bay | 200 km
Part 3: Byron Bay - Dorrigo National Park | 373 km
Part 4: Dorrigo National Park - Myall Lakes | 362 km
Part 5: Myall Lakes - Hunter Valley | 208 km
Part 6: Hunter Valley - Sydney | 165 km or 388 km
The Brisbane to Sydney drive is just one of Australia's iconic road trips. For a complete list of road trips, see our Australia Road Trip guide.

Next Step