Dorrigo to Myall Lakes
362 km | 5 hrs drive time
We suggest taking two or three days to enjoy this drive, stopping overnight at Port Macquarie or Crowdy Bay National Park.
Nambucca Heads
Nambucca Heads is a quiet coastal town scattered over a snaking headland interlaced with estuaries. The best place to view it from is Captain Cook Lookout. It has one of the coast's prettiest foreshores with boardwalks so walkers can enjoy it.
Camping
BIG4 Nambucca Beach

North Coast Holiday Parks Nambucca Headland
Active Holidays White Albatross
Foreshore Caravan Park
Pelican Caravan Park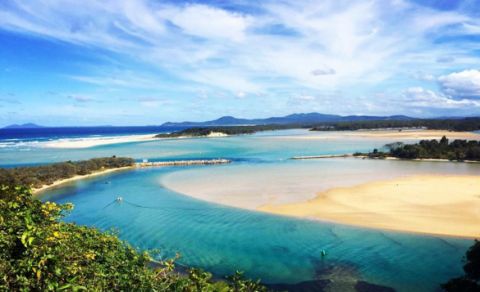 Nambucca Heads. Photo: Alena.Rose via IG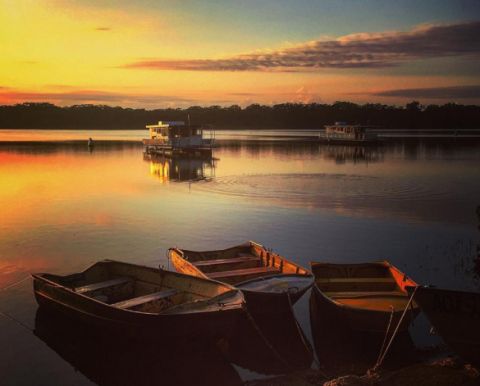 Photo: Victoria10 via IG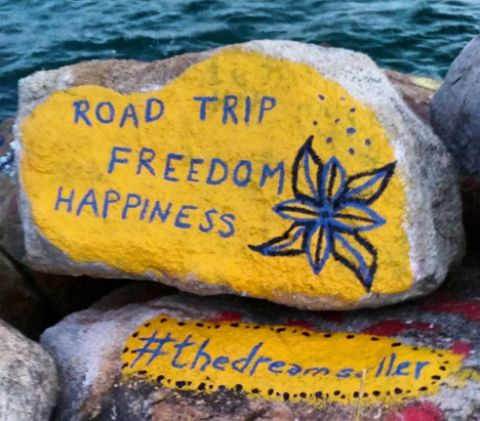 Nambucca Heads rock art. Photo: Picachudefe via IG

South West Rocks
South West Rocks is a picturesque seaside town. The headland is protected by Arakoon National Park, where you'll find kangaroos, kookaburras and campers. Little Bay Beach in the National Park is sheltered from the surf by a rocky barricade and is perfect for swimming. It's also the starting point for some good walks. By the camp ground is Trial Bay Gaol, built in 1877 to house convicts. Smoky Cape Lighthouse is perched on the cape and has tours.
Camping
Horseshoe Bay Holiday Park

Active Holidays South West Rocks
BIG4 Sunshine South West Rocks
Trial Bay Gaol Campground
Smoky Cape Campground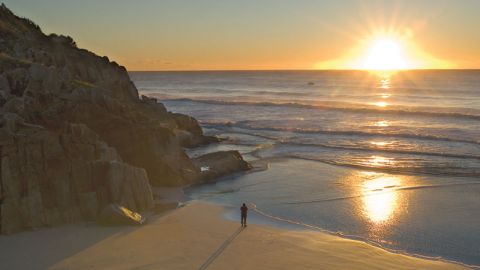 Arakoon National Park. Photo: Michael Van Ewijk
Hat Head National Park
Hat Head National Park is on a stretch of stunning coastline. It is a place of exceptional beauty. There are a lot of walking tracks, lookouts and a lighthouse to explore. Free guided tours run every Monday, Wednesday and Friday at 1 pm.
Camping
Hat Head Holiday Park
Hungry Gate Campground - nestled behind the dunes and popular with the local kangaroos

Smoky Head Campground - fall asleep to the sound of crashing waves.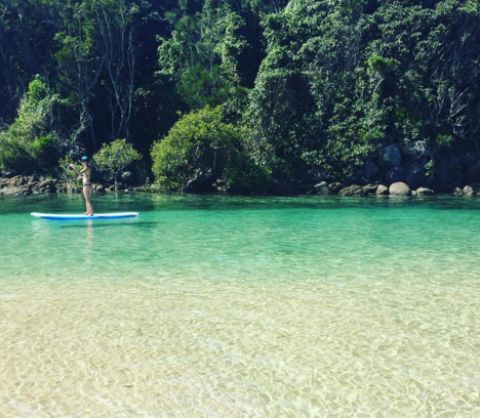 Hat Head National Parl. Photo: Michelle Sallows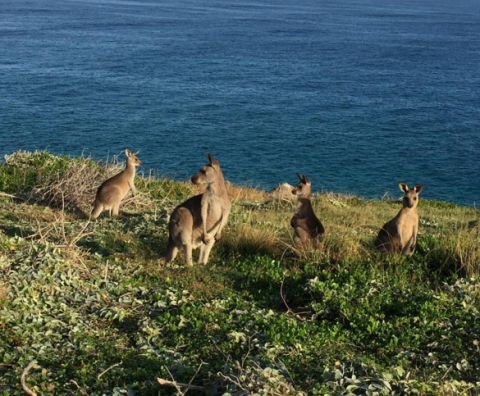 Hat Head National Park. Photo: JudithLurelle via IG
Port Macquarie
Port Macquarie lies about midway between Dorrigo National Park and Myall Lakes National Park. Its a great place for families and lovers of animals, art, wine, beer and beaches.
At Billabong Zoo you can pet the meerkats, feed kangaroos, feed the cheetahs, cuddle a koala or the red pandas, handle a snake, tour a snow leopard's den and feed them.

Have a game of hydro golf and putt putt.
Taste the local oysters and seafood and snap a photo of the Big Oyster
Take a walk along the breakwall
Learn some local history at the award winning Port Macquarie Museum. Port Macquarie began as a British penal settlement but has become a popular tourist and sea-change destination. Allow at least an hour to see all the exhibition rooms.
Visit the Glass House for some art and culture.
Peer at the stars and learn about the cosmos at the Astronomical Observatory.
Take a guided tour of the Koala Hospital.
Walk through rainforest to Harry's Lookout and Miners Beach.
Ride a camel along the beach.
Visit Tacking Point Lighthouse.
The Port Macquarie Coastal Walk takes a full day to complete, but you can do a portion of it if strapped for time.
Enjoy a beer at The Little Brewing Company and Black Duck Brewery.
Go wine tasting in the vineyards that surround Port Macquarie.
Rose's Vineyard and Petting Farm has something for the kids as well as the grown ups.
Camping
Marina Holiday Park - on the Hastings River.
Melaleuca Caravan Park
Breakwall Holiday Park - right by the breakwall.
Myall Lakes National Parks
Myall Lakes National Parks is an extravagantly pretty mosaic of lakes, rivers, rainforests and secluded coastlines. It's rich in birdlife and the changing hues of sunset and sunrise are reflected in the still water surfaces. The beauty is best enjoyed from a kayak, boat, or walking trail. The waters are perfect for swimming and during May to November you can watch migrating humpback whales.
There are many great places to cast a fishing line for bream, whiting, Australian salmon, flathead and mullet.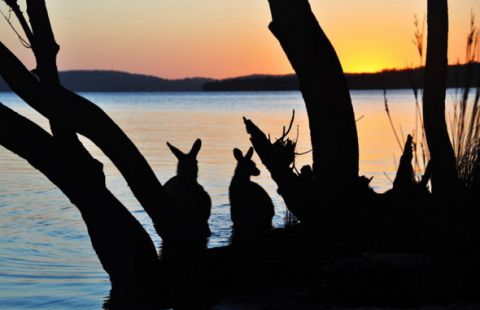 Myall Lakes. Photo: Simonegga via IG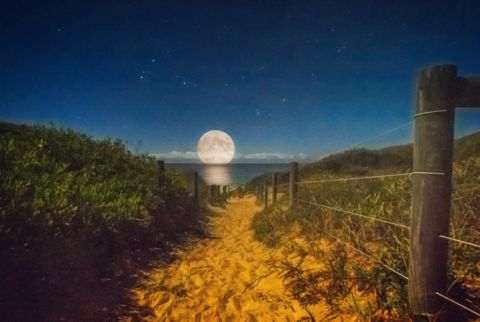 Myall Lakes National Park. Photo: vshard via IG
Myall Lakes has four regions to explore;
Forster Tuncurry: Encompasses the largest towns in the region where you'll find a good selection of restaurants, supermarkets, and shops.
Pacific Palms: Encompasses the towns of Elizabeth Beach, Boomerang Beach, Bluey's Beach, Smith's Lake, Coomba, Seal Rocks, and Tiona, plus the Booti Booti and Wallingat National Parks and the Port Stephens Great Lakes Marine Park. This place has everything – scenic lookouts, secluded coves, pristine beaches, tall cabbage palms, good surfing, cafes, galleries and rainforest walks.
Myall Coast: Encompasses the towns of Tea Gardens, Hawks Nest, Broughton Island, Seal Rocks, and Myall Lakes with their cafes, galleries and public art. Seal Rocks is secluded with golden sandy beaches and rocky shorelines speckled with rockpools. Broughton Island, a place of white sandy beaches, volcanic peaks, scrub, penguins, turtles and seabirds, has some of the best diving and snorkelling in the state.
The Hinterland: On the west side of the Lakes, the Hinterland encompasses the towns of Nabiac, Coolongolook, Wootto, Buledelah, and Stroud. Here you'll meander through fertile valleys, taste local produce, potter through antique shops, cafes, boutique wineries, eco-retreats and country markets.
Myall Lakes Camping
Campgrounds are dotted throughout the entire Myall Lakes region.

Dees Corner Campground
The Ruins Campground
The Ruins Campground
Wallingat River Campground
Neranie Campground
Yagon Bay Campground
Violet Hill Campground
Korsmans Landing Campground
White Tree Bay Camping
Mungo Brush Campground
Banksia Green Campground
Stewart and Lloyd Campground
Myall Lakes Caravan Parks
The Wells Camping Area
Pacific Palms Caravan Park
Twin Dolphins Holiday Park
North Coast Holiday Parks Tuncurry Beach
BIG4 Great Lakes at Forster Tuncurry
North Coast Holiday Parks Seal Rocks
NRMA Myall Shores Caravan Park


Myall Lakes National Park. Dees Corner Campground.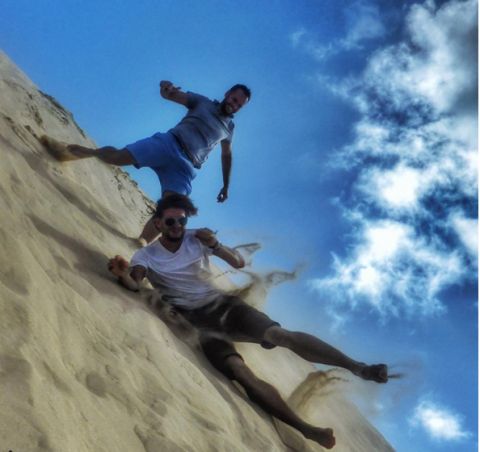 Tumbling down the sand hills. Photo: umlunguish via IG
Gold Coast to Sydney: an overview
Part 1: Brisbane - Gold Coast
Part 2: Gold Coast - Byron Bay | 200 km
Part 3: Byron Bay - Dorrigo National Park | 373 km
Part 4: Dorrigo National Park - Myall Lakes | 362 km
Part 5: Myall Lakes - Hunter Valley | 208 km
Part 6: Hunter Valley - Sydney | 165 km or 388 km
The Gold Coast to Sydney drive is just one of Australia's iconic road trips. For a complete list of road trips, see our Australia Road Trip guide.

Next Step
Hire a campervan in Gold Coast