Day 6 - 8: Byron Bay to Dorrigo National Park
329 km | 4 hr 20 min drive time
Ballina
Ballina sits at the mouth of the Richmond river with white sandy beaches and crystal clear waters. Cruise the quiet backstreets to see some of the grand old houses from the 19th century. It's a quieter more family-friendly alternative to Byron Bay and there are plenty of campervan parks in which to spend the night.
While you're there;
In October and November, detour through Grafton when the streets are strewn with the purple blossoms of Jacaranda trees.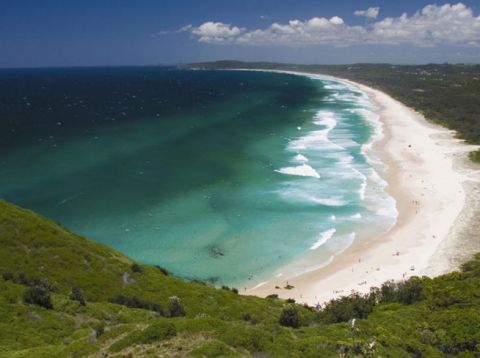 Yamba and Angourie
Yamba and Angourie are chilled out little towns favoured by surfers and fishing enthusiasts. Yamba is on the mouth of the Clarence River with neighbouring Angourie to the south. Experienced surfers head for Angourie Point. Main Beach at Yamba has an ocean pool and a grassy slope for sunbathers who prefer not to get sandy.
A walking and cycling track meanders along here to Lovers Point and Convent Beach and the Yuraygir Coastal Walk begins in Angourie. If you're lucky you'll spot dolphins playing off Pippi Beach.
For such small towns they have great dining options. Try the Boardroom and Bar in Yamba, or the Bar Baresco in Angourie. There are plenty of campervan friendly places to stay.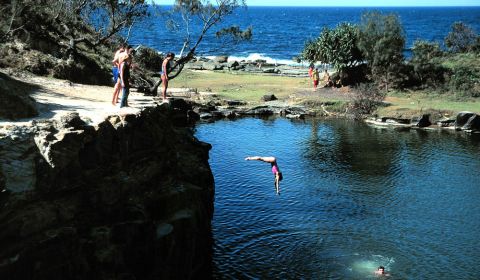 Blue Pool at Angourie. Photo: Australian Traveller.
Grafton
Grafton is a quietly beautiful historic country town, especially in late October, when it's flowering Jacaranda trees blanket the town in purple. But its regional gallery, grand old houses and historic pubs can be enjoyed any time of year.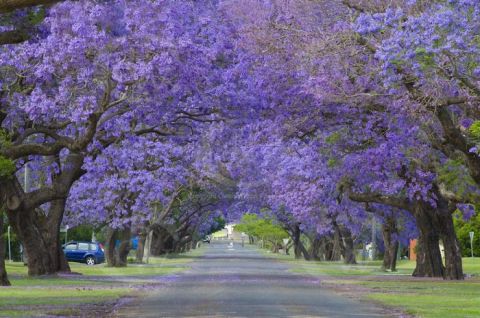 Jacaranda trees in Grafton. Photo: Owen Wilson

Yuraygir National Park
Nearby is the unspoiled coastal beauty of the Yuraygir National Park. It is NSW's longest stretch of undeveloped coastline and there are some beautiful walks and plenty of campervan-friendly campsites within the national park. We have a full article on Yuraygir National Park listing its best walks and campervan-friendly camgrounds.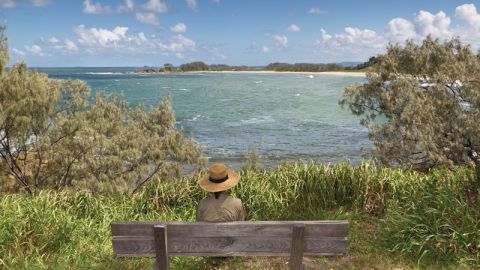 Pebbly Beach campground, Yuraygir National Park. Photo: Robe Cleary
Coffs Harbour
Coffs Harbour is banana farming country. Pose in front of the iconic Big Banana, tour the banana farm, and indulge in some banana ice-cream or a banana smoothie. Encounter butterflies in the Butterfly House or dolphins, seals, penguins and turtles at the Dolphin Marine Magic. All the dolphins here have either been born at Dolphin Marine Magic or are animals that have been rescued with debilitating injuries and would have been unable to survive in the wild. Coffs Harbour has many campervan parks to choose from should you wish to spend the night.
We have written a full article on Coffs Harbour listing 20 things to do, the best walks in the regions, and the best places to stay in your campervan.
Bongil Bongil National Park
Meander through Sawtell Beach, Bongil Bongil National Park, and Mylestom. It's a beautiful stretch of coast. This region has many campervan parks should you wish to base yourself here while exploring Bellingen and Dorrigo. There are no campgrounds in the National Park.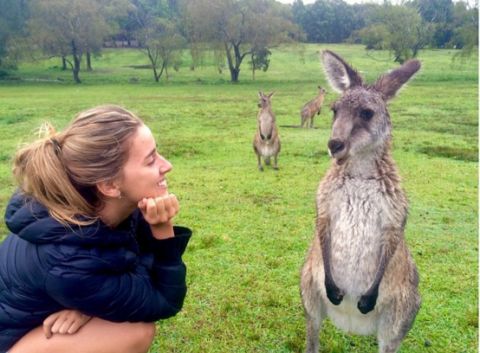 Some residents at Bongil Bongil National Park. Photo: lepita.pi via IG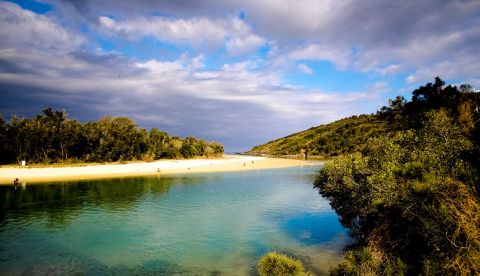 Bongil Bongil National Park
Bellingen
Bellingen (12 km west of the Pacific Highway) is a gorgeous little town of misty mornings crystal clear rivers and poetic place names like The Promised Land and Never Never River. It has attracted artists and academics seeking a sustainable healthy lifestyle. At sunset the sky blackens with flying foxes. For a small town it is packed with great eateries many offering vegetarian and organic fare. Try 5 Church Street where you can pull up a pew at the communal table or settle into a couch and listen to live music. For the foodies, head to Oak Street Food And Wine and if you are hankering for some Indian Food try the Chilli Affair.
Read our article on Bellingen: 9 things to do and pretty drives.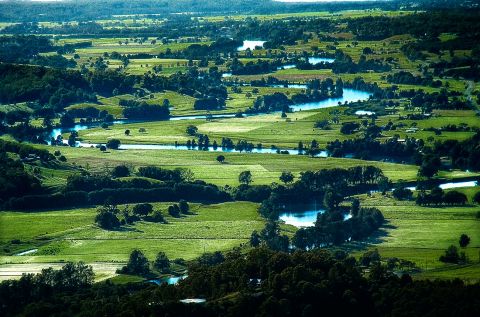 Bellingen. Photo: FormatC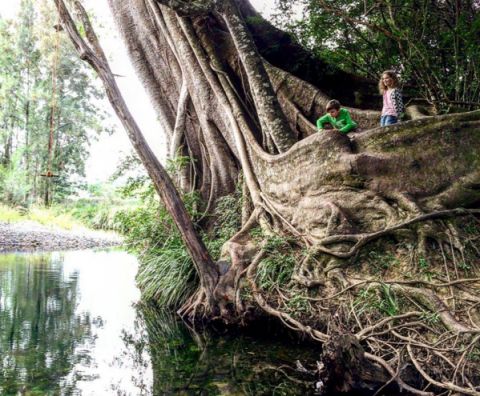 Bellingen. Photo: EachToOwn via IG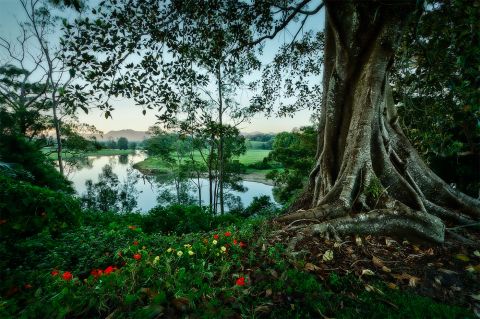 Bellingen. Photo: Promised Land Retreat.
Dorrigo National Park
Dorrigo is a quiet rural town and gateway to Dorrigo National Park, the loveliest and most accessible of the east coast rainforests. Here, the streams that traverse the New England Plateau tumble over the cliffs into the valleys below. Needless to say, there are some spectacular lookout points and waterfalls. There are several easy strolls within the national park as well as a number of long and more challenging bushwalks. Dorrigo is a great location for trout fishing, bushwalking and self-drive scenic tours.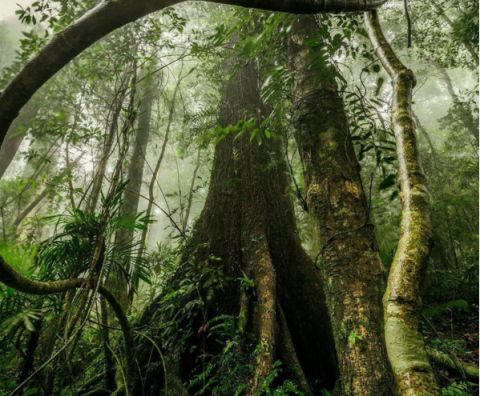 Dorrigo National PArk. Photo: Discover.urself via IG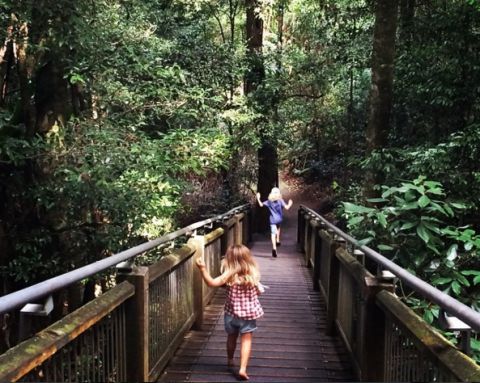 Dorrigo forest walk. Photo: baluchild via IG
Gold Coast to Sydney: an overview
Part 1: Brisbane - Gold Coast
Part 2: Gold Coast - Byron Bay | 200 km
Part 3: Byron Bay - Dorrigo National Park | 373 km
Part 4: Dorrigo National Park - Myall Lakes | 362 km
Part 5: Myall Lakes - Hunter Valley | 208 km
Part 6: Hunter Valley - Sydney | 165 km or 388 km
Next Step
Hire a campervan in Gold Coast