Hunter Valley to Sydney
You have a choose of two routes here. If you have the time (two days), detour west to take in world heritage listed Wollemi National Park and the Blue Mountains National Park.
Alternatively, head south for Sydney stopping at Ku-ring-gai Chase National Park for a stunning hike through forest and along sandstone cliffs with harbour views.
---
Wollemi & Blue Mountains Route
388 km | 5 hrs 42 mins driving time
Wollemi
Wollemi National Park is a world heritage listed valley of soaring cliffs, misty lakes, swamps, golden grasslands, ancient forests, glow worm tunnels, pagoda rock formations and fern gullies. There is campervan camping inside the park. See the map below.
Newness Plateau in the Garden of Stones National Park is a labyrinth of pagoda rocks which makes it fun for rock climbers and experienced hikers. Bring your camera to capture the magical light falling into canyons and the views form the top of them.
Glow Worm Tunnel is a disused railway tunnel that now twinkles with the light of glow worms.
Dunns Swamp is a broad peaceful river abundant in wildlife – swamp hens, wallabies, turtles, and if you're lucky, platypus. It's best explored by kayak (they are for hire here) or on one of the walks.
More Information
Free Camping
Dunphy's Camping Area: Pit toilets, fires, BBQs, picnic tables.
Coorongooba Campground: On a lake and river. Picnic tables, BBQs, toilets.
Newness Campground: By the Wolgan River banks. Near the glow worm tunnel and within walking distance of the historic ovens and tunnels of the shale oil ruins. BBQs and toilets.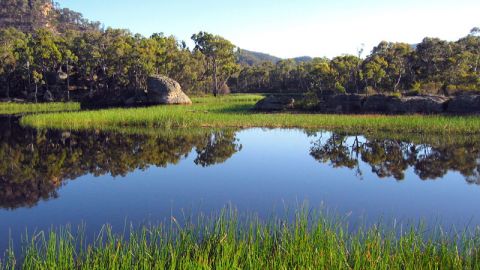 Dunns Swamp Campground, Wollemi National Park

The Blue Mountains
The Blue Mountains is brimming with natural beauty and easily earns its UNESCO World Heritage status. It offers stunning scenery, excellent hikes, Aboriginal rock art, waterfalls, rivers, and sandstones cliffs that are perfect for canyoning, abseiling and climbing. See the map below for campgrounds and attractions.
Mount Victoria,

on the summit of Victoria Pass, is a National Trust classified village of pretty historic houses, antique shops and a museum.

The Jenolan Caves

are a complex of limestone caves and underground ponds.

Mount Tomah is famous for its gardens which are at their best in autumn and spring.
In Mount Wilson, drive through leafy country lanes ablaze with autumn colours. Take a canyon or rainforest walk.
At Springwood visit the Norman Lindsay Gallery.

The Gallery

includes Lindsay's home and studio, and gives a fascinating look at the artist's life and work.

Wentworth Falls

is where some of the most stunning walks begin. We recommend Empress Falls

(3 hrs), the

Wentworth Falls Track

(1 hr) and the

National Pass

(3 hrs).

Also at Wentworth Falls, the Falls Gallery includes some big name artists such as John Olsen, Anne Smith, Charles Blackman and Arthur Boyd. Visit the Kedumba Gallery

for Australian drawings.

At Glenbrook walk to the famous Red Hands Cave.

The Aboriginal cave art was painted between 500 and 1600 years ago by chewing a mixture of ochre and water, then blowing it over a hand resting on the wall. On your walk to the cave look for Aboriginal axe grinding grooves in the rocks beside Camp Fire Creek. Allow at least an hour. Entry is free.

In Leura, visit the Teapot Museum.
In Katoomba you will find the famous Three Sisters rock formations. They can be viewed from Echo Point. There are lots of walks from here including the

Giant Stairway

(2-3 hrs) and

Dardenelles Pass Loop

(3 hrs).

Take a ride into Jamison Valley on the Scenic Railway.
The Scenic Skyway

cable car gives you a heart-stopping view of the Three Sisters.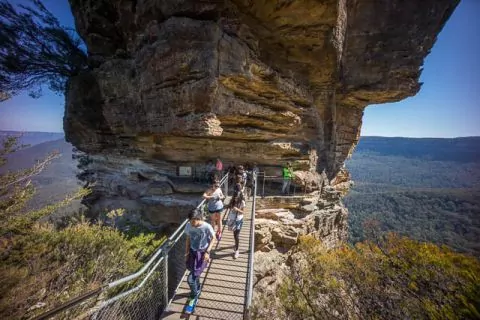 The Giant Stairway Walk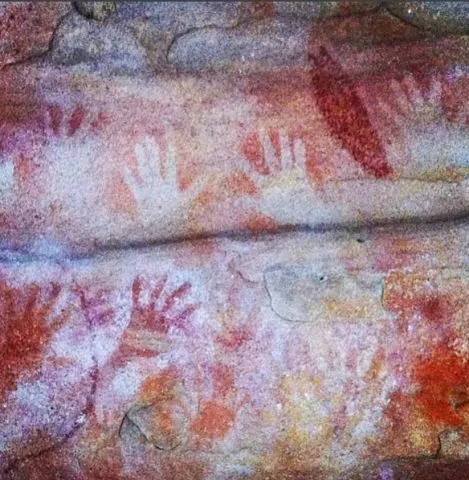 Red Hands Cave
Free Camping Blue Mountains
Cathedral Reserve Camping Area: Mt Wilson. Ten minute walk from the Cathedral of Ferns 30 min loop walk. Toilets, fire pits, picnic tables.

Old Ford Reserve Camping Area: Near Six Foot Walking Track. Toilets, fires, picnic tables.

Dunphy's Camping Area: Pit toilets, fires, BBQs, picnic tables.
Camping Blue Mountains
Dunns Swamp Campground: On the river. Toilets, wood fired BBQs, picnic tables, kayak hire.
RATES: $6 per adult, $3.50 per child. No bookings.

Lake Lyell Recreation Area - On a lake. Hot showers, toilets, free BBQs, picnic tables, kayaks, playground.
RATES: From $20.
Jenolan Caravan Park - Convenient for Jenolan Caves. Hot showers, flush toilets, camp kitchens, BBQs, picnic tables, laundry rooms, and games rooms.
RATES: From $25.

Blackheath Glen Tourist Park - Wooded. Hot showers, flush toilets, camp kitchens, BBQs, picnic tables, laundry rooms, and games rooms.
RATES: From $31.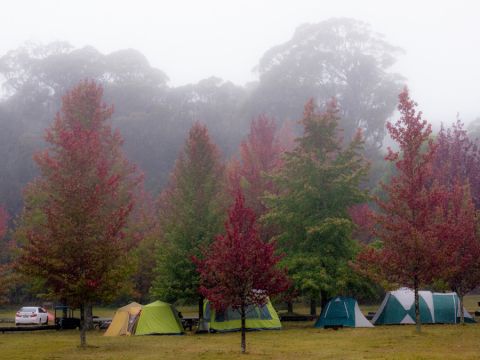 Free Camping at Cathedral Reserve.
---
Ku-ring-gai Chase Route
165 km | 2 hrs 10 mins driving time
Ku-ring-gai Chase and Brisbane Water National Parks are just an hour north of Sydney but when you're walking here you'll feel a million miles away. Colored sandstone cliffs, woodlands, Aboriginal art, water views, wildflowers, birds, wildlife, a heritage lighthouse and the excellent, sometimes challenging, walks will remain in your memories long after you've left.

Rose Seidler House Museum: for a trip back in history.
Bobbin Head picnic ground and Mangrove Boardwalk: for a waterfront lunch in gorgeous surrounds.
Upper Gledhill falls: A great swimming hole and waterfall with a little sandy beach and a rope swing into the pool.
America Bay walking track: Passes Aboriginal engravings and a waterfall and ends at a beach with some lovely places along the way to sit and enjoy the views. 1.8 km return or 1.5 – 2 hrs.
Elvina walking track has many Aboriginal engraving sites and meanders through rainforest and passes water holes. At Elvina Bay there is a picnic area and a rope swing into the water. 4.8 km return, 2 hrs.
Westhead Lookout: for stunning views.
Westhead Beach: for a secluded swim.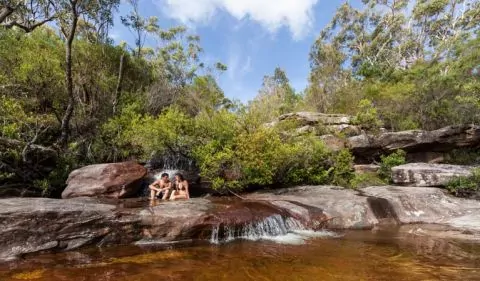 America Bay, Ku-ring-gai Chase National Park
Gold Coast to Sydney: an overview
Part 1: Brisbane - Gold Coast
Part 2: Gold Coast - Byron Bay | 200 km
Part 3: Byron Bay - Dorrigo National Park | 373 km
Part 4: Dorrigo National Park - Myall Lakes | 362 km
Part 5: Myall Lakes - Hunter Valley | 208 km
Part 6: Hunter Valley - Sydney | 165 km or 388 km
The Gold Coast to Sydney drive is just one of Australia's iconic road trips. For a complete list of road trips, see our Australia Road Trip guide.

Next Step
Hire a campervan in Gold Coast
Road Trips of Australia