Day 14 & 15: Hunter Valley to Sydney
If you have the time, detour west to take in world heritage listed Wollemi National Park and the Blue Mountains National Park. Both national parks have campervan-friendly campgrounds. There are so many hikes, and all of them so different from one another, that this route deserves two days.
Alternatively, head south for Sydney stopping at Ku-ring-gai Chase National Park for a stunning hike through forest, sandstone cliffs, and harbour views.
Wollemi & Blue Mountains Route
388 km | 5 hrs 42 mins driving time
Wollemi National Park is a world heritage listed valley of soaring cliffs, misty lakes, swamps, golden grasslands, ancient forests, glow worm tunnels, pagoda rock formations and fern gullies. There is campervan camping inside the park. See the map below.
Read the full article on Wollemi for the best campervan-friendly places to camp and top things to do.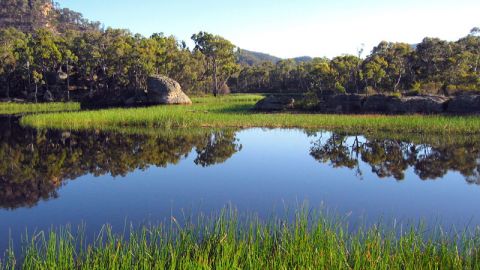 Dunns Swamp Campground, Wollemi National Park

The Blue Mountains is brimming with natural beauty and easily earns its UNESCO World Heritage status. It offers stunning scenery, excellent hikes, Aboriginal rock art, waterfalls, rivers, and sandstones cliffs that are perfect for canyoning, abseiling and climbing. There is campervan camping in the region. See the map below for campgrounds and attractions.
Ku-ring-gai Chase and Brisbane Water Route
165 km | 2 hrs 10 mins driving time
Ku-ring-gai Chase and Brisbane Water National Parks are just an hour north of Sydney but when you're walking here you'll feel a million miles away. Colored sandstone cliffs, woodlands, Aboriginal art, water views, wildflowers, birds, wildlife, a heritage lighthouse and the excellent, sometimes challenging, walks will remain in your memories long after you've left.

Read our article on Ku-ring-gai Chase and Brisbane Water for a full list of things to do and places to stay in a campervan.
< BACK
Gold Coast to Sydney: an overview
Part 1: Brisbane - Gold Coast
Part 2: Gold Coast - Byron Bay | 200 km
Part 3: Byron Bay - Dorrigo National Park | 373 km
Part 4: Dorrigo National Park - Myall Lakes | 362 km
Part 5: Myall Lakes - Hunter Valley | 208 km
Part 6: Hunter Valley - Sydney | 165 km or 388 km
Next Step
Hire a campervan in Gold Coast