Cairns to Port Douglas
This road trip north of Cairns takes you to the pretty resort town of Palm Cove, along a stunning oceanfront drive to Port Douglas, on to Mossman Gorge for a swim and a forest walk before heading back to Cairns. The best highlights and good (campervan-friendly) campgrounds are mapped below.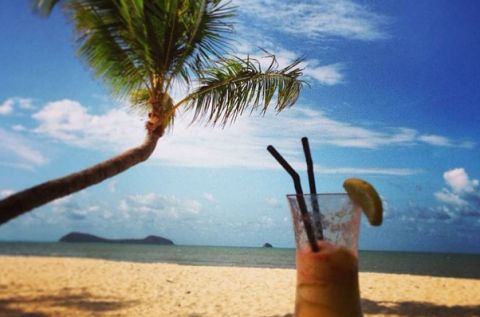 Kewarra Beach Resort beach bar.
Trinity Beach
This beach has a pub at the north end, a wonderful open beachfront Italian restaurant called L'Unico at the midpoint of the beach, and a walk to the point at the south end. There is netted swimming here during stinger season and free gas BBQs along the beachfront.
Kewarra Beach
This is a quieter more residential beach, which is part of its charm. It is fringed with parkland and has a couple of free gas BBQs at the entry where the car park is. Kewarra Beach Resort has a beach hut that serves drinks and live music on the weekends.
Palm Cove
Palm Cove is nestled beneath coconut palms at the end of a spectacular sweep of beach. A beachside path meanders through lush gardens with the Coral Sea to one side and restaurants, cafes, bars, galleries and boutiques on the other. Cook a meal at one of the free beachside gas BBQs. Relax, take in the sea views and people watch at the Surf Life Saving Club bar. Camp at the beachfront caravan park. Stroll along the jetty and watch locals catch fish. Hire a kayak and go for a paddle. Ellis Beach also offers beachfront camping in a more natural setting a little further north.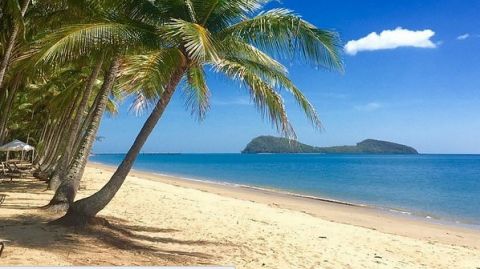 Palm Cove
Port Douglas
The drive to Port Douglas is amazing in itself, hugging the coast with amazing views of the turquoise Coral Sea. This resort village sits on an inlet amongst lush vegetation with a Seven Mile Beach stretching along one side.
Hire a bike and cycle along the beach.
People watch and take in the live music at one of the pubs.
Take a cruise to the Lowe Isles for some snorkeling if you are here for a full day. Boats leave early.
Walk from the beach up to the lookout for a view of the town and beach.
Try to find the Tin Shed overlooking the inlet. It doesn't look like much from the front, but inside you'll have views over the water to the distant rainforest-clad mountains to the north. If you get their mid afternoon you should find a good table.

St Mary's By The Sea is a gorgeous little chapel by the sea. No need for stained glass windows when you have such a view!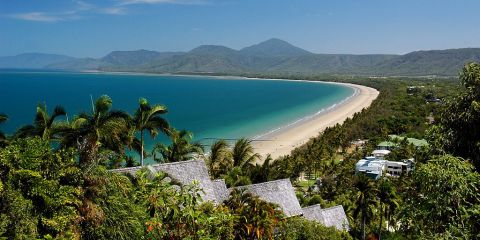 Port Douglas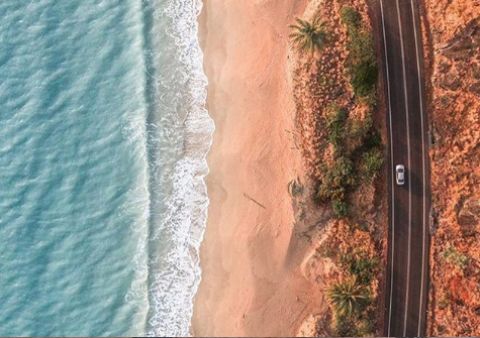 Drive to Port Douglas. Photo: aero.aus via Instagram
Mossman Gorge
This emerald green river is beautiful to look at and very cold to swim in. So if you're here in midsummer and the heat and humidity becomes too oppressive, this is guaranteed to cool you down. The paved path takes you through some lush rainforest with thick vines and fan palms, across a suspension bridge - fun! - to a lookout.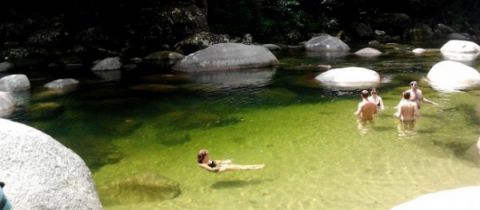 Swimming in Mossman Gorge. Photo: Cairns Lifestyle.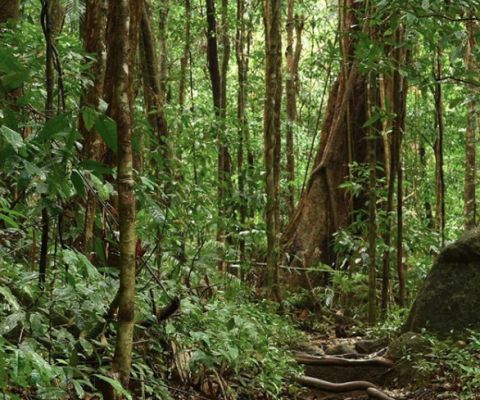 Mossman Gorge. Photo: runningboffin via Instagram
Port Douglas Caravan Parks
There are two caravan parks in Port Douglas and one a little to the south.
Tropical Breeze Caravan Park
This is the most centrally located and it is close to the beach. The sites sit beneath massive old trees with plenty of shade. Facilities include a pool, camp kitchen, laundry, tour desk and hot showers.
RATES: $35 for two adults (unpowered). $10 additional adults.
Pandanus Tourist Park
Pandanus is by a backpackers resort beneath shady palms. Facilities include a pool, free gas BBQs, entertaining area, camp kitchen, laundry, hot showers and a tour desk.
RATES: $32 - $43 for two adults (unpowered). Additional adults rates not available.
Big4 Port Douglas Glengarry Holiday Park

9km south (10 min drive) from the heart of Port Douglas, this BIG4 Holiday Park has landscaped tropical gardens, pool with waterfall and slides, hot showers, a tour desk, free WiFi, 3 laundries, TV room, Bali hut with BBQs and 2 camp kitchens.

RATES: $32 - $42 for two adults. Additional adults $10 - $15.
Ellis Beach Caravan Park
This is the only caravan park that is right on the beach. There is normally a minimum stay of 2 - 3 nights depending on the season but sometimes they do have single nights, so it is worth checking. Facilities include a swimming and wading pool, coil operated BBQs, laundries, hots showers, camp kitchen, general store and tour desk.
RATES: $36 for two adults. Additional adults $10.
Palm Cove Caravan Park
The NRMA Palm Cove Holiday Park is located at the end of Vasey Esplanade by the pier. Facilities include new camp kitchen, hot showers, free Wifi, laundry, kiosk, BBQs, Dump point and tour desk.
RATES: $31 for two adults. Additional adults $15.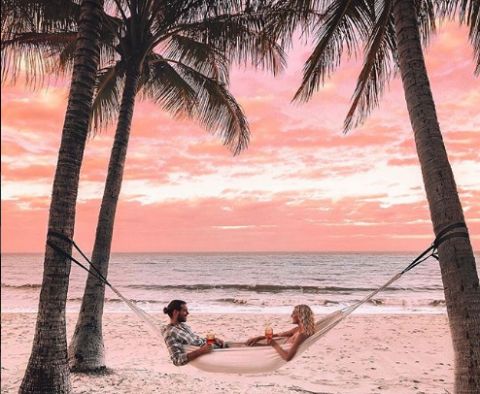 Camping on Ellis Beach. Photo: elisecook via Instagram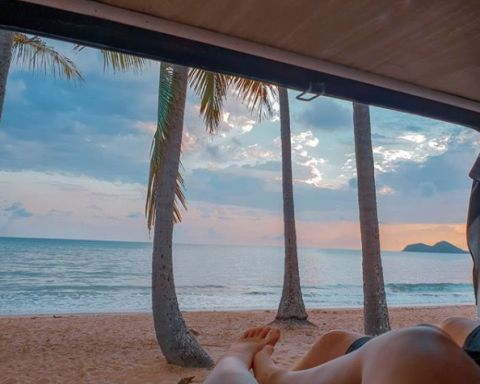 Ellis Beach. View from campervan. Photo: jojoflynnflynn via Instagram
More Road trips from Cairns