Cairns to Airlie Beach Drive
625 km | 8 hr drive | 6 days
Between Cairns (gateway to the Great Barrier Reef) and Airlie Beach (gateway to the Whitsunday Islands) lies a tropical paradise of lush rainforests, magical swimming holes, unspoiled islands and white sand beaches. Scroll down for the Airlie Beach to Cairns itinerary.
Itinerary Cairns to Airlie Beach Drive
Spend a week exploring Cairns, the Atherton Tablelands, the Daintree, the Great Barrier Reef, Port Douglas and Undara Lava Tubes before embarking on this 6 day Cairns to Airlie Beach drive. Click each heading to get the full article with highlights, camping and a map.
Day 1: Walsh's Pyramid, rainforest swimming holes, Wooroonooran National Park
125 km | 1 h 50 m drive
(optional extra day in Wooroonooran)

Day 2: Paronella Park, Mission Beach
88 km | 1 h 15 m drive
(optional extra day in Mission Beach)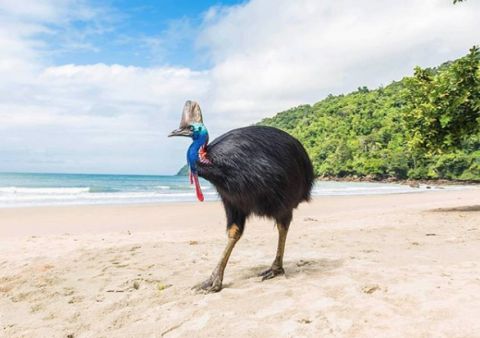 Cassowary at Etty Bay. Photo: ecologis.shayes via Instagram

Day 3: Hinchinbrook Island (World Heritage Listed)
70 km | 1 hr drive
Book Hinchinbrook Island Cruises to island $150 per person (departs 8.30 am)
(Optional Thorsborne Trail - 4 days. Must pre-book.)
Day 4: Cardwell Spa Pool and Paluma Range National Park
140 km | 2 h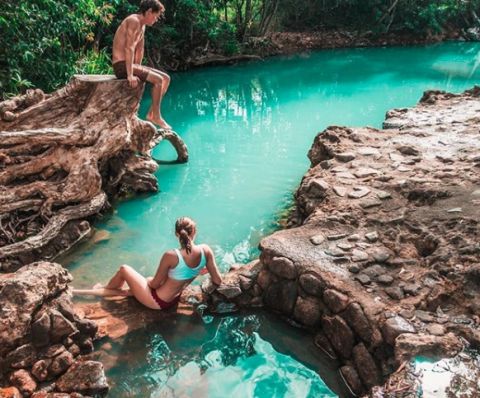 Cardwell Spa Pools. Photo: caravaningqueensland via Instagram

Day 5: Townsville and Magnetic Island
85 km | 1 h 20 m
Ferries depart and return every hour (adult round trip $30 - $35)
(optional extra day exploring Townsville or Charters Towers)

Day 6: Bowen, Airlie Beach and the Whitsundays
275 km | 3 h 15 m
Spend a few days exploring the Whitsundays and Whitehaven Beach.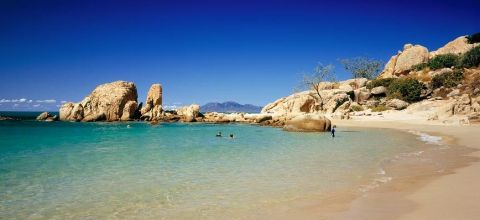 Horseshoe Bay in Bowen. Photo: Horseshoe Bay Resort
Itinerary Airlie Beach to Cairns Drive
Spend a few days exploring the Whitsunday Islands and Whitehaven Beach before embarking on this 6 day Airlie Beach to Cairns drive.
Day 1: Airlie Beach to Townsville
275 km | 3 h 15 m

Day 2: Magnetic Island
No driving
Ferries depart and return every hour
(optional extra day exploring Charters Towers)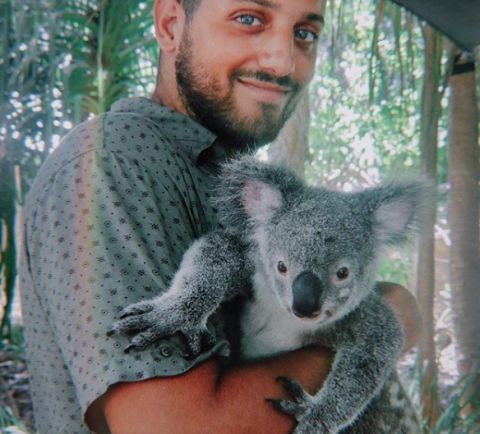 Magnetic Island

Day 3: Paluma Range National Park and Cardwell Spa Pool
225 km | 3.5 hr

Day 4: Hinchinbrook Island (world heritage listed)
70 km | 1 hr
Book boat to island $150 round trip (departs 8.30 am)
(Optional Thorsborne Trail - 4 days. Must pre-book.)

Day 5: Mission Beach and Paronella Park
45 km | 45 min
(optional extra day in Mission Beach)

Day 6: Wooroonooran National Park, Babinda Boulders, Walshs Pyramid, Cairns
175 km | 2.5 hr
(optional extra day)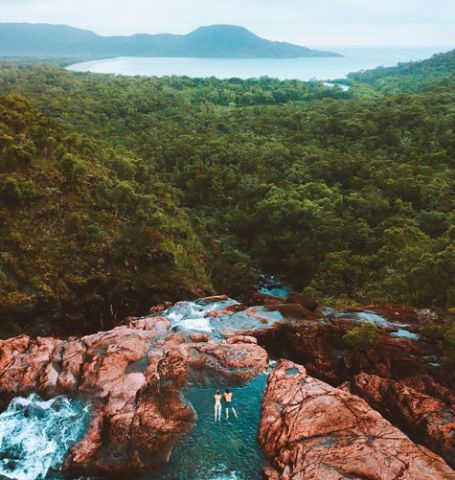 Zoe Falls on Hinchinbrook Island. Photo: reubennutt via Instagram