Coffin Bay
At the tip of the Eyre Peninsula sits two national parks; Coffin Bay National Park and Port Lincoln National Park. We recommend spending a day at each.
Coffin Bay National Park protects a gorgeous coastline of white sand beaches, sheltered coves and massive dune systems.
Wildlife
Drive carefully. Wildlife is abundant and you're likely to see emus, goannas and western grey kangaroos. In winter, watch for southern right whales from the cliffs of Avoid Bay.
There are more than 120 bird species including the threatened hooded plover, the rare white-bellied sea eagle and osprey. Do not approach or interfere with nests – this can cause birds to abandon them.
On the ground you might see skinks, geckos, snakes, bush rats, spiders and scorpions. Oysters live on rocky shorelines, cockle worms live in the sand and the crabs and shellfish live in the sea gardens within rock pools.
Yangie Bay
At the southern end of the park is Yangie Bay which has toilets and a camping ground. It's the perfect spot to kayak, paddle board, picnic or explore one of the five hiking trails that begin from here.
Everything mentioned in the article is mapped at the end.
NATIONAL PARK ENTRY FEES: $10 per vehicle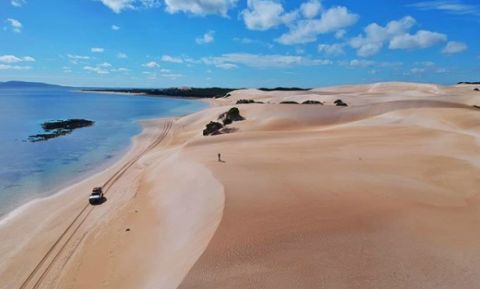 Almonta Beach, Coffin Bay National Park. Photo: patsythepatrol via IG
Coffin Bay National Park Highlights
Drive to Point Avoid and Golden Island and enjoy the stunning island views along the way.

Enjoy 360 degree views from Templetonia Lookout.
Fish on Gunya and Almonta Beach.
Explore the sand dunes of Almonta Beach
Climb to Yangie Bay lookout
Explore the national park on one of the walks from Yangie Bay Camping area.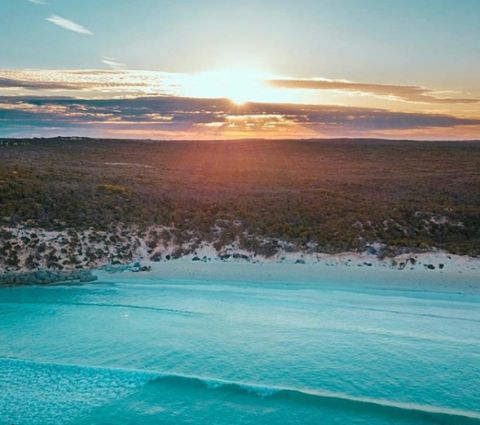 Coffin Bay National Park. Photo: anstagram_sa via IG
Yangie Bay Walks
Yangie Lookout Walk (20 mins, 1km) - A short climb with great views overlooking Yangie Bay and Marble Range. The trail starts from the Yangie Bay camping area.
Yangie Bay Hike (45 mins, 2km) From Yangie Lookout, continue on this trail for fabulous ocean views of Thorny Passage Marine Park and walk through coastal mallee.
Yangie Island Hike (1 hr 30 mins, 5km) From Yangie Lookout, continue on this trail for a close-up view of Yangie Island from the adjoining beach
Long Beach Hike (3 hr 30 mins one way, 10 km) is a demanding walk through sand dunes to the aptly named Long Beach.
Yangie Bay to Long Beach Hike (7 hrs, 20km) This hike is not too challenging but it takes a full day, winding between vegetated dunes to Long Beach.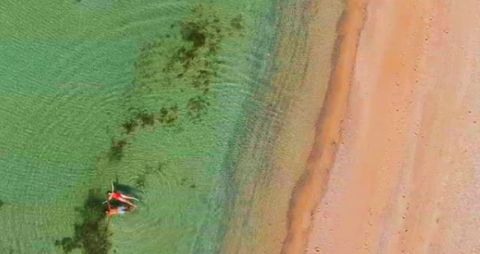 The colours of Coffin Bay National Park. Photo: patsythepatrol2 via IG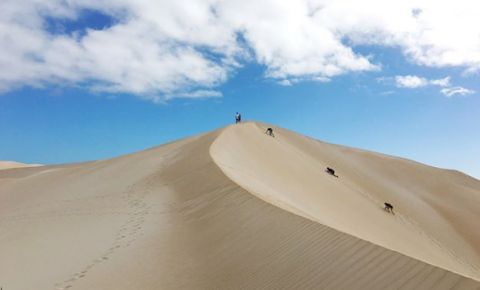 Dunes of Almonta Beach. Photo: lightandcolourstudio via IG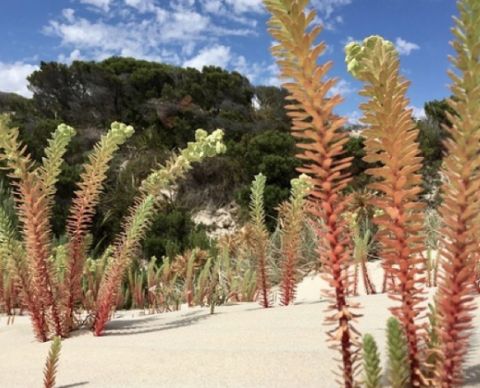 Dune vegetation. Photo: dallasetta via IG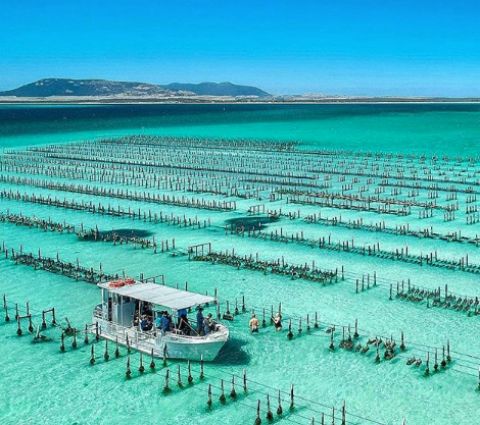 Coffin Bay Oyster Farm. Photo: markfitz via IG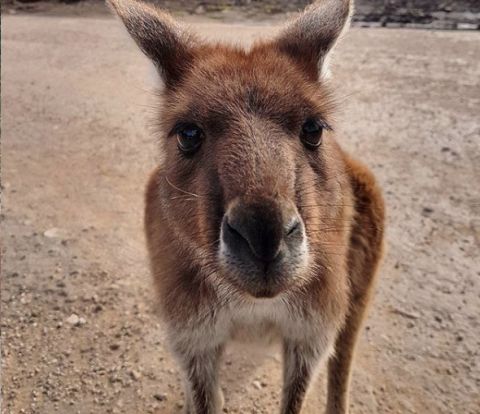 A resident kangaroo in Coffin Bay National Park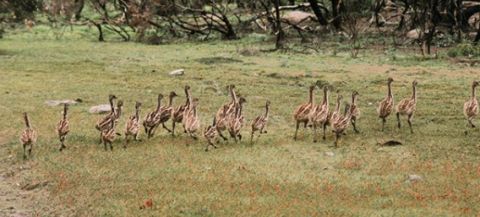 Emu chicks.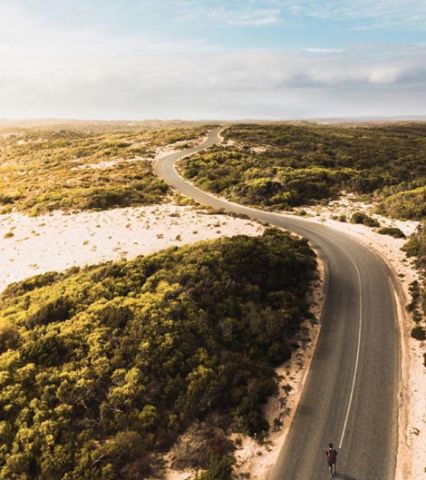 Coffin Bay National Park. Photo: arbn_photog via IG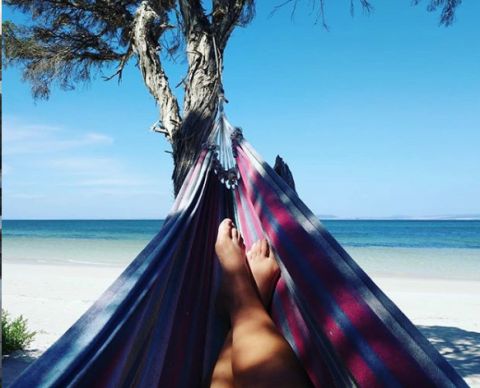 Relaxing. Coffin Bay National Park. Photo: amyclaireeveringham via IG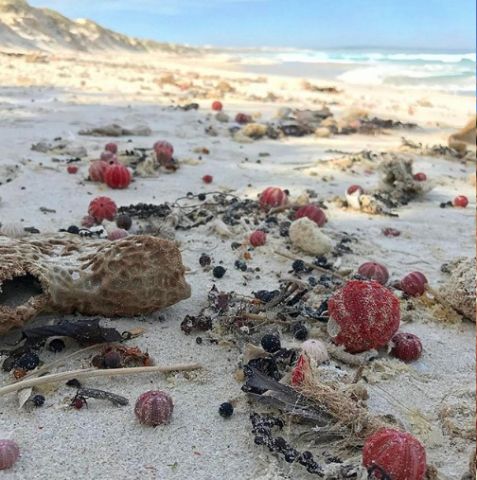 Sea urchins washed up on Almonta Beach. Photo: simbur88 via IG
Coffin Bay Camping
Yangie Bay Camping area is the only campground that can be reached by 2WD. Facilities include toilets, picnic shelters and a kayak launch.
RATES: $12 for up to 8 people.


Coffin Bay Caravan Park is located just across the road from the bay and has a full range of facilities including camp kitchen and sheltered dining area, wall TV, BBQ areas, laundry, showers, toilets, playground.
RATES: $35 for two people. $12 additional adults.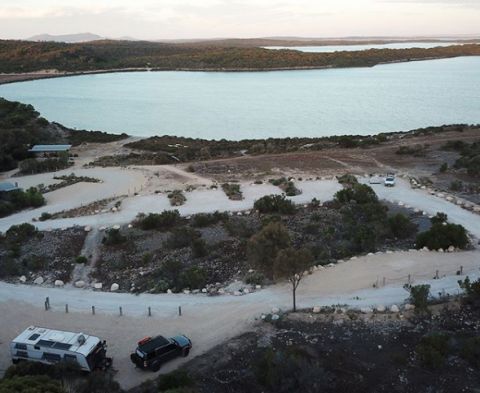 Yangie Bay camping area. Photo: woodsiewanderoz via IG
Map of the Perth to Adelaide Drive
Look for the purple tags to locate the highlights mentioned in this article.
Western Australia Road Trips