Campervan Touring Information
Broome to Perth in 19 days
Distance: 3,200 km | 55 hr
The Broome to Perth drive (or Perth to Broome drive) is part of our Perth to Darwin road trip which includes a 6 day drive through The Kimberley.
The west coast of Australia is also known as the Pilbarra Region and includes the Ningaloo Reef and its peaceful whale sharks, Monkey Mia and the Shark Bay World Heritage Area, The Pinnacles Desert, carpets of wildflowers from July – October, the Dampier Archipelago and Lancelin Sand Dunes.
This can be squeezed into 2 weeks if you leave Karijini National Park, the wildflower loop, and Yanchep National Park. You will want to spend 3 days exploring Perth in addition to the drive.
Scroll down for the Perth to Broome Itinerary.
Broome to Perth Itinerary
Day 1 - 2: Broome
Day 3 - 4: Broome to Port Hedland – 613 km | 7.5 hr
Day 5 - 7 (optional): Karijini National Park – 800 km | 11 hr
Day 8: Dampier Archipelago – 262 km | 3 hr 20 m
Day 9: Dampier to Ningaloo Reef – 555 km | 6-7 hr
Day 10 - 11: Ningaloo | Exmouth | Cape Range National Park to Coral Bay – 300 km | 3 hr 45 m
Day 12: Coral Bay to Shark Bay – – 557 km | 6 h
Day 13: Monkey Mia and the Shark Bay World Heritage Area – No driving
Day 14: Monkey Mia to Kalbarri National Park – 374 km | 4 hr 45 min
Day 15: Geraldton | Abrolhos Islands – 155 km | 2 hr
Day 16 (if Jul - Oct): Wildflower Loop 266 km | 3 hr 20 m
Day 17: Jurien Bay – 196 km | 2.5 hr
Day 18: The Pinnacles Desert | Lake Thetis | Lancelin Sand Dunes – 135 km | 2 hr
Day 19: Yanchep National Park – 96 km | 1 hr 5 m
---
Perth to Broome Itinerary
Day 1 - 2: Yanchep NP | Lancelin Sand Dunes | Pinnacles Desert | Lake Thetis – 227 km | 3 hr
Day 3: Jurien Bay to Geraldton – 224 km | 2.5 hr
Day 4: Geraldton | Abrolhos Islands – No driving
Day 5: (if Jul - Oct) Wildflower Loop – 266 km | 3 hr 20 m
Day 6: Kalbarri National Park – 155 km | 2 hr
Day 7 - 8: Monkey Mia and the Shark Bay World Heritage Area – 374 km | 4 hr 45 min
Day 9: Coral Bay – 557 km | 6 h
Day 10 - 11: Shark Bay World Heritage: Ningaloo | Exmouth | Cape Range National Park – 145 km | 1 h 45 m
Day 12 - 13: Dampier Archipelago – 550 km | 6 hr
Day 14 - 16: (optional) Karijini National Park – 950 km | 13 hr
Day 17 - 19: Port Hedland (optional) and Broome – 613 km | 7.5 hr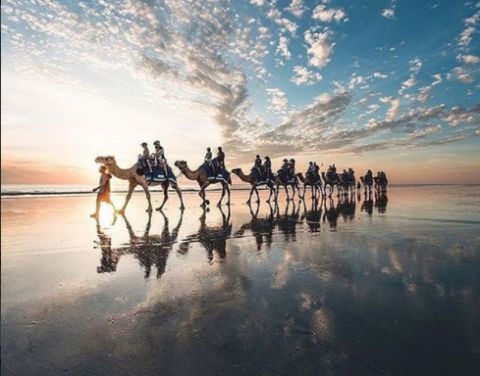 Camel riding on Cable Beach, Broome. Photo: alaiisema via IG
Map of Broome to Perth Drive
Road Trips from Perth