Campervan Touring Information
Coral Bay to Shark Bay
Coral Bay – Carnarvon – Hamelin Pools – Francois Peron National Park
Distance
Coral Bay to Ningaloo - 62 km | 50 m
Coral Bay to Broome - 1,350 km | 13 hr 45 m
Coral Bay to Monkey Mia - 580 km | 6 hr
Coral Bay to Perth - 1,120 km | 11 h 45 m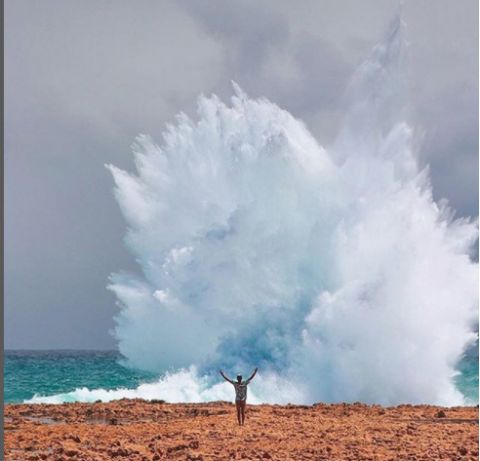 Blowhole, Coral Bay. Photo: summerofseventyfive via IG
Coral Bay
In addition to Exmouth and Cape Range National Park, Coral Bay is another base camp from which to explore Ningaloo Reef and swim with whale sharks and manta rays. There are plenty of tour operators here that will take you out to swim with these gentle giants.
At Ningaloo Kayak Adventures you can kayak, paddleboard, sea scooter and snorkel all for $80 for the day. You are likely to see rays, turtles, tropical fish, harmless reef sharks and dolphins.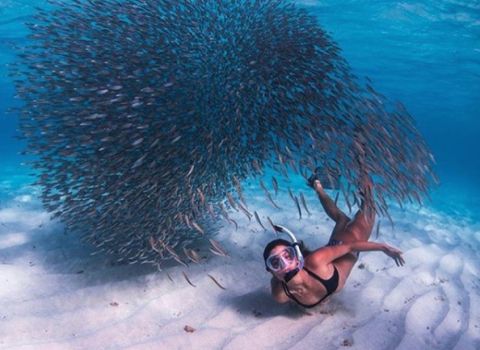 Snorkeling in Coral Bay. Photo: oceancollectivemedia via IG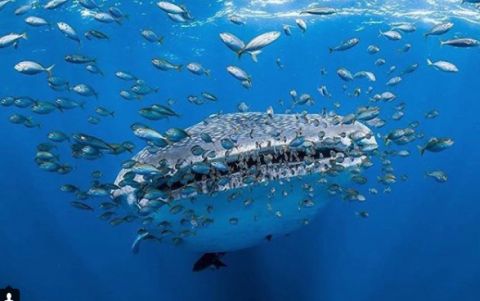 Snorkeling with whale sharks. Photo: jesshaddenphoto via IG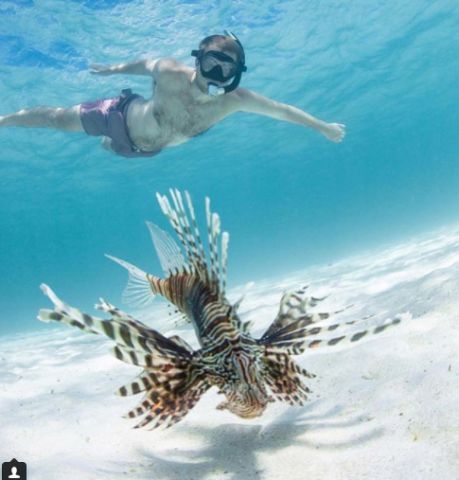 Snorkeling Coral Bay. Lion Fish. Photo: Coral Bay Eco via IG
Manta Rays at Coral Bay. Photo: oceancollectivemedia via IG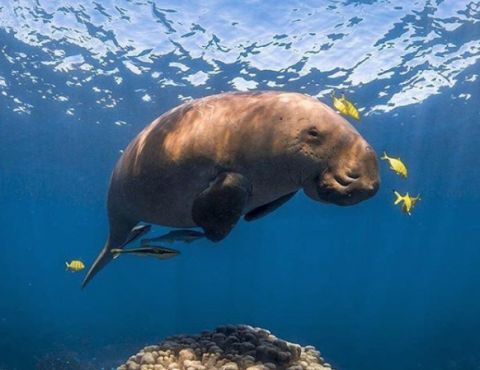 Snorkeling with dugongs at Coral Bay. Photo: oceancollectivemedia via IG
Carnarvon
The pleasant coastal town of Carnarvon sits 238 km (2.5 hr drive) south of Coral Bay. There are better camping options here, supermarkets, coastal blowholes, and excellent Space and Technology Museum, jetties out to sea and fruit orchards.
Things to do in Carnarvon
Carnarvon blowholes along the rocky coast are fun to watch. As the waves roll in, geysers of water shoot up through the holes.
Morel's Orchard is a great place for fresh picked fruit and vegetables and natural fruit ice cream.
The Fascine is a palm-lined path that skirts the bay, great for a stroll and a coffee or glass of wine while watching the sun set.
The One Mile Jetty provides photo opportunities at sunset. There is a café nearby suitable names Sunset Café and a water tower lookout.
Learn about the part Carnarvon played in the space race at the Carnarvon Space the Technology Museum. It consists of two parts; the Carnarvon Tracking Station and the OTC Satellite and Earth Station. RATES: $10 adults. Family, kids and concession rates available.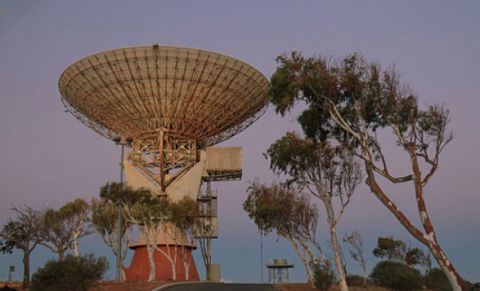 Carnarvon space and technology centre. Photo: jodieannwalters via IG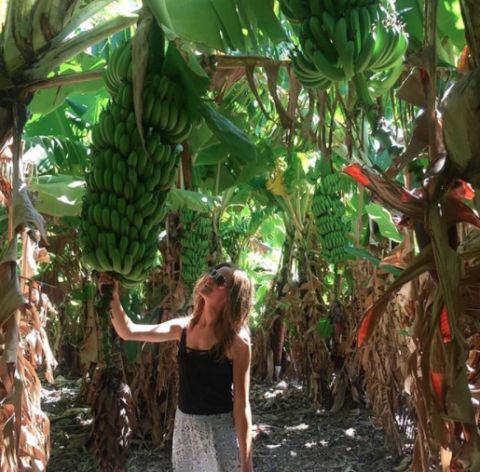 The Carnarvon Fruit Loop. Photo: megangarsideh via IG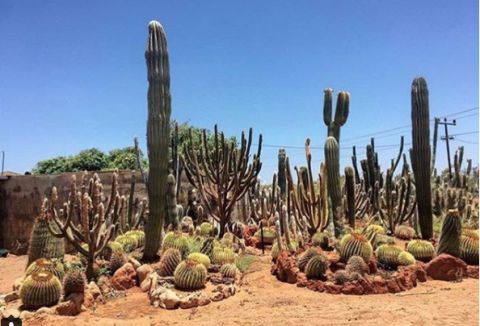 A cactus farm at Carnarvon. Photo: lukewardsb via IF


Carnarvon Caravan Parks and Camping
Capricorn Holiday Park – Capricorn is the first caravan park you'll come to on your way into town. It has year round displays of bougainvillea, a pizza oven, gas BBQs and undercover seating, a communal bar shed and bowling green for socializing, camp kitchen, swimming pool, hot showers, dump point and shady trees.
RATES: $37 for two. $10 additional adults.


Wintersun Caravan and Tourist Park – On the way into to town just before Morel's Orchard, Wintersun has grassed sites and shady trees. Facilities include free WiFi, hot showers, laundry, camp kitchen, dump point, car washing facility, swimming pool, playground, games room and a bowling green.
RATES: $43 for two. $8 additional adults.


Coral Coast Tourist Park – Located in town with grassy shady sites, Coral Coast has free WiFi, BBQs, camp kitchen, after hours check in, laundry, swimming pool, games room, playground, bike hire, tennis courts and hot showers.
RATES: $39 - $43 for two people. $10 additional adults.


Outback Oasis Caravan Park – Located in town, Outback Oasis has grassy sites. Facilities include free WiFi, swimming pool, dump point, trampoline, billiards, book exchange, table tennis, fresh seasonal vegetables, darts, laundry, camp kitchen
RATES: $36 - $40 for two people. $10 additional adults.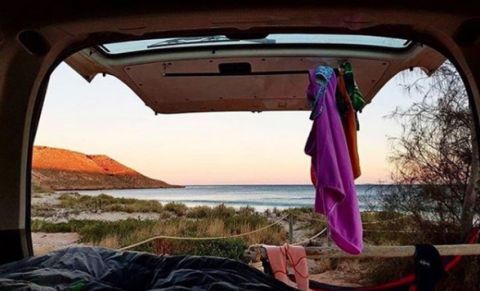 The Bluff, Quobba Station, north of Carnarvon. Photo: emmilio via IG

Hamelin Pool Stromatolites
Have you ever wondered what Earth looked like 3.7 billion years ago? Hamelin Pool will give you an indication. It is home to the oldest and largest living fossils on earth and is the best example of its kind in the world.
You'll pass its turn off on your way to the Shark Bay World Heritage Site and you can view these amazing life forms without causing damage by walking on a purpose-built jetty and looking down at the Hamelin Pool stromatolites below.
Francois Peron National Park and its coastal camping sites is just a 116 km (1 h 20 min) drive away and they're listed in our next article – Monkey Mia and Shark Bay World Heritage Area.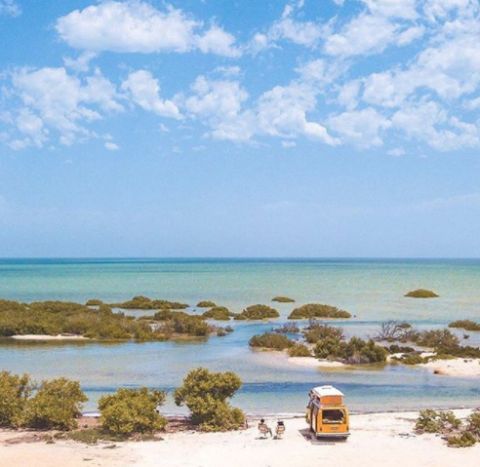 New beach, Bush Bay. Photo: summerofseventyfive via IG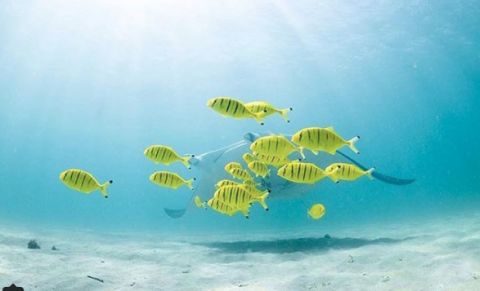 Ningaloo Marine Interactions will take you to the reef.

Map of the Broome to Perth Drive