Campervan Touring Information
Monkey Mia and Shark Bay World Heritage Area
Distance
Monkey Mia to Coral Bay - 580 km | 6 hr
Monkey Mia to Kalbarri - 400 km | 4.5 hr
Monkey Mia to Carnarvon - 352 km | 4 hr
Monkey Mia to Broome - 1800 km | 18.5 hr
Monkey Mia to Perth - 845 km | 9 hr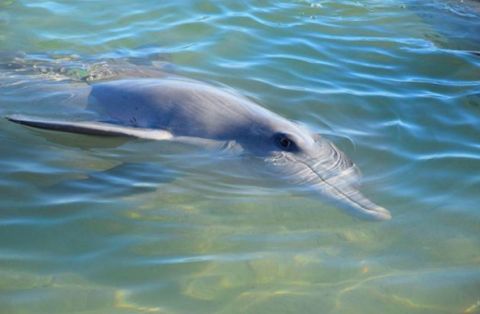 Dolphin saying hi at Monkey Mia. Photo: emsheitz via IG
Gladstone Scenic lookout
After leaving Carnarvon and traveling south, you'll come to the Gladstone Scenic Lookout. It has become a graveyard for garden gnomes that people have taken with them on their travels. People get fed up with them and retire them here along with memorials hand written onto rocks. If you like wide open spaces, you'll get that here. It is an expanse of sky and barren plains.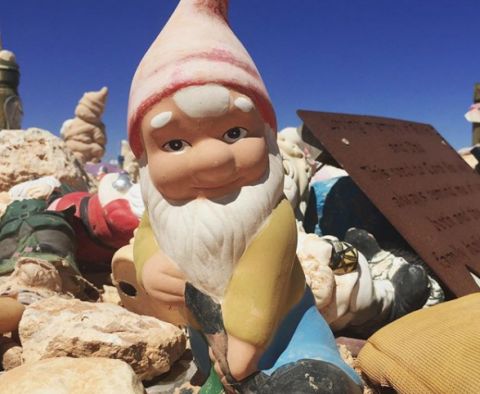 Gladstone scenic lookout. Photo: goodgalnini_ via IG
Shark Bay World Heritage
Shark Bay, Australia's most westerly point, was given UNESCO world heritage status for several reasons; it has the largest sea-grass beds in the world (4,800 km2), the world's largest dugong population, and it has the best example of stromatolites in the world. It is also home to five species of endangered mammals – the Burrowing Bettong, Rufous Hare Wallaby, Banded Hare Wallaby, the Shark Bay Mouse and the Western Barred Bandicoot.
The sheltered bays and sea-grass beds attract Green Turtle, Loggerhead Turtle (who use it as a nesting ground), Humpback Whale, Southern Right Whale, Bottlenose Dolphins, sharks and Manta Rays.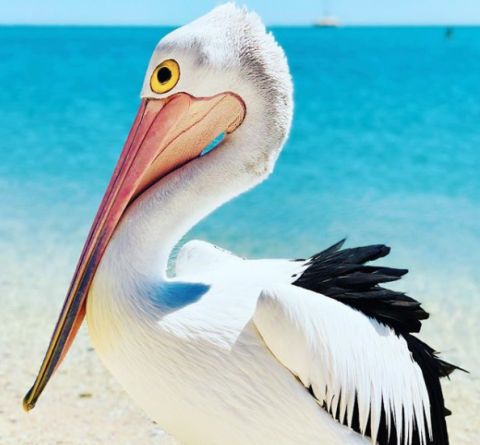 A pelican at Monkey Mia. Photo: stnkmp via IG
Hamelin Pool Stromatolites
Have you ever wondered what Earth looked like 3.7 billion years ago? Hamelin Pool will give you an indication. It is home to the oldest and largest living fossils on earth and is the best example of its kind in the world.
You'll pass its turn off on your way to the Shark Bay and you can view these hard, dome-shaped life forms without causing damage by walking on a purpose-built jetty and looking down at the Hamelin Pool stromatolites below.
Shark Bay and the town of Denham is just a 108 km (1 h 10 min) drive away.

Stromatolites. Photo: wherearepanda via IG
Denham
Denham is the only town in the Shark Bay World Heritage area and the best place to base yourself.
Things to do in Denham
Little Lagoon is a crystal clear lagoon of shallow water off Monkey Mia Road just north of Denham. It is rich in birdlife, including emu and is within walking distance of Denham.
Ocean Park Aquarium - Watch sharks feeding from the safety of an observation deck, tour the park with a marine scientist, or enjoy the ocean views from the café. You can also book full day 4wd tours and dives with Ocean Park Aquarium from $175.
PARK ENTRY: $18 - $25
Wula Guda Nyinda Eco Adventures - Take a guided Kayak and Wildlife tour, a 4wd Eco Adventure, a guided bush walk or a Stand Up Paddleboard (SUP) Tour. Connect with nature and learn about the local Aboriginal culture and the history of the Shark Bay area.
RATES: Full day tours: $199 adults $150 kids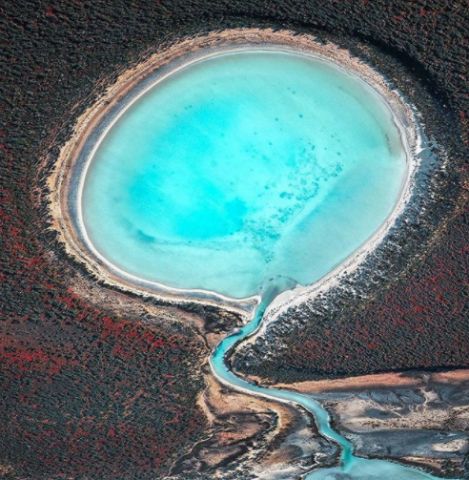 Blue Lagoon of Eagle Bluff Road. Photo: scottjonphotography via IG
Monkey Mia
Monkey Mia is famous for its wild dolphins but you might also see dugongs, sharks, rays, turtles and a variety of fish in the water, as well as emu and pelicans. The dolphin experience is a controlled situation. You gather on the beach and are invited one at a time by the volunteers to come forward and feed the dolphins.
Walk the Wulyibidi Yaninyina trail (a 1.5 km loop) through sand dunes and along beaches to learn the areas natural and cultural history. The local birds here are most active at sunrise and sunset.
RATES: $12 adults $4.50 kids.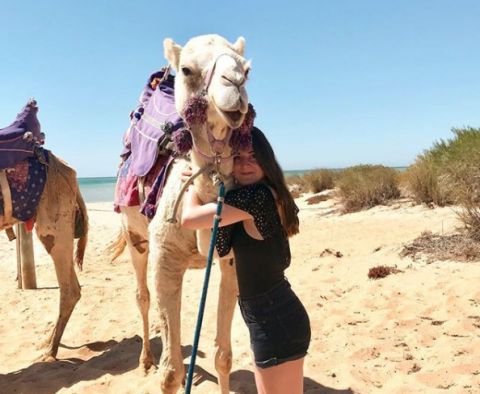 Camels at Shark Bay. Photo: alerdzcabrral via IG
South Peron and the World Heritage Drive
The peninsula south of Denham is accessible by two wheel drive vehicles and is flanked by Hamelin Pool to the east and Henri Freycinet Harbor to the west. It is a landscape of red sand dunes and shrubs.
Shell Beach is a beach made up entirely of small white cockle shells. Clear blue water laps at the shore creating a wonderful tinkling sound. The water is twice as salty here so you will float easily on your back. Due to the high salinity there is no other marine life apart from the shells.
Eagle Bluff lookout is a raised boardwalk over the water where you can view dugongs, sharks, turtles, rays and fish cruise the shallow waters. The area is also home to osprey and sea eagles. The shallow waters are great for snorkeling.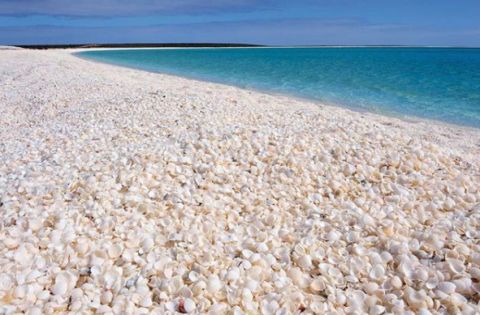 Shell Beach, South Peron. Photo: picsacrosstheworld via IG
Camping Shark Bay Area
Free Camping in Shark Bay
If you have a campervan with a toilet, you can make use of the free informal campgrounds of Shark Bay. They have no facilities, no toilets and no drinking water, but they are on the beach. There are four of them all on the west side of the peninsula and south of Denham:
Eagle Bluff
Goulet Bluff
Whalebone
Fowlers Bay
Get a map and register at the Shark Bay Visitor Centre in Denham.
Denham Seaside Tourist Village - This campground is right on the beach with trees and shrubs to provide some privacy. It is within walking distance of everything in Denham and there is a supermarket across the street. Facilities include a camp kitchen, free gas BBQs, toilets, showers, laundry, drinking water, dump points, fish cleaning station, book swap, ice and gas refills.
RATES: $41 - $47 for two. Additional people $10.
Free Camping between Denham and Kalbarri
Galena Bridge Rest Area on highway 1 between Shark Bay and Kalbarri has toilets, showers, BBQs, fireplaces and creekwate. Look for the blue sign showing facilities and "24 hour stopping". It is an hour drive to Kalbarri.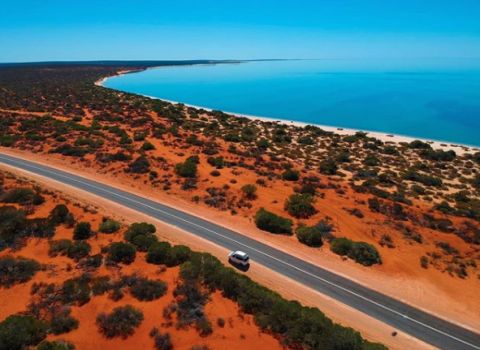 Shark Bay World Heritage Area. Amazing colors! Photo: bquint0s via IG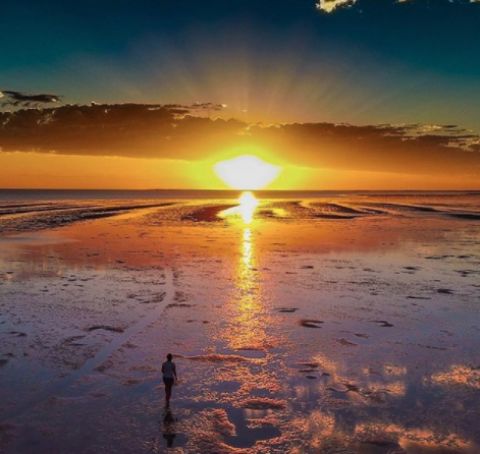 Harold bite at sunrise. Shark Bay. Photo: jm_adventureswa via IG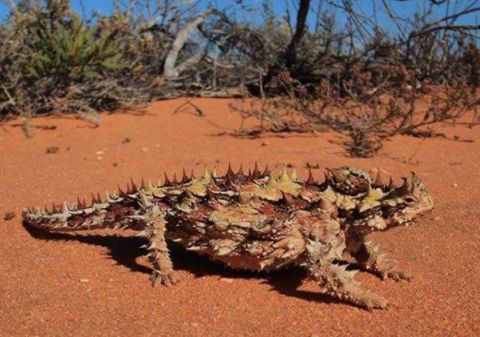 Thorny Devil lizard. photo: enter_the_wild via IG
Map of the Broome to Perth Drive
Western Australia Road Trips