Campervan Touring Information
Port Hedland, Western Australia
Distance
Port Hedland to Broome - 630 km | 7.5 hr
Port Hedland to Perth - 2,140 km | 22.5 hr
Port Hedland to Karijini National Park - 335 km | 4 h
Port Hedland to Dampier - 254 km | 2 h 45 m
Follow the Great Northern Highway along the coast and you'll have the Indian Ocean on one side and the edge of the Great Sandy Desert on the other.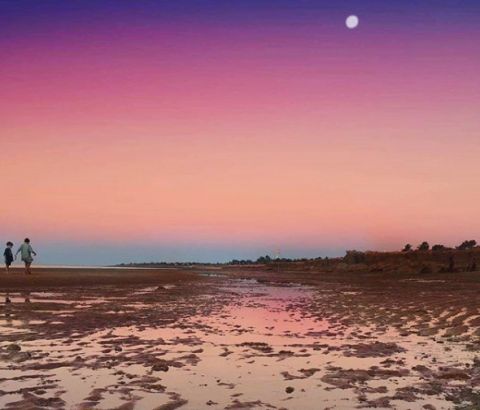 Port Hedland sunsets, Western Australia. Photo: saltwater_healing via IG
Campervan Camping between Broome and Port Hedland
You can break this journey in half by driving 375 km (4 hr) from Broome to Eighty Mile Beach Caravan Park, a lovely spot to rest and enjoy the sunset over the long stretch of beach, gather shells, swim, and recuperate. The remaining journey to Port Hedland is 250 km (3 hrs).
RATES: $35 for two people. $10 additional adults. Kids half price. (If you're travelling in a group, Discovery Holiday Parks in Port Hedland charges $38 for up to 6 people.)
Free Camping between Broome and Port Hedland: If you're on a budget and can do without a shower for the night, there are three 24 hour rest areas between Broome and Port Hedland.
Port Hedland
If you keep driving to Port Hedland, you'll find an attractive red-soil town of tree-lined streets with a working port. There is a visitor centre, a museum, Seafarers Centre, cafes, parks, a yacht club with a nice restaurant (non-members welcome), supermarkets, a turtle monitoring area and a lookout. It's a nice stop off point on your way to Dampier and Karatha (240 km further along the coast) or Kirijini National Park (400 km inland).

Port Hedland after the rain. Photo aaromchhuaphotography via IG
Things to do in Port Hedland
Seafarers Tours

will take you on a tour of the harbor or the port facility. Wear closed in shoes and

check tour times

. ($55 adults, $30 children).

Cemetery Beach Park

is on red cliffs overlooking the ocean. It has a safe enclosed playground, grass, shady trees, picnic tables, gas BBQs, clean toilets, sculptures, and a lookout with interpretive boards. It is a great place to picnic and enjoy turtle spotting and watching the sun set.

The Cemetery Beach Turtle Monitoring Area

is an excellent place to see hatchling turtles from October through March.

Pretty Pool Park

has grass, shady trees, BBQs and a lovely view across the waterways.

Dalgety House Museum

in the centre of town gives insights into the impact of white settlement on the Kariyarra Aboriginal people of the Pilbara through recordings of personal memoirs, photographs, artifacts and audio visual displays.

Port Hedland Courthouse Gallery

has changing exhibitions of local and Aboriginal art.

Spinifex

is another local art gallery worth a visit.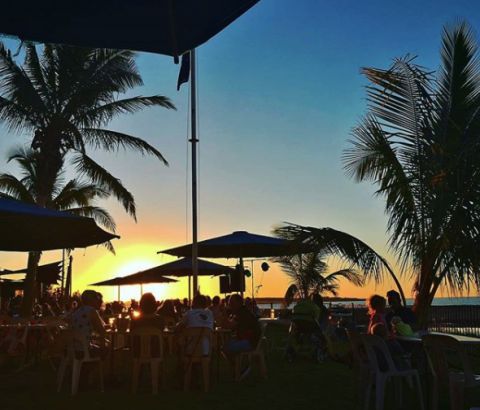 Port Hedland Yacht Club


The colours of Port Hedland Photo: arussell74 via IG


Port Hedland sunsets. Photo: TheEnchantedLife via IG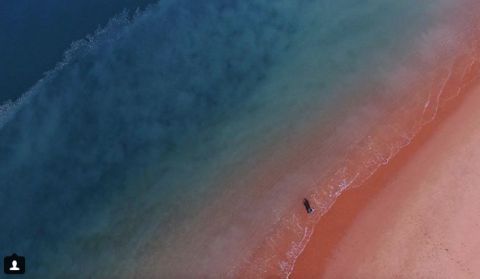 The colours of Port Hedland. Photo: ShaffyAbdin via IG
Campervan Camping Port Hedland
There is a Discovery Parks tourist park at the outskirts of town. It is right on the beach but the sites are a little small.
Free Camping Port Hedland: There are also Welcome Rest Areas where you can stay for free.
Map of the Broome to Perth Drive
Do you have any questions or need additional information?
Toll Free Numbers
Australia (Free):
1800 216 223
Europe (Free):
0800 888 222 88 (land line only)
Email:
sales@campermanaustralia.com
Main Office in Cairns
Mon - Fri:
8:00 a.m. - 5:00 p.m.
Sat:
8:00 a.m. - 12:00 p.m. (Closed for Pickups)
ScrollUp