Campervan Touring Information
Karijini National Park
Distance
Karijini to Port Hedland - 400 km | 4.5 hr (each way)
Karijini to Broome - 936 km | 10 hr
Karijini to Perth - 1400 km | 15 hr (inland route)
Karijini National Park is an oasis in the desert which lies to the east of Port Hedland. Its red rock formations dating back two billion years, tree-lined rivers and magical swimming holes draw people to it in spite of its distance from the coast. You will need to retrace your journey back almost to Port Hedland to continue your road trip south to Perth.
The best time to visit Kirijini National Park is in late autumn, winter and early spring (April to October). The Karijini Eco Retreat, near the Weano Day Use Area can give you maps and a list of the best places to visit upon arrival.

There are two rest areas on the way where you can stop for lunch or a nap:
Karjini Rd/Great Northern Highway rest area is 57 km (55 mins) from Dales Gorge Campground
Bea Bea rest area is 127 km from Dales Gorge Campground on the Great Northern Highway.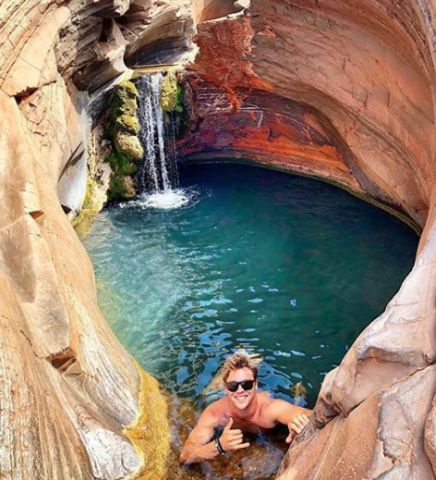 Karijini National Park. Photo: linc_lewis via IG
The attractions in Karinini National Park are clustered around two main camping areas which are 45 km (1 h 45 m) apart.
Weano Day Use Area
This area gives access to:

Hancock Gorge
Weano Gorge and the Handrail Pool (1.5 hrs)
Kermit Pool
Joffree Gorge (2 hrs)
CAMPING
Stay at the Karijini Eco Retreat on this night (open April - October). Facilities include flush toilets, hot showers, BBQs, camp kitchen, bar and restaurant, kiosk and souvenir shop.
RATES: $20/adult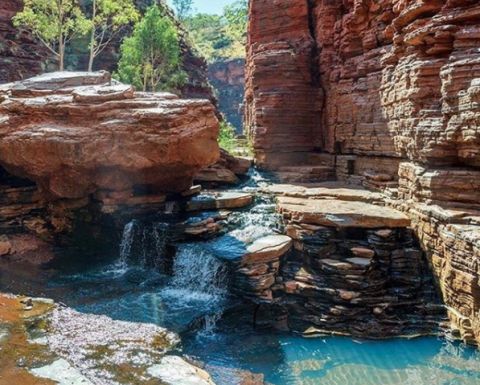 Karijini National Park. Photo: alex.vp.photography via IG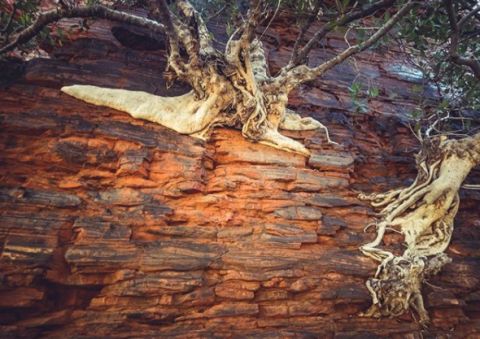 Photo: coehnboomkamp via IG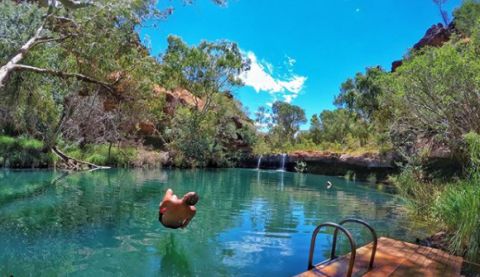 Photo: dustin_be via IG

The Dales Gorge Campground
This area gives access to:

Dales Gorge Lookout and Rim Walk (1.5 hrs) or Gorge Walk (3 hrs)
Fortescue Falls and the Fern Pool (1 hr)
Circular Pool
CAMPING
Stay at Dales Gorge Campground on this night. N
o showers, but it does have gas BBQs, picnic tables and bush toilets.

RATES: $11 per adult, $7 concession, $3 per child.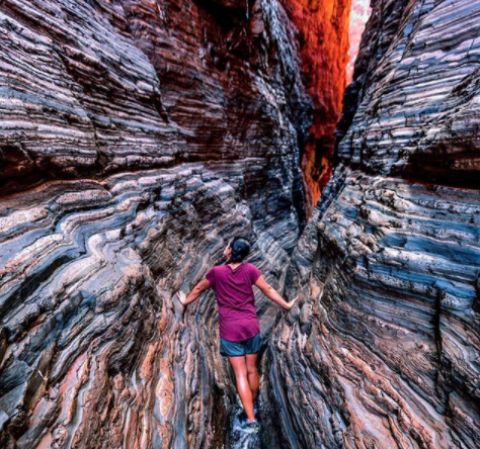 Photo: raoul79 via IG
Map of the Broome to Perth Drive
Western Australia Road Trips