Walpole and Denmark, WA
Drive time: 3 h 10 m | 229 km
Add 70 km and 1 hr if you detour to Mount Chudalup and Point D'Entrecasteaux
The drive times are estimated from Leaning Marri Campground near Yeagerup Dunes. As you head east towards Denmark, which is a good place to spend the night, there are some wonderful places to explore. We've listed the best campgrounds at the end of the article, including a free one.
STOP 1:
Mount Chudalup and Point D'Entrecasteaux
Mount Chudalup is a 187 m high granite outcrop on an isolated hill in the middle of an otherwise flat heath plain. Climb to the top and enjoy 360 degree views of the surrounding forest, heathlands, coast and the Yeagarup Dunes. The Summit Walk Trail leaves the picnic shelter at the carpark and leads up through karri and marri forest which gives way to heathland shrubs. Once you reach the granite section you'll see a diverse ecosystem of moss and lichens.
Distance: 2km return. Time: 1 hour.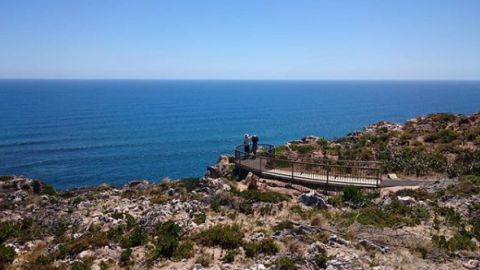 Point D'Entrecasteaux. Photo: nywat_ via IG
Another 15 mins drive south and you reach Point D'Entrecasteaux a wild and rugged coastline. Take an exciting walk along the cliff tops, be buffeted by the winds, and look down at the churning Southern Ocean. .
Clifftop Walk Distance: 1.3km one way. Time: Allow 1 hour.
Coastal Survivors Walk Distance: 2.8km one way. Time: Allow 2 hours.
STOP 2: Giant Tingle Tree
In Walpole Nornalup National Park you will find this huge fire-hollowed red tingle tree. On the way there, on the one way circuit road, stop to enjoy the lookout over Nornalup Inlet and the Southern Ocean. The car park for the Giant Tingle Tree is 3 km after the lookout. Tingles are the largest girthed eucalypt known in the world. Access is via a wooden boardwalk.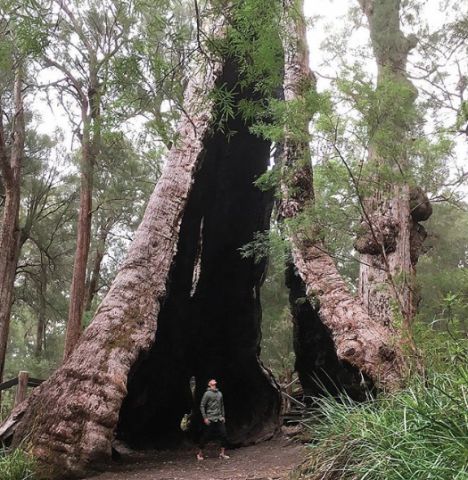 Giant Tingle Tree. Photo: joecampbellworld via IG
STOP 3: Valley of the Giants
The Valley of the Giants refers to a forest of 400 year old Tingle trees in the Walpole Wilderness. Tingle trees are endemic to this area. A walk trail links the Tree Top Walk (see below) to the Ancient Empire, where a sealed trail meanders across the forest floor between the 400 year old red tingle trees. Interpretative information along the trail follows the story of the lost era of Gondwana. You could also take a free guided tour.
The Valley of the Giants Tree Top Walk is a series of walkways 40 metres above the ground in the forest canopy.
Distance: 600 m.
Entry to the Tree Top Walk: $21 (adults)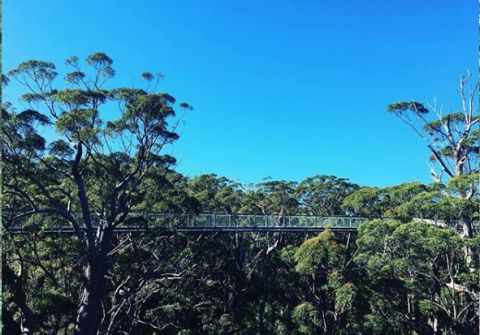 Valley of the Giants. Photo: maai_ke via IG
STOP 4: Greens Pool - William Bay National Park
Back on Highway 1, before you reach Denmark, take William Bay Road down to the coast and William Bay National Park.
Enjoy a swim in Greens Pool

, a picturesque and sheltered cove surrounded by granite boulders. The clear water make it an excellent place to snorkel and there are plenty of fish to see.

Elephant Rocks

is a granite rock formation that looks like a heard of elephants. The stairs from here lead down to

Elephant

Cove

, another pretty cove but not safe for swimming due to wave surges and a rip.

Madfish Beach is a secluded little beach surrounded by rock formations. Climb them for views over Wilson Head and the Denmark Community Windfarm. An island close to shore causes the waves to roll into the beach from two directions, colliding in the middle. At low tide you can walk out tot he island but be careful of snakes.
The waterfall at Waterfall Beach is at its best in winter when water courses across the heathland and pours over the weathered rocks and across the beach. Kids enjoy splashing about in the clear water. Waterfall Beach is sheltered with bright turquoise water.
Tower Hill is reached by the Bibbulmun Track and will give you great views. You'll see the trail crossing the main road before you reach Greens Pool. It's a strenuous climb and can take several hours. If you don't have time, save yourself for Monkey Rock (see below).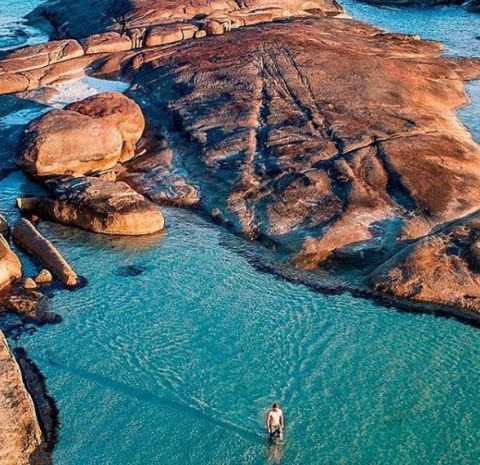 Greens Pool, Denmark. Photo: aiyanaretreat via IG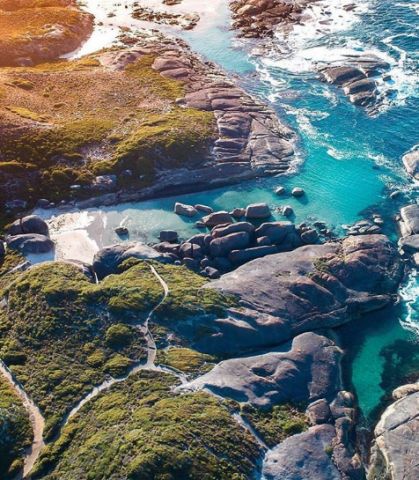 Elephant Cove, Denmark. Photo: wonderlust.perth via IG
STOP 5: Monkey Rock
Before you reach Denmark, turn onto Lights Rd and climb Monkey Rock for spectacular views over Lights Beach and Denmark. The walk up will only take 30 minutes or less. The trail head (part of the Bibbulmun Track) and car park is sign posted on your right as you head towards Lights Beach.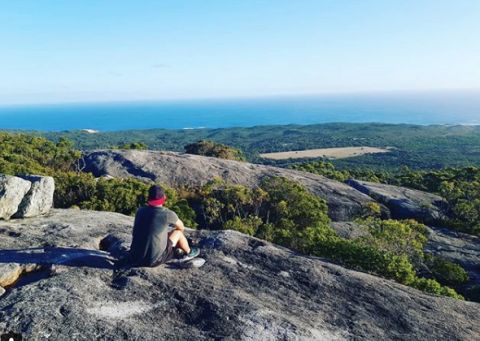 Monkey Rock, Denmark. Photo: gareth3howells via IG
STOP 6: Ocean Beach
Just south of Denmark is Ocean Beach.
Ocean Beach look-out is well signposted and gives you views over the beach, the surf and the inlet.
Beach access is just after the lookout at the Surf Lifesaving Club. You can take surf lessons here. The waves are consistent here - not too big, not too small, but just the right size to be fun. Swim between the flags.
On Wilson's Head you can drive to Lions Lookout, McGeary's Rock and Sinker Bay for ocean views.
Denmark Camping and Caravan Parks
Denmark Rivermouth Caravan Park is in the town of Denmark. It has a a Campkitchen, BBQ, coin operated laundry, and playground.
RATES: From $33 for two. Additional adults $13.

Denmark Ocean Beach Caravan Park is part of the BIG 4 chain and is a short walk to the beach. Facilities include WiFi, jumping pillow, playground, karts, camp kitchen, BBQ area, laundry, tennis courts, store and gas.
RATES: From $30 for two (unpowered). Additional adults $10.

Parry Beach Campsite is west of Denmark. Facilities include toilets, showers and a camp kitchen. There are no bookings so get there early in high season.
RATES: From $17 for two. Additional adults $8.50.

Cozy Corner Campground is east of Denmark. This campsite has no running water, but it does have pit toilets. It has 10 sites amongst the trees and shrubs in a natural bush setting by the beach.
FREE.
Map of Walpole and Denmark
Look for the yellow tags to locate the highlights mentioned in this article.