Esperance
Things to do, caravan parks and camping in and around Esperance.
Drive time: 2 h 15 m | 200 km from Four Mile Beach campground
Everything mentioned in the article is mapped at the end.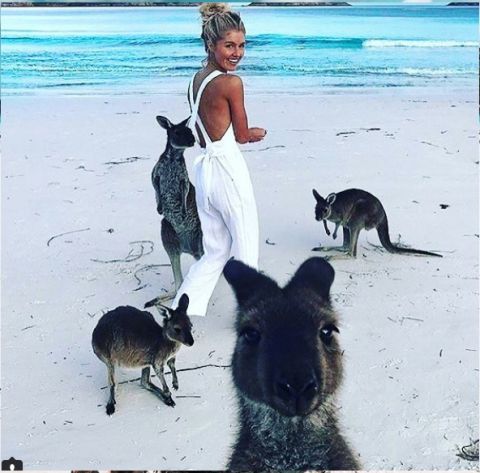 Lucky Bay's kangaroos and wallabies. Photo: esperancetravel via IG
Things to do in
Esperance
The Esperance waterfront

has picnic areas, BBQs, shade shelters with ocean views, landscaped lawns, beach access and an iconic Esperance Whale Tail Sculpture.

The Esperance Tanker Jetty

hosts a range of food vendors.

Hike the Frenchman Peak trail in Cape Le Grand National Park for stunning views. Frenchman is one of three granite peaks. Caves and tunnels found in the peaks are thought to have formed by wave action 40 million years ago. The Aboriginal name for the peak was Mandooboornup.
It's a 3 km trek to the summit and back. Allow 2 hours.
Lucky Bay is a must see. It's a protected bay with white sand and clear water great for swimming and you'll meet the friendly resident kangaroos. There is also a camping ground here. (see below)
From July to November the wildflowers

are in bloom. You can enjoy them on the driving trails and walks throughout the Cape Le Grand National Park. Drop in to the Visitor Centre on the Esplanade to grab a map.

Esperance Museum

gives you a glimpse into the history of Esperance. Admission $8 adults.

Rotary Lookout

is the place for views. There are also a loop trail from here that will take you down to Lovers Cove. Other good lookouts include Observatory Point and Eleven Mile Lagoon.

Beaches

with white sand and turquoise waters abound in Esperance. Good ones include Firsties Beach, West Beach, Blue Haven Beach, Lovers Cove, Salmon Beach and Twilight Cove.

Drop in to Lucky Bay Brewing

to sample some craft beer.

Esperance Stonehenge

is a life-sized replica of the original stone henge in the UK as it would have looked 5000 years ago when it was first built. Its stones align with the summer and winter solstices in Esperance.

ADMISSION: $10/adult
We did not include the pink lake because it is no longer pink, and people going there expecting it to be pink are disappointed. It is still a pretty lake in our opinion. Keep reading for great camping options.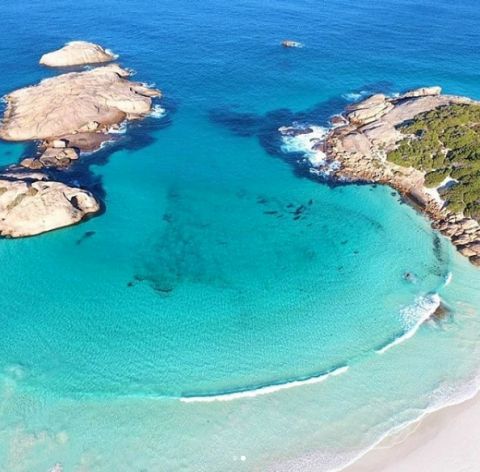 Twilight Beach, Esperance. Photo: Colin.Robertson.547 via IG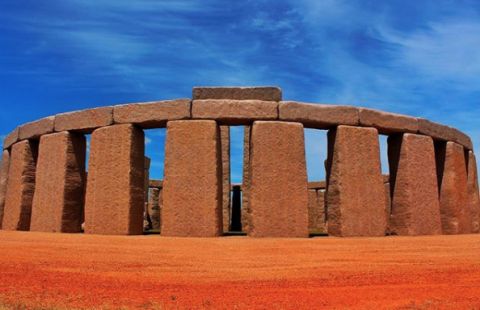 Esperance Stonehenge. Photo: pictitious via IG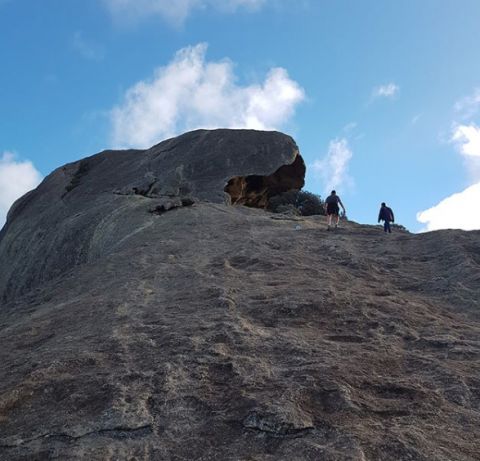 Frenchman Peak hike. Photo: aread007 via IG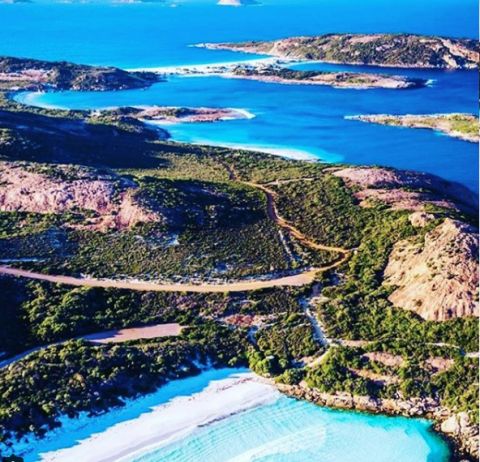 Esperance Western Australia. Photo: from.miles.away via IG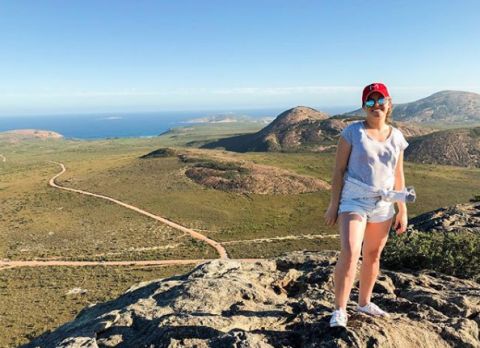 Frenchman Peak hike. Photo: jeckalouise via IG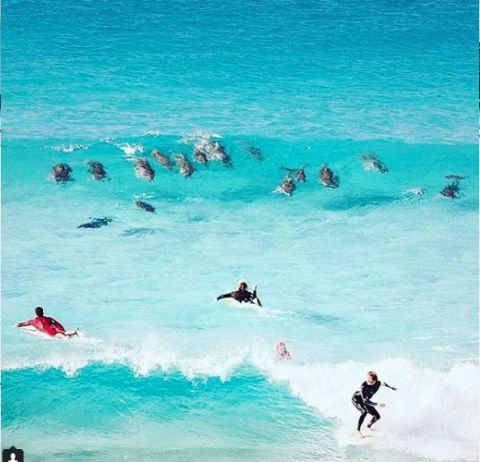 Surfing with dolphins. Photo: jordan cantelo via IG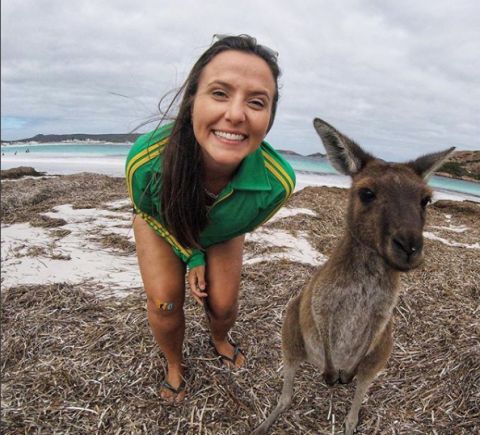 Lucky Bay in the Cape Le Grand National Park. Photo: ingridfgf via IG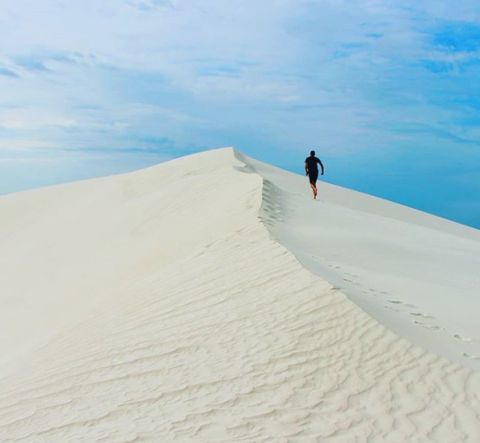 Sand dunes near Esperance. Photo: marvinstpht via IG
Esperance Camping Grounds
Munglingup Beach Camping Ground is about 140 km west of Esperance and is accessible by campervans. A reef provides a protected swimming lagoon. The inlet is rich with bird life. Facilities include composting toilets.
RATES: $15/site


Quagi Beach Camping ground is 70 km to the west of Esperance on a sheltered beach surrounded by natural bushland. It is campervan accessible. Facilities include composting toilets, sheltered picnic areas and rubbish bins.
RATES: $15 per site.


Cape Le Grand Beach Camping ground in the Cape Le Grand National Park is on the beach, which is suitable for diving, snorkeling and swimming. Facilities include pit toilets, solar heated showers and a camp kitchen. It is campervan accessible and no bookings are required.
RATES: $11 adults, $7 concession $3 kids.

Lucky Bay Camping ground in the Cape Le Grand National Park is on beautiful Lucky Bay, another good swimming, snorkeling and diving beach. Facilities include BBQs and toilets. There are no bookings.
RATES: $11 adults, $7 concession $3 kids.
Esperance Caravan Parks
Bathers Paradise Caravan Park has grassy shaded sites suitable for campervans. It is by the beach and within walking distance (3.5 km) from the town center. Facilities include camp kitchen, laundry, playground, gas BBQs, toilets and showers, tourist information.
RATES: $37 - $43 for 2 adults. $10 additional guests.


Munglingup Beach Holiday Park is 3 km north of the beach on a river and uses 100% renewable energy. Facilities include gas BBQs, camp kitchen, toilets and showers. Munglingup is about 140 km west of Esperance.
RATES: $40 for 2 adults and 2 children. Additional guests $5.
Map of the Perth to Adelaide Drive
Look for the purple tags to locate the highlights mentioned in this article.