Distances
From Mataranka: 108 km | 1 h 15 m
From Darwin: 317 km | 3 h 40 m From Alice Springs: 1,180 km | 13 hr
Things to do in Katherine
Katherine is considered a big town in this part of the world. It makes a good base from which to explore Nitmiluk National Park (Katherine Gorge and Edith Falls), although Nitmiluk has some great camping options for campervans as well. But Katherine has some attractions of its own – Aboriginal art and culture, hot springs and outback experiences.
Visitor Information Centre – drop in and get a feel for what's happening in Katherine during your stay.
FREE


Katherine Hot Springs and Low Level Nature Park – A warm spring fed river set amid palms and tropical forest. A great way to relax.
FREE


At Jurassic Cycad Gardens you can walk through a maze of incredible looking cycads (over 200 species), boababs, rock figs, ferns and cacti. The café here is a nice place to relax over coffee or a meal. Cycads are an ancient species of trees from the prehistoric Jurassic era.
ENTRY: $10


Katherine Gorge requires a full day if you wish to hike to the key highlights or canoe through the gorge. I'd do both!
FREE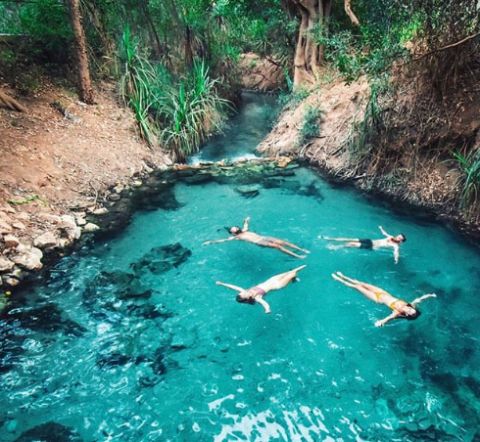 Katherine Hot Springs. Photo: powershala via IG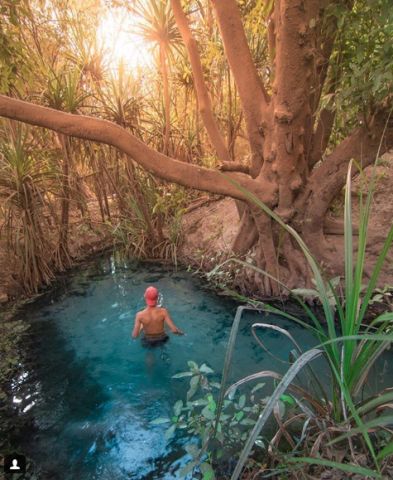 Katherine hot springs. Photo: mitch.toft via IG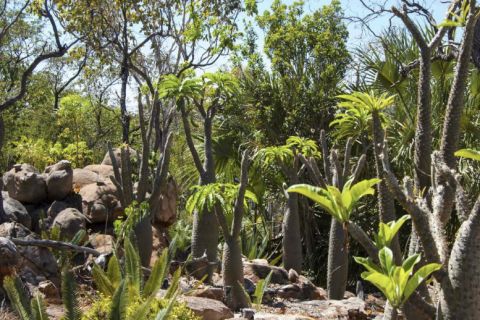 Jurassic Cycad Gardens. Photo: Tripadvisor.
Aboriginal Art and Culture
Mimi Aboriginal Art and Craft is an Aboriginal owned and operated not-for-profit art centre. More than fifty per cent of sales are returned to the artists with the remaining used to run the art centre and provide customers with an ethical way to buy Indigenous artwork. Drop in and you might see the artists at work.
FREE


At Top Didj Cultural Centre you can experience Aboriginal culture through a two hour guided tour and performance. It's very hands on. You'll learn to make fire, paint your own painting Aboriginal style, throw a spear, pet wallabies, and ask as many questions as you like. Top Didj Cultural Centre is also home to the Katherine Art Gallery.
TOUR RATES: $75


Godinymayin Yiyard Rivers Art and Culture has changing exhibitions of regional art and regular cultural events.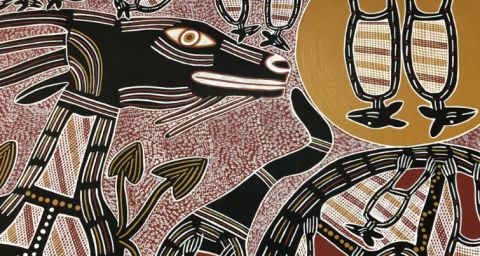 Mimi Aboriginal Art exhisitions
Cutta Cutta Caves Natural Park
Between Mataranka and Katherine stop off at Cutta Cutta Caves Natural Park to tour these limestone caves. Tours go for an hour. The first one starts at 9 am and the last leaves at 3 pm.
RATES: $24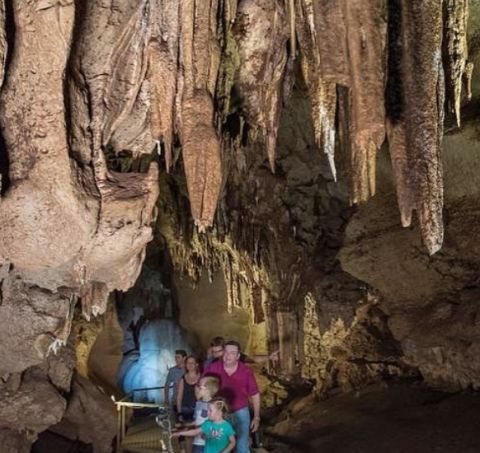 Cutta Cutta Caves. Photo: mercuredarwin via IG
2 Katherine Caravan Parks
Riverview Tourist Village has shady sites (not grassed) in a peaceful tropical garden setting. The hot springs and Katherine Low Level Reserve are accessed through a gate at the back of the park along a paved track so you can take a dip before breakfast. The centre of town is just a 4 minute drive away. Facilities include a pool, café, shop, tourist information and tour bookings, toilets, hot showers, laundry, camp kitchen, BBQs, tables, free WiFi.

RATES: $40 for two. Additional adults $15. Children $10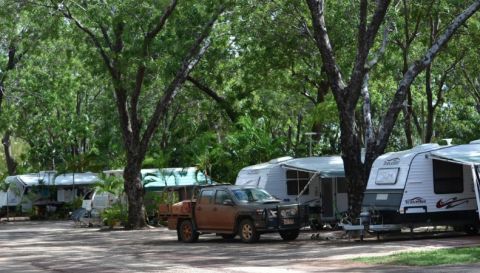 Riverview Tourist Village. Photo: Tripadvisor
Katherine Holiday Park is set on 44 acres of parkland close to Low Level Nature Reserve and the hot springs. The sites are shady AND grassed. Facilities include a pool, spa, bar and bistro, toilets and hot showers, laundry, large camp kitchen, tables, free BBQs, WiFi, ice, gas refills, tourist information and tour bookings, shop, clothes lines, sullage and sewage dump point.

RATES: $45 for two. Additional adults $15. Children $10.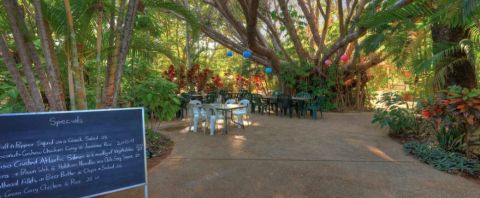 Katherine Holiday Park.
Free Camping
50 km south of Katherine, on the way to Mataranka Springs is the King River Rest Area beneath a few shady trees. Facilities include fire pits, sheltered picnic tables, toilets and tap water (not for drinking unless boiled) and a dump site.
---
This is part of the Savannah Way road trip across the top end of Australia. Zoom in to find the attractions and best caravan parks in Katherine.

Road Trips From Darwin & Adelaide